Art Collection & Family Heirlooms New Home Design
Residential Interior Design Project
Designing for: Two adults, their entertaining habits & furfriends
Style: Modern Asian Inspired Interior Design
When meeting the client for the first time, the couple confirmed they liked everything from antique cars to Bible verses. The D'KOR team loves helping people share family memories and personal collections.
From creative display ideas for artifacts, placement of sculptures to encasing precious art forms & garments for daily reminiscing is a high priority on every project. D'KOR's Award-Winning Texas interior designer's sharp eye for display and mixing mediums prevail when walking through this Dallas estate.
Luxurious looks yet functional for future pets, easily cleanable performance fabrics with exquisite mixed patterns in terracotta and blue color palettes are used daily throughout the home.
Artistic touches continue on the hand-painted foyer and cathedral dining room ceilings. See before photos and see the amazing designer details in this beautiful home >>>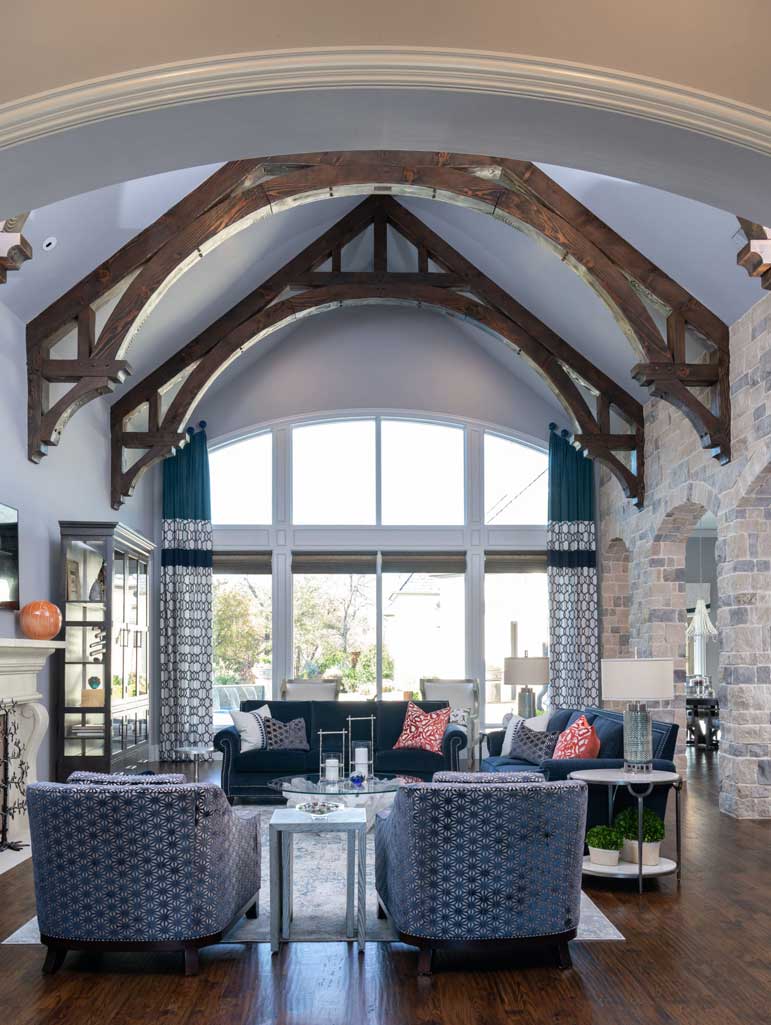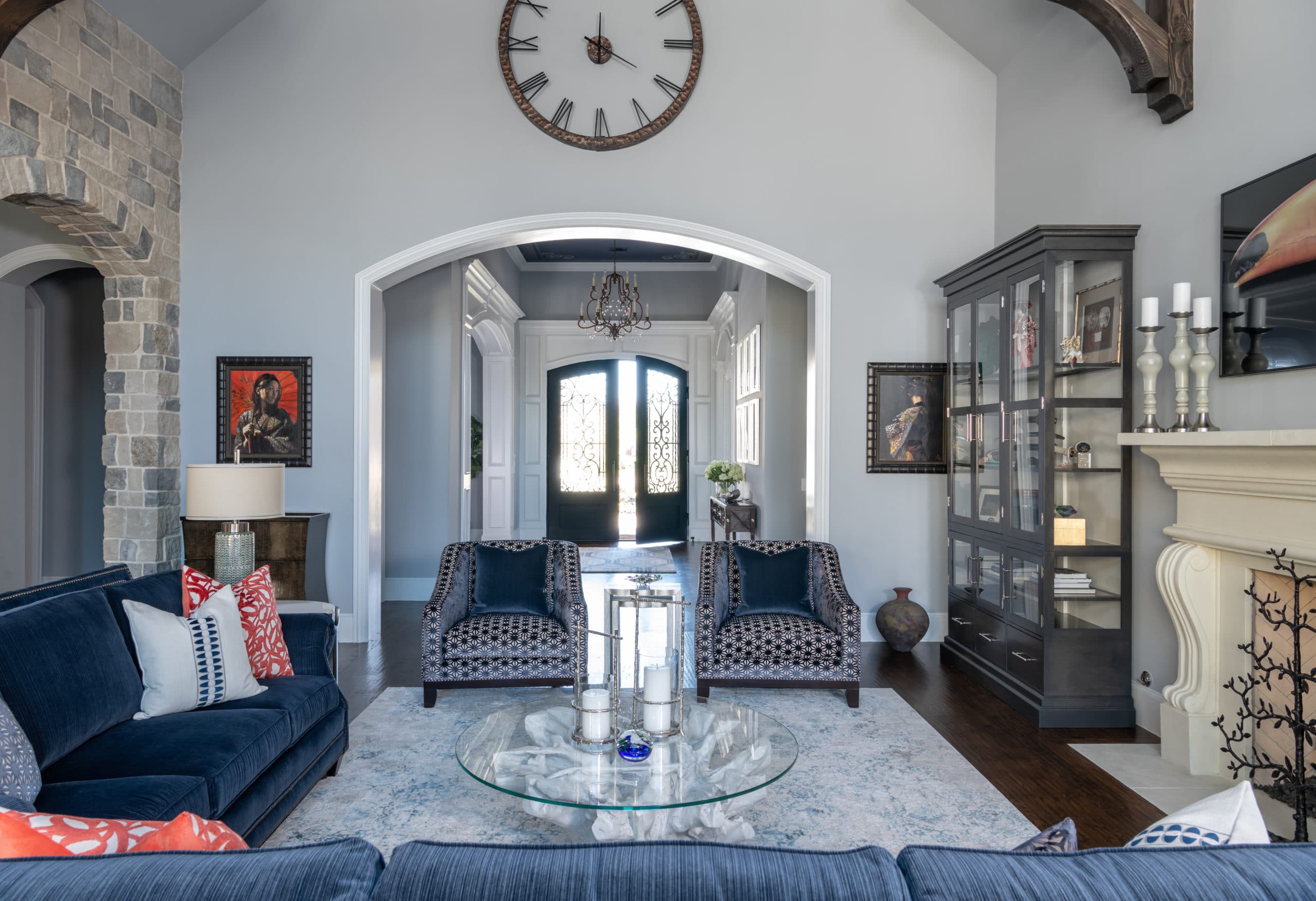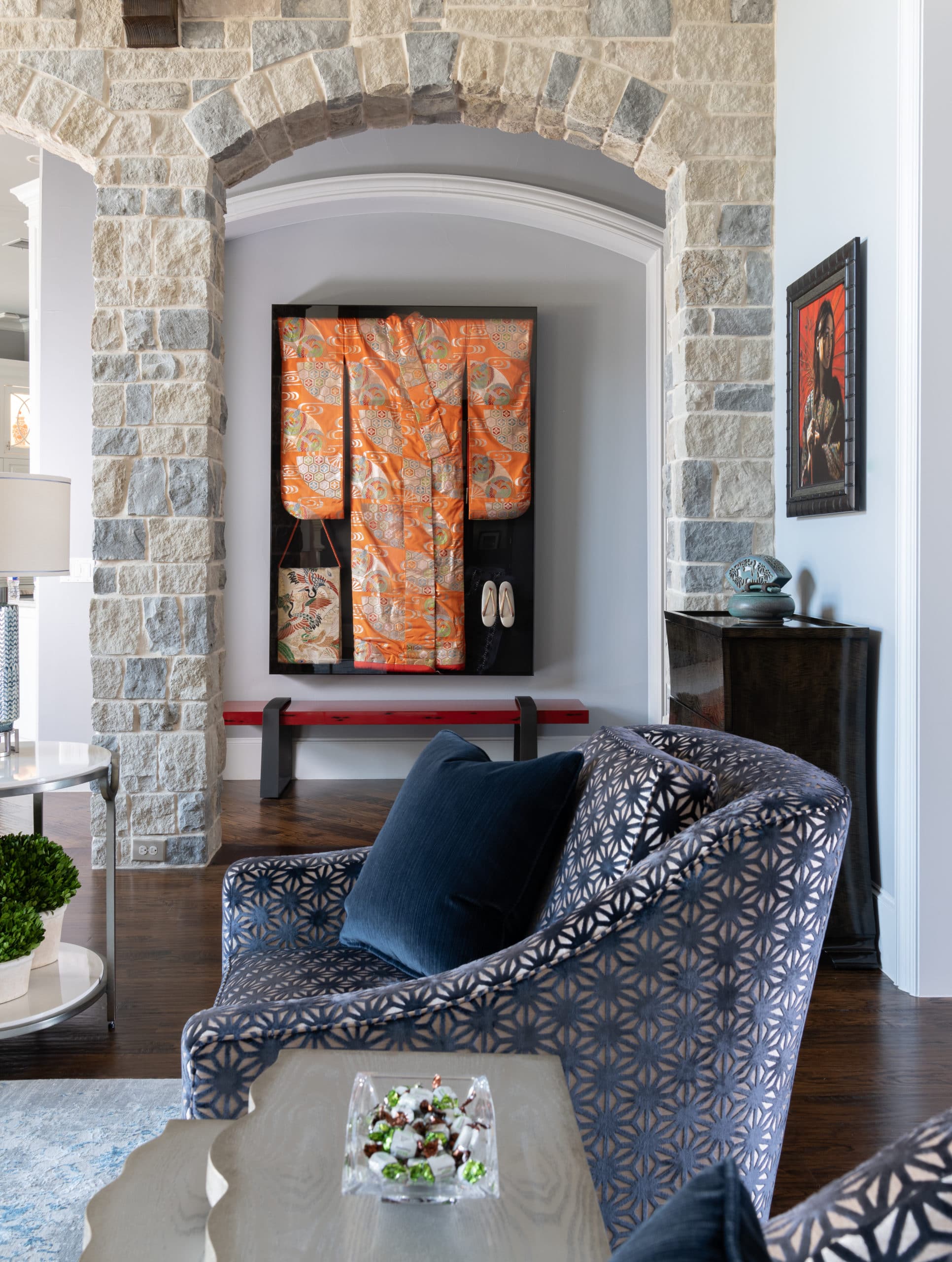 Pet-Friendly Custom Furniture
Listening to our clients about their current and future lifestyle is the most important step of our design process. Knowing how our clients live in their homes now or their future plans determines the type of furnishings, fabrics and functional items we recommend. In this home, all of the fabrics are performance fabrics from our chic performance fabric collection.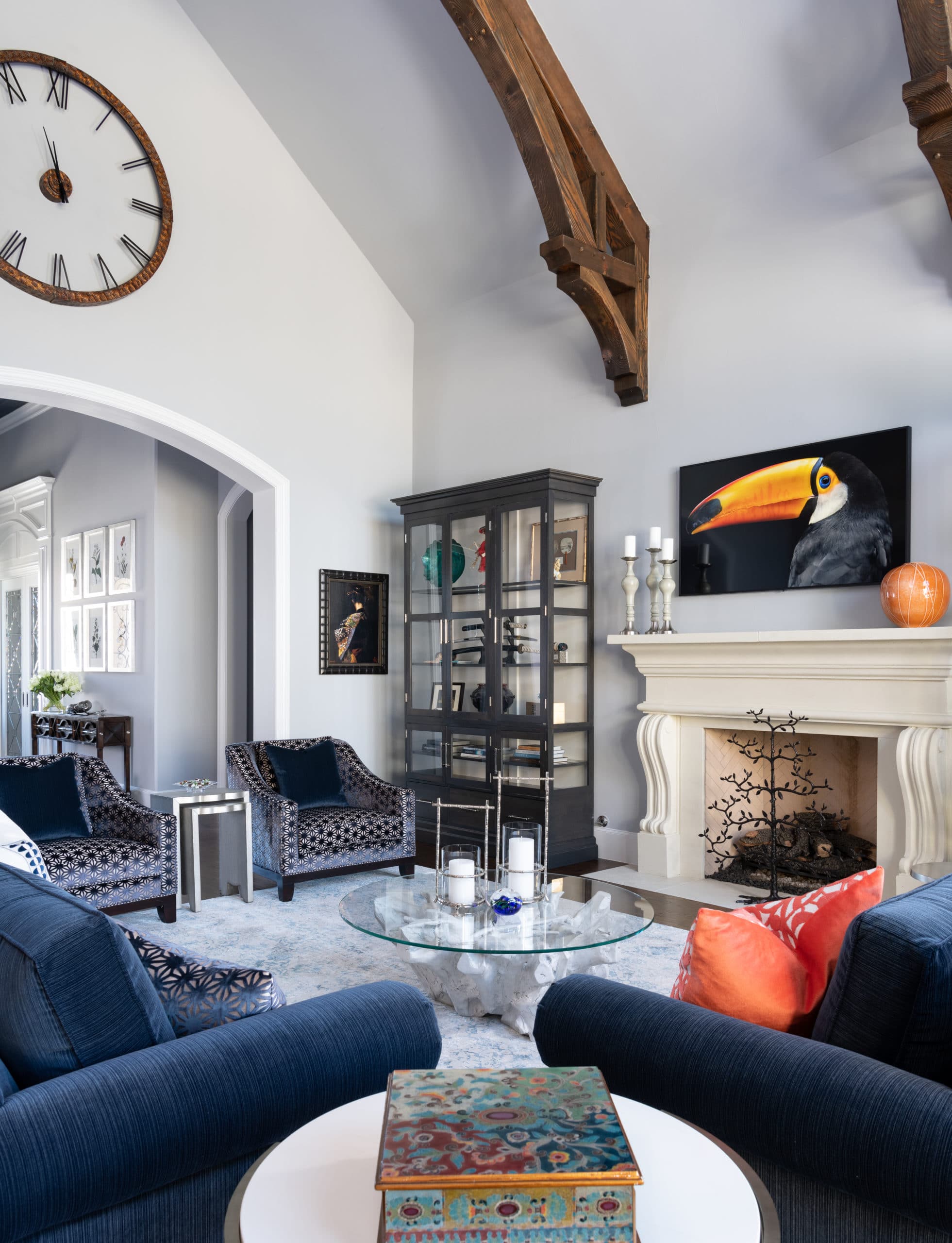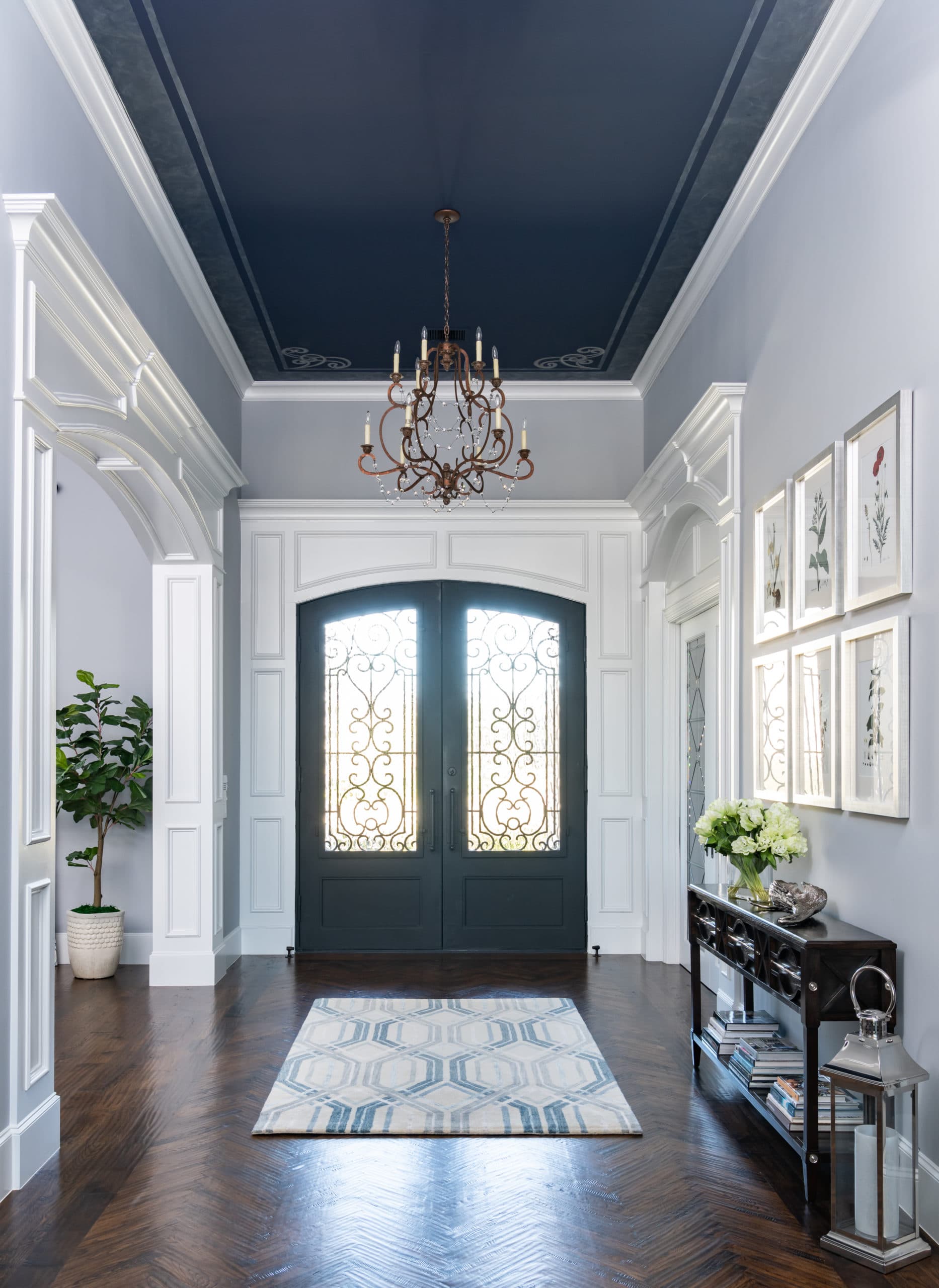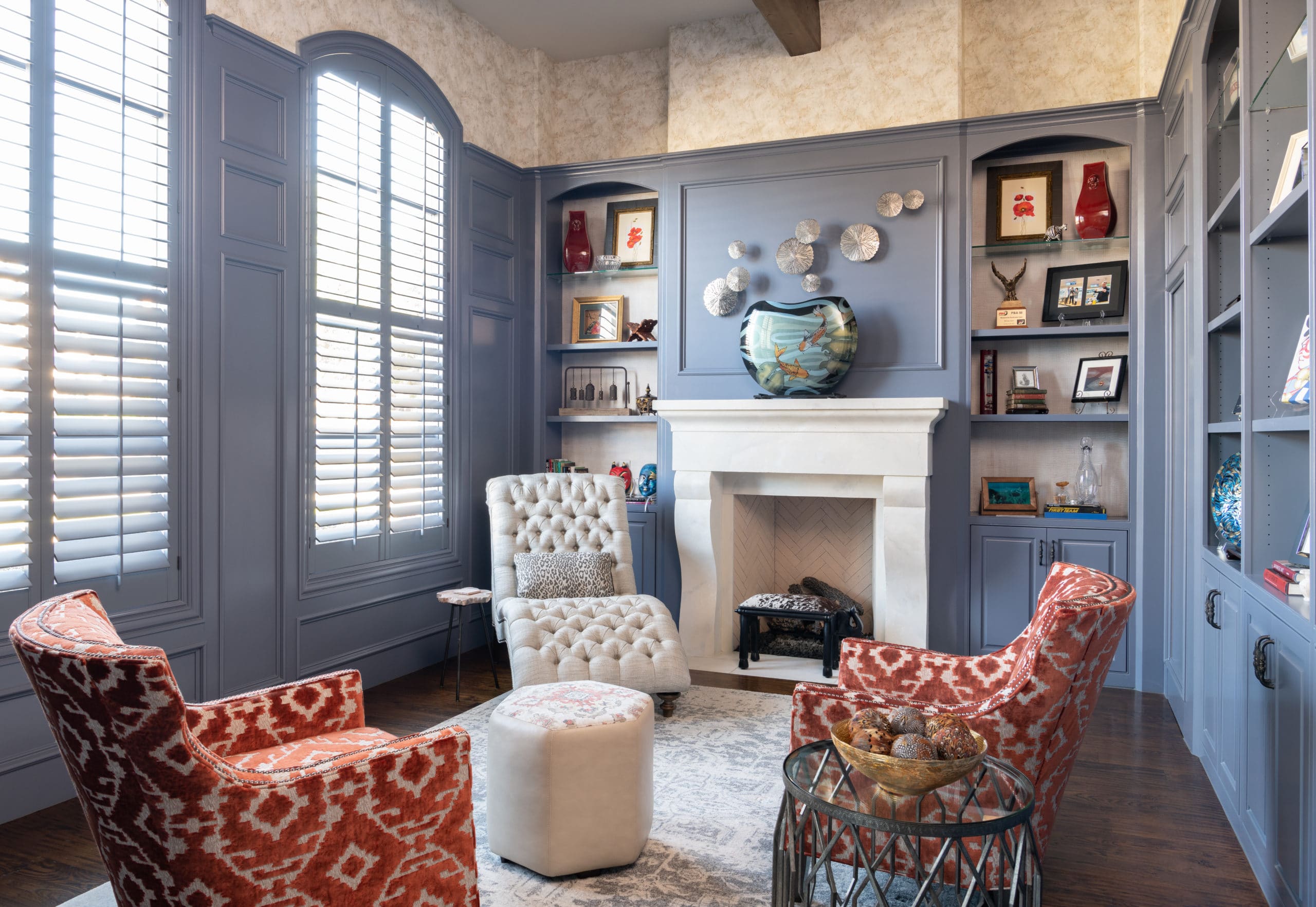 Paint Color Consultation & Performance Fabrics
Continuing the blue onto the custom built-in bookshelves, cabinetry, paneled walls, and custom shutters gives the library a beautiful backdrop for creamy tones mixed with the deep geometric terracotta performance velvets fabrics.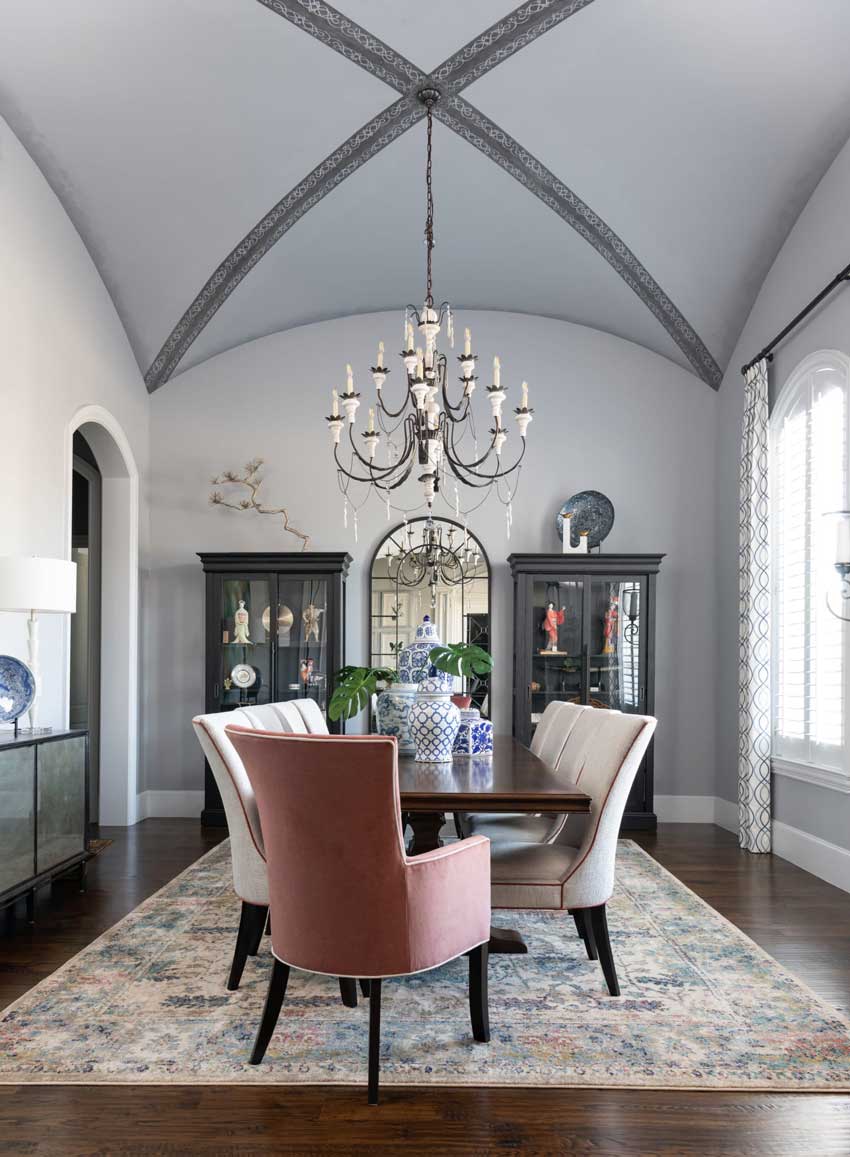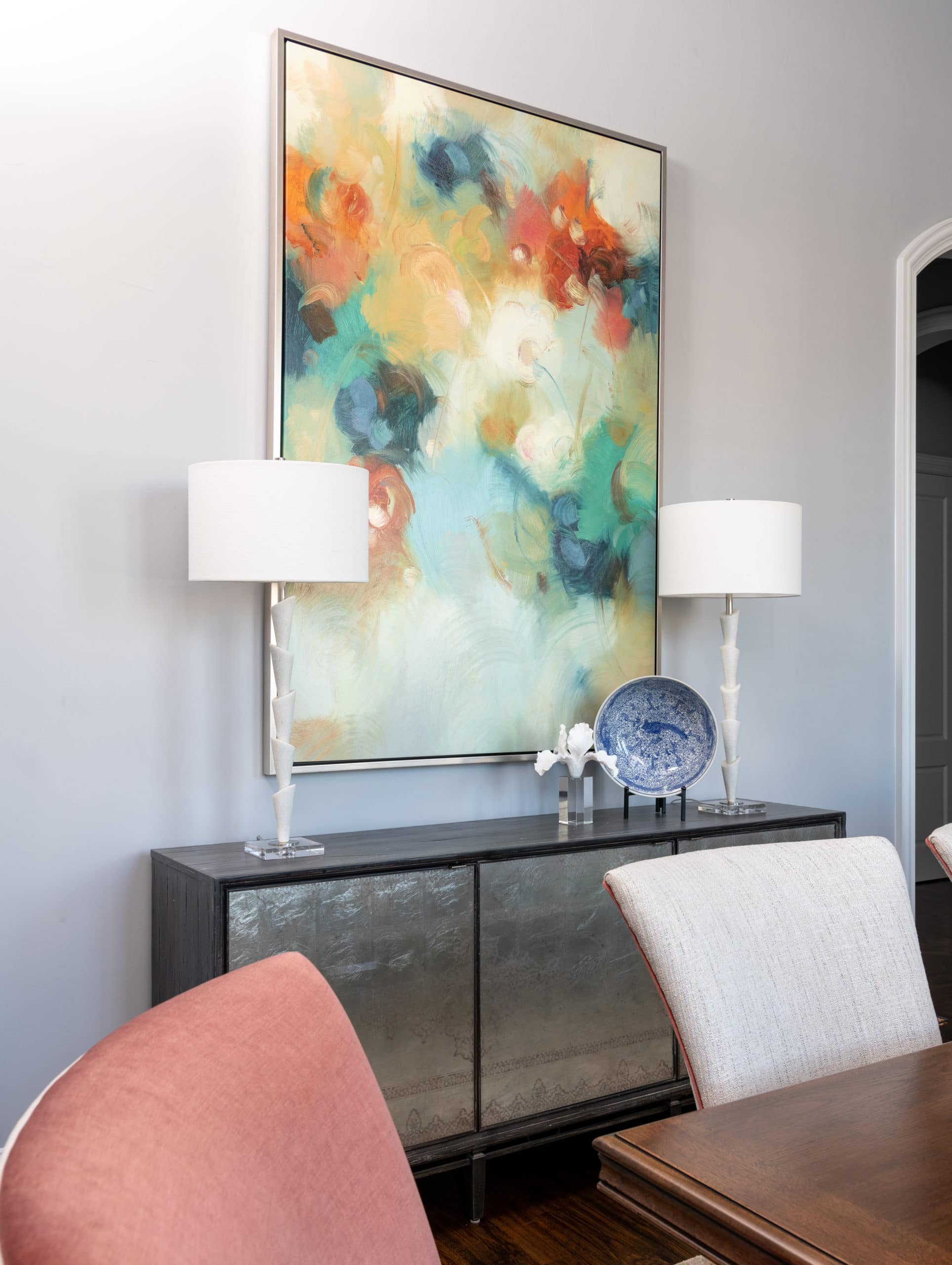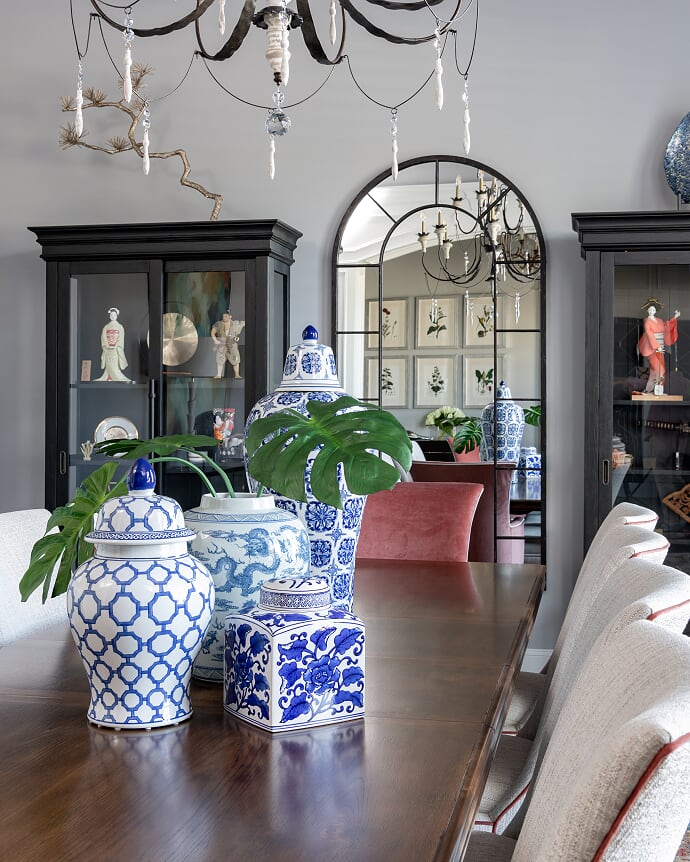 Blending Contemporary Furnishings & art with traditional accessories & furniture
Mixing family heirlooms, collectible art, and antiques for a modern transitional look makes this home timeless and comfortable.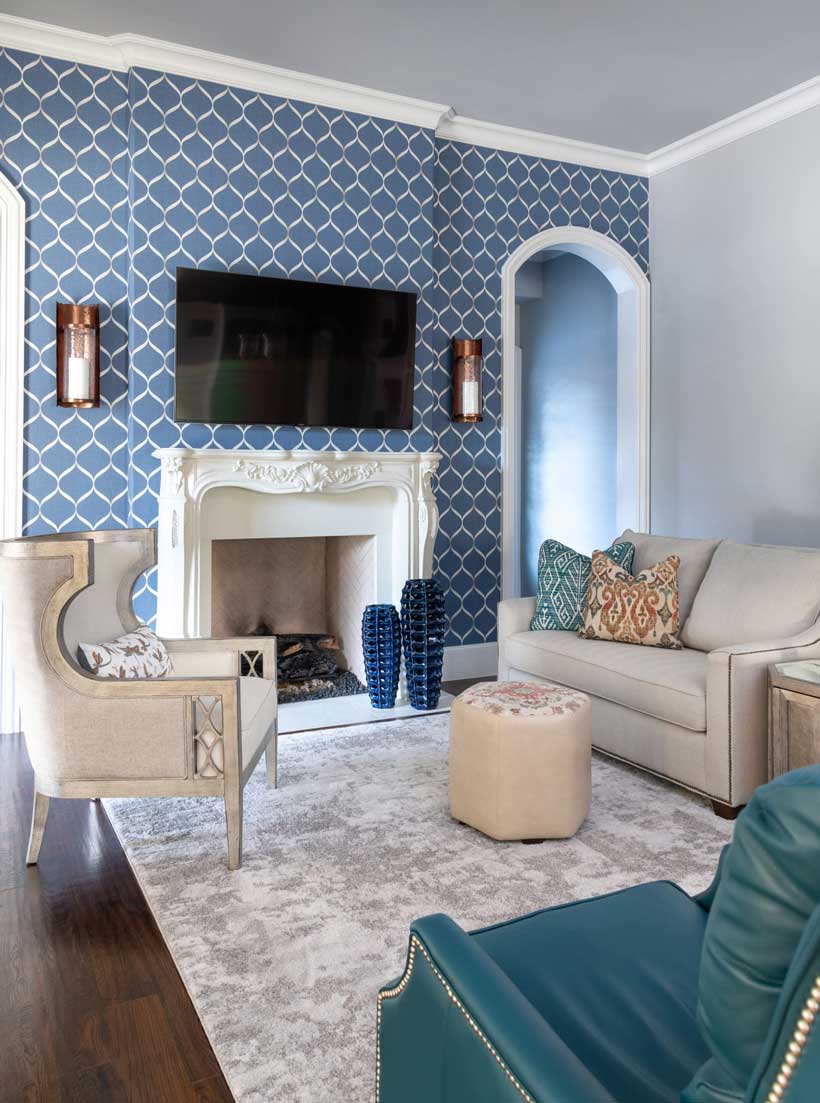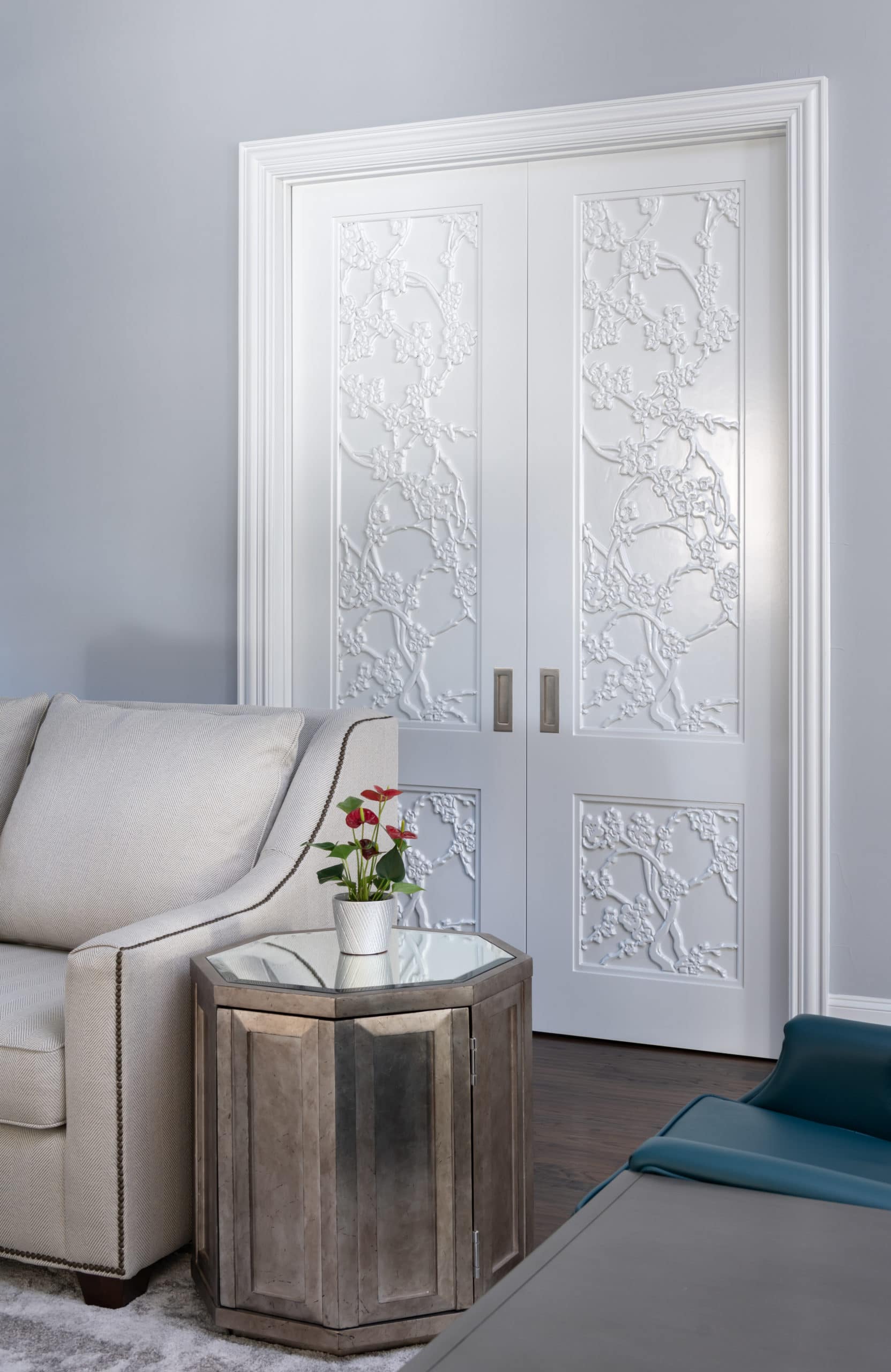 Morning Room Focal Wallcovering & Custom Carved Door
We recommended wallcovering on the fireplace wall to provide a focal wall. With no place for art, we turned doors into art.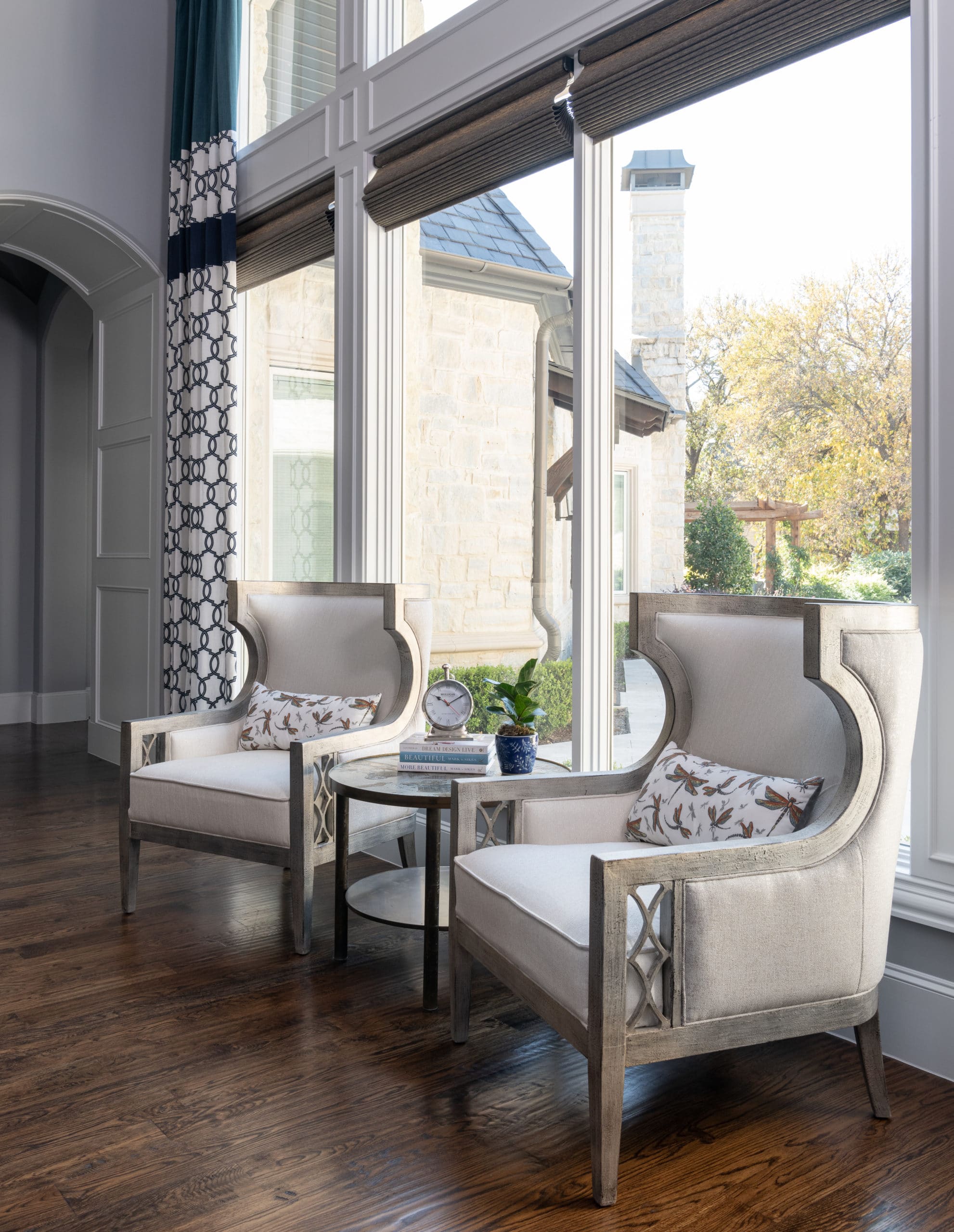 Modernized Kitchen Hood Vent & Island With Faux Finish Technique
To give the kitchen a more modern feel, our faux finish team created a metallic finish for the kitchen hood vent and the kitchen island.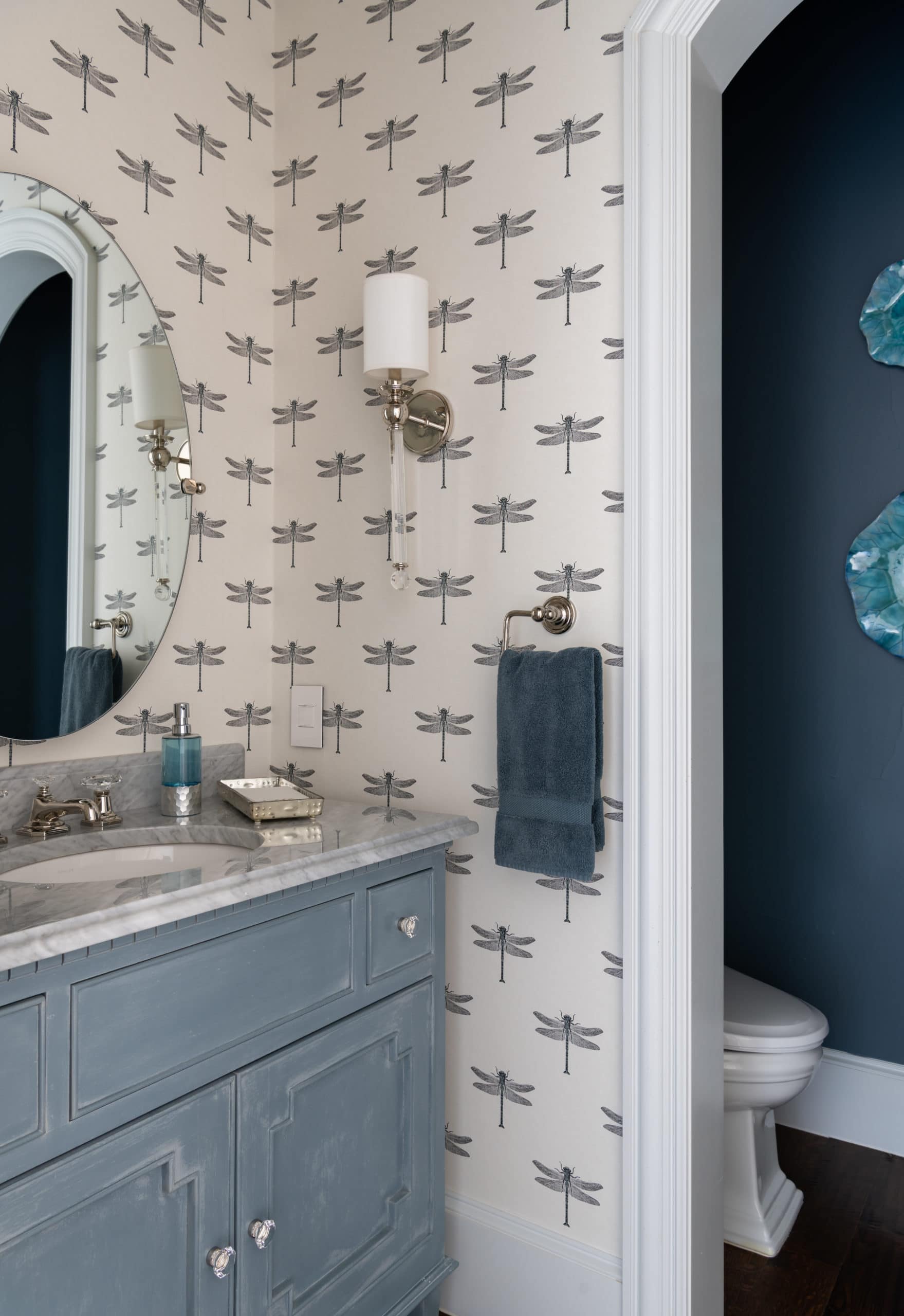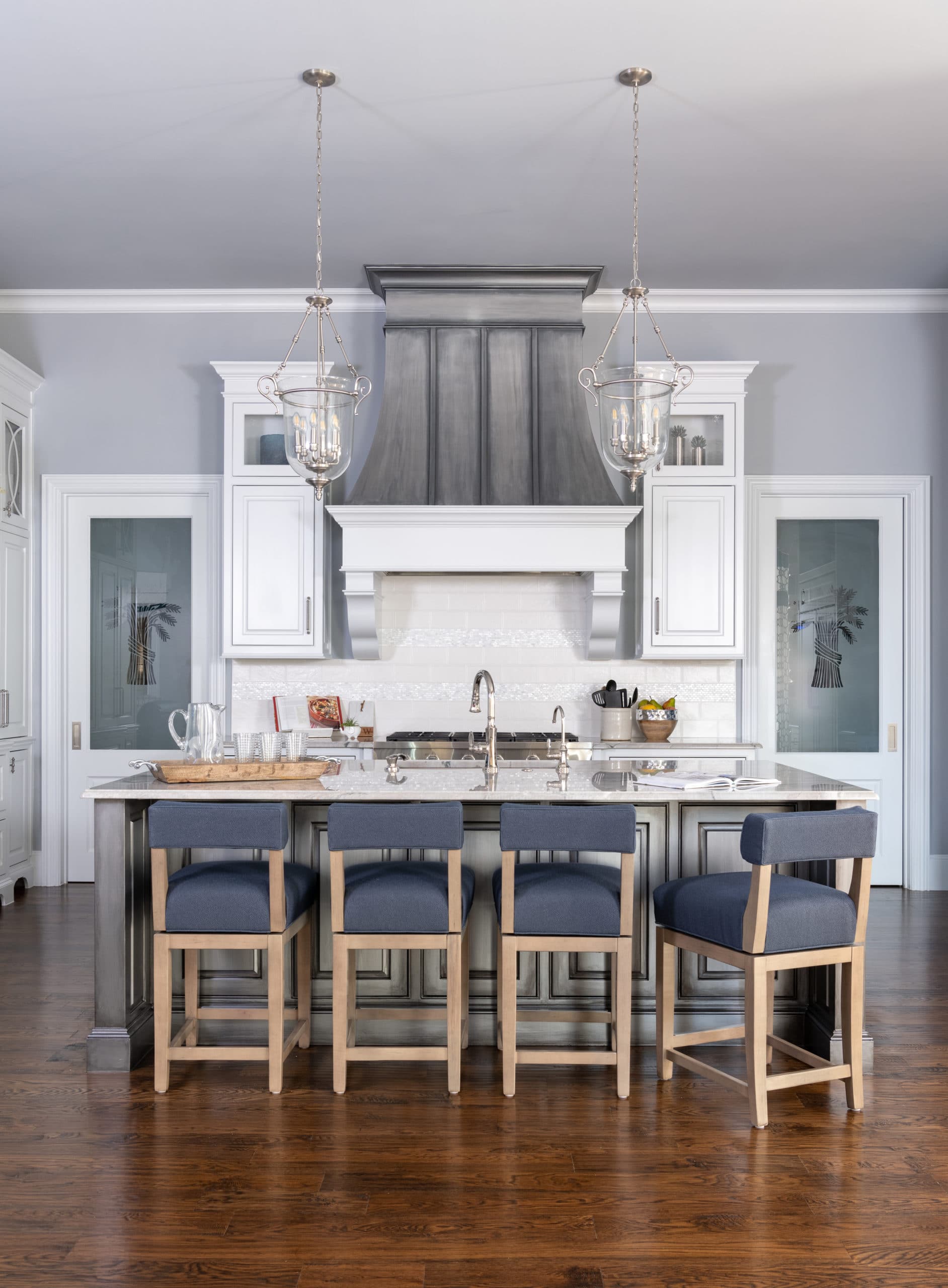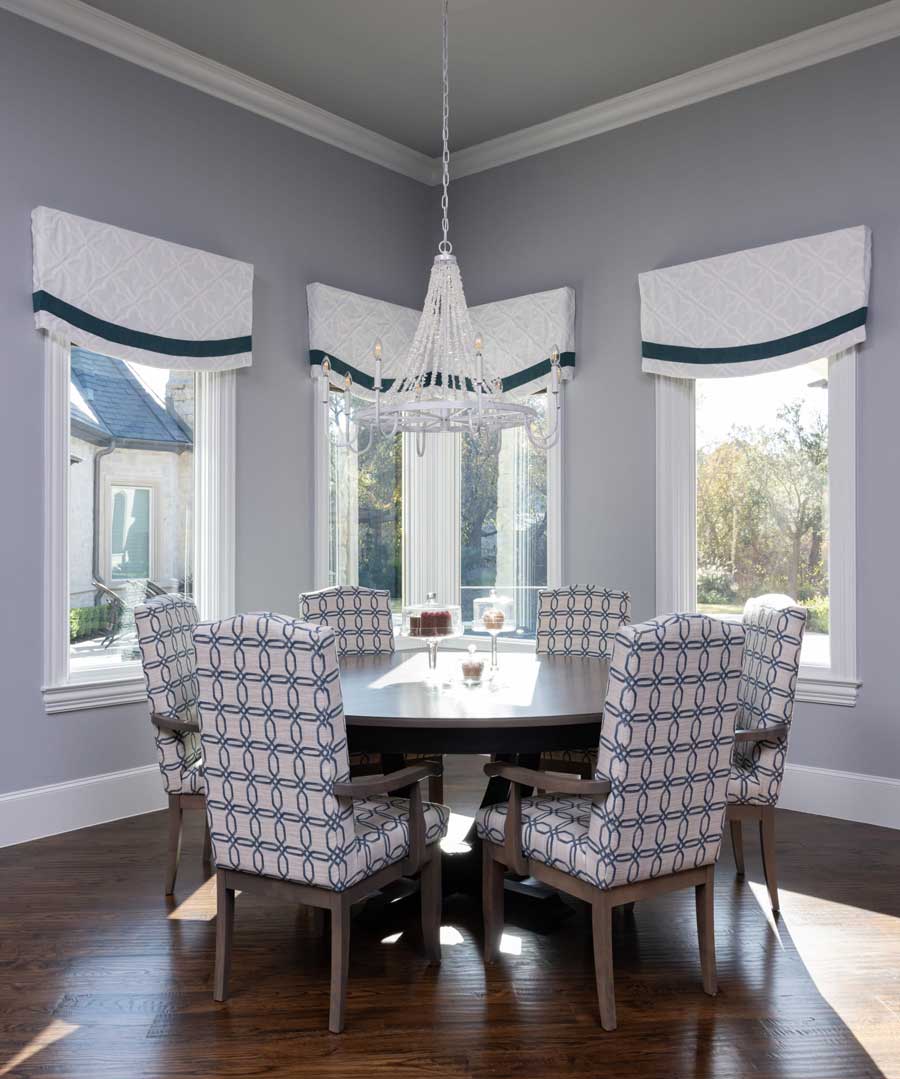 Interior Design Project Highlights
Creative Heirloom & Art Placement
D'KOR HOME designers created amazing placement and art display ideas for the homeowner's collection of traditional, modern, and multi-media art and family heirlooms. Our professional framers built all casings and display boxes. All art was installed by our professional art installation team.
Fifth Wall Ceiling Artwork Painted by Our Artistans
Treating ceilings as the fifth wall is important to pull the entire room together. Our artisan designers created a pattern and hand-painted the ceiling artwork on the vaulted dining room ceiling and the foyer ceiling.
Custom Furniture & Custom Cabinetry
Our design team created designs and built for custom cabinetry and custom upholstered chairs, barstools, dining chairs, sofas, tables, and accent chairs.
Custom Window Coverings & Custom Shades
Our interior design team selected and designed all window treatments, including custom panels, custom privacy shades, custom blinds, and custom plantation shutters.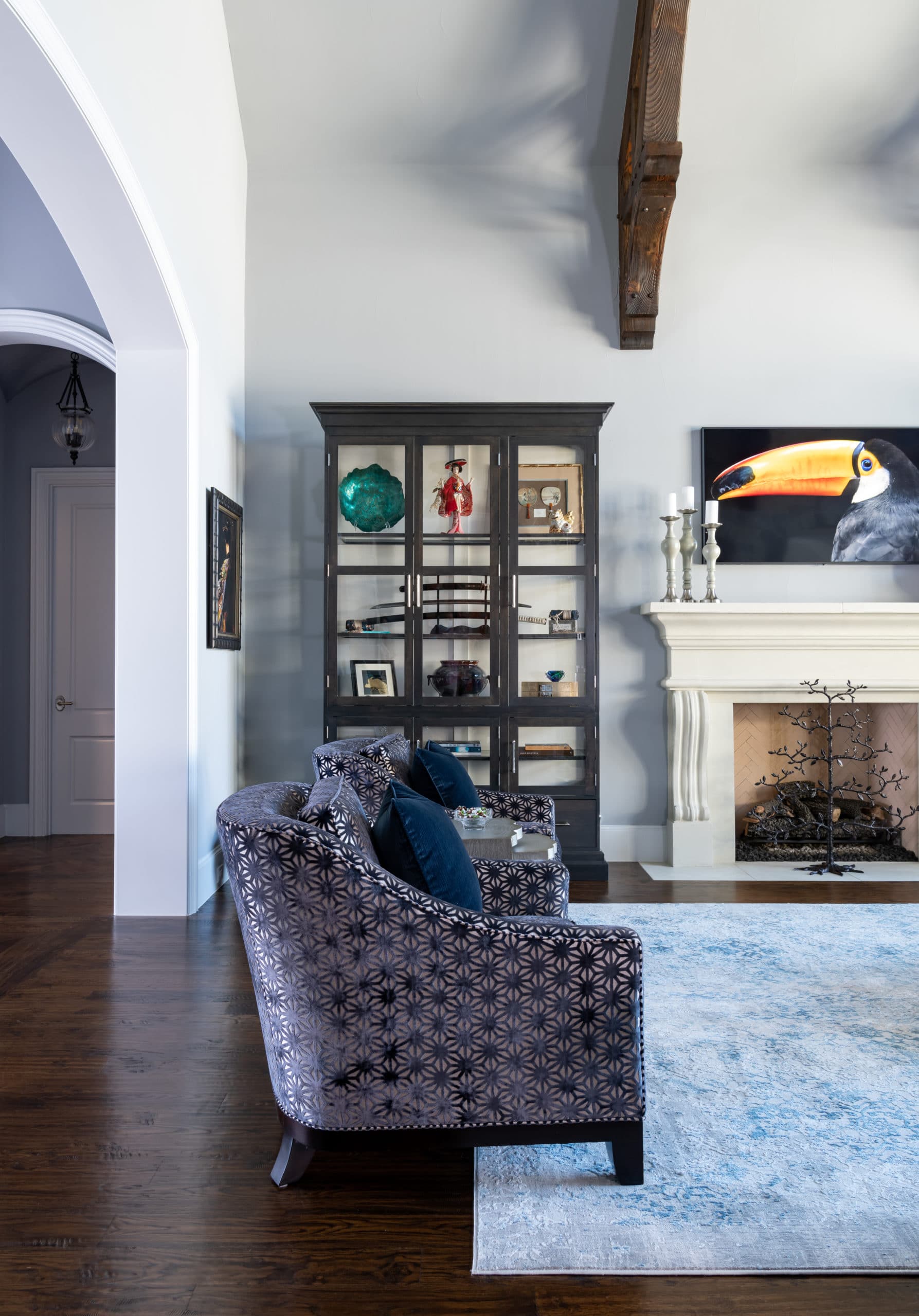 Recent Interior Design Projects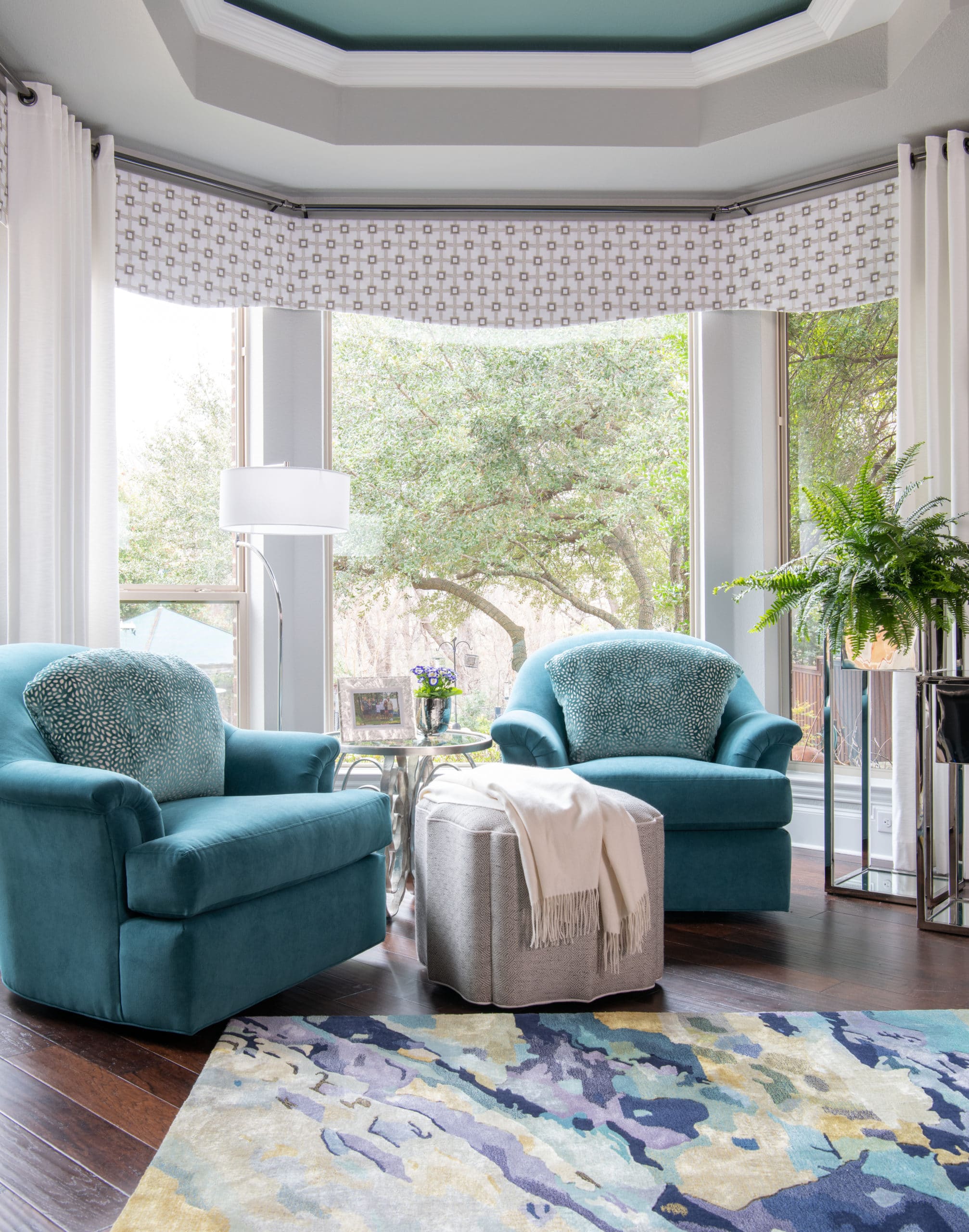 Inquire about a complete turnkey home remodel or work one room at a time. Either way, our team of interior designers are ready to help turn your home into your dream home. View complete home renovations.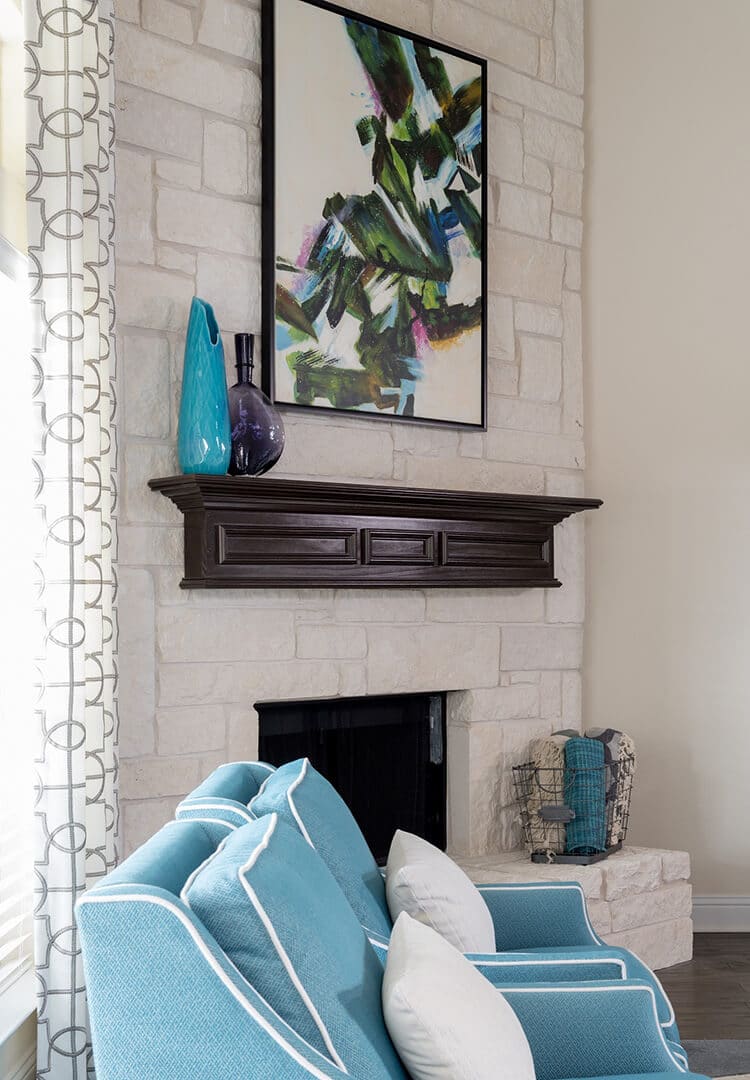 One-Room At a Time Designs
Working on all budgets, our team of interior designers make your investment count with your lifestyle in mind. View our latest room designs.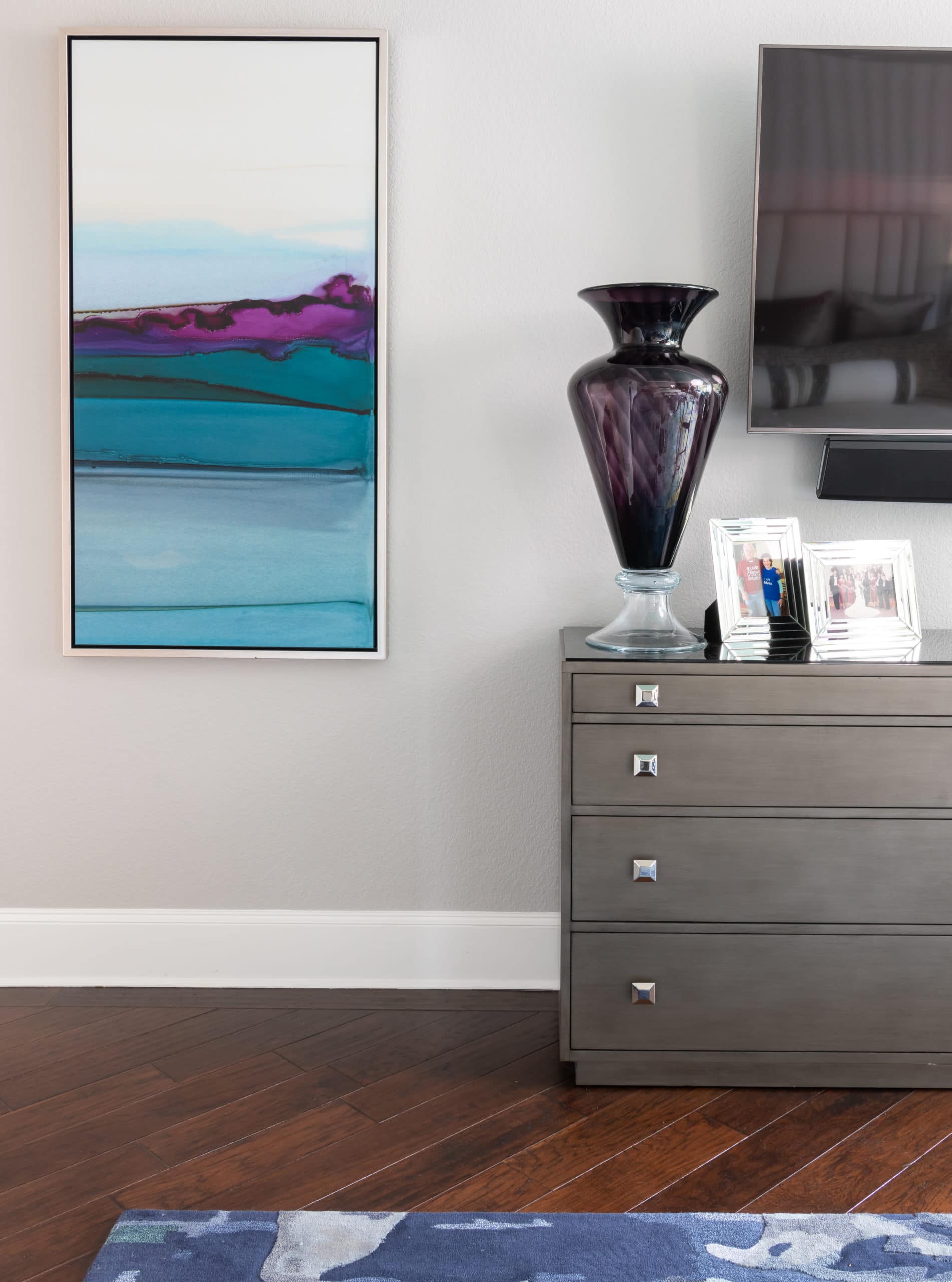 Multi-Room Home Makeovers
Let's refresh your rooms refreshed with new custom window treatments, accessories, art, rugs and custom furniture, wallcovering or paint. View home makeovers.  
Call For An Interior design Consultation
Inquire about a complete turnkey home remodel or work one room at a time. Either way, our team of interior designers are ready to help turn your home into your dream home. View complete home renovations.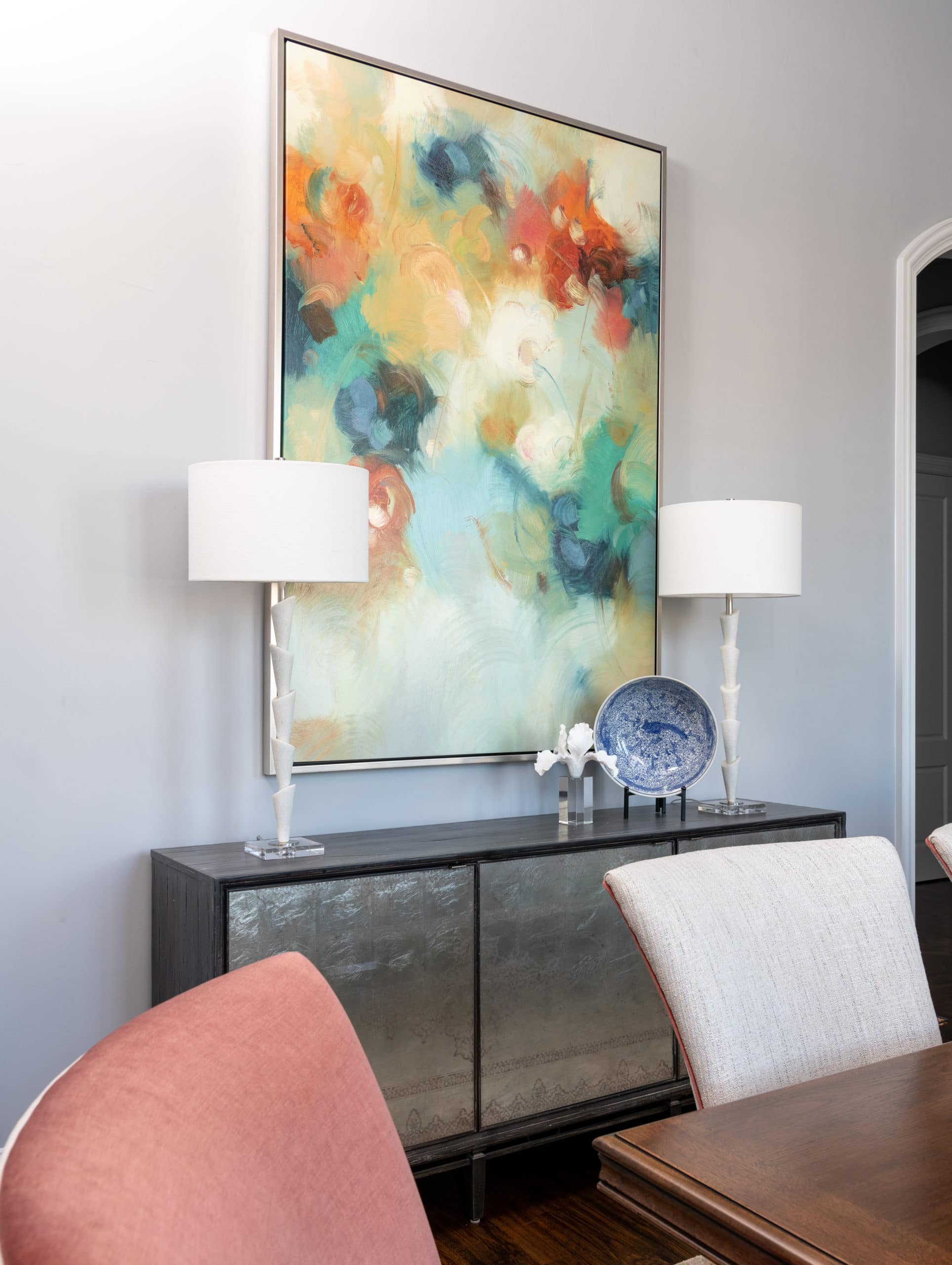 Our Primary Interior Design Studio
1615 Dorchester Dr Suite No. 100 Plano, TX 75075