Yes…that's me, friends!  Daily, I see massive and costly mistakes homeowners make when designing their homes. None are more heartbreaking than when I see kitchen renovations and kitchen designs have gone wrong. Throughout this post, I'll share my personal kitchen design ideas journey, which will help you understand the critical steps to getting your dream kitchen the first time.
For clients all over Austin TX and the surrounding areas, I design interior rooms and outdoor spaces of all kinds. No matter how many kitchens, baths, living spaces, foyers, kid's rooms, bonus rooms, craft rooms, offices, and any other room I design, my own house is the hardest. My designer friends on Facebook groups often have the same problem.
Our choices are so broad, and we know way too much out there to settle on second best. When it came time to design my kitchen, I was on a mission to treat my kitchen as if it were a client's and get it done right the first time. I created a plan and quickly made choices so that I didn't linger in everlasting endless decisions of having too many options.
Ask yourself these questions before designing your dream kitchen
Before I began planning my kitchen design, I asked myself the same questions I do when designing kitchens for clients…
How can it function better to fit my family's lifestyle?
What is my budget, aka investment?
Will my investment improve my house value?
What colors make us feel good?
Is the natural and fixture light balance good?
Which furniture and seating are most comfortable for daily use?
Do I want appliances exposed or integrated?
Kitchen Before | The Posterchild For 1990's Builder Selections in Southwest Kitchens
My Dallas kitchen was one of the darkest and drabbiest kitchens I had worked on. Kind of like a Debbie-downer, the dark golden and rust Southwest-colored paints were sure to ruin anyone's good mood. The countertops were a super busy granite that was thick with an awful two-inch overhang and rounded profile. Really? Who helped this builder select products for his homes? NOT me!
The glass top range knobs were always getting knocked off or in the way of pots. The lighting was terrible and spotty, especially at night. The backsplash was a super popular 1999 tumbled marble. The tile floor was cold, and its accompanying gray grout was a dirt-trap. It's like NO one, I mean NO one thought this thing all the way through. Mr. Builder, you need my number.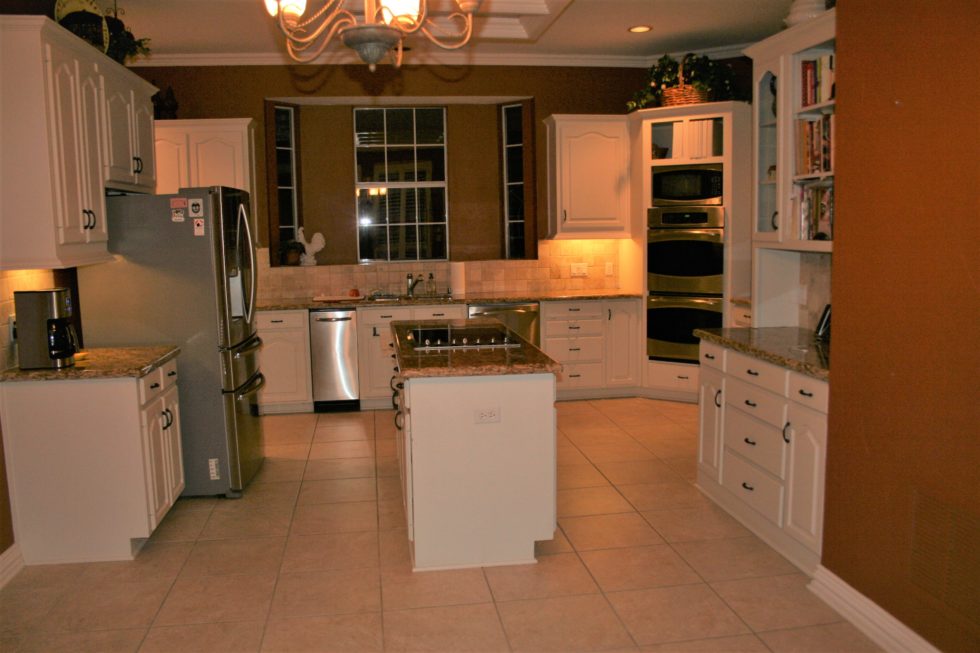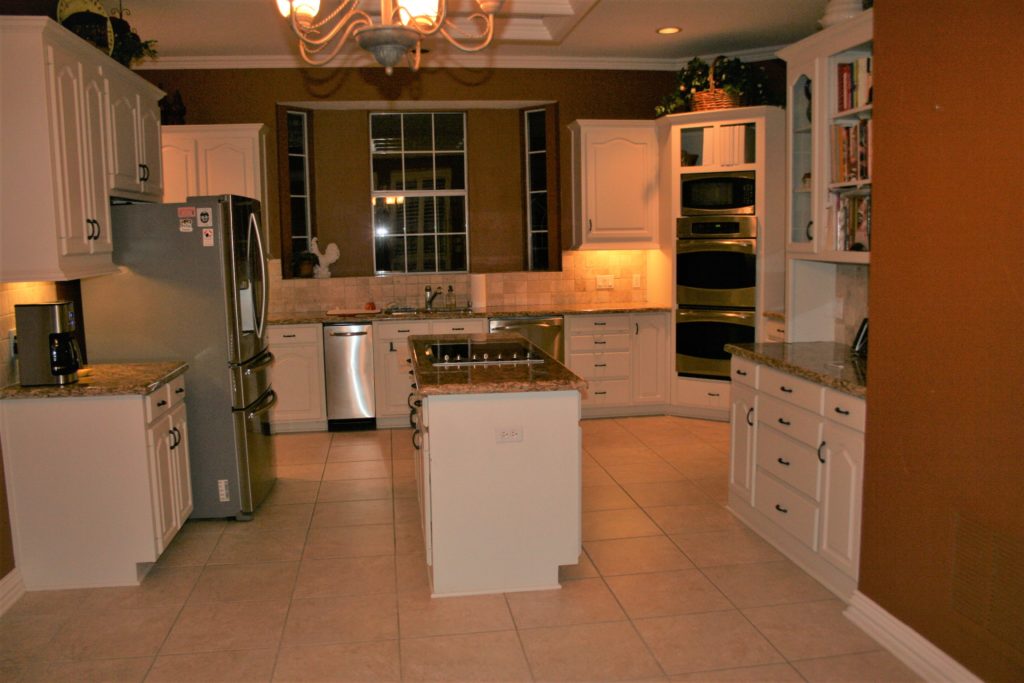 BEFORE – My Dallas Kitchen Design Renovation by Austin Interior Designer & Kitchen Designer Dee Frazier
My Ugly Plano, Texas Builder Kitchen Dining Area – Before My New Kitchen Design
I mean…the light was not even centered between the two windows. Need I say more?
After | The Kitchen of My Dreams
Playing both the designer and the client. I went to work for my own family. First, I thought about how we would use the kitchen. My awesome hubby Bob travels all week for his job. At the time of the design, it was just me and sometimes my beautiful daughter and owner of D'KOR, Danielle. She lives in St. Louis full time now. Bob loves to cook on the weekends. Any other time, it's just me…here home alone. Here are my tips and what I did to design and build the kitchen of my dreams.
1. Select a timeless cabinetry style.
I am sort of like the cobbler, and I never know when I'm going to have time to redesign my kitchen, so I wanted the design to be bright and timeless. Choosing simple white shaker style custom kitchen cabinets was a natural choice. Boxed cabinet sizes did not limit me and custom cabinets are most often better quality, which lasts longer.
2. Add cabinets in place of furniture or dining room cabinets.
Look around your kitchen. Are there places you currently have furniture? If so, don't be afraid to add more kitchen cabinets and get rid of the furniture pieces. Adding cabinets will give you more height, which equals more storage space. Plus, you'll be able to design and get what you want.
3. Select function drawer glides, cabinet hinges, and decorative cabinet hardware.
Remember, you'll always be trying to grab your cabinet handles, or if you like push-pull mechanisms, make sure they function for your cooking style. One of the new things I've noticed is the kitchen cabinet forgetting to put the same mechanisms on cabinet doors and drawers. My team and I have been forced to do lots of replacing, which can be costly. Be sure to ask your interior designer or cabinet fabricator exactly what type of hinges, drawer glides, and decorative hardware. My kitchen cabinet hardware is by Swiss Kelly.
4. Mix your cabinet doors fronts.
Consider using glass in place of solid panels to give your cabinet dimension and style. In my kitchen design, I added clear glass cabinets to the left to extend the kitchen's wrap. Believe it or not, even though they took up floor space, this makes the kitchen look bigger.
5. Choose a functional sink & faucet.
A sink and faucet are imperative to a well-designed and functioning kitchen. While I love sticking with one brand, in my kitchen, I paired the all-white cast iron KOHLER under-mount sink with a Gaggenau pull-down faucet. Cleaning up is a cinch. Undermount sinks allow you to easily wipe crumbs from the counter into the sink. Plus, overmount sinks tend to catch the edge of dishrags and allow crumbs to collect around the edge.
6. Test drive appliances and read appliance reviews.
I loved the all-new Kitchenaid stainless steel appliances. I am a massive fan of KitchenAid!!! I love all of KitchenAid's handheld appliances, as well as KitchenAid's large appliances.  I must admit I just bought a yellow Cuisinart hand mixer last Christmas so that I may be a partial trader. I'll keep you posted with my thoughts on both if you care to know. At the moment, all of my large appliances are KitchenAid.
7. Backsplash should be easy to clean.
Before, I had a natural tumbled stone backsplash. Not only was it dark, but it was also hard to clean. I know they were super popular back in the late 90s and 2000s. But I did not care for the tumbled stone for sanitary reasons or appearance. My new white ceramic arabesque backsplash from Tile Bar is fantastic. It's super easy to keep clean and doesn't absorb food splashes, nor does it require sealing.
8. Select a stone or counter surface and edge that lasts and withstands the test of time. | Dallas Kitchen Designer
There are lots of myths out there about countertops, so let's get those out of the way….you can't get any harder than natural stone unless you're selecting a product such as a quartz-like product such as Dekton by Cosentino's hard surfaces. I still prefer natural granite and marbles. Yes, with white marble, it can stain, so I opted for white granite.
Another thing to be cautious of is the profile or edge you select with a kitchen counter. Notice I used an Ogee profile edge on my island white on the wall cabinets I used a straight edge. The Ogee looks more furniture like which provides a subtle variance to the overall kitchen design.
While Ogee is a little more expensive because the bits are harder to work with and more costly, you don't need an Ogee edge everywhere. Our phenomenal team or another great Dallas interior designer or decorator can help you make important decisions such as this and decide what your counter overhang should be to accommodate cabinet handles and appliances.
9. Balance the lighting in your workspaces and over your eating areas.
Adding all-new lighting was a must in my kitchen redesign. Did you see how dark and drab my old kitchen was? It was deep, dark, and depressing.
My fixtures are understated chrome by New York, Hampton's interior designer Libby Langdon. They are available in her Crystorama collection, or I can order them and ship them anywhere for you. I balanced the lighting by using Kichler LED recessed fixtures. The tone of Kichler's recessed fixtures is soft and natural, unlike some of the bright LEDs. AND…the best part is Kichler's LEDs are dimmable.
Be careful: Some light fixtures don't work and won't function well. Trust me…your electrician will charge the same no matter if the fixtures work or not. If you get the fixtures wrong the first time, your electrician will most likely charge you double. You'll pay to put it in and take it out then pay to put another in!
10. Select the correct table shape, size, and top that functions for your daily lifestyle.
My design team and I see a lot of Dallas homeowners buying furnishings that don't fit their lifestyle, nor do they fit the function of the room. Have you been to a friend's house that has a table that's too big for a family of three? Or maybe they have a table too small for the space. Or what about the round table that needs at least double the number of chairs? Or what about the wood table with a ton of scratches on it?
There are hundreds of table options. If you need a custom dining table, they are not so expensive, and we offer lots of choices. In the case of my kitchen renovation and furniture layout, I chose a hearty, gray-washed 50″ table with four chairs. Remember, there are only four of us, including our security guard, Leo, our family dog.
11. Choose comfortable kitchen furniture dining seating with durable, easy-to-clean fabrics.
No matter what size or shape of the table you like, your dining chairs need to have durable fabrics. Even with adults, chairs will endure spills and splatters. Heck! Some of my older retired clients are planning to make bigger red wine spill messes than 8-month old learning to use a spoon. Either way, no matter what season your family members are in, no one wants to damage new kitchen furniture. Designers like us can order some of the most durable fabrics on the market. Unlike yesteryear, when the fabrics felt like plastic, our fabrics are soft, supple, comfortable, and will endure your red wine spills. Comment below in the comment section below this post if you need suggestions.
12. Choose a soothing paint color for your kitchen redesign.
While starting with a paint color is typically the most common approach to kitchen design or renovation, it shouldn't be. Paint colors should be complementary to fabrics, art, and surroundings. It will only serve as a backdrop, not a focal point.
I hope you have enjoyed learning about kitchen designs and how to design the kitchen of your dreams. If you're in Austin, or anywhere else near, feel free to drop me an email or call us. We love designing kitchens and have all of the renovation contractors here to make your life easy.
Cheers to your kitchen renovation success!
Love your Austin Kitchen Designer,
Dee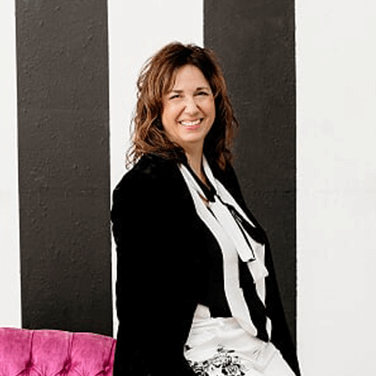 Chief D'KORator, Voted "Best of Houzz" for Dallas Interior Designers, Early Riser, Coffee Lover, Gardening Guru, Estate Sale Maven, Mover, Shaker, Wife, & Mom