Hello Monochrome Wallpaper | 2020 Wallcovering Trends
I'm ecstatic today! Why? Because I received an email saying, "You've been featured on Houzz in Russia!" I think it should have said, "You've been featured on Houzz again," but who's counting?! Not only were featured, but I love the topic of the Russian Houzz editor's story titled, "Reception: Monochrome Wallpaper – When to use them, when not, explains the practicing designer." Thanks for including my work in your article Tatyana Artemyeva. Throughout this article, I'll explain what monochrome wallcovering (aka. wallpaper) is and why it can make such a statement in your home. 
ALERT: Everyone in the USA, don't be alarmed – the link is in Russian, but you can easily translate the article to English by clicking the translate option when it populates.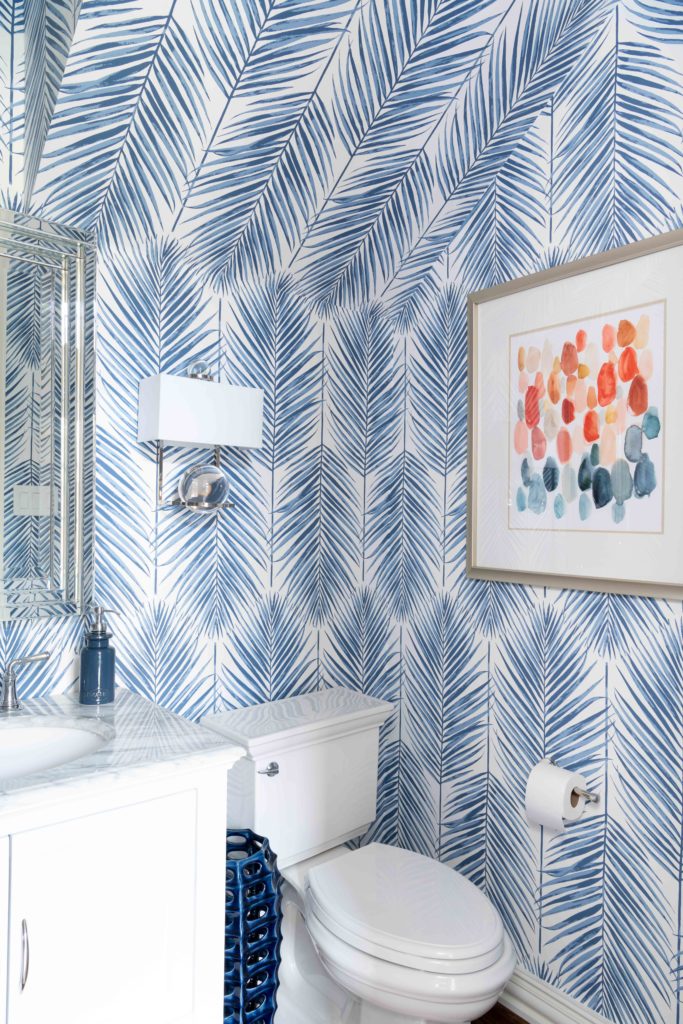 What is Monochrome Wallpaper? |2020 Wallcovering Trends
According to the good ole Oxford dictionary, Monochrome means "a photograph or picture developed or executed in black and white or in varying tones of only one color." In the case of 2020 Wallcovering Trends, designers like myself love using monochrome wallpaper to give rooms a sense of depth and expansion.
Why I Used Monochrome Wallpaper in My Powder Room
When designing the powder room (aka. half bath) in my Texas home, I used a beautiful blue palm leaf monochrome pattern with a white background. My bathroom begged for a paper that could easily flow from the walls to the ceiling. If you look closely, you'll notice lots of strange angles that can either be hidden or quickly become eye soarers. Not every paper is good for hiding weirdly angled ceilings, such as monochrome papers.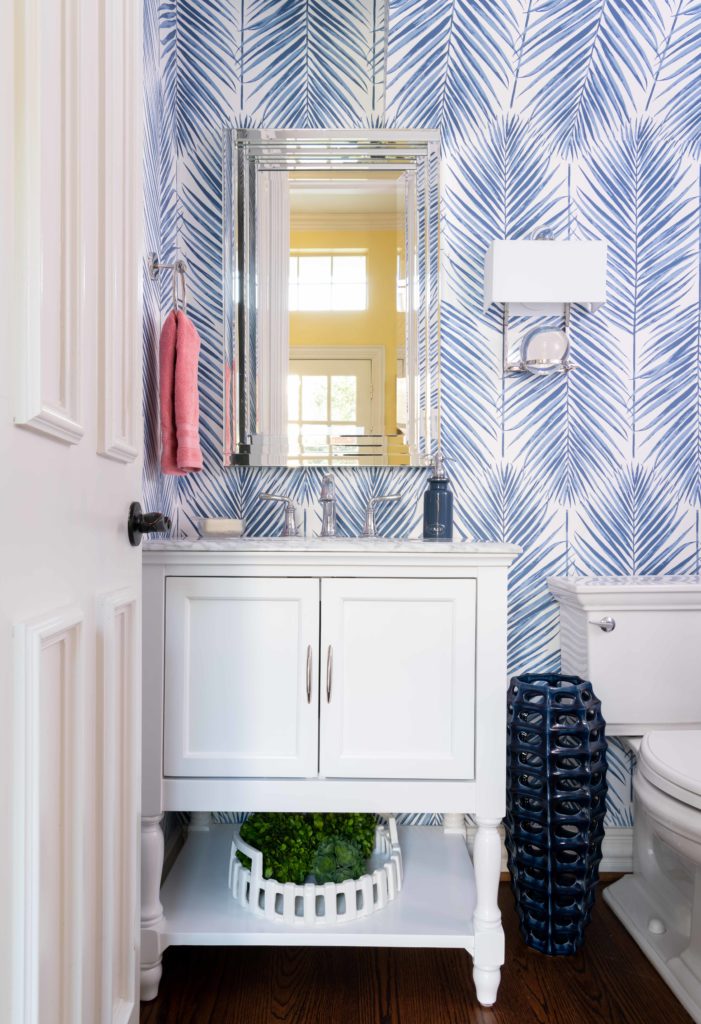 The blue palm leaves created an instant artistic organic feel too. Because monochromes are typically no more than two tones, it made it easy to incorporate other pops . of color.  Inspired by nature and my love of coastal, I knew the blue palm leaves would be fabulous.
Modern Monochrome Paper Pattern Installations That I Love | 2020 Wallcovering Trends
Modern monochrome papers are super cool to use and can be used in spaces like my bathroom to disguise weird angles and ceilings. A design similar to this could be used as a wallpaper or it could also be handpainted such as the mural I commissioned in the Scuba Diver's Foyer – have you seen that work of art? If not- click here. 
Traditional or Transitional Monochrome Wallpaper Mural Installations
Monochrome wallpaper was super popular back in the day and was often called "toiles". Isn't it funny how things sometimes come back around? I love this monochrome wallpaper used in the Doisy Etoile Paris Hotel. How cool that "toile" is even in their name, and they used toile wallpaper on the walls. The entire interior design of the Doisy Etoile is so chic and sophisticated. Designed by notable Parisian designers Bénédicte Pierens and Raphaëlle Levet, the duo met while working for Elle Decoration magazine. Elle Decoration is the European version of our ELLE DECOR.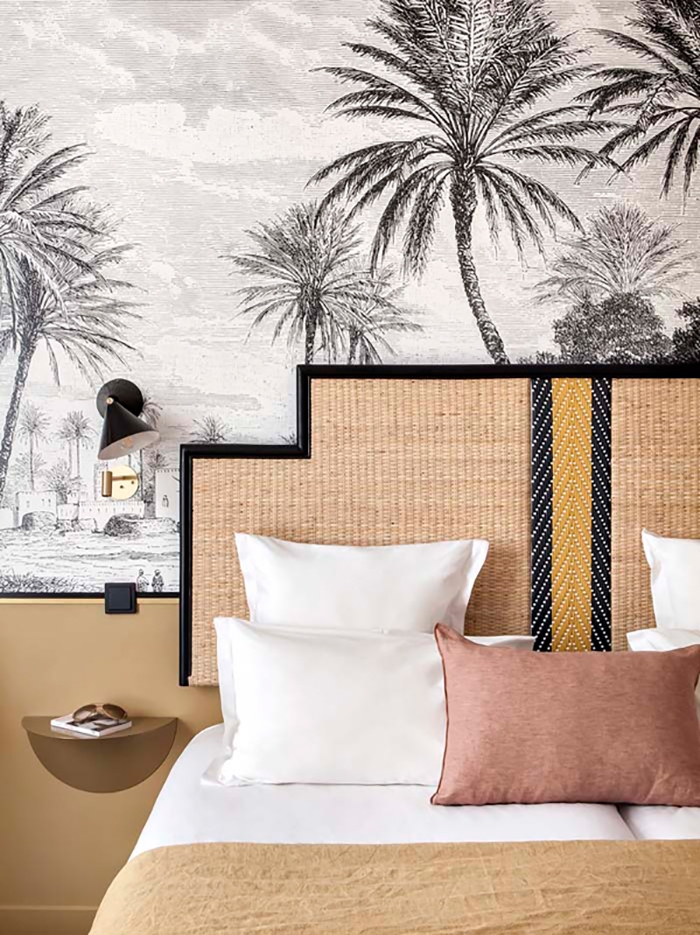 Pen & Ink Monochrome Wallpaper | 2020 Wallcovering Trends
Using monochrome papers easily allows almost any pops of color! I love the mix of the hot pink with this treescape landscape. It adds such dimension to an otherwise flat wall. Now that you've seen this, imagine this wall being plain white or builder beige. How boring?!?
Stark Monochrome Wallpaper In A Bedroom | 2020 Wallcovering Trends
Check out this awesome leopard monochrome mural wallpaper. I love the starkness with so much interest yet to be explored.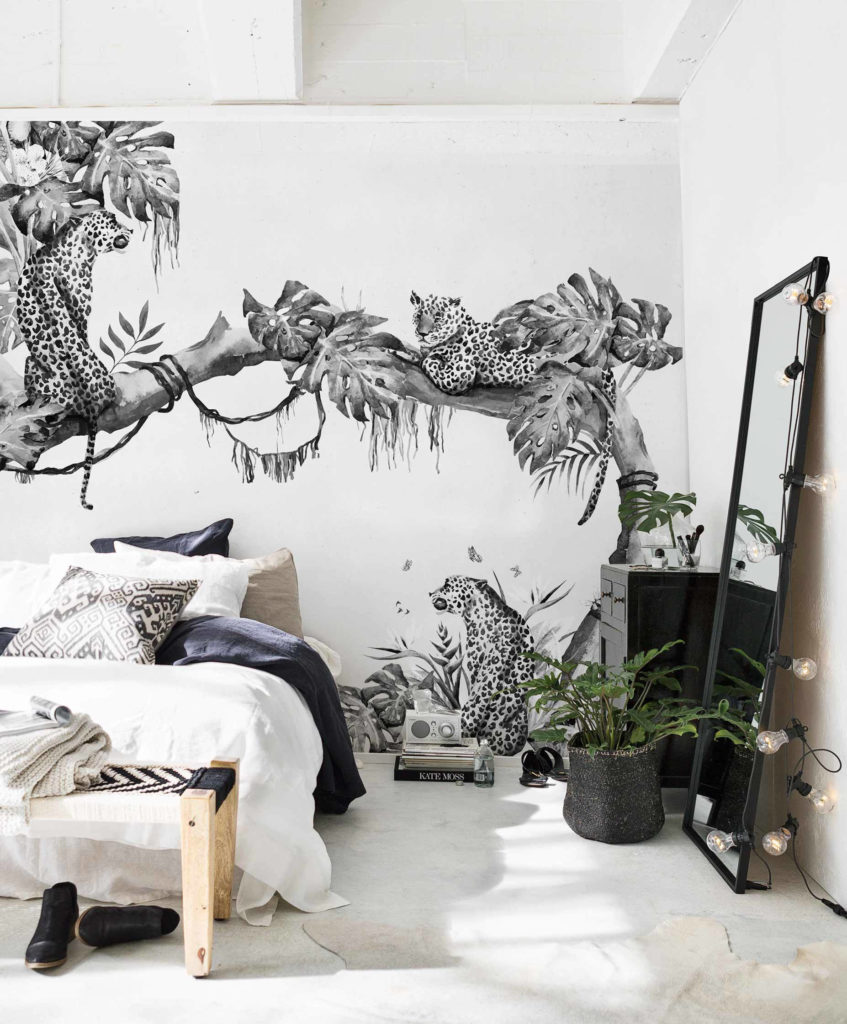 Add Interest In A Home Office or Laundry Room | 2020 Wallcovering Trends
Adding an interesting monochrome paper in your home can be added anywhere to create visual interest. In the case of this home office, notice that the paper is a distraction for the otherwise ugly pipes in the corner. Without the paper, radiator pipes would be the first thing you see when entering the room. Really who wants to go to work and stare at a blank wall? At my firm, we enjoy creating spaces that our homeowners want to live and work in.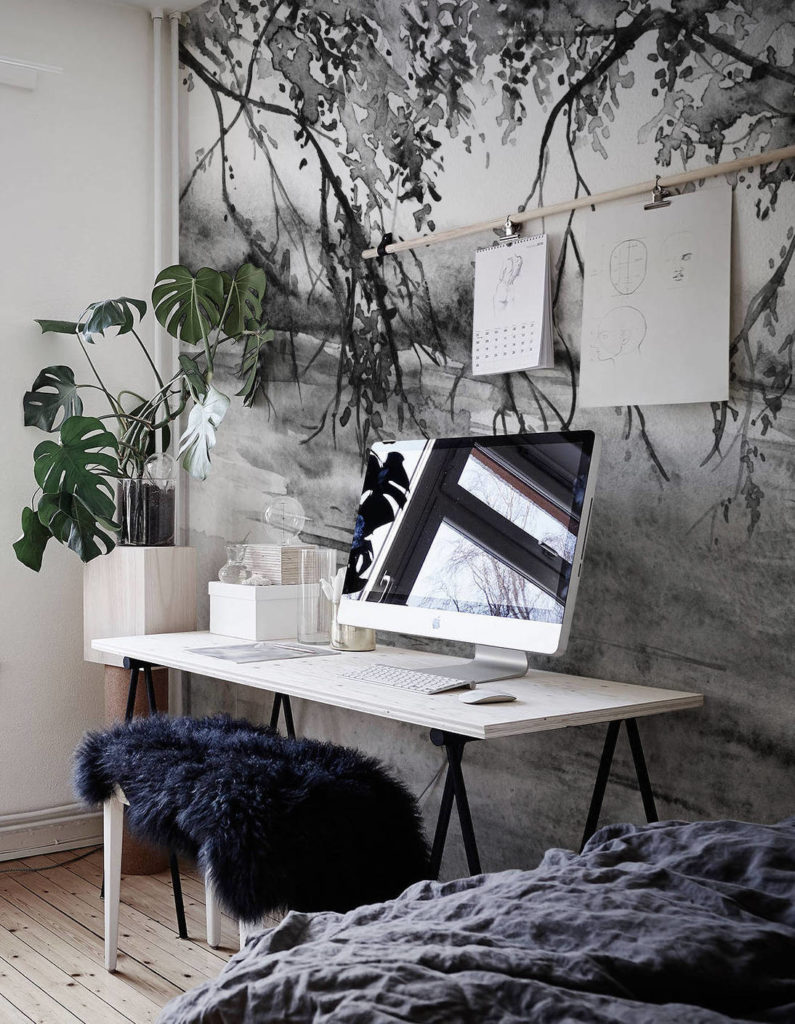 Monochrome Papers Can Be Used With Antiques Too | 2020 Wallcovering Trends
I added this image because I wanted you to see that monochrome papers have been around for centuries. In today's home and office environments, they should be fun, interesting, conversational and set the tone of your family or office staff. As you can see, there are lots of options to work with when choosing the monochromatic route.
Looking for Awesome Monochrome Wallcoverings, Wallpapers or Art For Your Texas Home?
Look no further. We are here to help. Whether you're looking for a specific subject, mood, designer wallpaper, or someone to come into your home to create a custom monochromatic statement piece, give us a call or drop us a line. We'll be in touch to see how we can assist you.
Thanks for taking the time to read and subscribe to our blog. I hope you enjoy reading and seeing our interior design projects and photos as much as I love writing these posts for you. Leave a comment below to let us know what you like and what you don't like. Like most blogs, mine is a work in progress, and it's always nice to know someone is reading 🙂 Are you there? Comment below. 🙂
Happy 2020!
Dee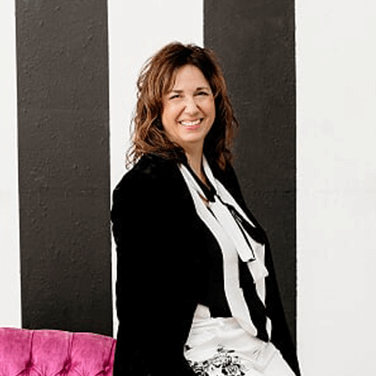 Chief D'KORator, Voted "Best of Houzz" for Dallas Interior Designers, Early Riser, Coffee Lover, Gardening Guru, Estate Sale Maven, Mover, Shaker, Wife, & Mom