His Way or Hers.
To further balance the homeowner's opposite tastes in color, Calm Serenity Dee Frazier and her design team omitted the honeysuckle hues used in the family room in other areas of the home, replacing them with deep, neutral grays and of pale blue hues. The water theme continues, however, in a glass sculpture on the round foyer table flanked by two slate gray chairs.
The stairwell wall that once begged for art now makes a strong visual statement. Panel moulding and lily pad sculptures continue the discrete nature theme loved by the homeowners.
<<Foyer
Multiple lily pad sculptures overlay silver leaf walls are flanked by custom hand stenciled filigree.
<< Bedroom
The romantic bedroom ceiling was designed to incorporate a large-scale chandelier and hand-stenciled ceiling medallion.
"Thinking outside the box, we create designs that are beautiful in your box." Check out my interior designer blogs.
– Dee Frazier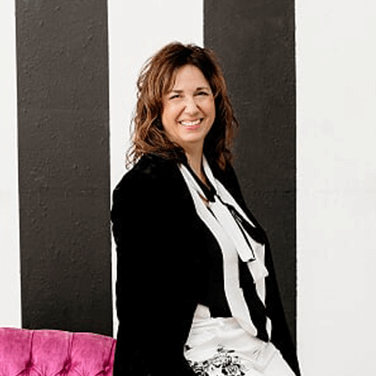 Chief D'KORator, Voted "Best of Houzz" for Dallas Interior Designers, Early Riser, Coffee Lover, Gardening Guru, Estate Sale Maven, Mover, Shaker, Wife, & Mom