Daughters Room Ideas by Kips Bay Dallas Decorator Showhouse by Michelle Nussbaumer
We like to say Dallas designers do it best! Michelle Nussbaumer's latest Kips Bay Designer Showhouse room was dubbed the Turkish Writer's Lair. Inspired by a 19th Century English traveler, Nussbaumer's daughter's room design may have been in the latest Kips Bay Designer Showhouse in Interior Decorator Dallas, TX. Still, it definitely reminded us of a traveler that lived in Turkey and Morocco. Michelle Nussbaumer created a dream blue & white classic private oasis on the upstairs of the house. Keep scrolling to see some of our favorite parts of her Dallas interior design firms. 
1. When designing a room for your daughter, start with an inspiration board.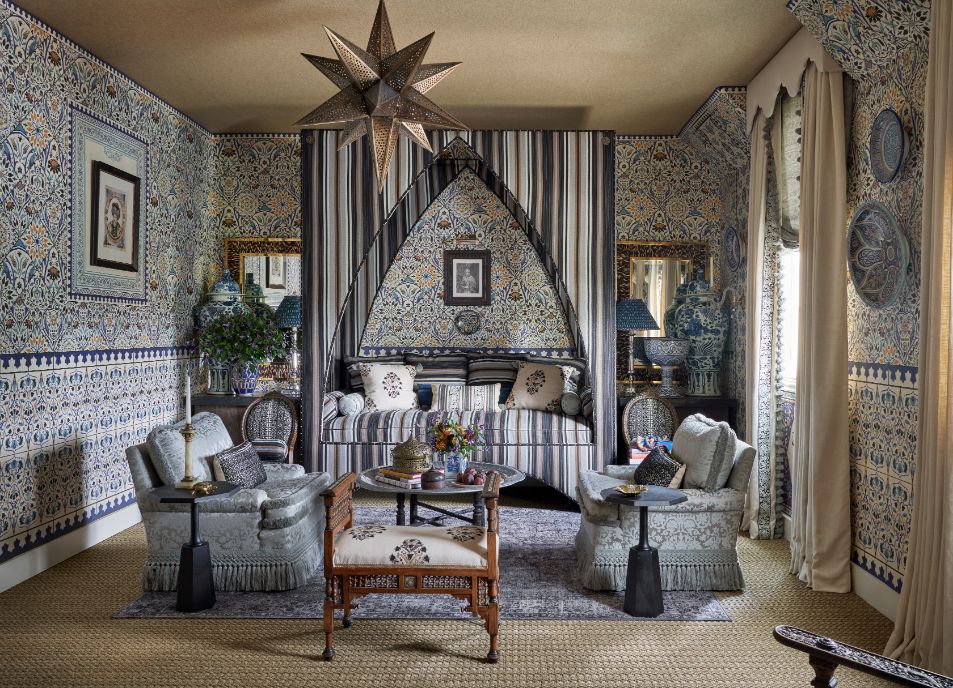 2. Incorporate Interesting Timeless Custom Wallpaper & Possibly Custom Wallpaper Patterns 
Though inspired by an intrepid gentleman who brought his dreams back and created a private worldly oasis for his little girl, cultures collide just like the Bosphorus. 
Nussbaumer used multiple layered patterns and textures throughout. See her new Michelle Nussbaumer by Paul Montgomery wallpaper created an exotic lair pattern below. For those who follow our blog weekly, you know we LOVE incorporating custom wallpapers and custom finished wall treatments in projects. 
Custom wallpapers are among our favorites. Each homeowner and home is unique. While it should be functional for your lifestyle, it should visually reflect your style and taste too.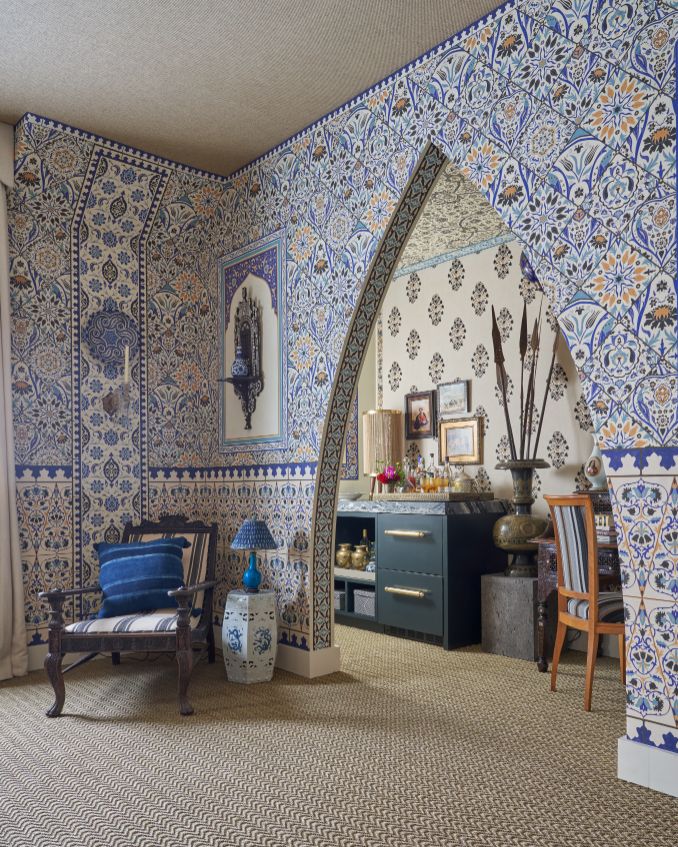 3. Order Custom Furniture For Your Home. 
Fabrics and trims by Clarence House were beautiful on the custom Michelle Nussbaumer Bodrum Daybed, which mimicked the shape of the entry doorway. Keep scrolling to see what I mean.
Ordering custom furniture for your home is often locally produced and gives locals jobs, plus you'll get a much better value for your money.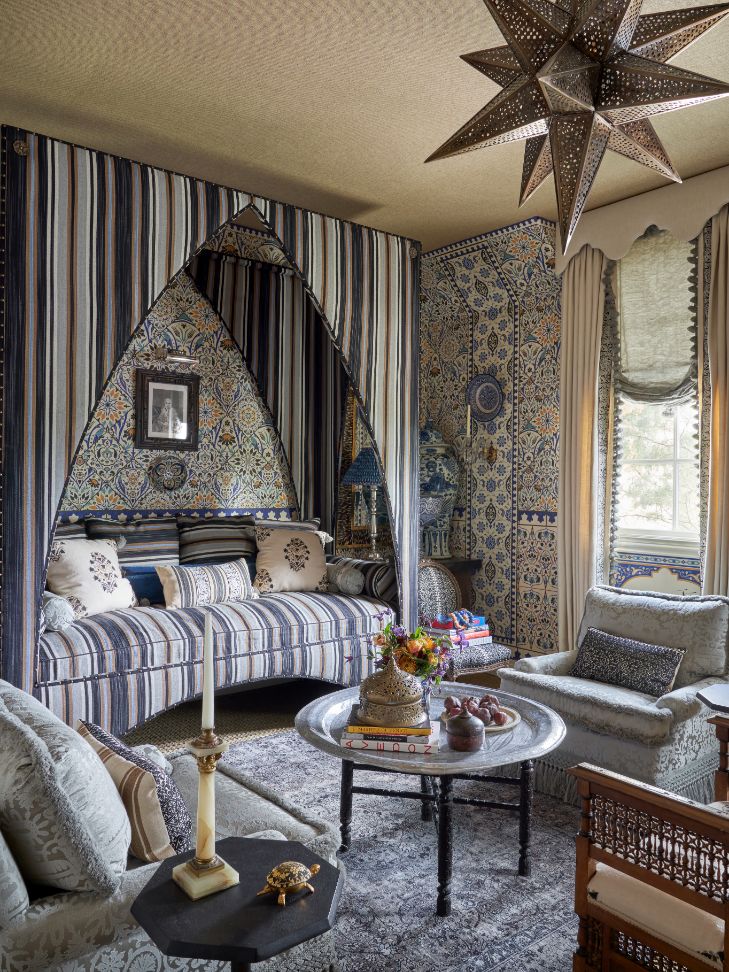 4. Use Reproduction Artwork That Appears Antique
To give your room an antique look, we highly recommend first checking out your local flea markets, art galleries, and even thrift stores.
In the case of this daughter's room, we love that Michelle Nussbaumer used one of our favorite art vendors who does a great job with reproductions when clients aren't looking to spend a fortune on art. Great job, Wendover Artwork! The art looks old, but it's actually reproduction art perfectly finished and framed.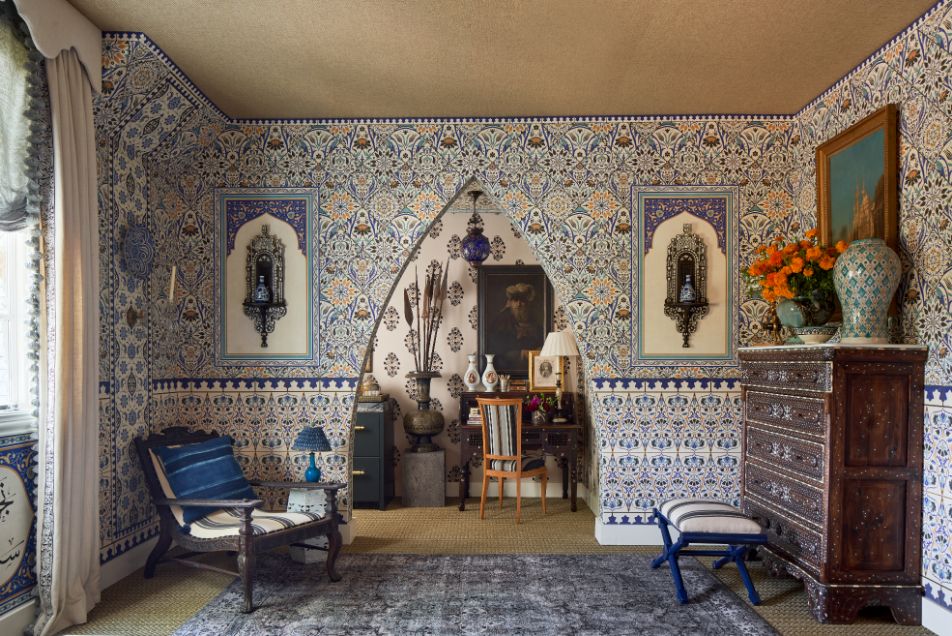 5. Incorporate Antique Like-Accessories 
The accessories throughout the room make such a difference. For those of you who follow me, you know how much I love incorporating antiques. Michelle Nussbaumer used beautiful, gorgeous accessories from Ceylon et Cie for this daughter's room. 
6. Use LED Strip Lighting For Custom Closets & Storage Areas.
When ordering custom closets, be sure to add built-in custom LED strip lighting to light each shelf properly. While LED strip lighting can be costly, adding it to kitchen shelves, master closets, or other high-use areas can make a big difference in the organizational process.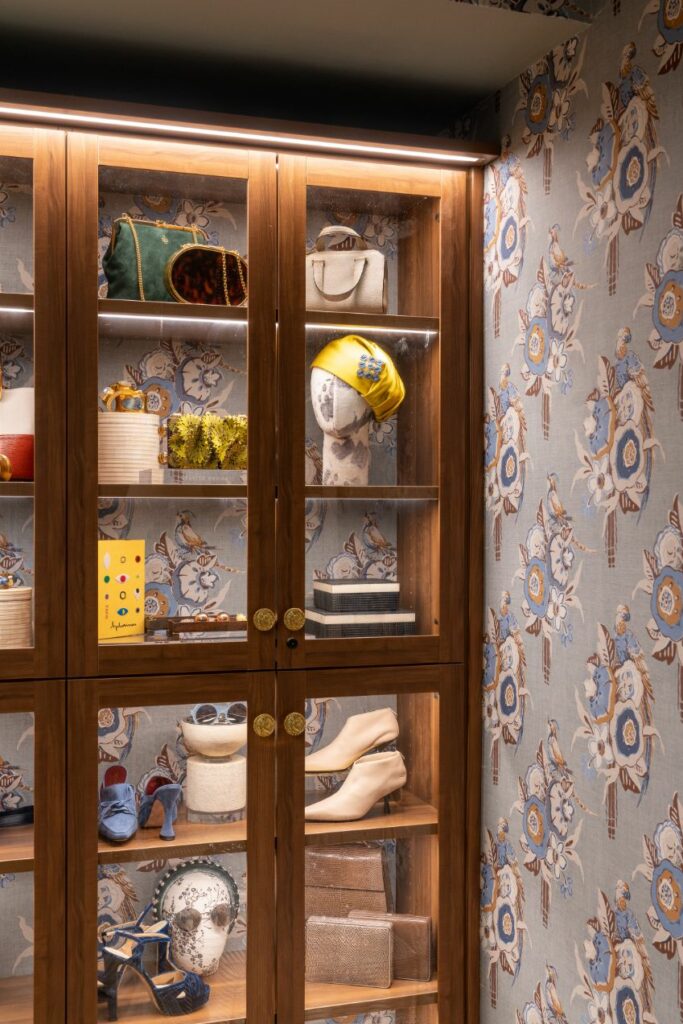 7. Incorporate Practical Solutions Such as Hooks in Closets.
There's no better way to stay organized in closets than using hooks.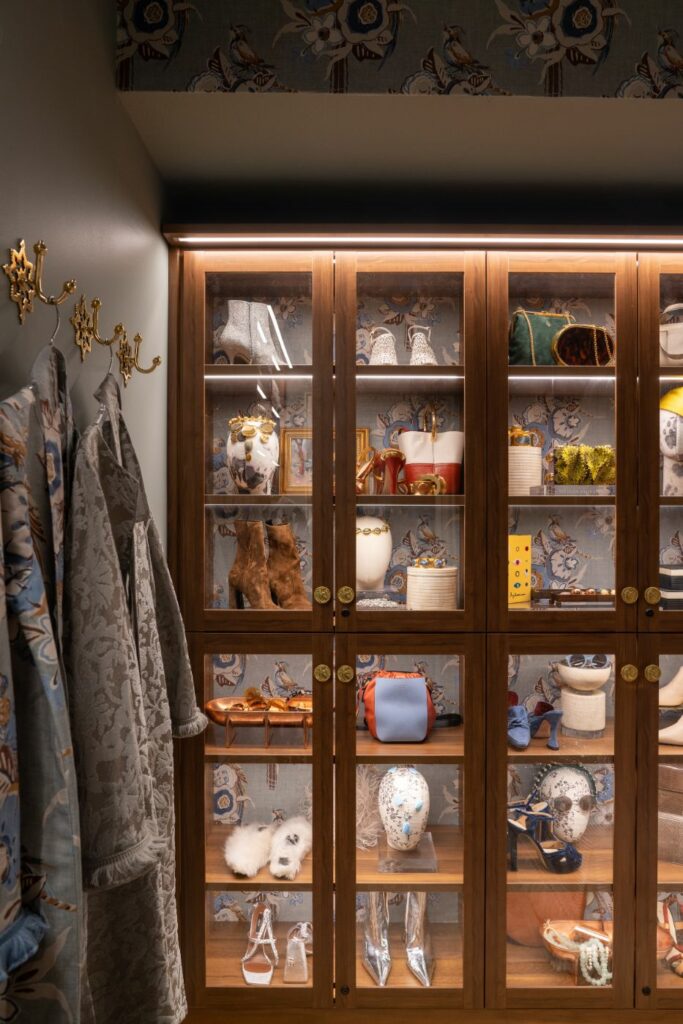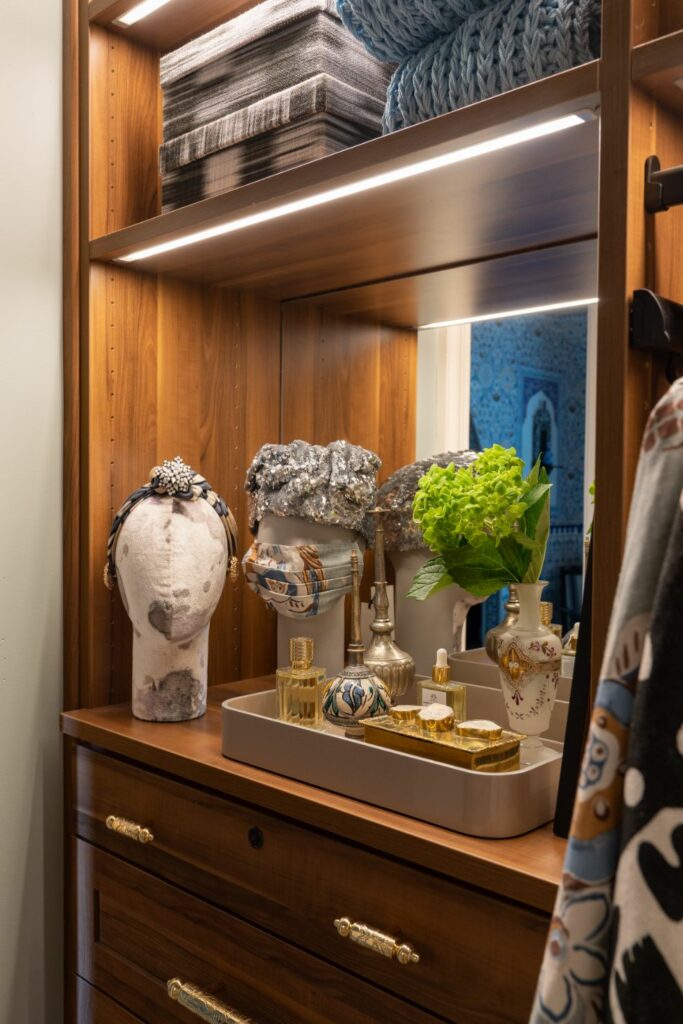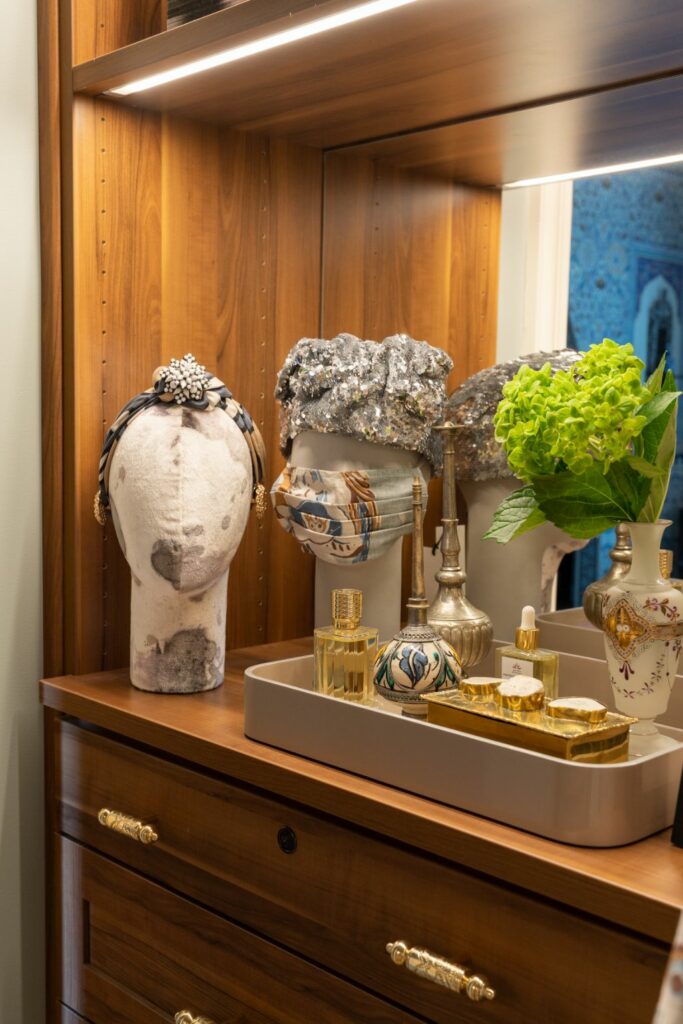 8. How To Prevent Damages To Furniture Tops.
Use countertop overlays such as marble or incorporate removable trays to place your favorite perfumes and other items that could damage your furniture tops.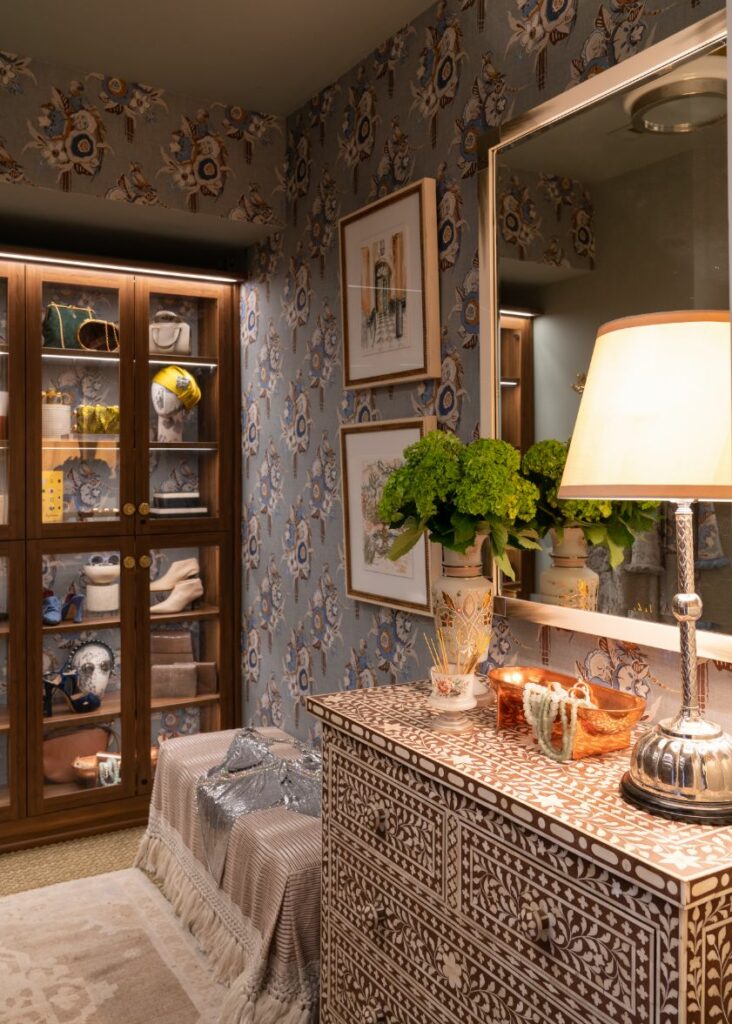 9. Add Seating To Closets.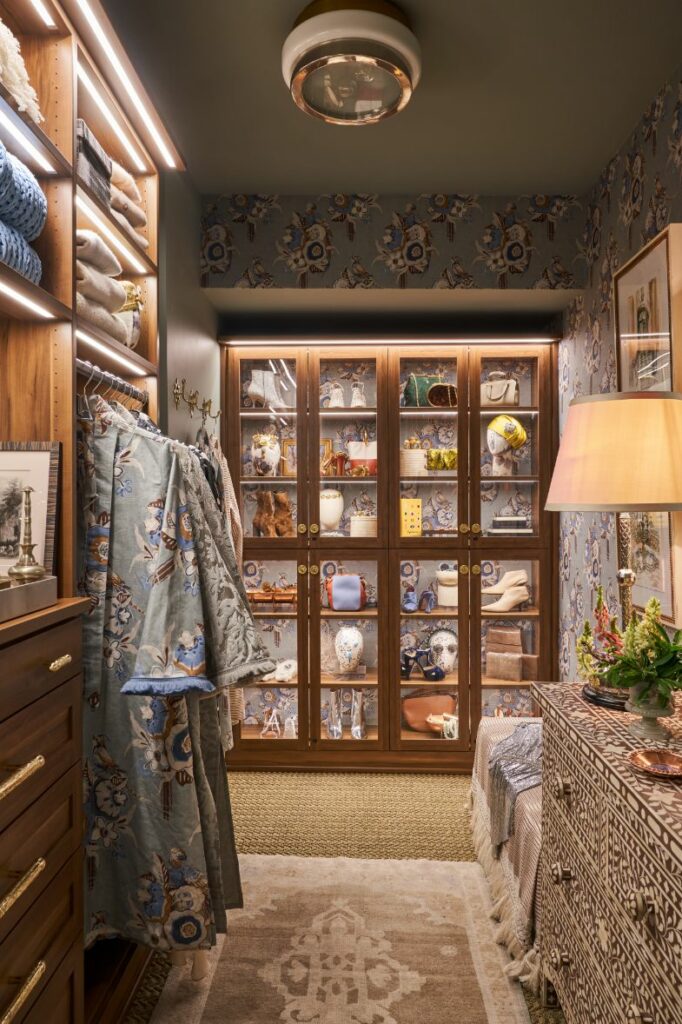 10. Paint Old Cabinets Black & Use Nice Hardware To Modernize Cabinetry.
In showhomes especially, you can get some great ideas for what to do with the old cabinetry. Designers often have to pay for the work in rooms themselves, so cabinet replacement is not only expensive, but it can't be easily removed when the showhouse closes.
In this bathroom, Michelle Nussbaumer did a great job of simply painting the cabinets black and adding really nice decorative hardware.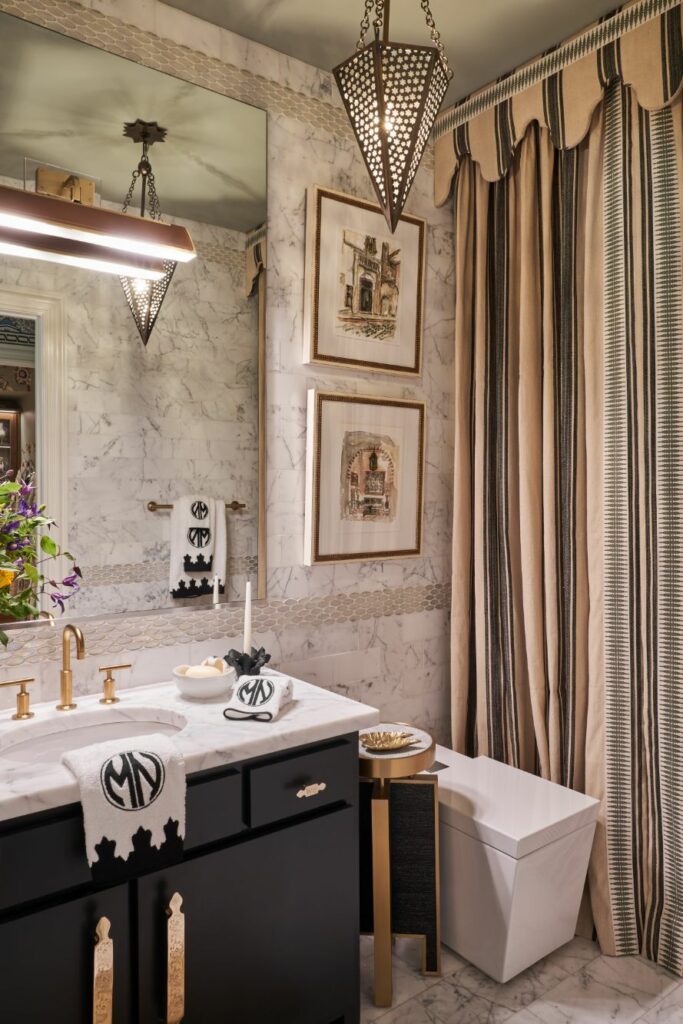 11. Create a Dramatic Entry To Your Rooms.
If budget allows, create a dramatic curtained entryway to rooms.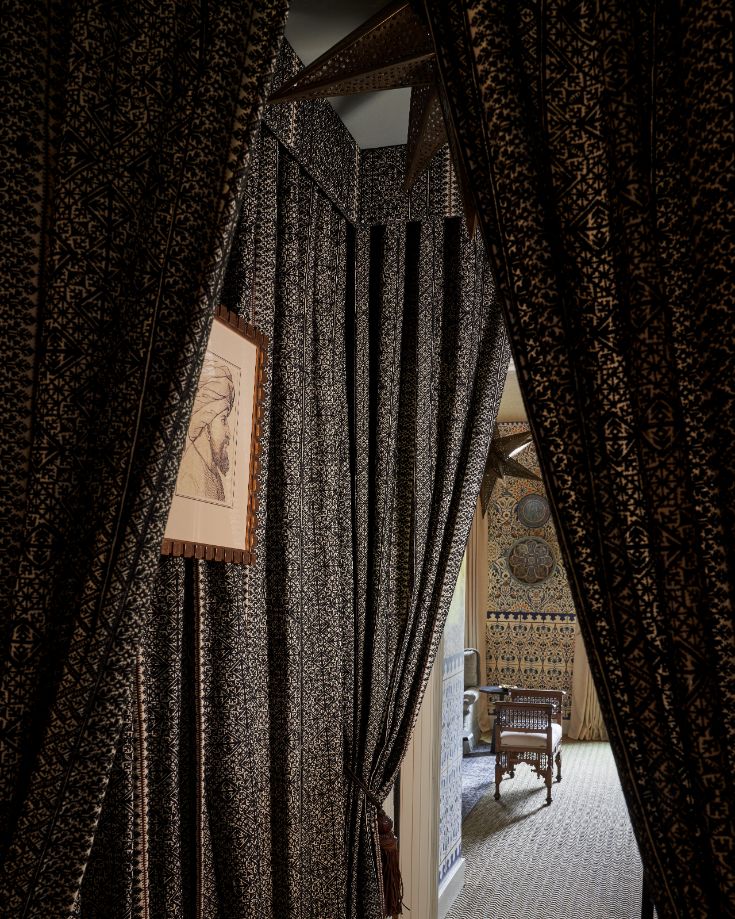 I hoped you enjoyed this beautiful backyard at Kips Bay Dallas.
Click here to see all of the Kips Bay Dallas Showhouse Photos & be inspired by my future interior design blogs by subscribing to my weekly interior design inspiration. Click here for a complimentary Dallas design magazine subscription. 
Here's to wishing you an amazing home design experience. Check out also interior designer blogs.
X~
Dee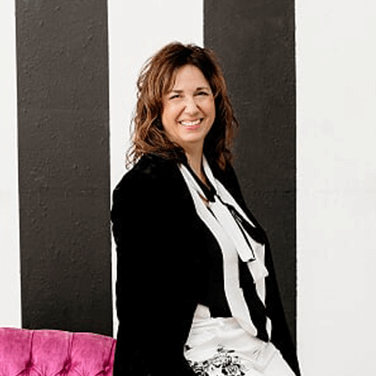 Chief D'KORator, Voted "Best of Houzz" for Dallas Interior Designers, Early Riser, Coffee Lover, Gardening Guru, Estate Sale Maven, Mover, Shaker, Wife, & Mom