Why Parents Are Considering Finished Basement Ideas or Bonus Rooms Ideas?
Sadly in today's environment, families are faced with tragic situations and mass shootings at schools, the movies, in restaurants, at concerts, and other public places. Believe it or not, this affects the type of calls and rooms that we're working too. Times are changing and so are parent's take on designing for youth. Many parents are considered finish your basement bar ideas and bonus room ideas.
Lately, we have received numerous daily calls for building out rooms, finishing basements and bonus rooms for teens, tweens, and kids of all ages, especially older kids. Parents want their teens to stay home vs. out & about in public spaces. Helping facilitate a beautiful design for kids of any age is a ton of fun to my entire team. Remember when your parents allowed you to assist in designing your room? We love to get the whole family involved.
A few months ago, I was co-hosting the Property Brothers on a DecorBoss episode at High Point Market. Jonathan & Drew recommended including the kids by narrowing down choices so that no matter what the kids choose, it works. Continue reading my tips and recommendations for creating the perfect basement build-out whether you want to create a game room, library, theatre, wine room, or whatever best suits your lifestyle.
Before Our Recent Texas Bonus Room Ideas For This Dallas TX Game Room Home Renovation
The main objective of the renovation was to transform a bonus room into a design a family-oriented game room is where the Milan daughters could hang out with their friends. Our procedures and solutions could easily inspire a basement remodel or any extra room in your home.
Our Bonus Room Ideas & Finished Basement Ideas For This Teen's Game Room
First and foremost, we met with the Malan family to understand their lifestyle. Then we began making furnishings and placement choices based on the way they plan to use each space. The Milan girls love Stranger Things, so we started with a more 1970's color scheme with an alternative color package of blues and coral crush.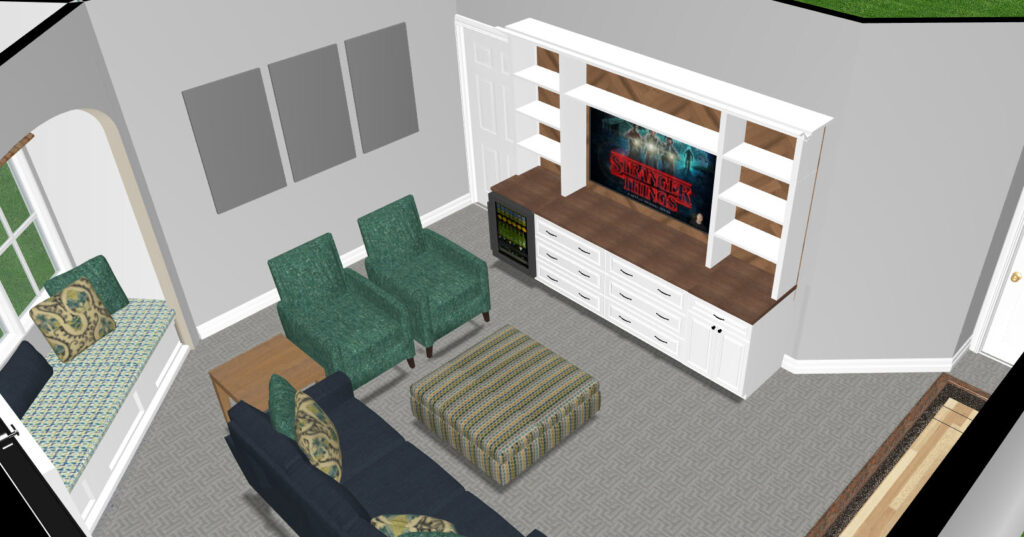 3-D Finished Basement Ideas or Bonus Rooms Ideas | Dallas Interior Designers | Dallas TX | DKOR HOME | Home Renovation | Game Room Ideas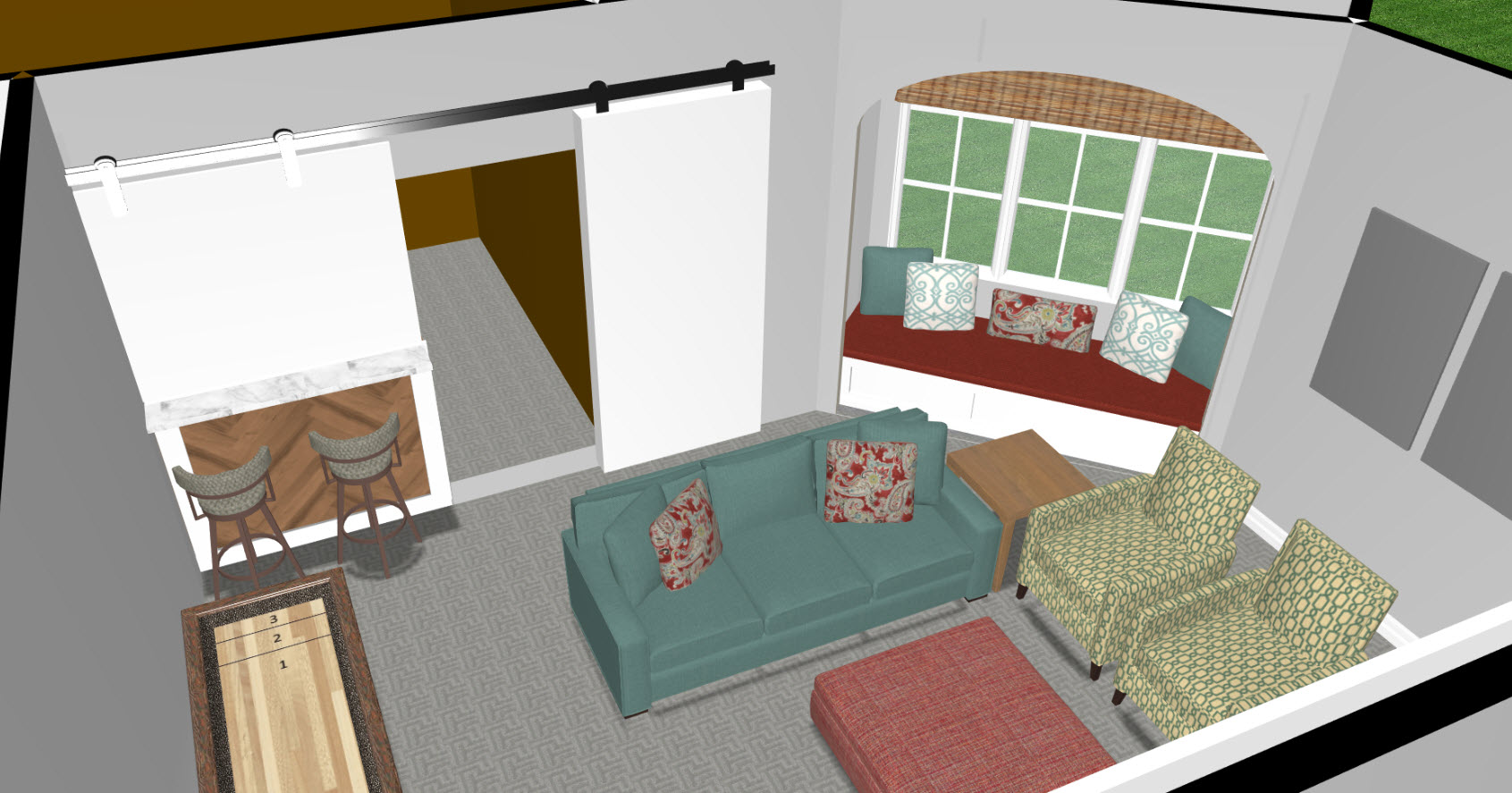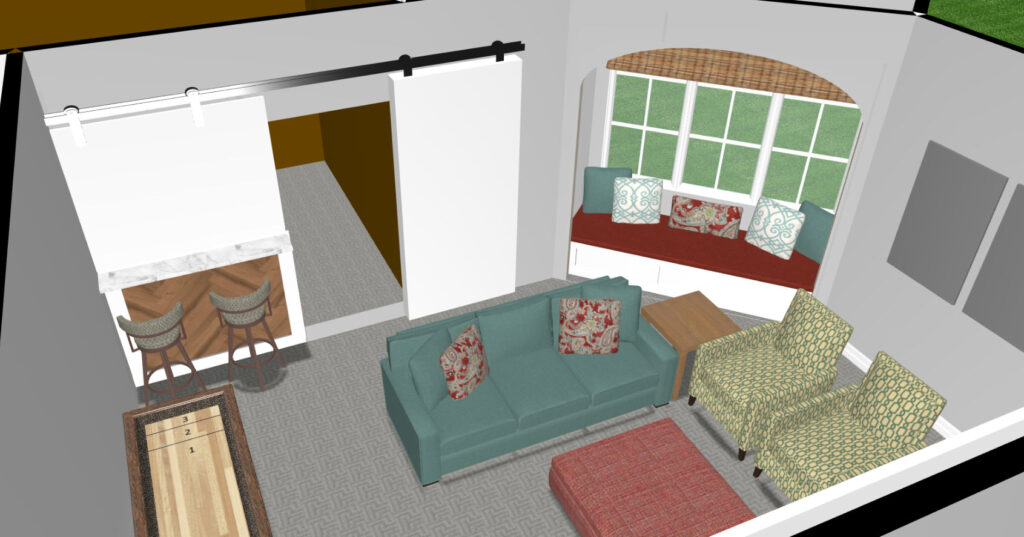 3-D Finished Basement Ideas or Bonus Rooms Ideas | Dallas Interior Designers | Dallas TX | DKOR HOME | Home Renovation | Game Room Ideas
We incorporated repurposed hardwood for both visual aesthetic and sound to absorb noise and audio from the television.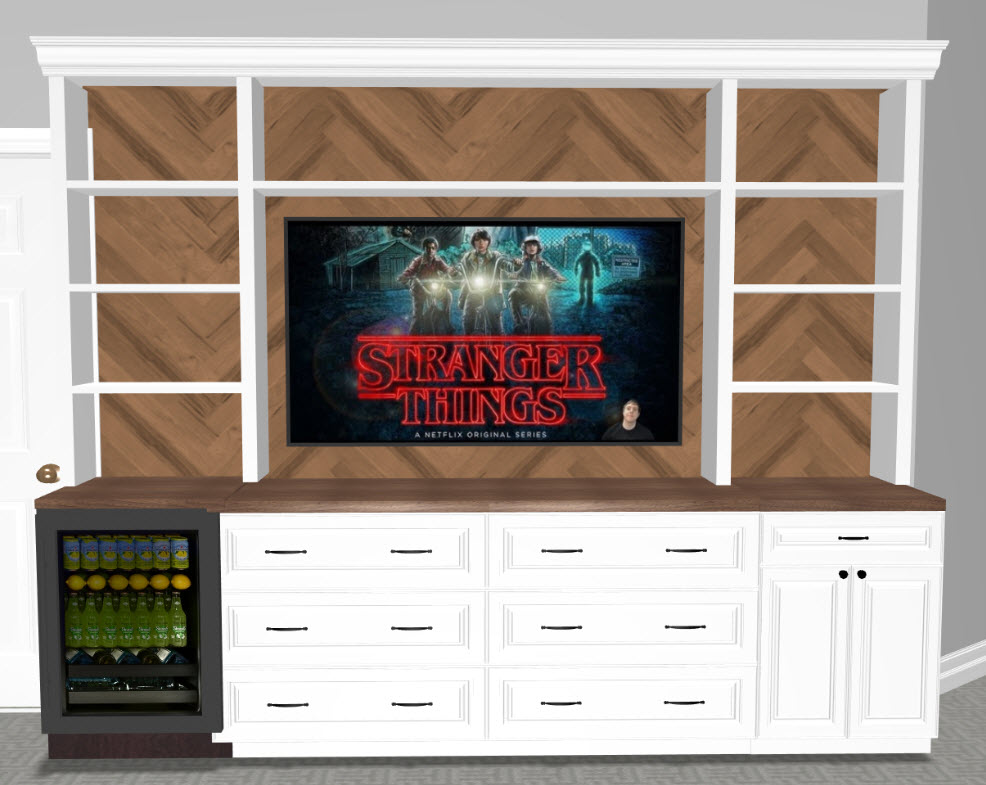 3-D Finished Basement Ideas or Bonus Rooms Ideas | Dallas Interior Designers | Dallas TX | DKOR HOME | Home Renovation | Game Room Ideas
7 Design Ideas To Build a Safe Haven aka Game Room or Home Renovation
1. Measure your furnishings and plan around the largest or most important pieces.
The only limitation we had to work around was the shuffleboard. There was only one wall that could accommodate the length of the shuffleboard, so we started there.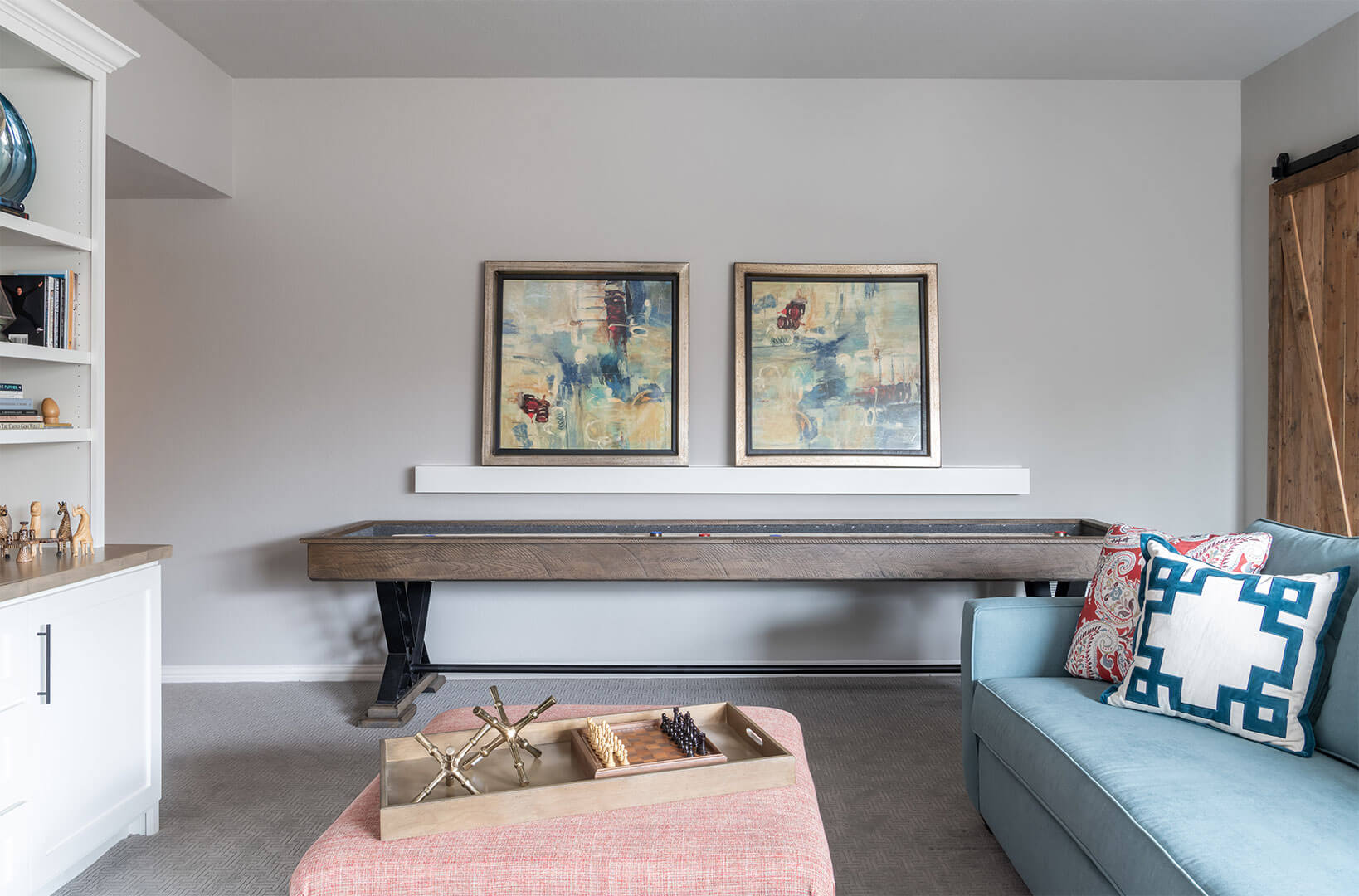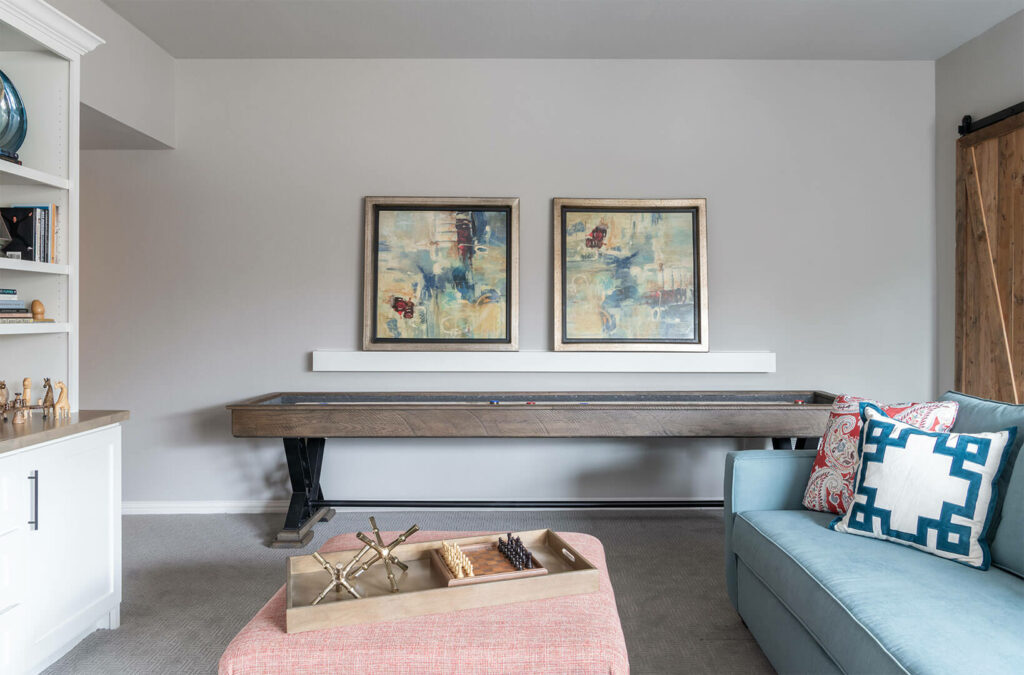 2. Enlarge door openings to incorporate barn doors to provide a more open feel.
Using reclaimed wood to build the barn door killed two birds with one stone. The wood helps absorb sound. As you can imagine, teens, tweens, and kiddos are not always quiet nor is the television.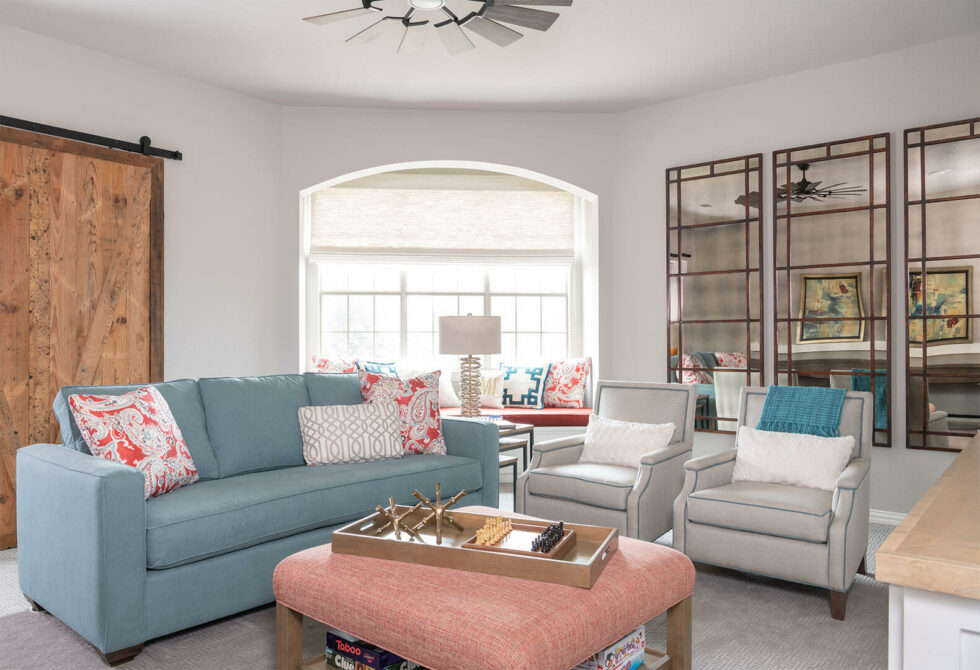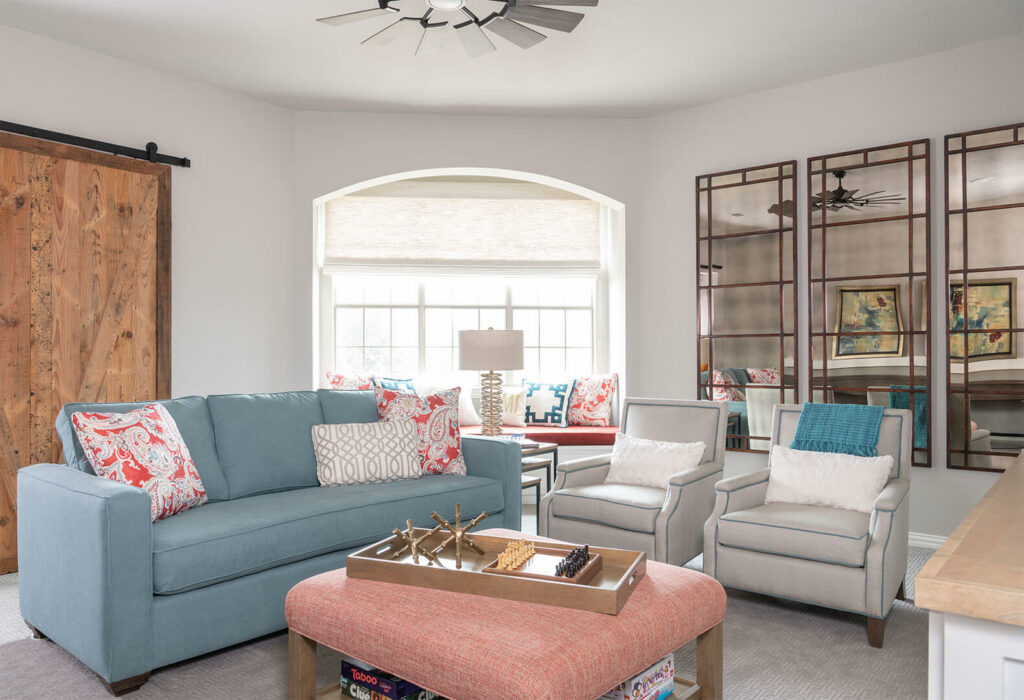 3. Incorporate functional, stain repellent upholstery, and textiles.
Plan ahead. Kids will spill. If you're creating an area where food and beverages are allowed, go for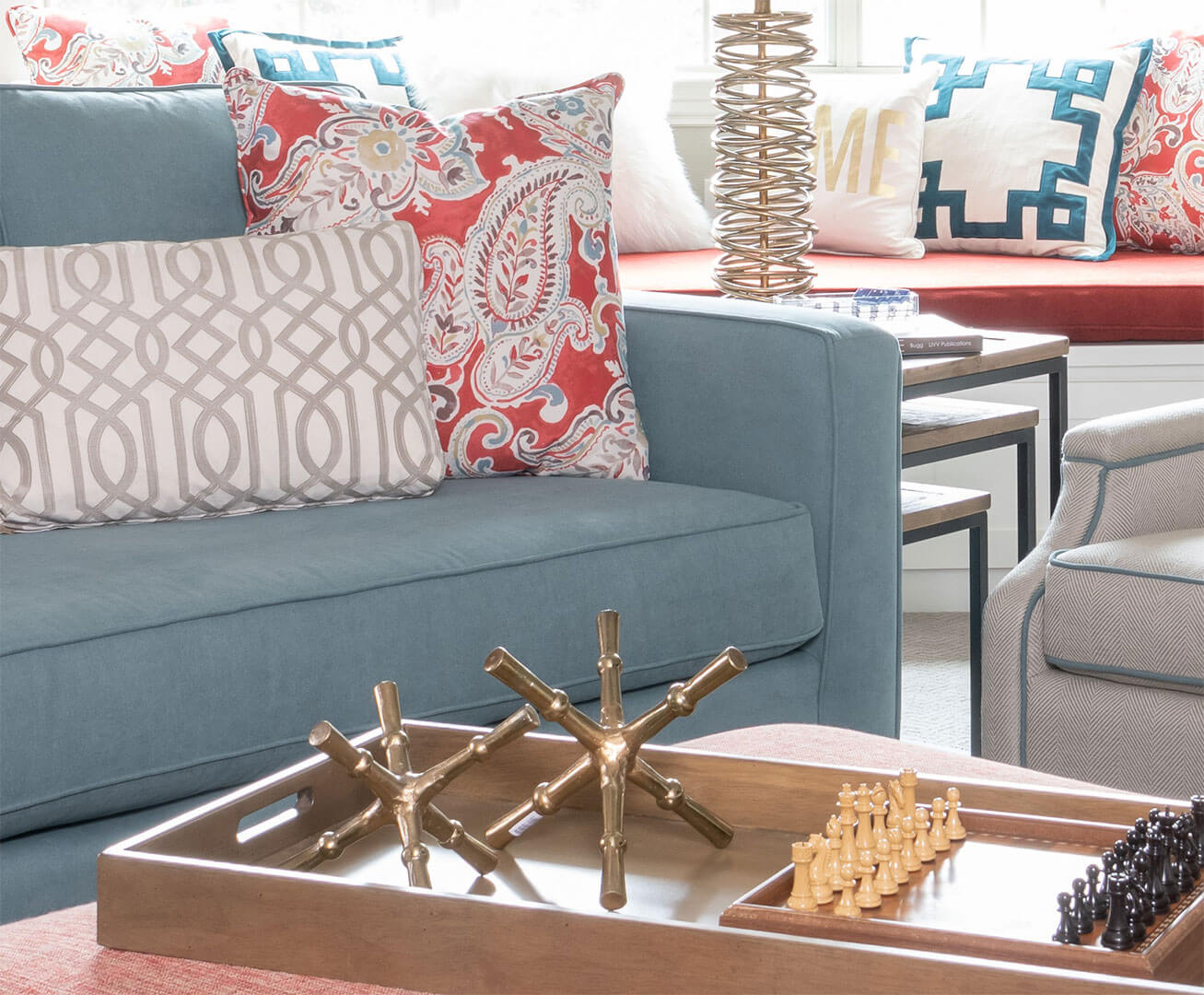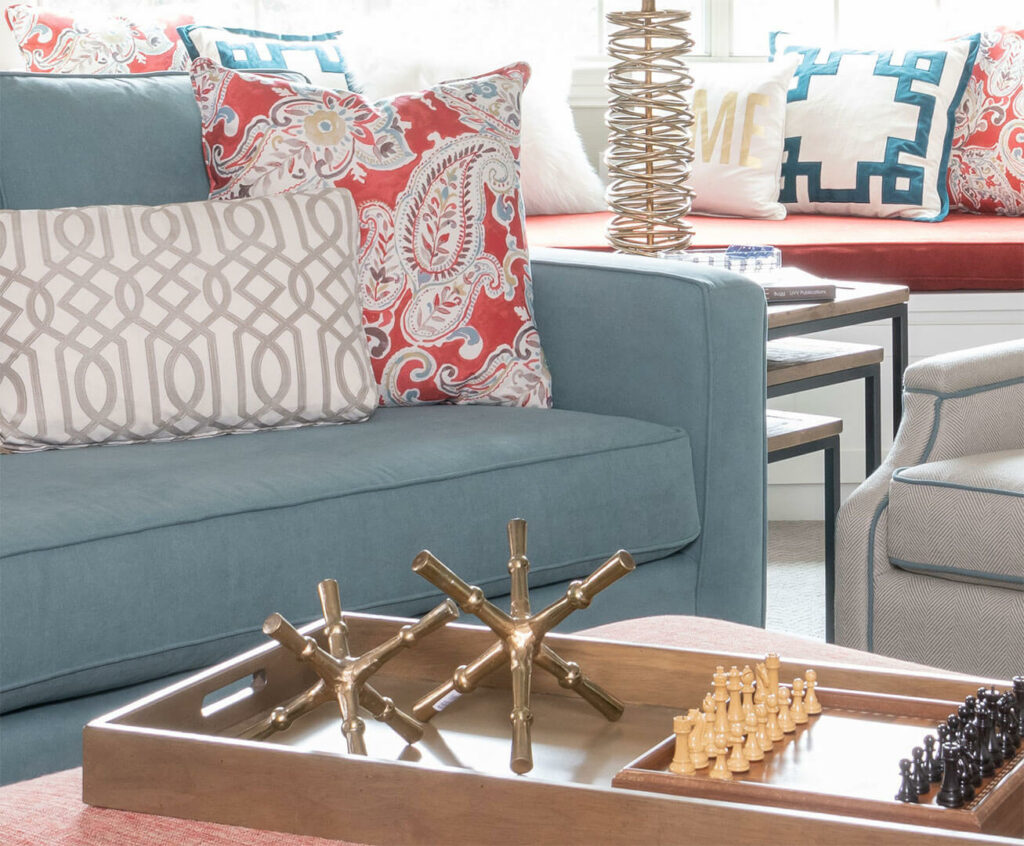 4. Install a beverage fridge & snack bar in the movie or hangout area.
After all, who wants to run upstairs to grab a bag of popcorn or cola for a movie. Candy and snacks can be stowed away in the drawers or could have also been available in bins on the shelves.visit smoothdecorator!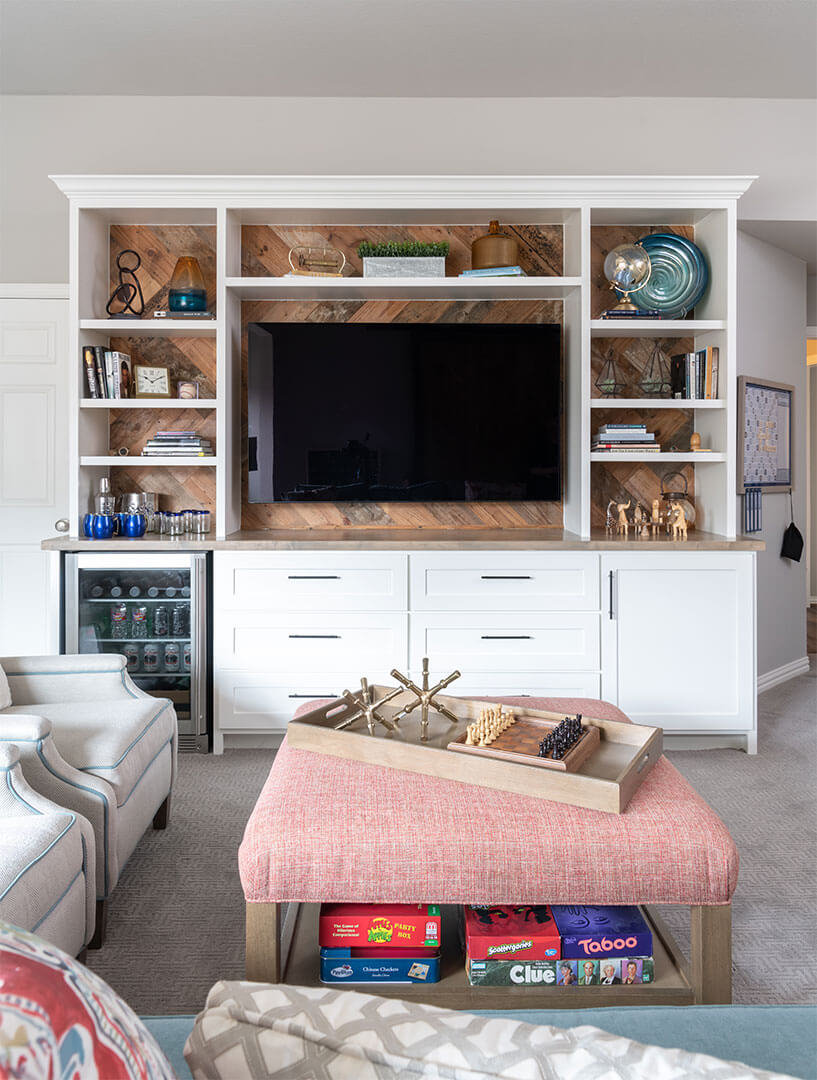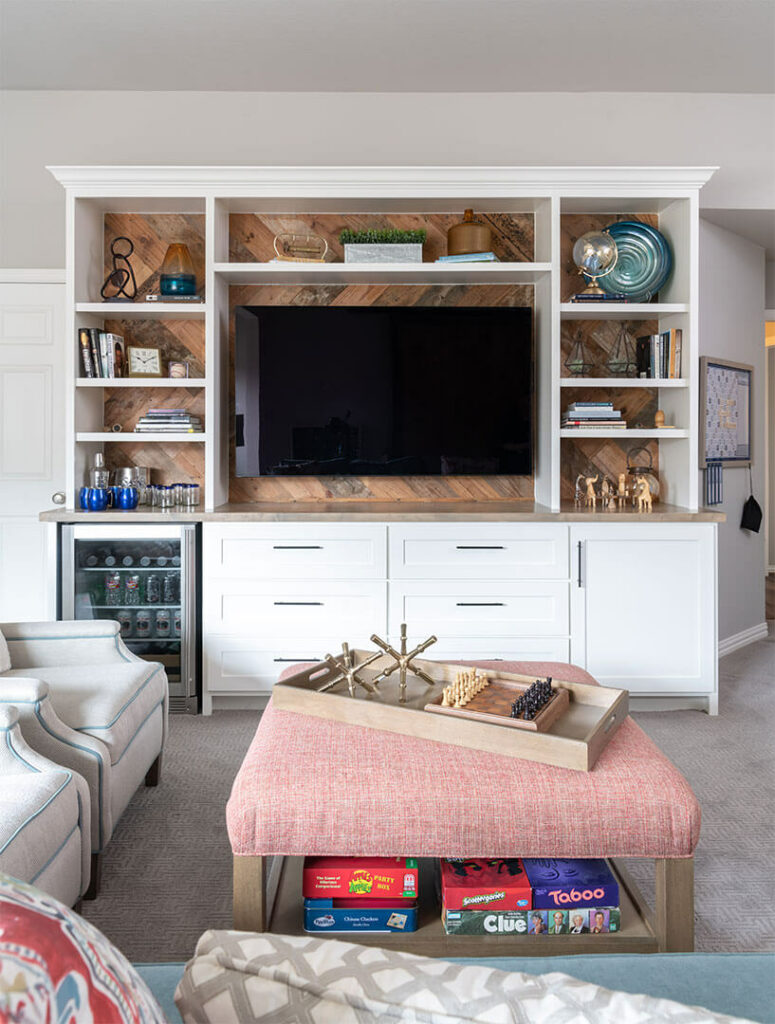 5. Keep board games insight to reduce phone screentime.
Make it easy for your kiddos to grab a game to play vs. grabbing their phones.
6. Build a window seat on encouraging reading.
Window seats are cozy, comfortable, and an economical way to gain a lot of both storage and seating. With awkward spaces in rooms, they are often one of the best solutions to furnish a space too.rda.net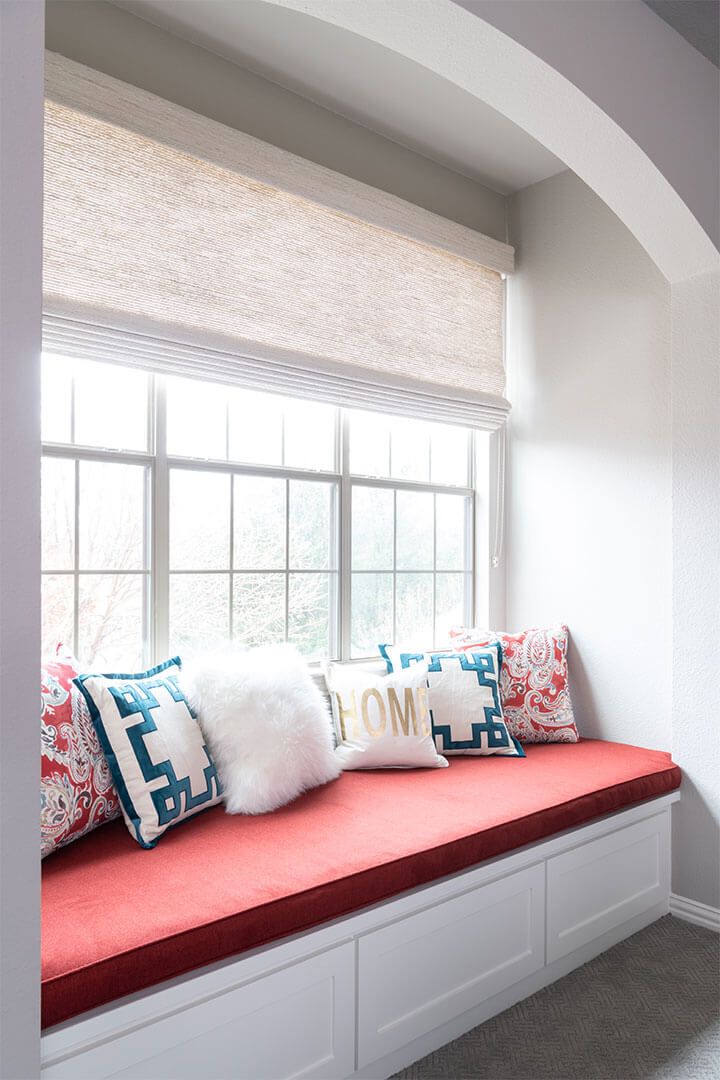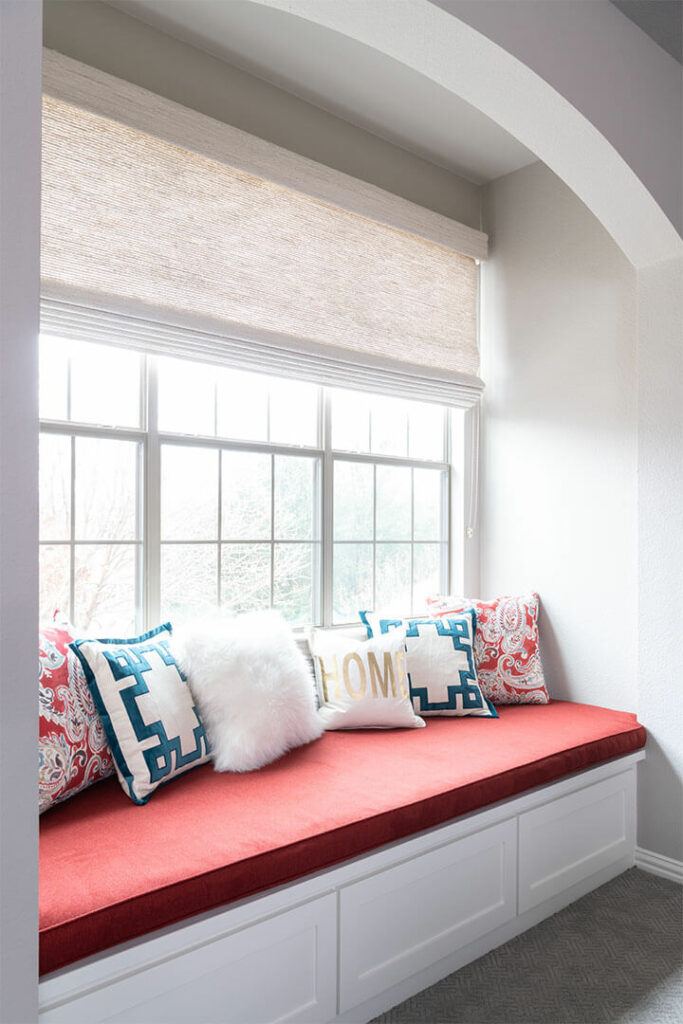 7. Add functional window treatments in television viewing areas.
With daylight basements, light can pour in. Ideally, this is great and not your typical 1960's grandparent's dark dungeon of a basement. At the same time, window treatments need to be included and look good visually. Most importantly, the window treatments need to function. Some of our clients prefer voice command functions using Siri, Alexa, or Google voice; others prefer a simple closure. Most basement designs need some form for privacy and light control. If you haven't read my blog post called "7 Things To Encourage Family Time Instead of Screen Time," click here! 
Need help with your interior design ideas for home renovation? We are based in the Dallas metro area. We serve Plano, Frisco, McKinney, Flower Mound, Highland Park, Dallas, & more. Give us a call and we may be able to help.
X~
Dee
P.S. Ready for a home renovation or home remodel? Book a complimentary appointment with our Luxury Dallas Interior Designers or Kitchen Contractors.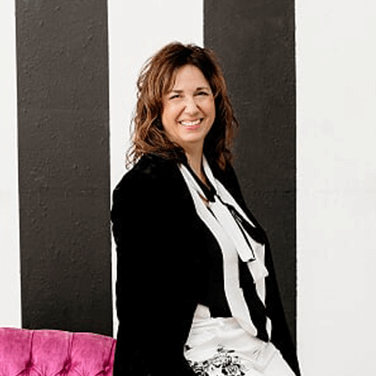 Chief D'KORator, Voted "Best of Houzz" for Dallas Interior Designers, Early Riser, Coffee Lover, Gardening Guru, Estate Sale Maven, Mover, Shaker, Wife, & Mom