Awesome Luxury Kitchen Design Ideas w/ Prep Kitchen by Chad Dorsey Design Kips Bay Dallas Designer Showhouse 2020
Inspired by concept homeowners—the Beauchesne's—this modern luxury kitchen design by Chad Dorsey is a collection of materials with a European Elegance-meets-Industrial-Edge aesthetic tailored, relaxed, luxurious materials and detail. Only the best will do for this couple, originally from Monte Carlo, the Beauchesne's (with a surname whose meaning translates to beautiful oak) are avid entertainers but don't enjoy cooking. 
Perception within their circle of friends is the Beauchene's host lavish dinner parties and pretend to participate. Meanwhile, the cooks are hidden behind in the prep kitchen, "out of sight," making it all come together. 
A mix of imported artworks, stemware, and cherished mementos collected throughout their travels, personalize the space.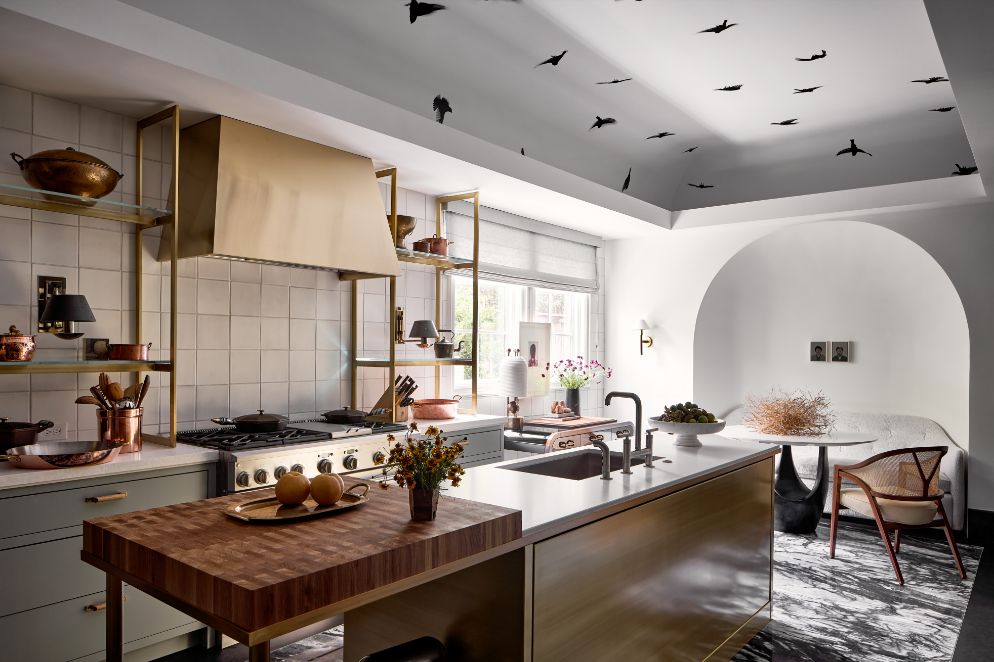 The Beauchene's want the main kitchen to feel chic and sophisticated, much like their perceived persona around the community. Materials, lighting, and fittings all make a statement about the couple's refined tastes and well-curated lifestyle.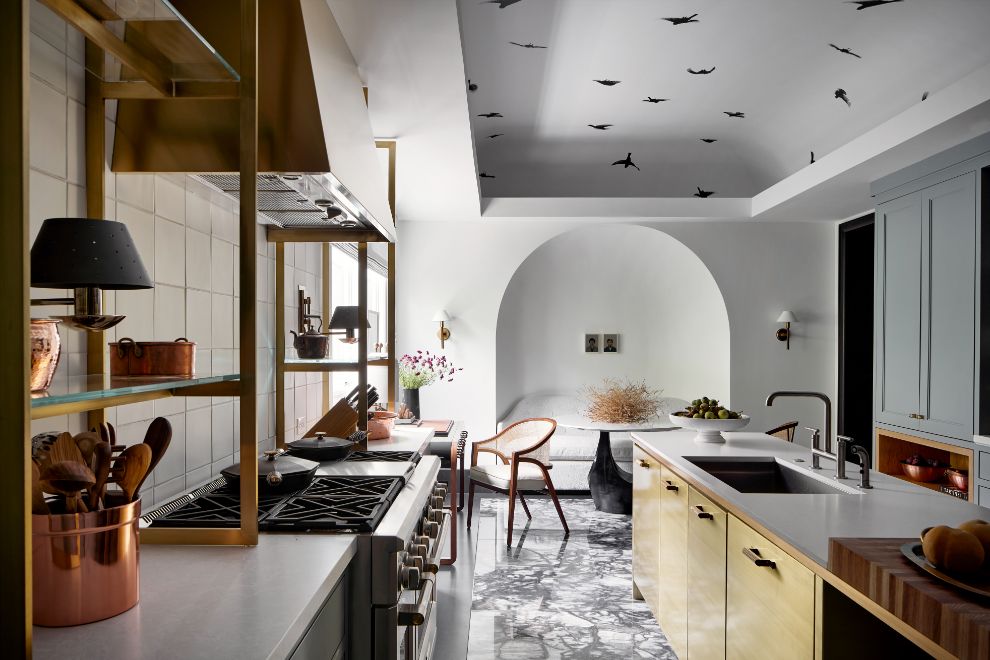 Prep Kitchen & Pantry In Puritan Gray by Benjamin Moore
Behind the cased opening, a Prep Kitchen, Pantry, and Work from Home space provide that all day-to-day messy work is done out of the way. Here, renowned painter Louis Gloria's lacquered Millwork finished is more traditional than the kitchen, evoking an English sensibility with a pale Puritan Gray from Benjamin Moore.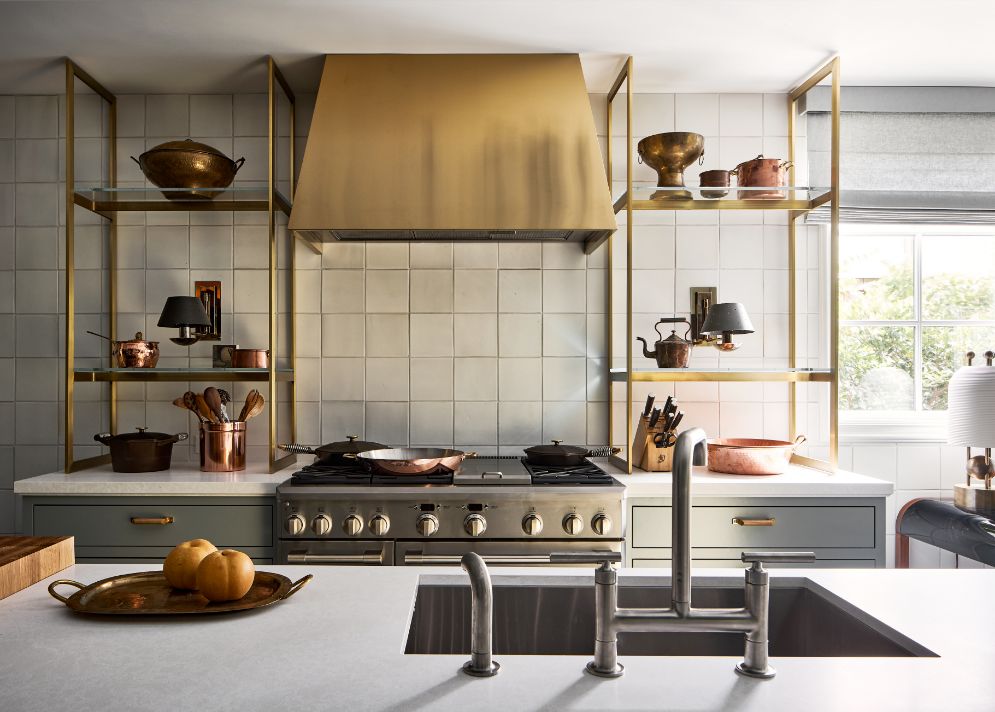 Focal Point | Cambria Stone with Reverse Painted Glass
The space's focal point is a cased opening using a Cambria Stone inset with a Chinoiserie from artist James Mobley painted on Industry Glass over an antique mirror.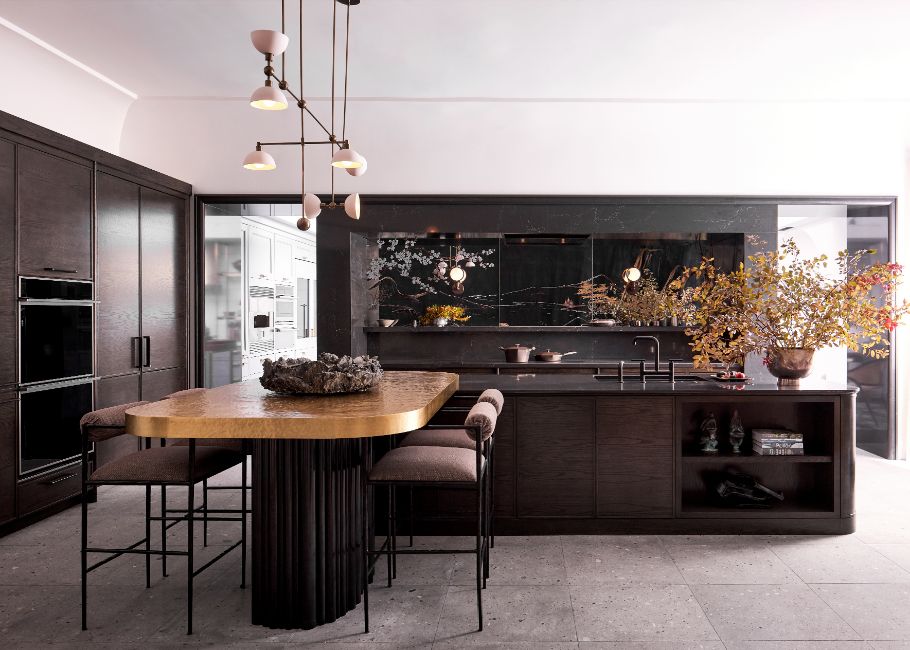 Custom Dark White Oak Kitchen Cabinets w/ DLV Brass Hardware
Custom dark white oak cabinets with wood and brass fittings hardware from DLV provides the industrial edge and reminds the Beauchene's of being on their yacht in the Cote de Azur.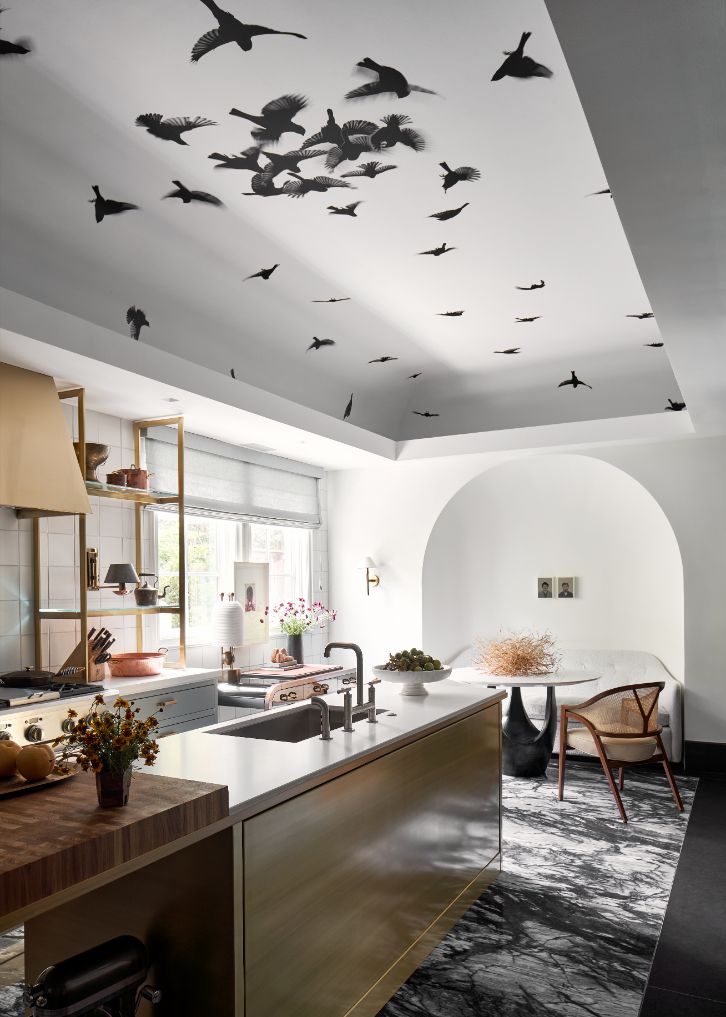 The hardworking custom brass island features a custom butcher block at the end of the space to land and do work, homework, or enjoy a nice spot for an espresso. Inspired by an English Sunroom, a faux skylight using an abstract black and white bird wallcovering on the ceiling from Trove creates the illusion of looking into the sky for added visual interest.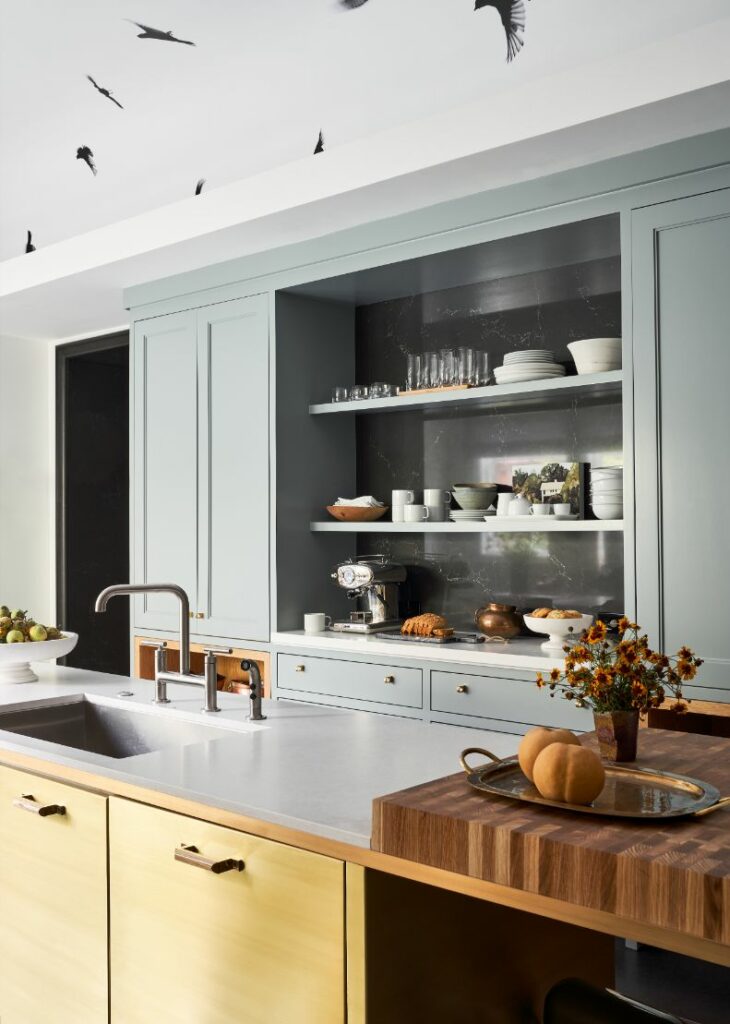 Coffee Bar with Cambria Solid Materials Backsplash

Dining Table Ideas Using Sculpture
The use of a brass tabletop with a tubular steel base and custom Apparatus Studio Trapeze Fixture offers a pleasing contrast against the rustic Cantera Floor from Materials Marketing.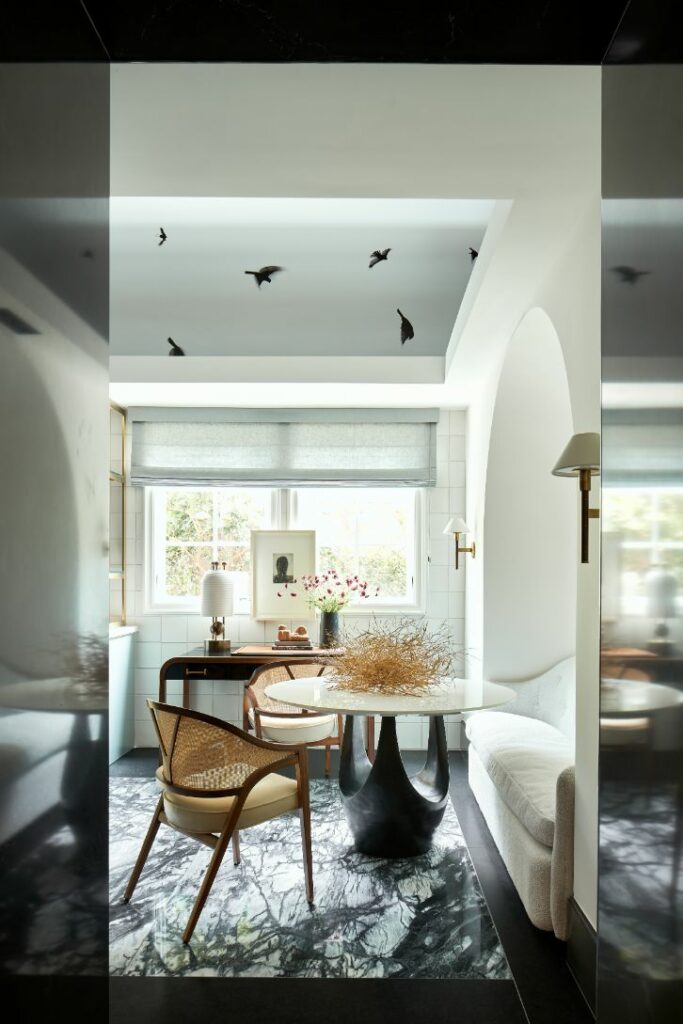 Inset Flooring Material Instead of Rug
While budget is often the first concern on projects, one of our favorite things to do here at D'KOR is to use varied flooring in place of a rug. While varied flooring is an alternative to a rug, it's dramatic even though there's no turning back afterward. Well, actually, we just put the rug over the flooring—well done, Chad Dorsey Design.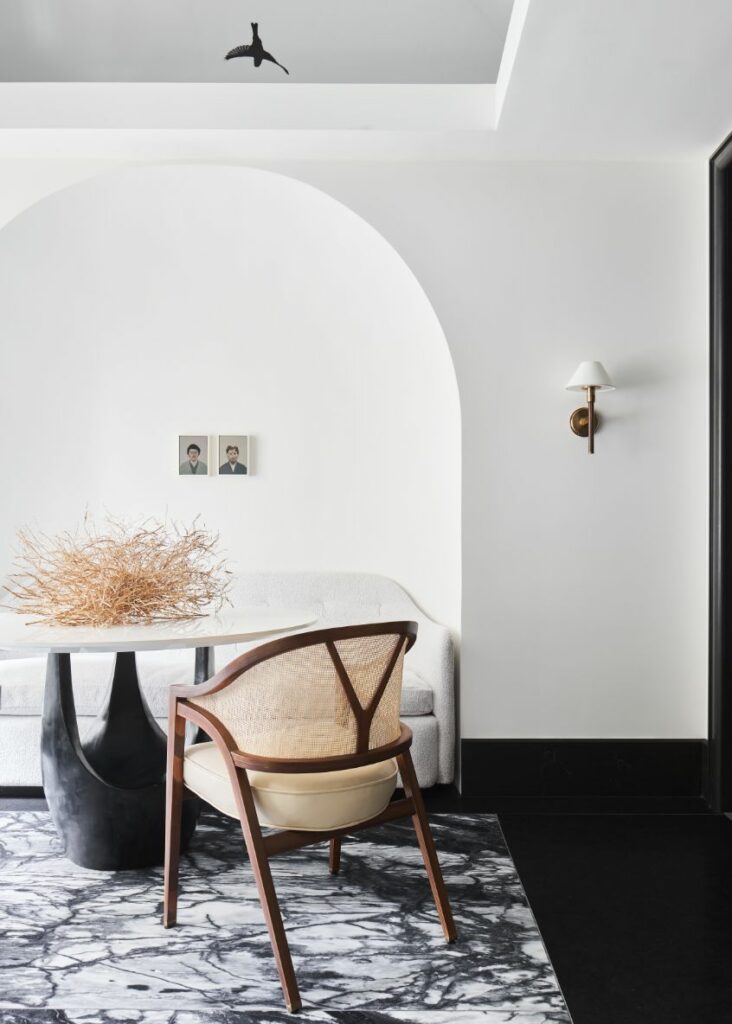 I hoped you enjoyed this beautiful kitchen design at Kips Bay Dallas.
Click here to see all of the Kips Bay Dallas Showhouse Photos & be inspired by my future interior design blogs by subscribing to my weekly interior design inspiration. Click here for a complimentary Dallas design magazine subscription. 
Here's to wishing you an amazing home design experience. Check out also interior designer blogs.
X~
Dee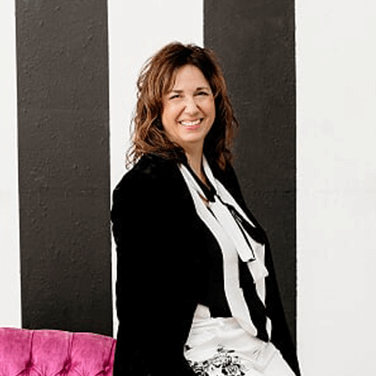 Chief D'KORator, Voted "Best of Houzz" for Dallas Interior Designers, Early Riser, Coffee Lover, Gardening Guru, Estate Sale Maven, Mover, Shaker, Wife, & Mom