Home Office Decor Ideas 2020 & How To Calculate Home Office Deduction From Your Taxes
How To Decorate A Home Office?
Decorating a home office should include functional furniture, necessary lighting, storage for office equipment, plus it should be quiet and comfortable for the person working it. Throughout this interior design blog post, you'll learn how to decorate a home office and discover some great ideas for design solutions we provided our dallas interior design service area interior decorating client. Plus, the best part is – you may be able to deduct your home upgrades and expenditures for your home office on your taxes. Keep reading to find out how to calculate your home office deduction and how to decorate a home office ideas for 2020.
Best Home Office Design Ideas For Him
For the past couple of weeks, I've written interior design blogs about my clients, Mr. & Mrs. Ivey. They are a fun Dallas couple with incredible energy and style. They wanted their Dallas area home to match their common personalities and their personalities when it came to each of their home offices. Mr. Ivey wanted an industrial meets cozy home office.
Providing him with a masculine industrial interior design for his home office that flowed with their kitchehttps://dkorhome.com/gallery/best/home-offices-ideas-study-ideas/n design, midcentury modern dining room, and their family room decor was critical. Then, making Mrs. Ivey's home office equally as beautiful for her to work and study was incredible too. I've posted the link to her home office below the photos of his home office.
BEFORE | HIS HOME OFFICE DESIGN IDEAS
Mr. Ivey wanted us to lighten up his office and make it more functional. Although architecturally beautiful, the primary design challenge of this project was the vast amount of woodwork in the room. The paneling and lines were fantastic, but it makes the room dark.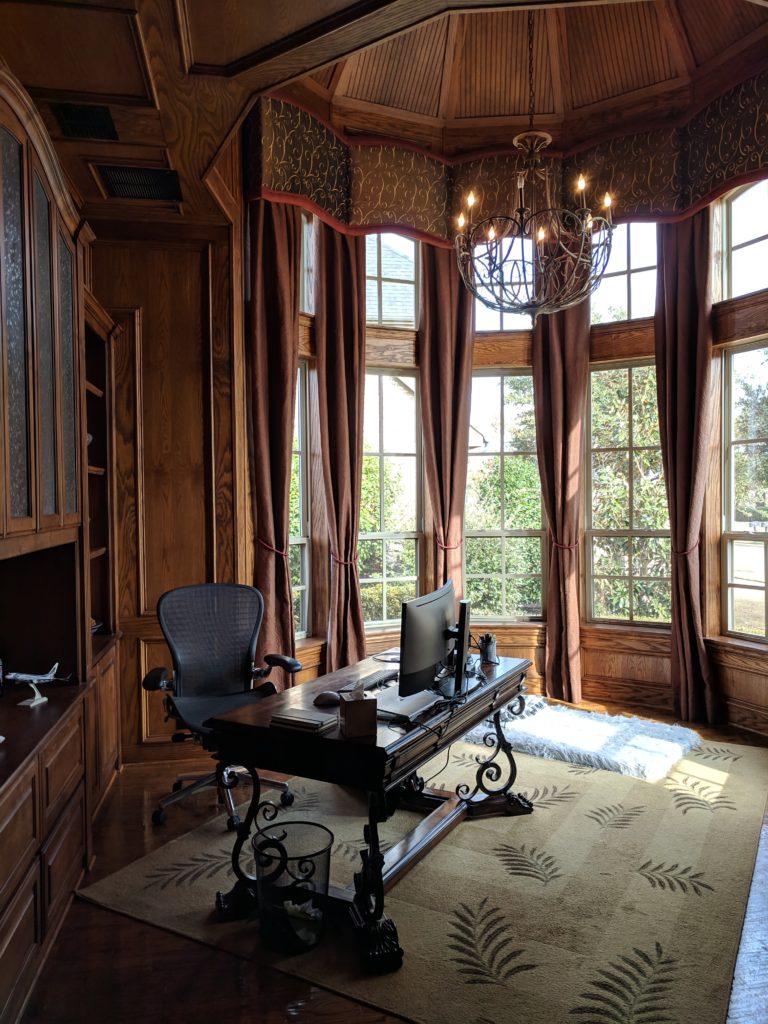 The bronze chandelier disappeared against the wood paneling. Instead of drawing the eye upward toward the beauty of the vaulted ceiling, the chandelier was an understatement.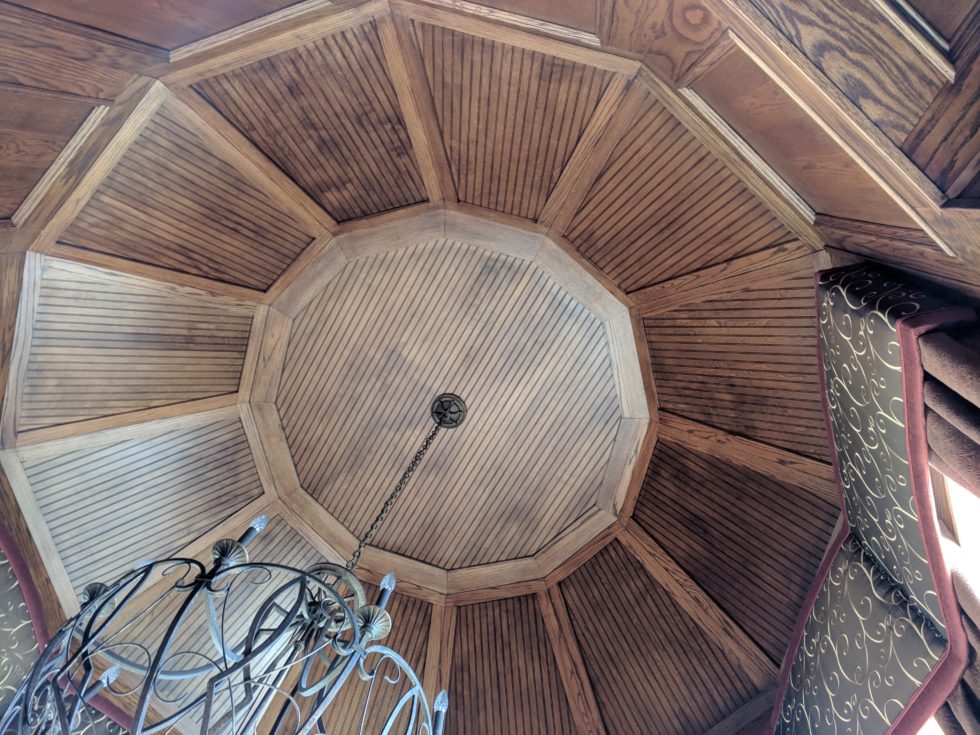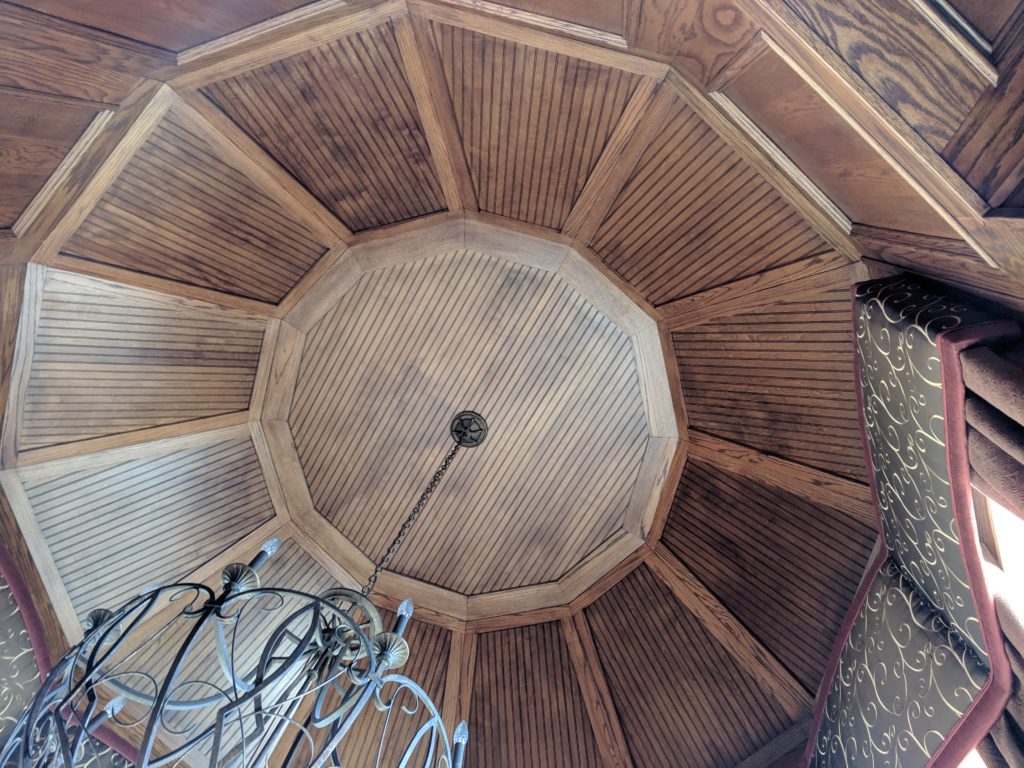 The cornices and panels were dated and took away from the beauty of the turreted windows. The desk with wrought iron, scrollwork legs felt imposing in the space, and the tan and brown rug did not fit the room properly.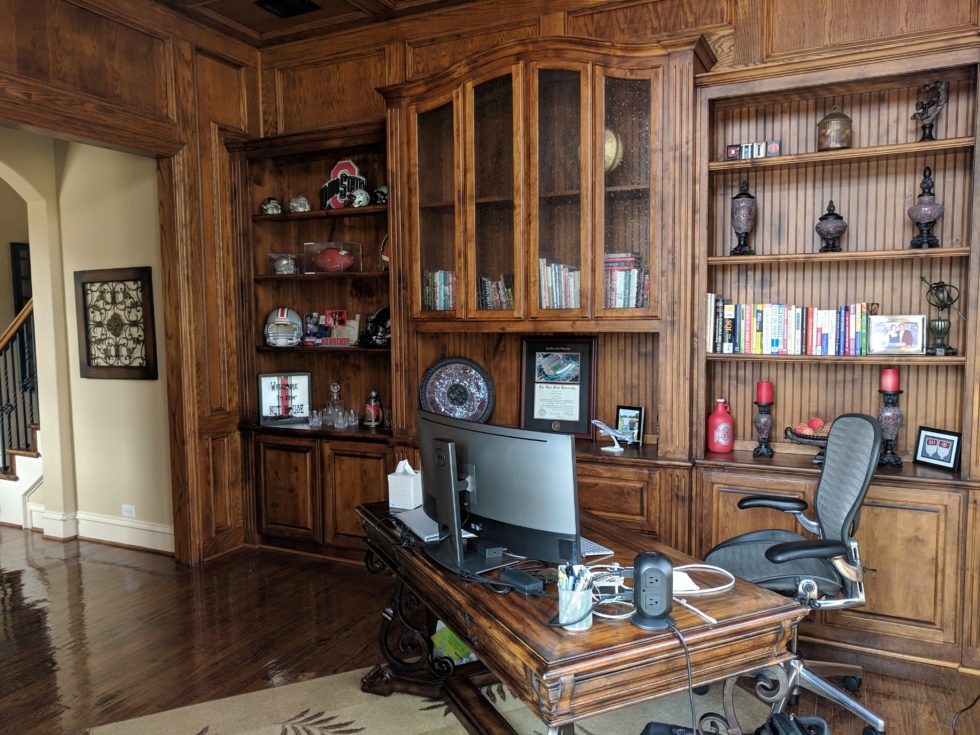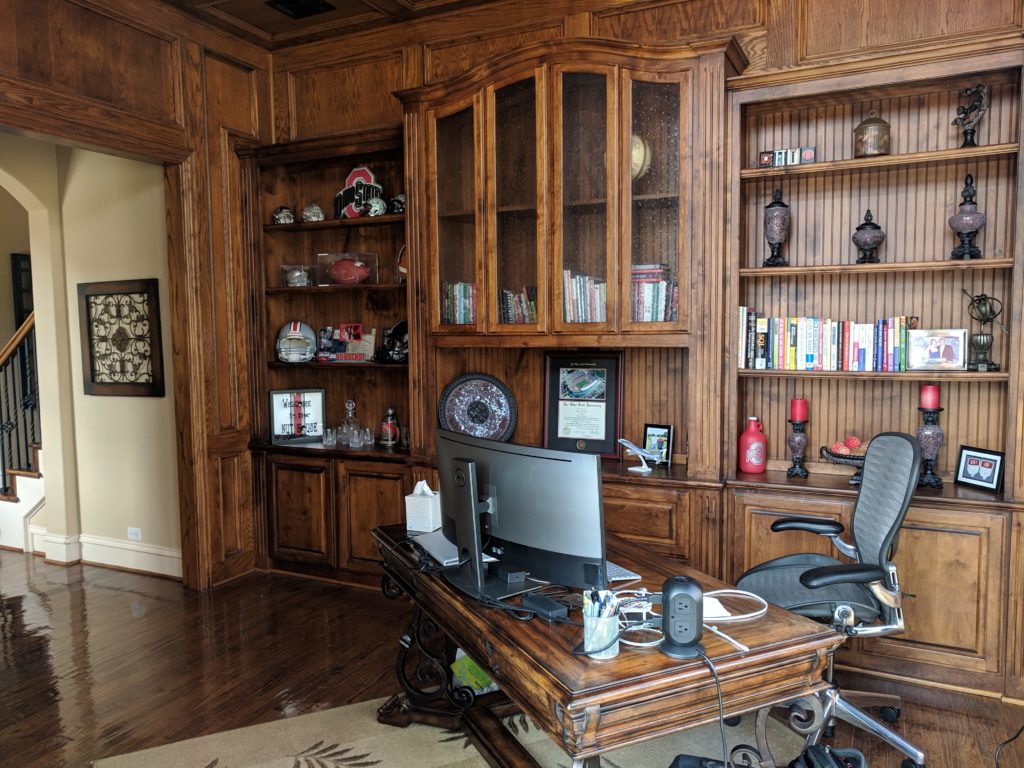 Hello, industrial meet comfortable cozy. Now, Mr. Ivey's home office features a wood and iron A-frame desk, grey leather chairs, plush kidney pillows, and a light grey abstract ottoman. The grey motorized roman shades and neutral, round Greek key-patterned area rug add depth and visual interest against the dark wood floor and oak-paneled walls.
Next, we replaced the bronze iron chandelier with a contemporary silver leaf chandelier. The openness of this chandelier draws the eye upward to highlight the beautiful architectural details of the room. The modern chandelier is like a hanging artistic sculpture that immediately modernizes the once dark home office.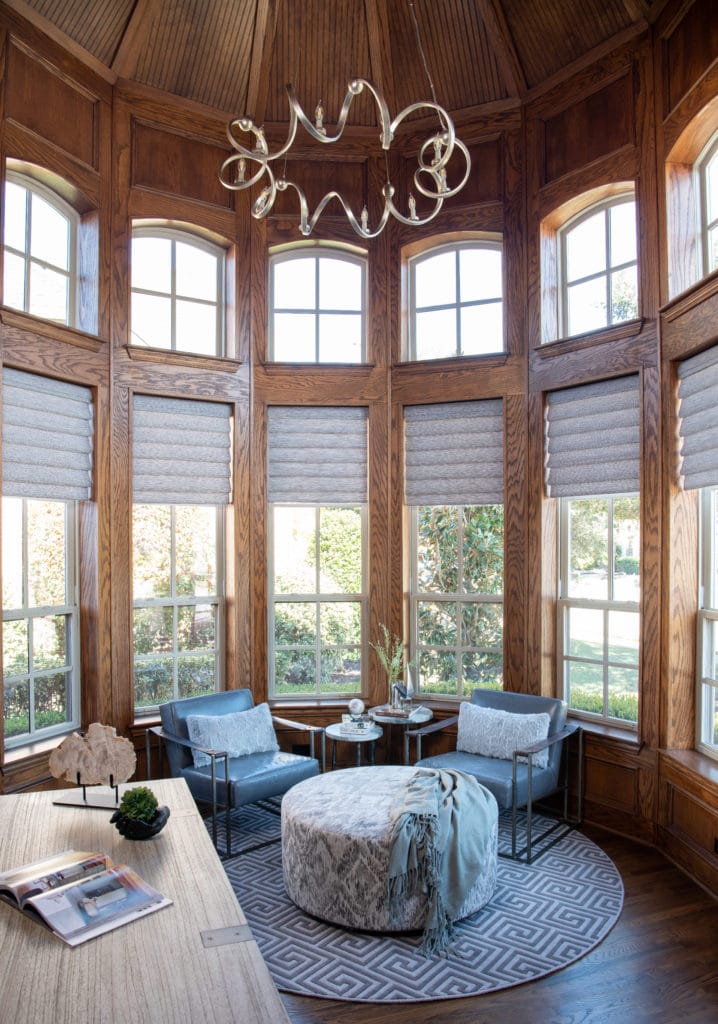 Home Office Decor Ideas 2020 | How To Calculate Home Office Deduction
About The Interior Design Plan For His Home Office Ideas
Our interior design plan included solutions first to lighten the color scheme to incorporated cool tones to balance out the warmth of the wood panels. We removed the dark cornices and panels and replaced them with light grey motorized shades. The motorized roman shades have a natural woven appearance to enhance the natural elements. By adding the motorized option, Mr. Ivey can easily open and close the window treatments on calls with the touch of a button by remote. The clerestory windows were left unadorned for aesthetics and optimal light.
Home Office Decor Ideas 2020 | How To Calculate Home Office Deduction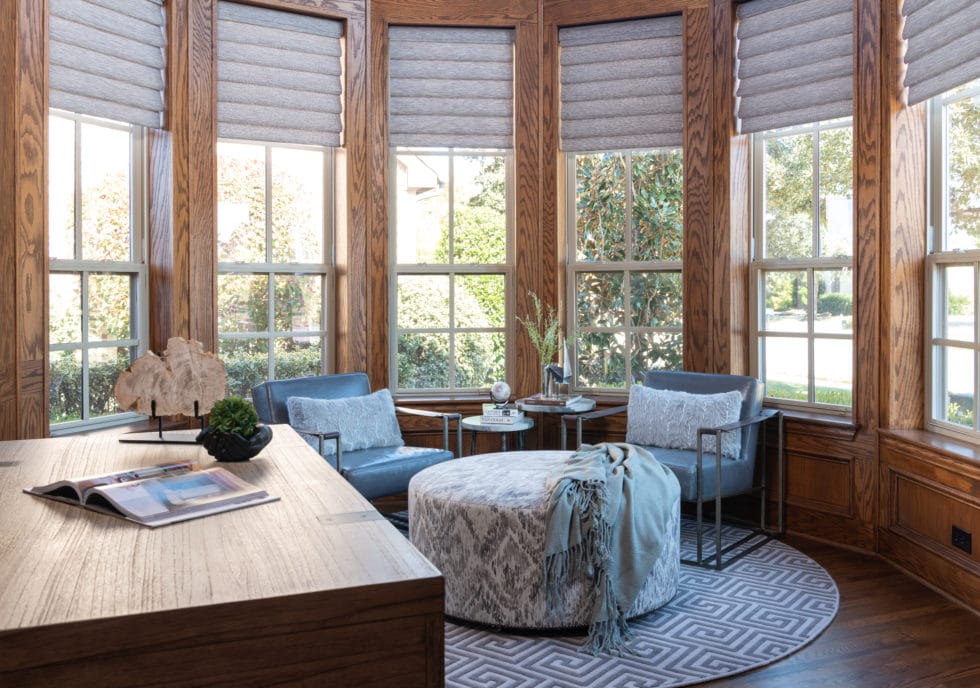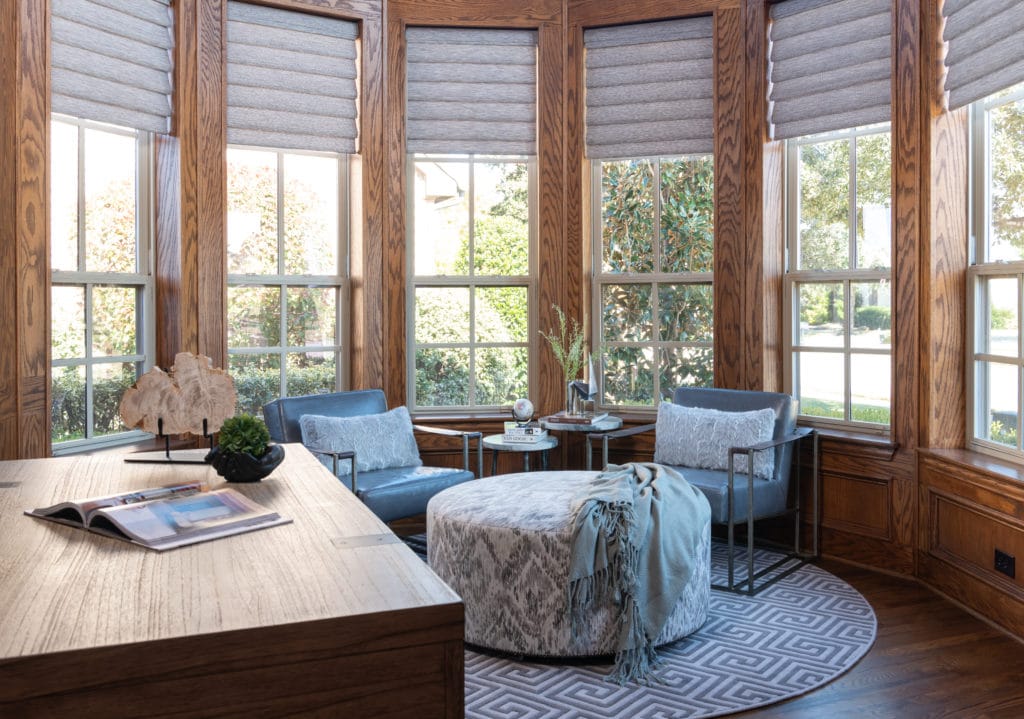 Home Office Desk Ideas For Him
Since the client often works from home, so we wanted to ensure his workspace was updated to function for his needs. We chose a wooden A-frame desk with hidden drawers. The clean lines and hidden desk drawers helped visually modernize the traditional architecture and woodwork and trims.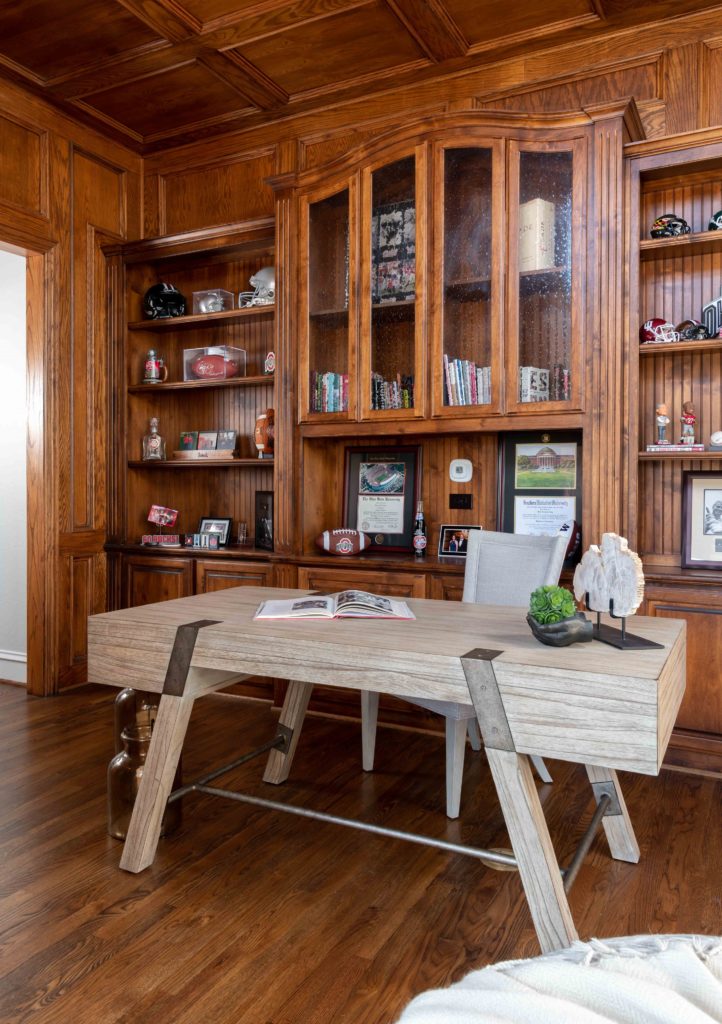 Home Office Desk Ideas 2020 |Home Office Decor Ideas 2020 | How To Calculate Home Office Deduction
Home Office Chair Ideas
Next, we added a sitting area by the windows. We chose an eight-foot round rug with a white and grey Greek key pattern to provide a strong contrast from the wooden floors. The light tones in this rug brightened the room and provided the eye with a great visual distinction between the wood floors and the wood-paneled walls.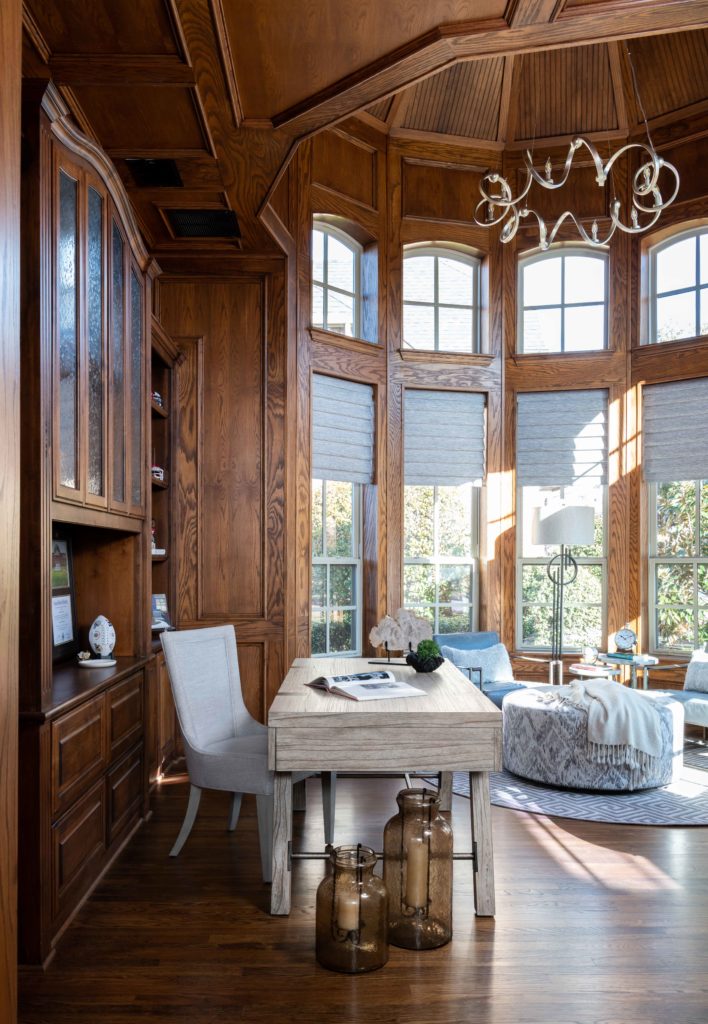 Home Office Decor Ideas 2020 | How To Calculate Home Office Deduction
We added two grey leather chairs and nesting tables for the client's coworkers to use during informal business meetings. The round ottoman is comfortable putting your feet up or can be used to hold a cocktail or coffee tray. The round shape mirrors the shape of the turret's nook. The sitting area is so inviting that even the client's pet loves the chairs.
Did you know that you can deduct a portion of your home office on your income taxes?
Yes! According to most certified public accountants and tax laws, a portion of your home office could be tax-deductible. Depending on your tax situation and the way you file, deducting your home office could be a valuable tax saver.
How to calculate home office deduction for your taxes?
Typically, most accountants state that 10% of your home office is tax-deductible or 1/10th of the total square footage of your house. Then, you can deduct 10% of the total cost of utilities and other expenses, such as rent or mortgage interest, homeowners or renters' insurance, and utilities (such as your electric, water, and gas bills). As always, with any tax matters, consult with your CPA or tax advisor.
How much did this home office decor project cost?
The cost of this interior decorating project was $25,170. The price included all furniture, rug, lighting, smart home window treatments, the design plan, labor, delivery, and installation.
I hope you've gained a little bit of interior design and home decor ideas knowledge from this interior design blog post. Be sure to subscribe to receive my exclusive interior design projects and my home decorating advice. Click here to subscribe to my interior design blog. 
Have an awesome day!
X~
Dee
Named Houzz "Best Dallas Interior Designers & Interior Decorators"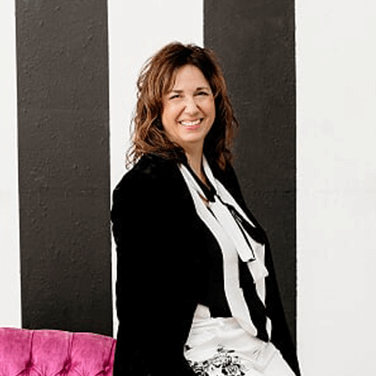 Chief D'KORator, Voted "Best of Houzz" for Dallas Interior Designers, Early Riser, Coffee Lover, Gardening Guru, Estate Sale Maven, Mover, Shaker, Wife, & Mom