You may remember our family room interior design – remember the family room with the aquarium? Yep! We are back to the couples therapy house 🙂 Now, let's talk about their two-story foyer.  Considering it is the first room people see upon entry, we knew the foyer design ideas must be next!  The foyer is large but had very little decor.
BEFORE | TWO-STORY FOYER DECORATING 

What did our Dallas interior design firm client envision for her grand two story foyer?
Our Dallas interior design service client wanted to keep her 2-story foyer neutral with touches of grays.  There was a lot of empty wall space.  Since it was a two-story foyer we wanted something dramatic to fill that wall space.  With this being a transitional home, the main goal was to keep it from getting cluttered.  Since the foyer currently did not have any lighting, we needed to add a chandelier and sconces.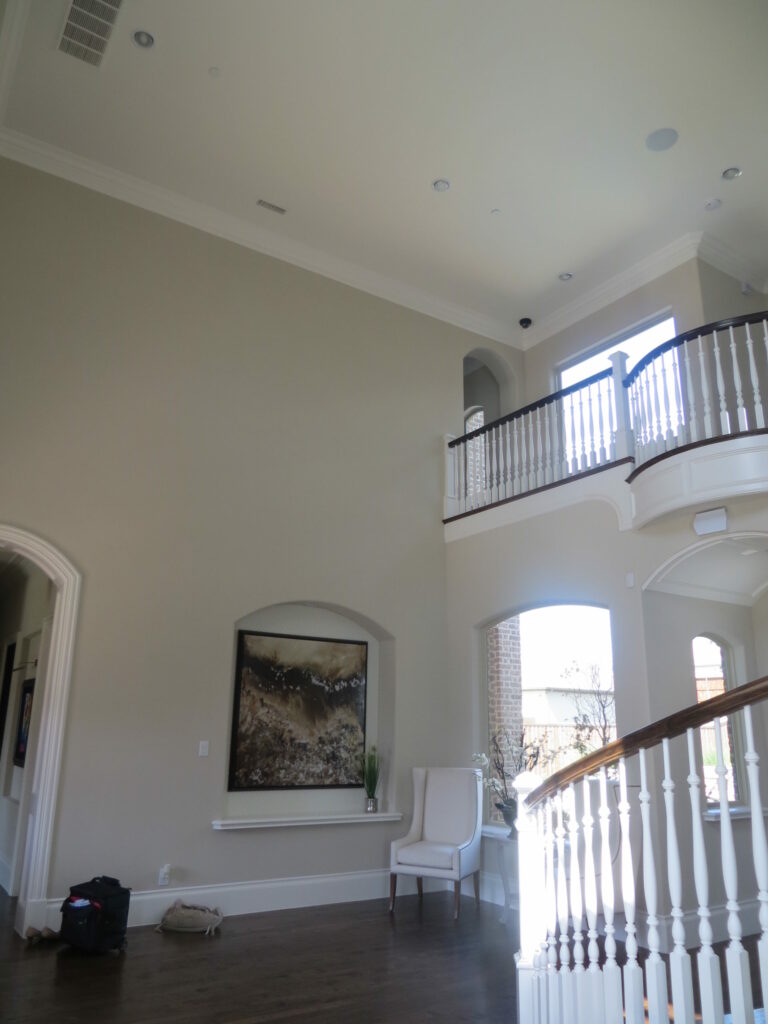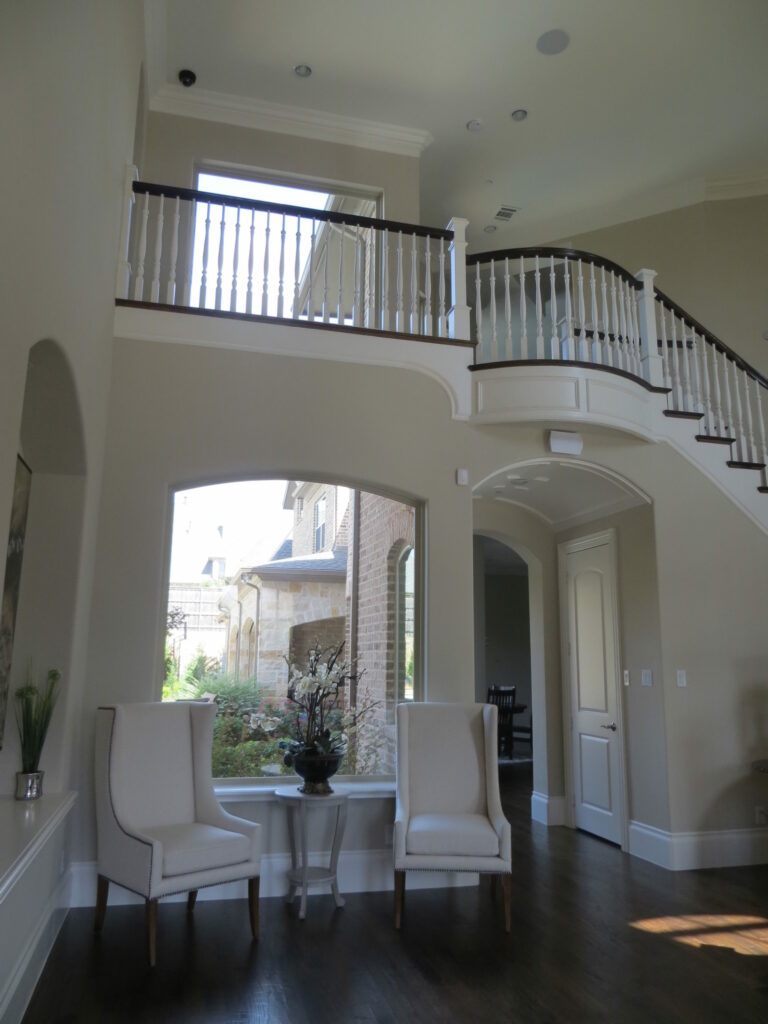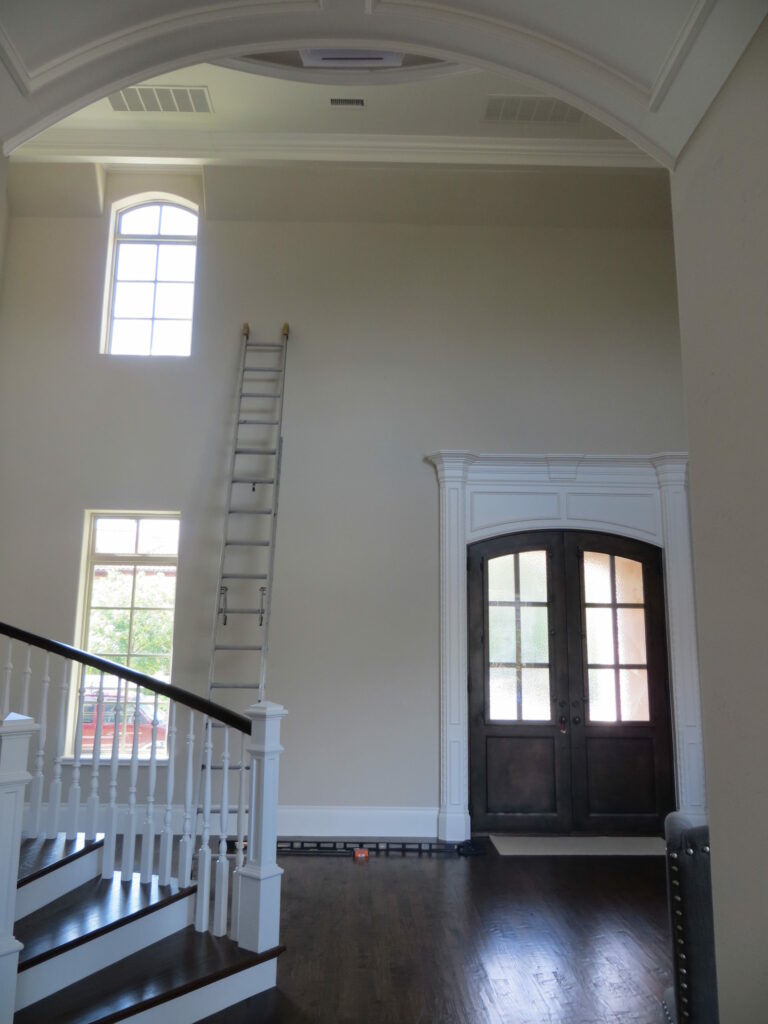 THE INTERIOR DESIGN PROCESS OF DESIGNING A TWO-STORY FOYER
How To Decorate A 2-Story Foyer
It's funny. No matter how many spaces we design, two-story foyers are often among the most dramatic spaces when properly designed and decorated. Most often they require large-scaled custom art, wallcovering, a custom wall treatment, and definitely custom window treatments. 
2-Story Foyer Art Ideas
My first step was to develop a design for the rounded wall on the staircase area.  This was a large empty wall that would become the focal point of the two-story foyer.  I used trim plaquing to frame five sections.  Then, we (well, really our wall covering installer) installed textured and pattern wallpaper.
To best help our client envision the installation prior to committing to the product order and work orders, we 3-D rendered this drawing to ensure she liked the design concept.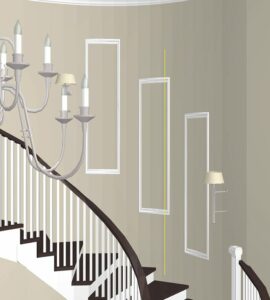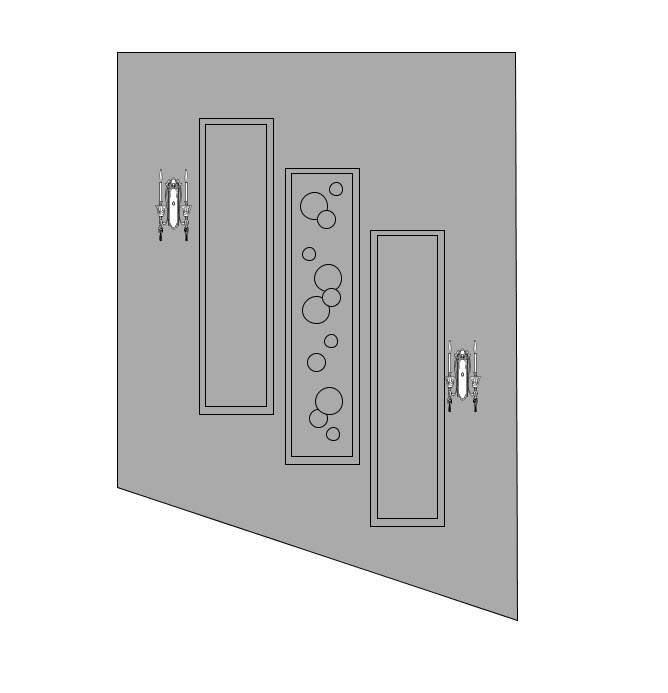 AFTER | TWO-STORY FOYER INTERIOR DESIGN PROJECT COMPLETION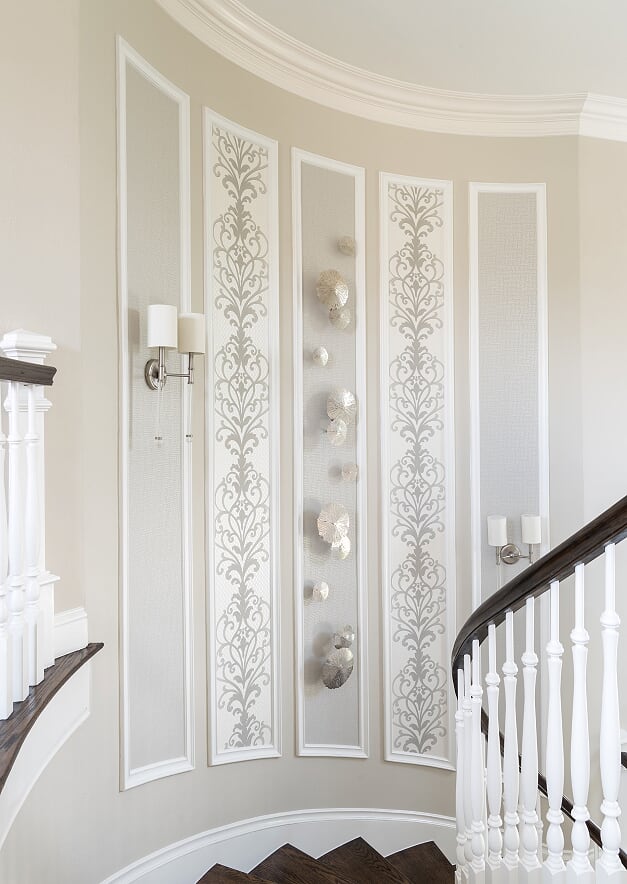 Two Story Foyer Lighting
Light balancing a two-story foyer is critical. We used two different types of lighting – two modern silver & crystal sconces were included in our mix of wallpaper and sculpture to create the art.
Two Story Foyer Chandelier
I selected a chandelier that was large but not too extravagant, so as not to take away from the staircase wall. The chandelier is understated yet correctly sized for a foyer. Just in case you're not familiar – two-story foyers require gigantic chandeliers. Any sconces must also be appropriately sized and scaled for two-story foyers. There's nothing worse than the epic fail of the chandeliers being too small after they're installed.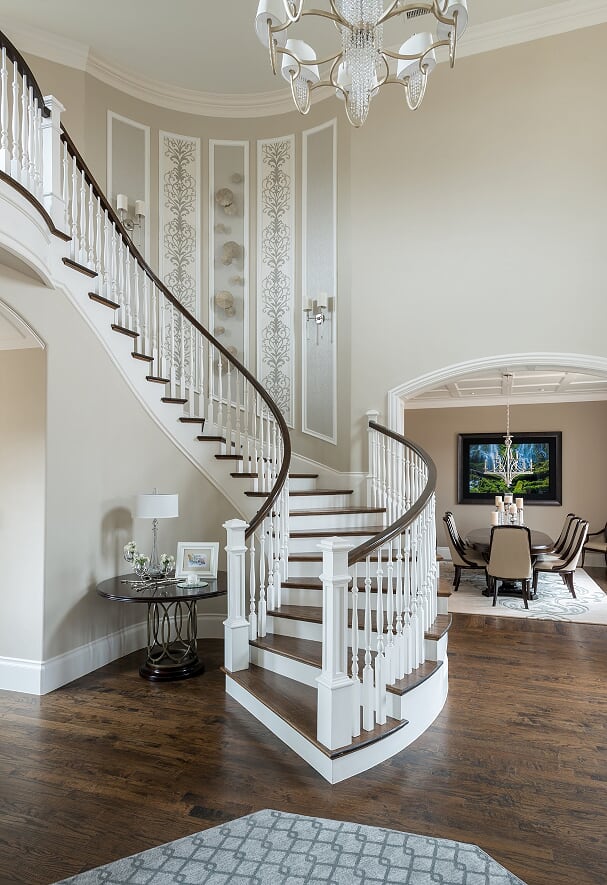 Large Foyer Decorating Ideas, Two Story Foyer Ideas
How To Choose the Best Size for a Foyer Chandelier?
Here is a guide for choosing the best size chandelier for a foyer, two-story foyer, or entryway:
A 10-foot high foyer chandelier should be 20 to 30 inches in height.
A two-story foyer with a 16-foot high ceiling (two–story) needs a large chandelier that is at least 32 to 48 inches in height.
A two-story foyer or entry chandelier should never hang closer than 7.5 feet from the ground. It should never hang more than 11 feet from the ground otherwise it will feel too small.
After the wallcovering was dry, we added multiple beautiful metal wall sculptures and sconces to help fill in the sections and give dimension to the wall.  
Custom Furniture For Two-Story Foyers
Next, I took two gray upholstered chairs from another room and switched out the ivory chairs, adding more color and depth to the foyer.  We selected new tables and consoles with a deep finish and metal accents.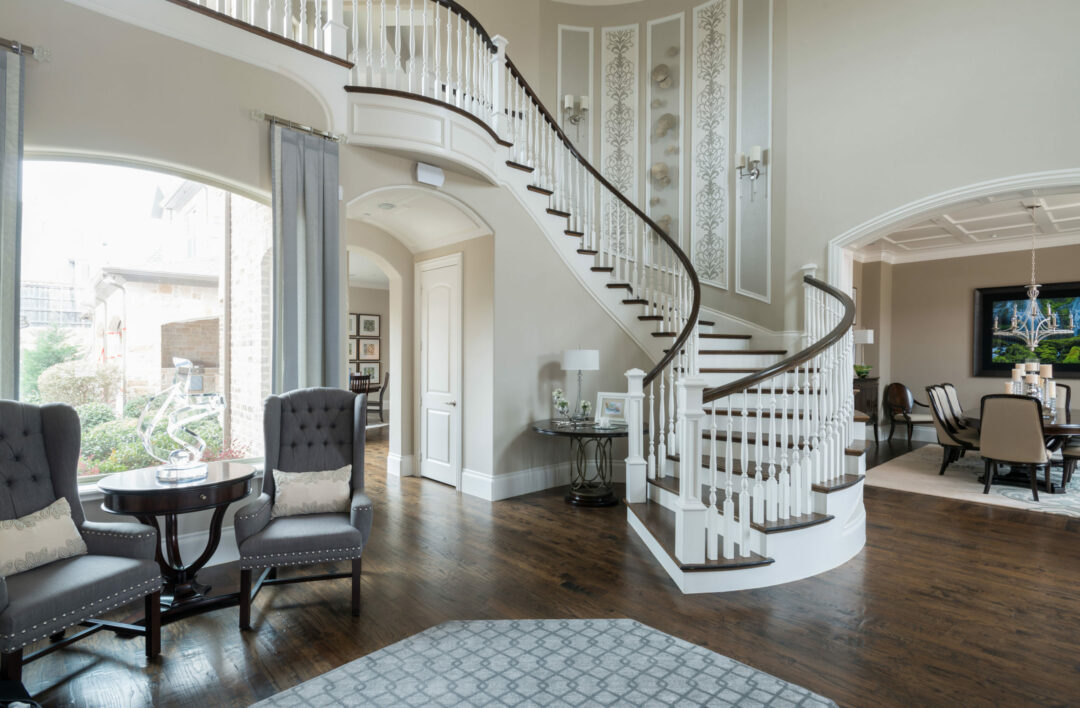 Large Foyer Decorating Ideas, Two Story Foyer Ideas
What Type of Window Treatments To Choose For a Two Story Foyer?
Custom Windows Treatments Are Best For Two Story Foyers
Floor to ceiling window treatments gives two-story foyers their well-deserved dramatic entry. In this custom-built Dallas home, we installed custom window treatments on both sides of the foyer.
Why Install Window Treatments In a Two Story Foyer?
By installing custom window treatment we visually balanced color and softened the visual tone of the foyer. We selected a beautiful gray faux silk fabric with a simple box pleat for these custom window treatments. To further balance the foyer's tones and style, we hung the custom window treatments on large-scaled square chrome exposed rods with crystal finials, adding a touch of elegance.
Aside from the visual aesthetics of window treatments, they function as sound panels as they absorb sounds that may otherwise travel throughout the house.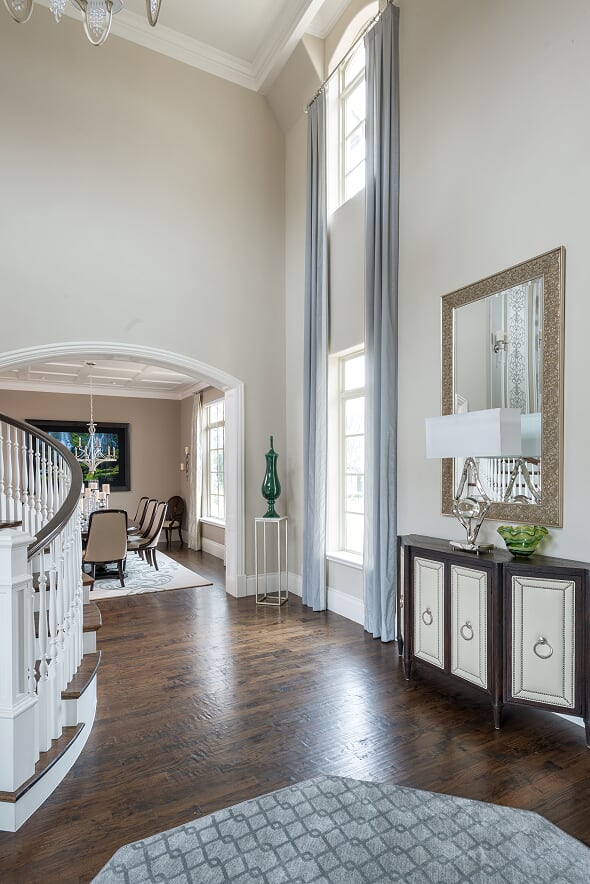 Large Foyer Decorating Ideas, Two Story Foyer Ideas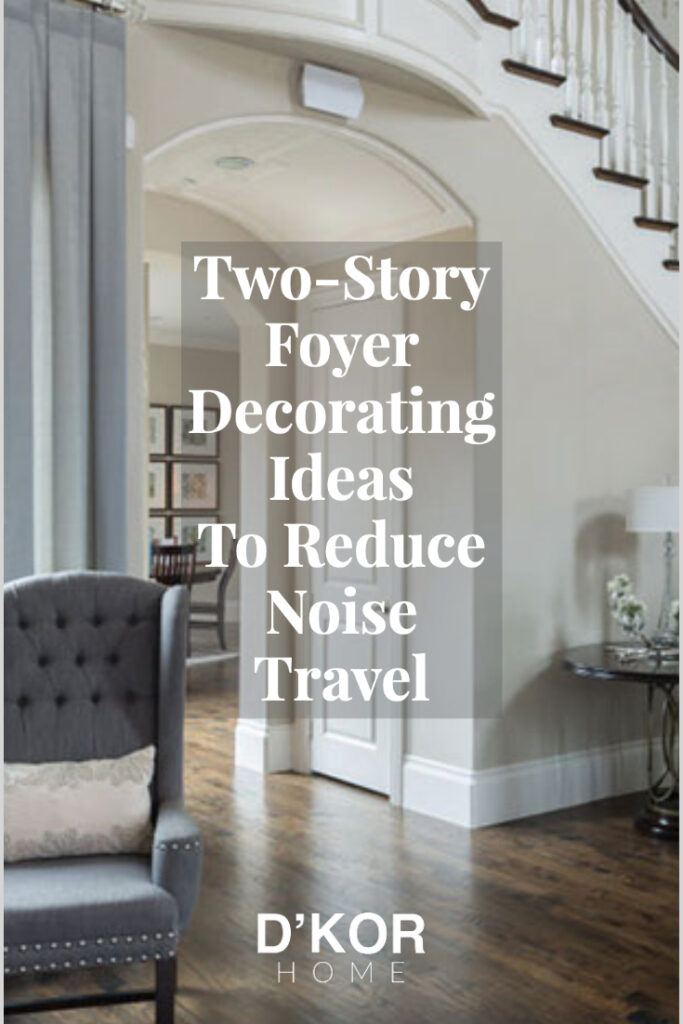 What Type Of Furniture To Choose For a Two-Story Foyer?
First, we think of scale when editing our furniture selections and designs for clients. We often custom make furniture so that we obtain the scale and style that's a perfect fit for foyers. Under-scaled cabinetry, chairs, and other furnishings are a BIG NO-NO! The same goes for accessories, art, mirrors, and lamps. The scale and function of a foyer are the most important considerations. Measure, measure, measure and ensure all of your items work together. OR better yet, let us help you with an interior design plan for your home – book a complementary interior design consultation.
What Type of Rug Goes In A Two-Story Foyer?
Given the various angles of this two-story foyer, I used an octagon rug, not the standard round that would have been expected.  It has a nice sheen and geometric design but octagon rugs are very hard to find.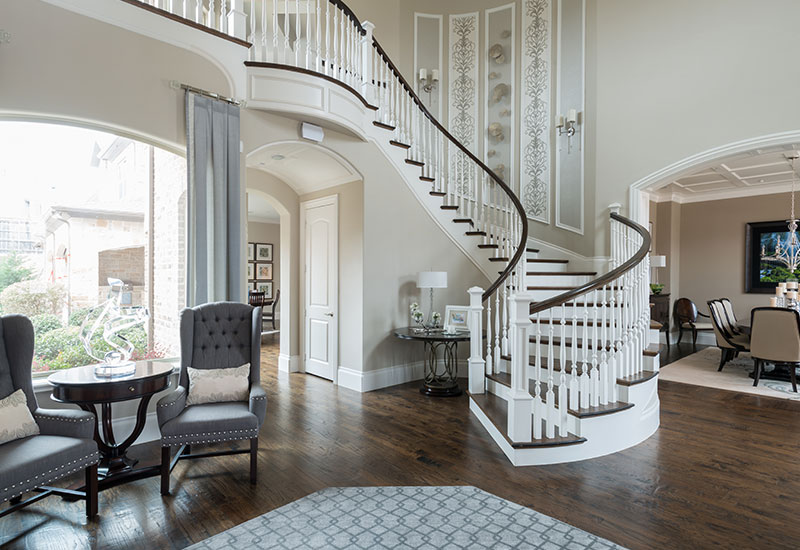 Large Foyer Decorating Ideas
What Type of Decor To Use In a Large Foyer?
Lastly, I added a great acrylic and glass sculpture in front of the window overlooking the pool area.  The foyer really sets the tone of walking into this beautiful home.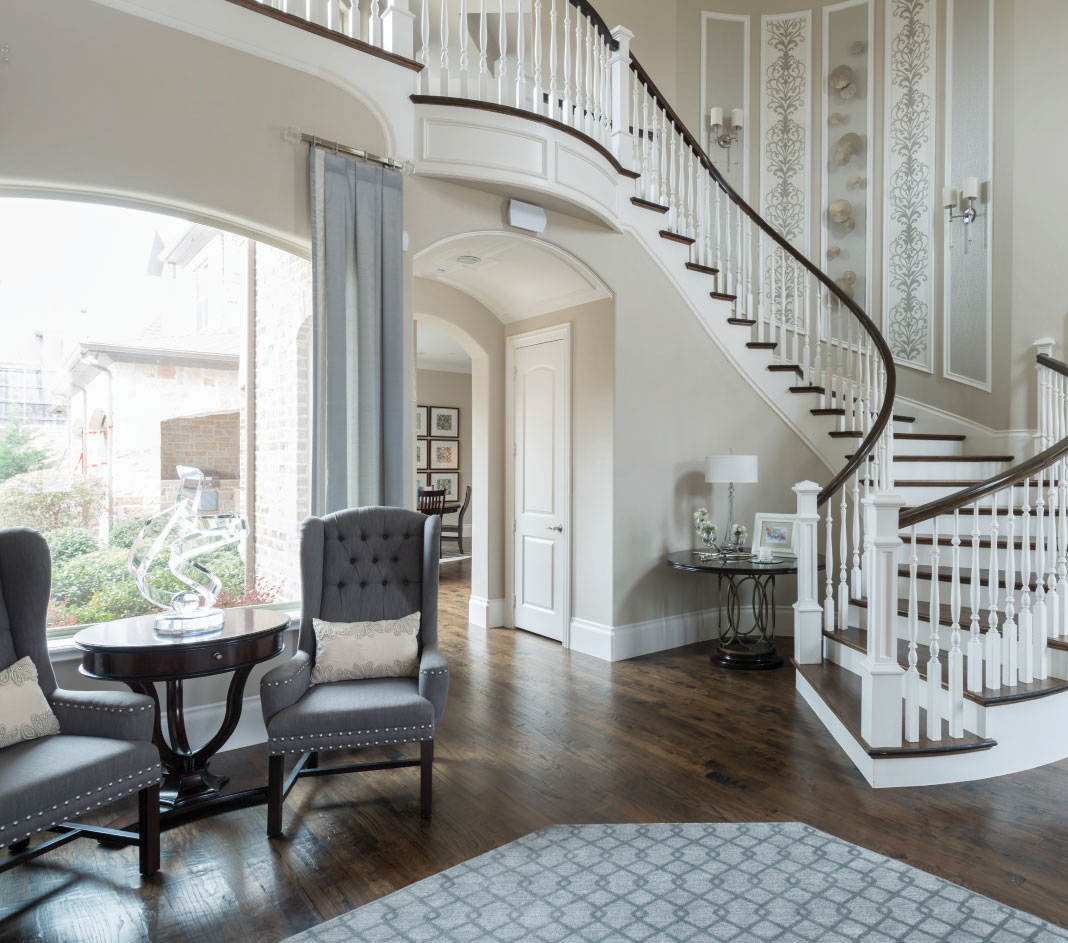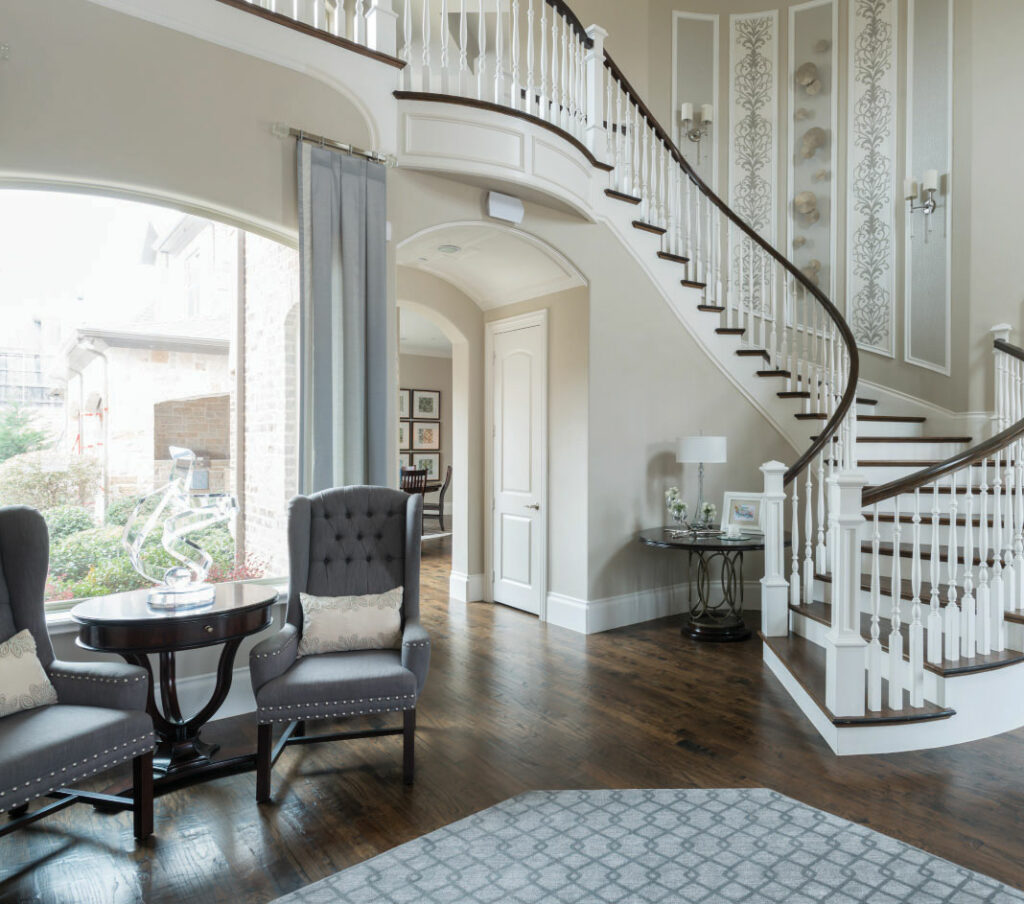 Thanks so much for reading! Are you on social media? If so, follow me and the D'KOR HOME interior designers and interior decorators on Instagram, Facebook, Pinterest, Twitter, or Linkedin. You won't believe some of the fun stuff that goes behind the scenes of our residential interior design projects. 
Pin this image to remind yourself to come back for my how-to decorate a two-story foyer design tips…
Love your Interior Designer Austin TX,
Dee | DeeFrazierInteriors.com 
P.S. Click here to tour 20+ Amazing Plano, Frisco, Allen & Dallas, TX Interior Design Projects
P.S.S. View our latest issue of D'KOR HOME design magazine.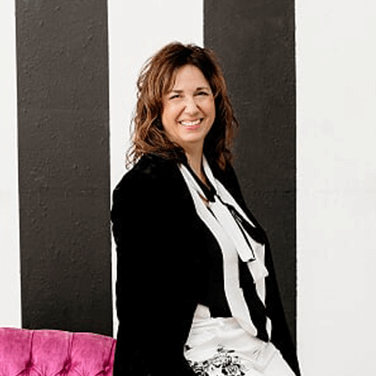 Chief D'KORator, Voted "Best of Houzz" for Dallas Interior Designers, Early Riser, Coffee Lover, Gardening Guru, Estate Sale Maven, Mover, Shaker, Wife, & Mom