Upstairs Guest Room Bonus Room for a Sophisticated Traveler
At the end of last year, I began bringing you the fabulous rooms from the Kips Bay Dallas Designers Showhouse – click here to see all of the professionally designed room by Dallas designers. The upstairs guest bedroom transformed a boring bonus room into a traveler's retreat. Ready to see this beautiful creation by Houston interior designer Lauren Hudson of Wells Designs?
Here it is…
4 Guest Bedroom Decorating Ideas & How To Decorate Rooms With Angled Walls or Ceilings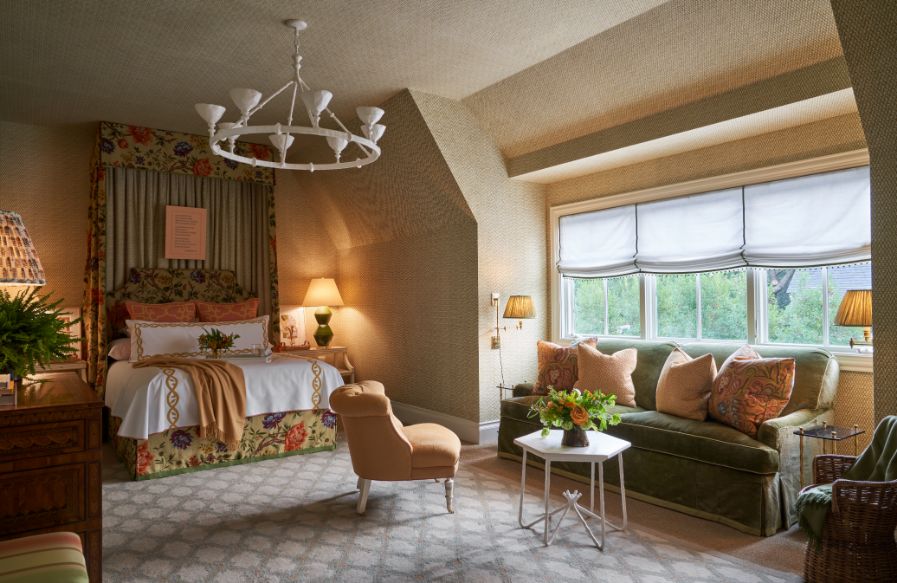 Guest Bedroom Decorating Ideas That I Love From This Kips Bay Dallas Designers Showhouse
1.
How To Give The Room Height With a Custom Drapery Bed Canopy
A custom drapery bed canopy instantly makes a room look taller and more dramatic. Custom draperies are almost always a necessity as most ready-made draperies are not backed with a second fabric nor are they tall enough for rooms over eight feet in height. Custom draperies can be ordered through us or any other custom window treatment workroom or window coverings provider. We ship window treatments throughout the continental US and we'll help you find a local installer to complete the installation.
For this year's Kips Bay Decorator Show House Dallas, Houston designers Wells Design created an elegant guest bedroom with a sophisticated world traveler in mind. Breakfast can be luxuriously enjoyed in bed with Everyday Elegance tableware. The beautiful white crisp linen bedding by Leontine Linens is surrounded by a custom floor-to-ceiling drapery canopy of Rose Cumming Chintz hanging overhead.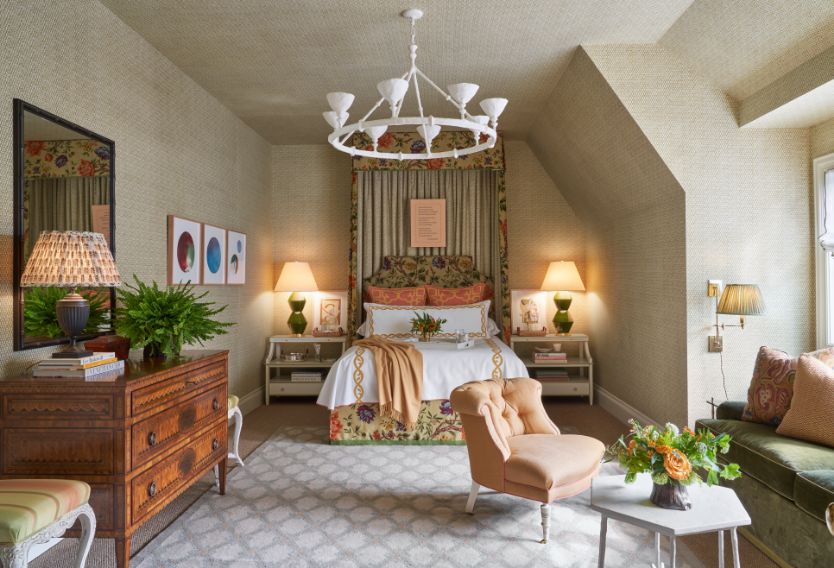 Traditional Guest Bedroom Decorating Ideas
2.
Mix Contemporary Art With Traditional Furnishings & Decor
Contemporary art ornaments the custom upholstered fabric walls. The custom-colored Namay Samay fabric absorbs sound and provides texture. English design influences are featured alongside classic American design elements, for a sumptuous retreat that balances beauty with comfort.
To give a traditionally furnished room a more modern, updated look, use modern artwork. Notice how the artwork is not matchy-matchy in color tones, but it blends in with the other hues nicely.
Traditional Guest Bedroom Decorating Ideas
3.
Layer Rugs On Top of Carpet
Layering area rugs on top of carpet is a great way to introduce patterns without committing to the pattern in wall-to-wall carpet long term. Oftentimes, as interior designers, we struggle with finding patterned carpets in the correct shades and colors that we want for clients. To get the pattern without either the cost or commitment or when the patterns we want are not available in wall-to-wall carpets, we layer a rug on top of low-pile carpets.
How To Layer Rugs On Top of Carpet?
Layering rugs on top of the carpet is fairly simple as long as the carpet is a low pile carpet or short carpet. Most carpets are solid or tone on tone so layering a patterned rug can give a room a more updated modern look. First, order the appropriately sized rug for your room and Smart Stripe Carpet Tape or another tape designed to stick to the carpet. While double-sided duct tape will work, Smart Stripe Carpet Tape is designed and formulated specifically for this application.
Smart Stripe Carpet Tape is a floor marking tape specially designed to stick to carpets. The adhesive won't leave a residue after it's removed, even when the tape has been on the carpet for an extended period of time. This tape is tear, stretch, and curl resistant, meaning you won't need to be concerned about damaging it during use such as walking on the rug daily. Your tape lines will stay where you need them to. Smart StripeCarpet Tape is also resistant to plenty of other industrial conditions such as chemical spills, water, and UV rays, so you can install it and not worry about it. Plus it has a quick-release liner for easy installation.
In the Dallas Interior Designers Showhouse by Kips Bay, the Retorra rug and bespoke étagère punctuate the room, which has a soothing color palette, incorporating both earth and jewel tones.

4.
How To Paint Rooms With Angled Walls or Rooms With Angled Ceilings?
The most important thing to consider when space planning or decorating a room with angled walls is to consider the height of the room. If the ceiling is low, we always recommend running the wall treatments such as wallpaper patterns or wall paint color onto the angled parts.
The Trick To Painting Rooms With Angled Ceilings
When the walls are painted, we most often paint the room all of the same flat sheens. If the walls are at risk of being touched daily, we use satin paint on the walls and the same color of paint in a flat finish for the ceiling.
Most often we refrain from larger patterns with angled ceilings unless we plan to run the pattern throughout the entire room.
What did you think about these Guest Bedroom Decorating Ideas?
Drop me a comment below. Let me know what you think about these guest bedroom decorating ideas. Do you love them as much as I do? Either way, I would love to hear from you. Have you had experience with layering a rug over a carpet? Did you learn anything new about how to paint rooms with angled walls or angled ceilings?
The utmost gratitude to the following sponsors:  Benjamin Moore, Circa Lighting, Collier Webb, Culp Associates, Dmitriy & Co., Ferguson, Forbes and Lomax, galerie novella, Holland & Sherry Houston, Matt Camron Rugs and Tapestries, Nick Brock Antiques, Perennials and Sutherland, Sputnik Modern, Stone Boutique, The Countertop Market, The Shade Store, Wells Abbott and W. Gardner, Ltd.
Did you know that you can book an appointment with our Dallas Residential Interior Design Firm?
Click here to schedule a complimentary home design appointment with one of our Dallas Designers.
Thanks for reading! Cheers to 2021!
X~
Dee
Voted "Best of Houzz for Home Designers in Dallas TX"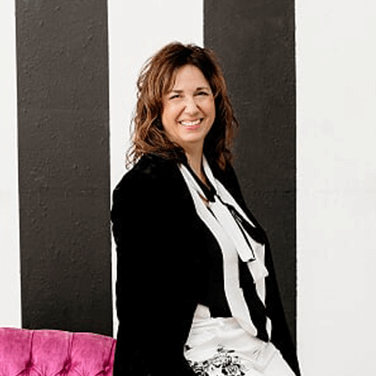 Chief D'KORator, Voted "Best of Houzz" for Dallas Interior Designers, Early Riser, Coffee Lover, Gardening Guru, Estate Sale Maven, Mover, Shaker, Wife, & Mom