It's hard to imagine that in the midst of a worldwide pandemic, that your home could experience a disaster too. I received a referral call from a client's neighbor. Both are in the medical services field. One is an office manager, the other a doctor. They experienced a pandemic in the midst of a health pandemic. What happened? Their kitchen flooded!!! The worst part is….it was the second time their kitchen flooded in the last year. And…the kitchen is not the old room affected.
In this post, you'll find a complete checklist on what to do when disaster strikes your house. Really…do you know:
What to do after a flood in your home or office?
Waking up to a flooded kitchen?
How do you deal with your insurance company after a flood?
Who do you call first after a flood?
Knowing invaluable flood precautions and water damage repair solutions will make your life easier. It will save your belongings. Below I've compiled a complete Water Damage Restoration Guide for my clients and I wanted to share it with you, my readers. I'm also sharing the kitchen design plans and story of a kitchen renovation project I'm working on because of a flood that just happened last week.
The Kitchen Design Plans
First, before going into what to do to prevent a flood in your home or sharing my water restoration guide with you, I want to share the good parts of the kitchen renovation – the design & behind the scenes of what's occurring now! Then you'll see the processes and checklist that I recommend to all of my clients when we're forced to make lemontinis out of lemons thrown our way. If you're not interested in the fun part = the kitchen design, keep scrolling until you see "Water Damage Restoration Guide". Or scroll to the bottom if you want to see the old kitchen before looking at the new kitchen design plans.
Fortunately, to prevent hiring yet another contractor that would not thoroughly complete the job, their neighbor stepped in and recommended my Dallas interior design firm, Dee Frazier Interiors. We had originally delayed their project because of the Coronavirus pandemic. Needless to say, nature had other plans. First, I want to go in reverse and show you the beautiful kitchen design plan, then I will share a complete checklist of how to avoid major catastrophe in your home. Watch my very first Facebook live to see the plans for the kitchen renovation project…
Site Tour of The Current State of The Kitchen Renovation
Yesterday, I had to make a site visit to resolve some construction issues for my contractors. Before I share the processes of how to handle a flood in your home and my water restoration guide, here is the state of the kitchen remodel at the moment:
Now, onto what has gone on behind the scenes before all of this…water damage restoration guide.
Water Damage Restoration Guide
1. Know how to turn off your water, especially the kitchen sink.
Always know where your water supply is located and how to turn it off. Ladies, ask your husband to show you how to turn off the water at the sinks, toilets, and at the road or wherever your main water shut off is located. They may not be available on FaceTime while there's a catastrophe going on. I also advise that you show your maid or any other workers that frequent your home. Water doesn't judge and the sooner the water is off the less damage there will be.
2. Call your public adjuster and file a homeowner's insurance to report a claim.
Depending on what state you live in or the type of dwelling, calling a public adjuster is highly recommended for my clients that have homes in cities such as Miami or for clients that live in condominiums. When in residential single-family homes in Dallas metro, calling the insurance company directly can be the best way to resolve an insurance claim. When calling the insurance company or public adjuster have your policy number handy.
I advise putting policy numbers in your phone notes or make them easily searchable in your email. In the midst of water damage, home repairs solutions should be at your fingertips.
Warning: Do not undermind the water damage situation with the insurance company. My clients in Florida tell me horror stories of dealing with insurance companies. Water seeps into walls, under floors, and through rooms. Keep reading, you won't even believe how far my recent kitchen renovation water seeped. It's really unreal. In short, the damage may not be visible at the time you report to the insurance company so simply let them know you are not an expert and you do not know the extent of the damage.
Sometimes calling the public adjuster can be your lifesaver as they are able to attest the damage in case the insurance company has a payout issue.
3. Take photos and videos of the visible water damages before moving anything.
If your kitchen floods, be sure to take photos and videos of everything that you see. Don't undermind the importance of your documentation of the process. For everything that you see, there will be lots of issues that will most likely reveal themselves later. The more photos and videos you have the better.
4. Unplug all large & small appliances.
Wet electrical can cause a fire. Unplug all appliances of all sizes, both large and small.
5. Remove all furniture and any objects.
Only after you have taken photos and videos for your insurance company, remove all items from the area.
How To Dry Out A Flooded Home | Water Damage Restoration Guide
6. Get rid of the water.
Mop or soak up the water with towels. If your lawn or plants need watering, please consider letting nature have a drink instead of pouring the water down the drain. If the local sewer system is backed up, DO NOT pour water down the drain.
7. Dry out the area.
Use fans and dehumidifiers to dry out the area. If it's not raining outside, open windows and let the wind and breezes help out.
8. Spray on a mold remediation product or call a mold & mildew remediation specialist.
Mold and mildew can grow quickly and expand over time. Do not take the situation lightly! Mold and mildew affect your family's health and you must check everywhere for it!
I have not personally used, Concroblium Mold Control, but I hear it's fantastic. Conrobrobium's website states, "After you've disinfected and let the area thoroughly dry out, apply Concrobium Mold Control throughout the affected area according to directions."  Their product is non-toxic, made with distilled water and inorganic salts.
Concroblium goes on to say, "You can use it on furniture, walls, floors, basically anything that is susceptible to mold growth. Once a thin layer of Concrobium Mold Control is applied, let it dry overnight. As Concrobium dries, it forms a thin layer over any mold that may be growing and actually crushes the roots of the spores. Wherever it's sprayed will prevent any mold from growing, providing continued resistance. If you're spraying an entire room, you might want to consider renting a mister from a hardware store such as Home Depot. It's easy to use and very fast."
Call in a mold & mildew and remediation specialist if you are not able to perform this work yourself. If you're working with a public adjuster they will do all of this for you.
9. Dispose of destroyed products and furnishings responsibly.
Visit the Dallas, TX City Hall site to see a list of recommended landfills. Here are a few other cities you may be in and the links that may help: Plano, TX City Hall, Frisco, TX City Hall, or Allen, TX City Hall please click on your city links to see the legal landfills with proper disposal instructions. If I didn't list your city, simply do a google or bing search for "City, State City Hall Landfill" and you should find your cities instructions.
10. Call your home remodeling contractor or interior designer to receive renovation quotes & replacement solutions.
Life without a kitchen can be downright DIFFICULT, to say the least! When choosing a home renovation contractor or interior designer, make sure whoever you choose is knowledgeable and reliable. Seriously, you would not believe the horror story my clients have endured.
Now, we're in the planning stages and drying out stages of my client's home. Scroll up to watch the video if you missed it. Their kitchen went from this…
Before Water Damage Restoration Plan | Stained Cabinets & Dark Floors
No thanks to a flooded kitchen, our client was forced to rip out everything from floors, all lower cabinets, and furniture. The flood ruined almost everything sitting on the floor. The floor squished when walking on it.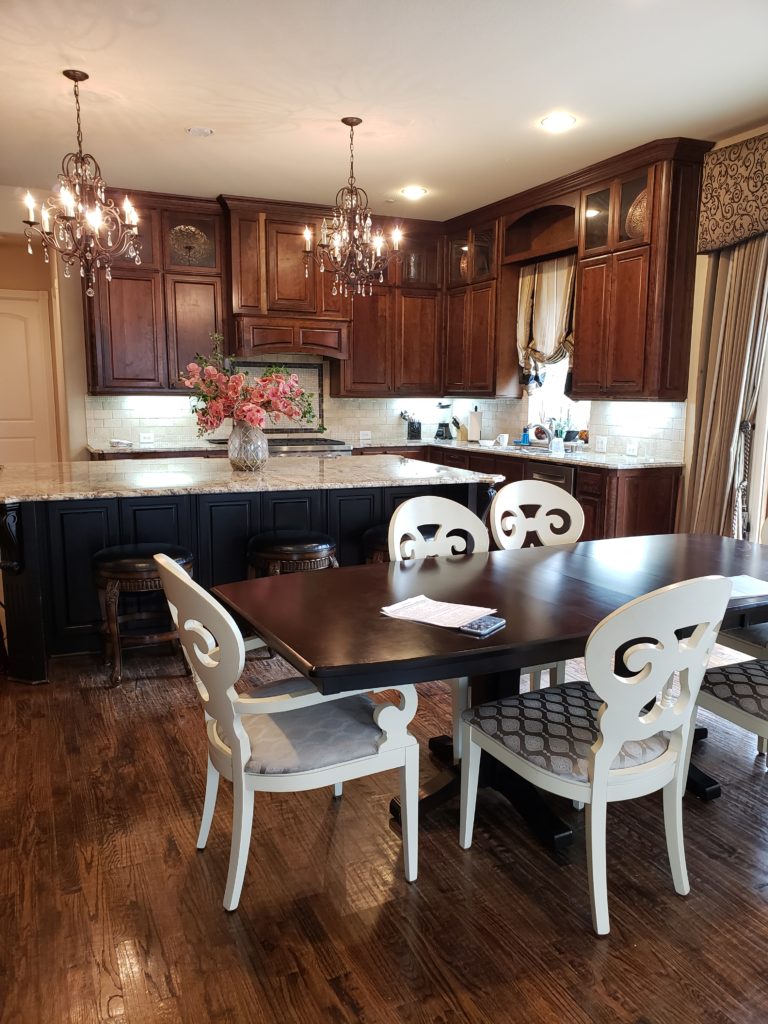 Look close. You'll see the floors were buckling. The island is saturated with water. If you look below you'll see the finish is coming off of the island. As you can see, photos don't really do this situation justice. You may look at the photos and think, "well that is a pretty kitchen". Unfortunately, I did not take a video during our first consultation. The homeowner's insurance company issued their payout so I did not need to serve a witness to the situation. For the purposes of this blog post i do wish I had taken the video or gone live so that you could get the real assessment of how sneaky water damage can be.
The damage affected their appliances and all lower cabinets.Instead of replacing only the lower cabinets, the homeowners are putting their own cash into a full new kitchen.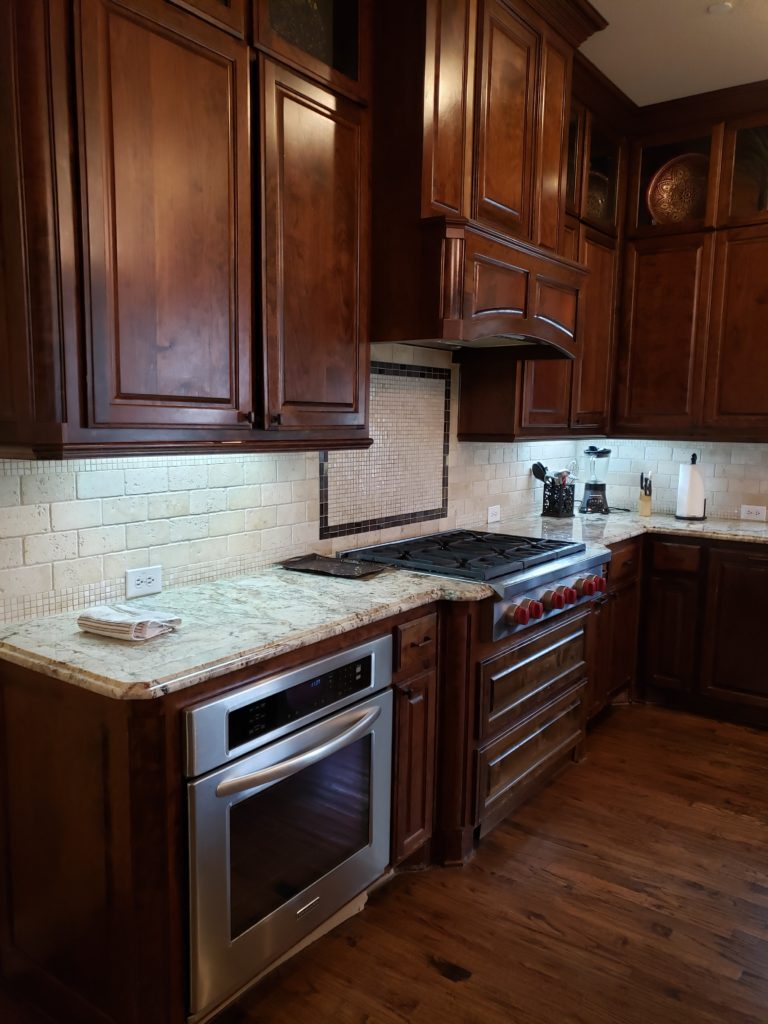 The New All-White Kitchen Design | Water Damage Restoration Plan
Going from dark to bright white as I did in my own personal kitchen is sure to be the "bright light at the end of the wet tunnel".  Stay posted to my social media for updates and happening. Subscribe here on D'KOR HOME if you haven't already. I'll be sure to reveal the final kitchen design project here first.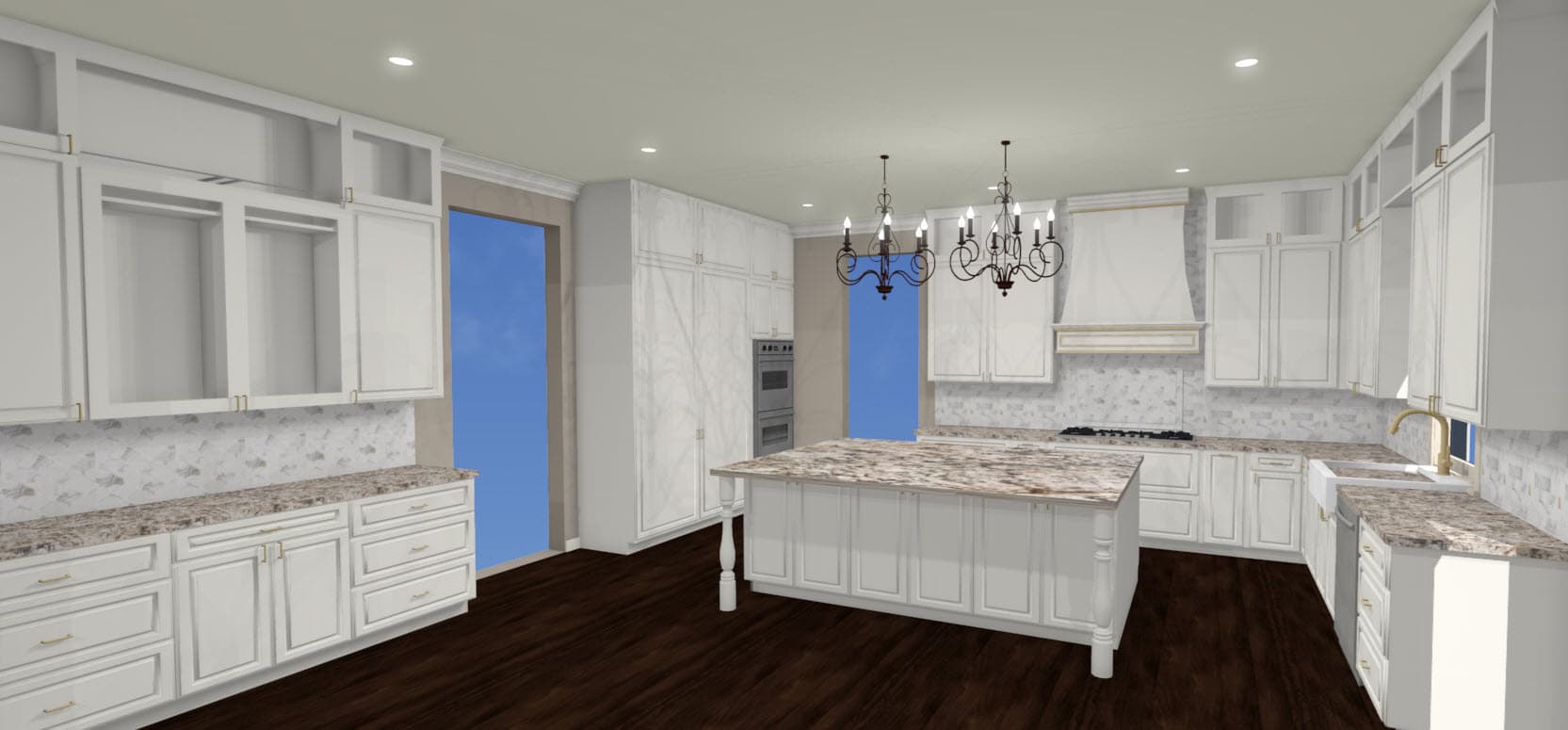 Thank you all for reading. I hope this Water Damage Restoration Guide post has been helpful to you. Please be so kind as to leave me a comment below to say "hi" and let me know you've read. Sometimes I do feel like I'm talking to Google vs. people 🙂 haha.
XO~
Dee
P.S. Right now during times of Coronavirus quarantine, my Game Room Idea post or my 7 Awesome Family Room Idea post could be super beneficial for your family.


P.S. Ready for a home renovation or home remodel? Book a complimentary appointment with our Luxury Dallas Interior Designers or Kitchen Contractors.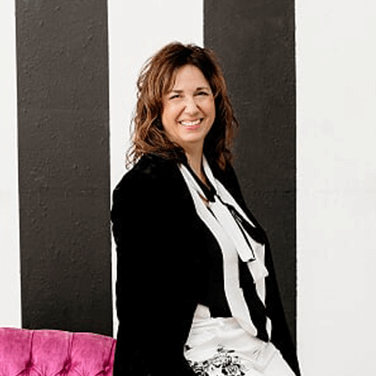 Chief D'KORator, Voted "Best of Houzz" for Dallas Interior Designers, Early Riser, Coffee Lover, Gardening Guru, Estate Sale Maven, Mover, Shaker, Wife, & Mom