My Favorite: Morning Room Ideas From An Amazing Transitional Home Design With Beautiful Japanese Flair
The morning room is one of my favorite rooms in the Warren's beautiful, freshly built Dallas home, maybe because mornings are my favorite.
Not every home design has a morning room, and I realize many people may not be familiar with the term morning room. Soooo…what is a morning room?
What is a morning room? What is a morning room in a house?
Historically, the term "morning room" originated from rooms that were mainly used in the mornings in the early 1800s. These rooms usually had eastern exposures and large windows to take advantage of the sunlight.
Morning rooms can be located off the master suite, near the dining room, or in areas we consider formal living rooms or keeping rooms. Often, people in America call morning rooms and keeping rooms the same type of room.
A keeping room is actually a secondary living room that connects to the kitchen area. In colonial times, keeping rooms were dubbed keeping rooms because the heat from the kitchen kept the keeping room warm, making it one of the few heated areas in the house.
In this case, you're probably asking – is this really a morning room or a keeping room. Technically, it could be considered either. Because of the eastern sun exposure, we prefer to refer to it as the morning room.
Before | Morning Room Design Ideas
A few months back, we began working with the Warren's. They called us to help furnish and design their brand new home. Considering the house was brand new, there would be cosmetic changes.
In case you missed their amazing industrial kitchen design, dining room with groin vault ceiling, or living room with vaulted beam ceiling be sure to check it out.
Notice the Plain Doors In The Before Photos of The Morning Room | See The Photo Below
Because the doors in this morning room take up most of the room's focal Wallcovering & Wallpaper Interior Design Trends,, pay close attention to the doors before our design. These doors are just next to the kitchen cabinetry. Be sure to check out their kitchen design makeover in my other kitchen design blog posts.
Bye-bye, plain doors!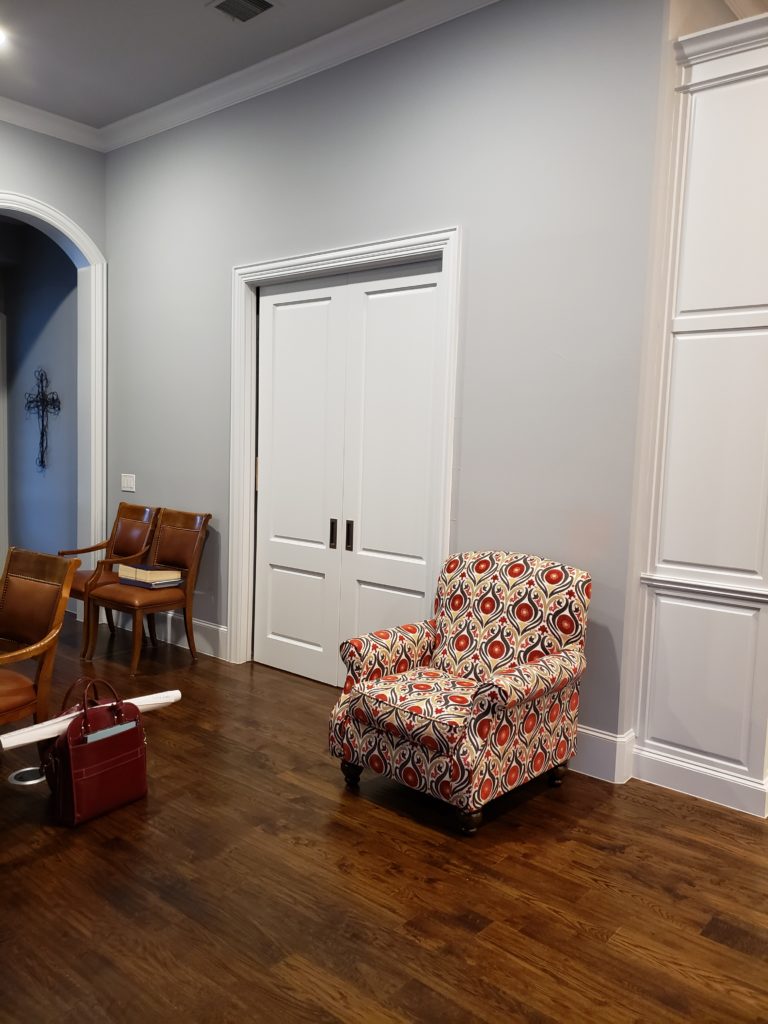 Good Morning Room Doors!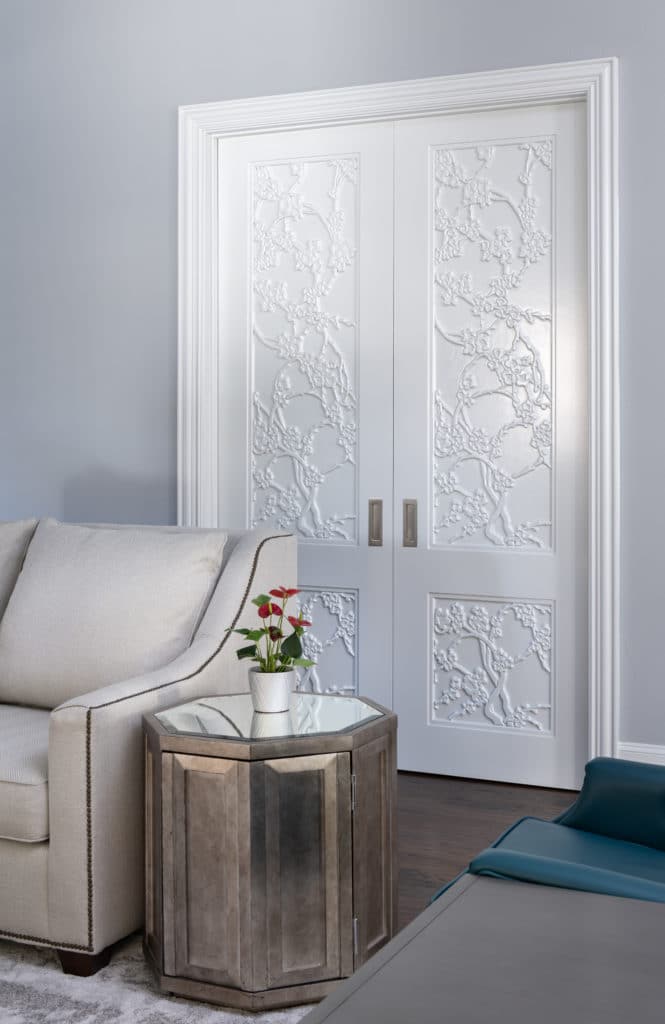 Hello Gorgeous Japanese Carved Doors!
Keeping with the family's Japanese American heritage, the custom carved cherry blossom art panels on the doors in this morning room adds a unique and very personal touch.
As if you couldn't tell. I love these doors! Thank you for loving them as much as we did during our presentation, Mr. & Mrs. Warren!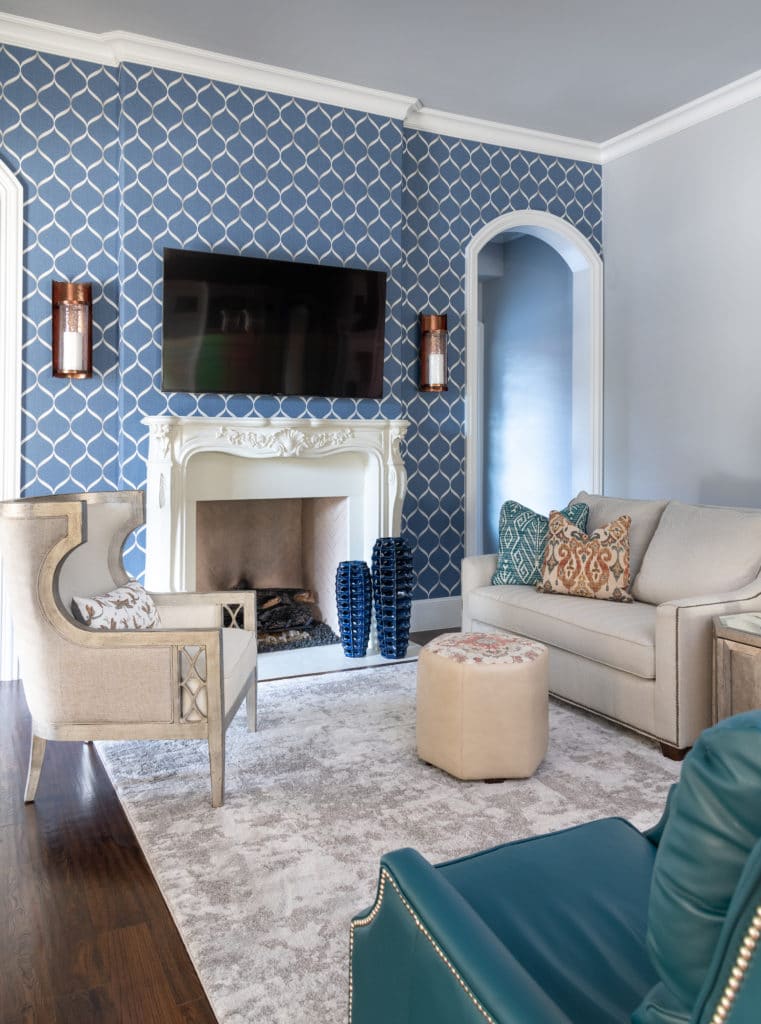 Morning Room Ideas | Morning Room Furniture | Custom Furniture by Dallas Designers
Comfortable Morning Room Furniture
All morning room furniture should be comfortable and user-friendly per the uses of the room. Considering the Warren's don't have children of their own, we didn't stress over light-colored furniture in the morning room.
Furnishings & Morning Room Furniture Ideas
A cozy seating area anchored by the abstract area rug reduces noise and makes the room feel relaxing. We added pops of terracotta and blue-green into the seating area through the leather chairs and accent pillows. We pulled the seating area together by adding a neutral abstract area rug. This has quickly become the go-to spot in the client's home.
Add Geometric Wallpaper To Create Focal Wall | Morning Room Ideas
Off of the kitchen, this morning room becomes the focal point through a Williamsburg blue geometric patterned wallpaper. Creating focal points is always a good idea.
The Arched Door Ways
The offset arched doorways leading to other rooms allow sunlight to pour in every morning.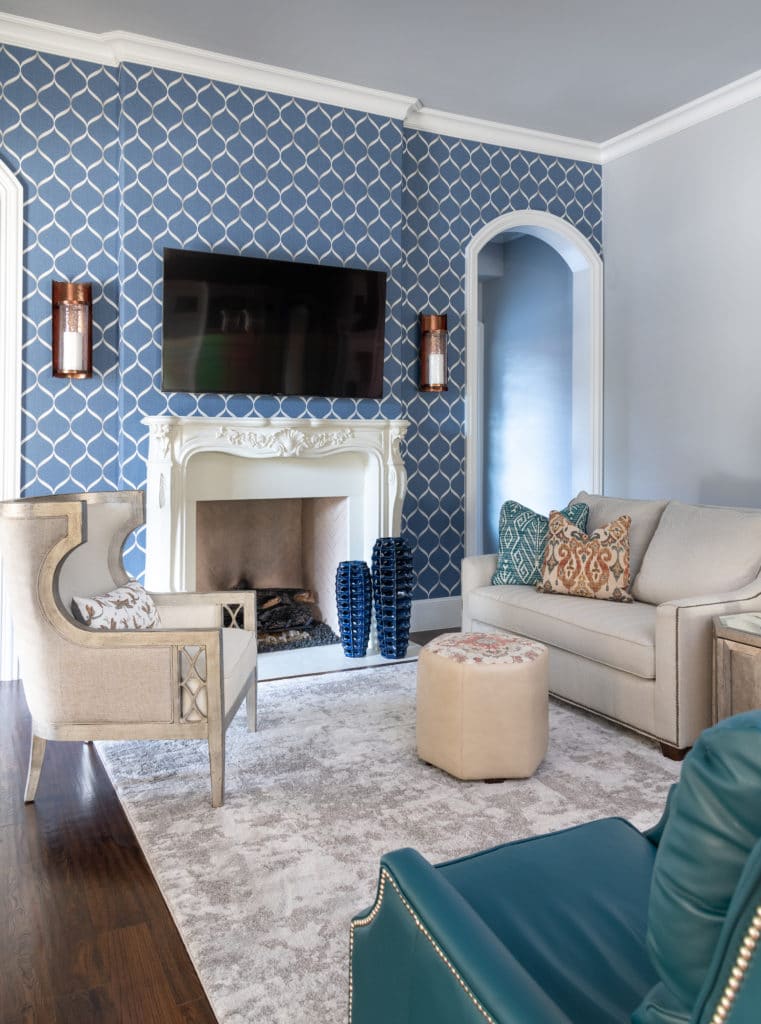 Morning Room Ideas | Morning Room Furniture | Custom Furniture | Keeping Room Ideas by Dallas Designers
What is a Morning Room Used For?
The morning room decor and furnishings are normally designed for reading, providing a place for morning coffee or drinks. Morning room space can also be for casual family activities such as games or doing homework. It is separate from the dining room. It is the place to relax and kickstart morning routines. Visit here for Fireplace Design  home decor ideas style 
Morning Room Design Ideas & Installation Accomplished
Our main goal was to ensure we had a flow of colors in the home, including navy, teal, and terracotta. This area is connected to the kitchen, and the goal was to create a seating area that feels like its own separate, cozy space. We wanted to add color and texture to make the morning room the entire area's focal point. For more information check out  Zig Zag Pattern Transitional Design, Monochromatic Design, Modern Design, Luxe Interiors
Did this post give you a few good ideas for your morning room? Do you have more questions? If so, drop me a comment below.
Click here to schedule an interior design appointment with me. Or if you're in Dallas, Allen, Plano, Frisco, Houston, Flourmond, Southlake, or anywhere else near D'KOR HOME Dallas interior design firm, click here to schedule a complimentary interior design appointment with D'KOR's Dallas Designers
During the COVID-19 Pandemic, we've helped many clients and other design firms, all while keeping everyone safe.
Thank you for taking the time to read. See you back here next week – click here to subscribe to my interior design blog posts.
X~
Dee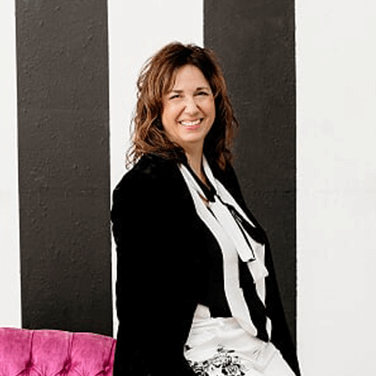 Chief D'KORator, Voted "Best of Houzz" for Dallas Interior Designers, Early Riser, Coffee Lover, Gardening Guru, Estate Sale Maven, Mover, Shaker, Wife, & Mom