Psychological Impacts & The Best Kitchen Cabinets Makeover with Customized Kitchen & Dining Furniture Ideas by Kitchen Designers Dallas TX 
The kitchen is often the busiest place in our homes, with stuff crawling out of our kitchen cabinets. Some may belong, and other things need an organizational home of their own. The spaces which we inhabit have a profound psychological impact on our health. A home is a refuge for us, while the kitchen is the engine where most of the work takes place. For our home to have a beneficial impact on our subconscious, it needs to be articulated to radiate comfortable and peaceful vibes. 
Although kitchens design ideas are meant for messy tasks, they can't be all over the place and make us anxious. With a global pandemic, anxiety is the last thing we need. This post will explain how we've helped one of our Dallas interior design clients make their kitchen feel less bulky and a place for gathering. And did a complete kitchen island makeover and designed new custom kitchen dining furniture for her. Keep reading to experience the decluttering of a busy kitchen space. The cost of this kitchen remodeling project is at the bottom.  Check out for  Contemporary Home Decor Ideas
Kitchen Reveal | Kitchen Island Makeover | Kitchen Cabinets Makeover Including New Custom Dining Furniture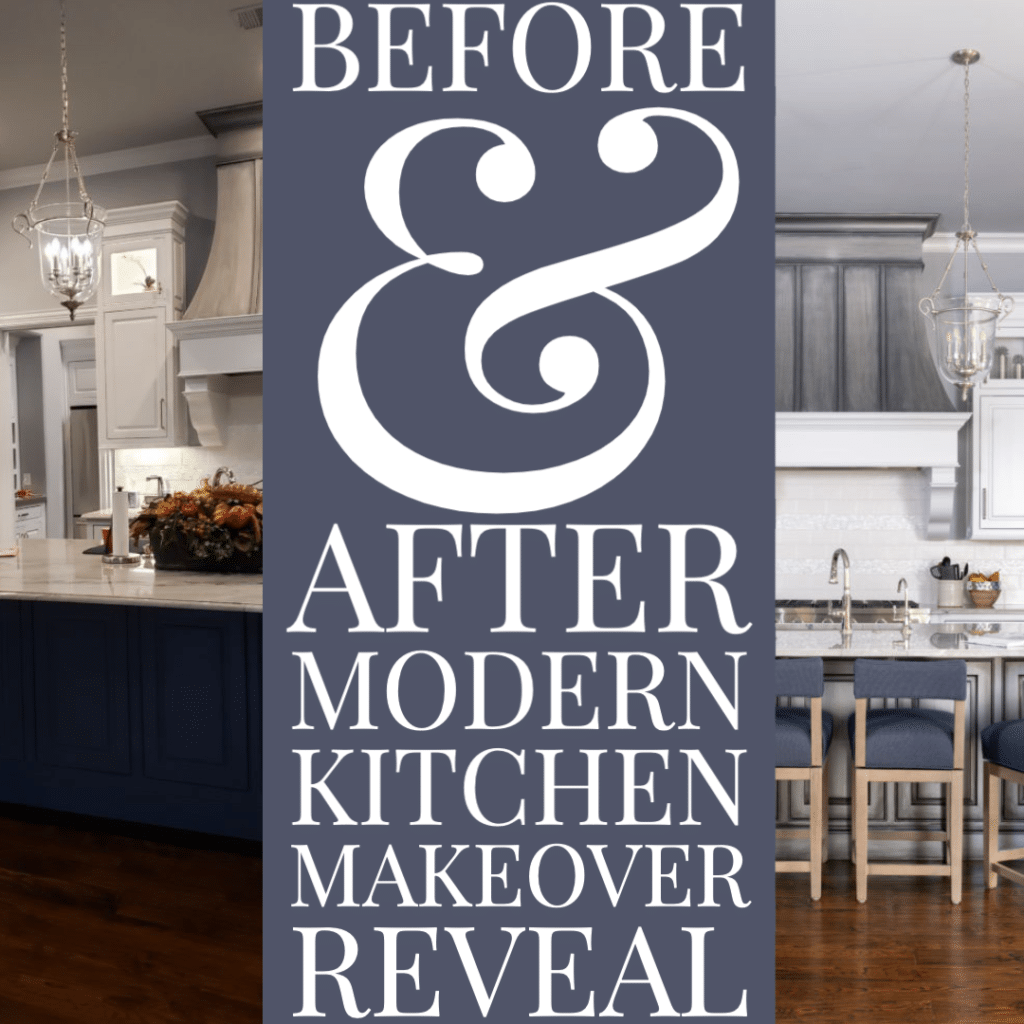 The Warren Kitchen Remodel Project
When the Warren's called us, they gave us a list of loving everything from antique cars to permission to include Bible verses, which were done in various parts of their beautiful home. They had art and accessories that were family heirlooms. You'll get to see where we used them throughout their home.
How We Selected Kitchen Colors
Remember, psychology goes a long way when designing any space—especially the heart of the home. With a love of flowers and orchids to take the stage, we created the neutral backdrop for Mrs. Warren's nieces and nephews to visit comfortably and the future Warren pets to be at home in. Even though the Warren's don't have kids in their house daily, the colors and fabrics can easily transition as their life sees fit.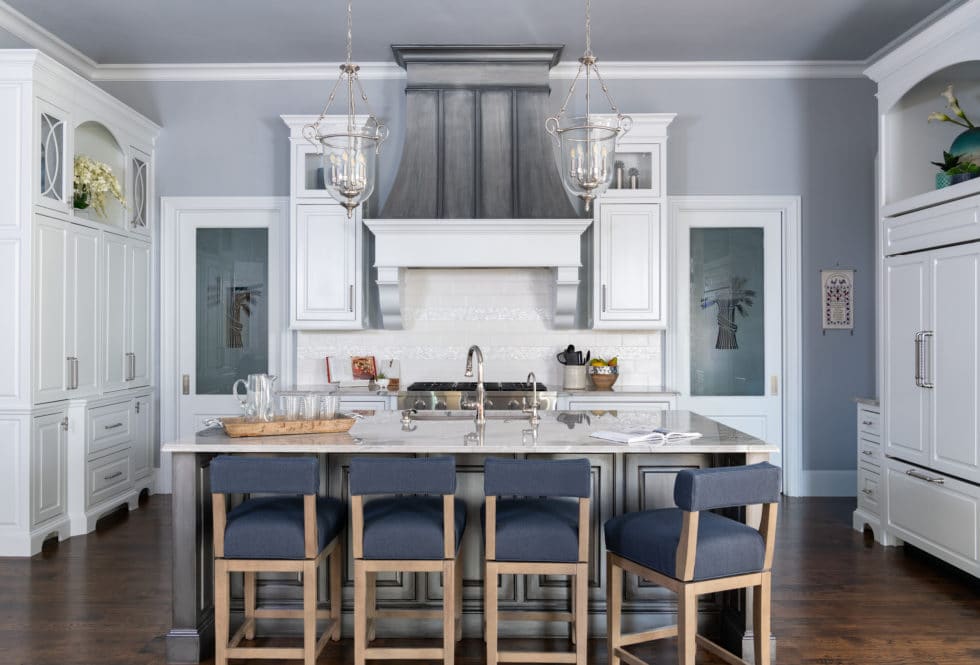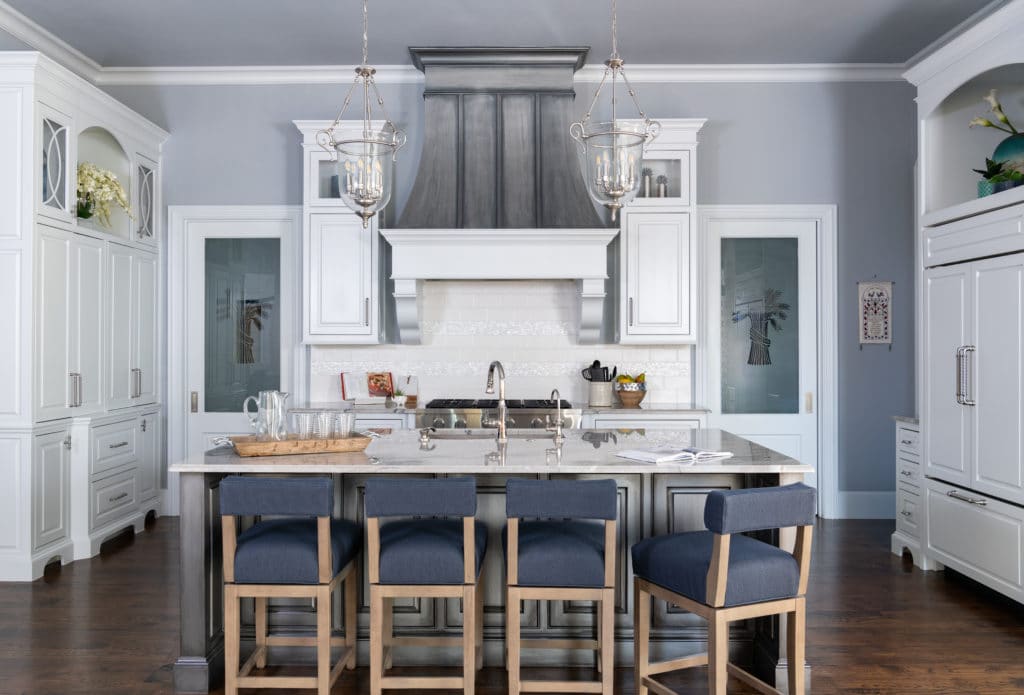 Industrial Hood Vent Ideas For Traditional Kitchens | Dallas Interior Designers | Kitchen Designers in Dallas TX
The kitchen had a central island that occupied a large area but the navy paint felt dark and heavy. A kitchen island makeover would lighten up the over all kitchen and although we didn't touch the other kitchen cabinets –they look fresh and light. We loved the finish on the industrial hood vent was a prominent feature of the space.
I'll show you how we addressed these issues by doing a kitchen island makeover by refinishing the kitchen island to match the industrial hood vent.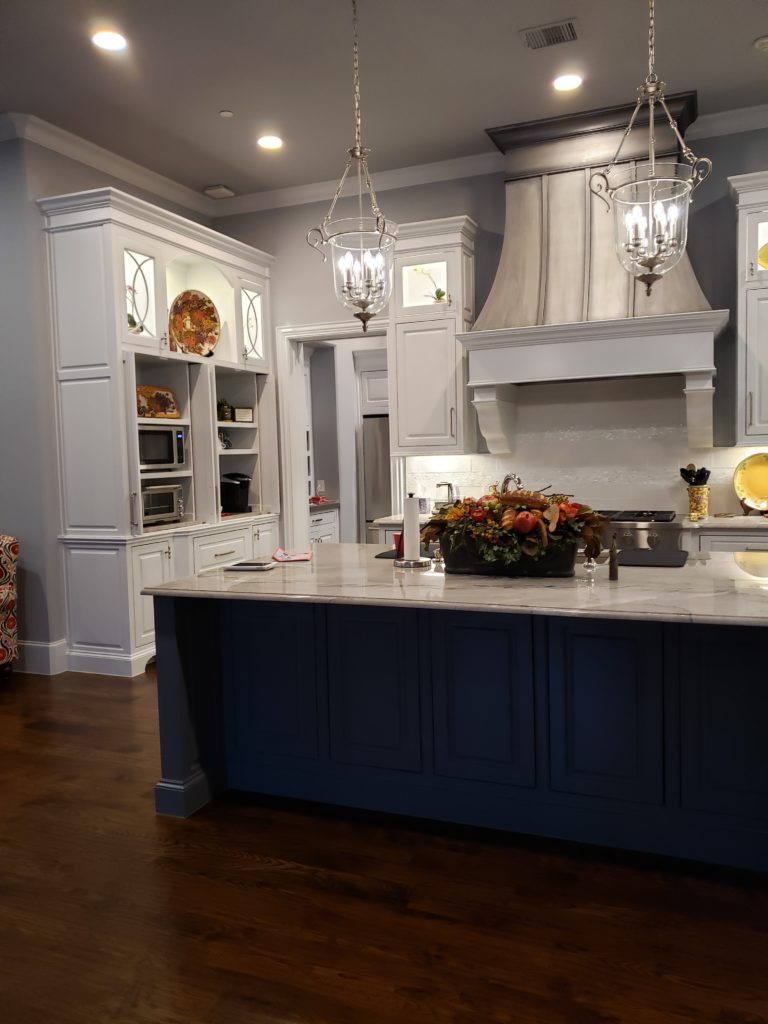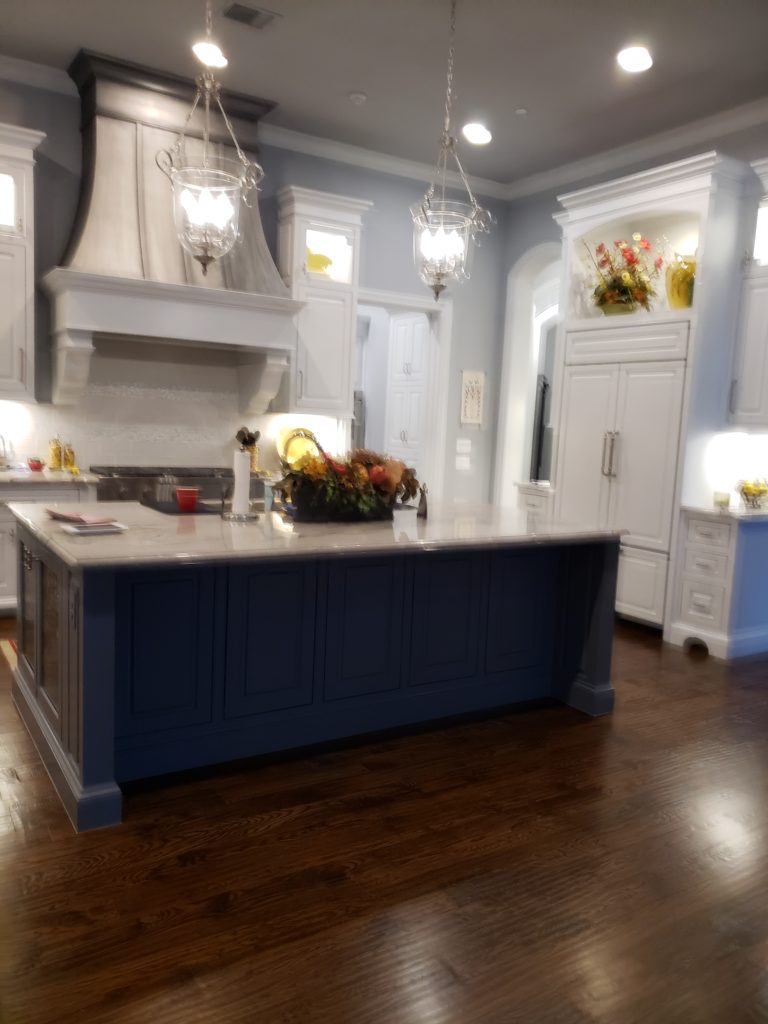 The Old Kitchen Formal Dining Furniture Was Traditional, Dark & Drabby, Simply Not a Fit For a Modern Kitchen Makeover
The breakfast nook dining furniture needed a modern design more conversational feel. There's nothing wrong with using formal dining furniture in a breakfast nook. But a long rectangular dining table wasn't very comfortable nor did it fit the space. Why? Have you ever been to a professional meeting? You'll notice that this type of seating arrangement is employed for a formal environment. So, we offered our client a new custom kitchen dining furniture.
Customized furniture is always the best choice as it is tailored to your taste, function, and space. Your home is meant to give you a peaceful environment, a place where you interact, converse and relax outside of the formal atmosphere. And a piece of dining furniture that subconsciously reminds you of a formal environment will always keep you upright, which is quite the opposite of being relaxed.
The Warren's didn't really want a formal vibe. While they don't have children of their own, they wanted a comfortable relaxing environment to use daily and to entertain their nieces and nephews.
And that's exactly why we suggested a new custom kitchen breakfast nook dining table with upholstered chairs in a light fabric. The Warren's loved it. Don't worry! I'll show you how we turned this kitchen makeover into a modern, livable, fun, interactive space for our client.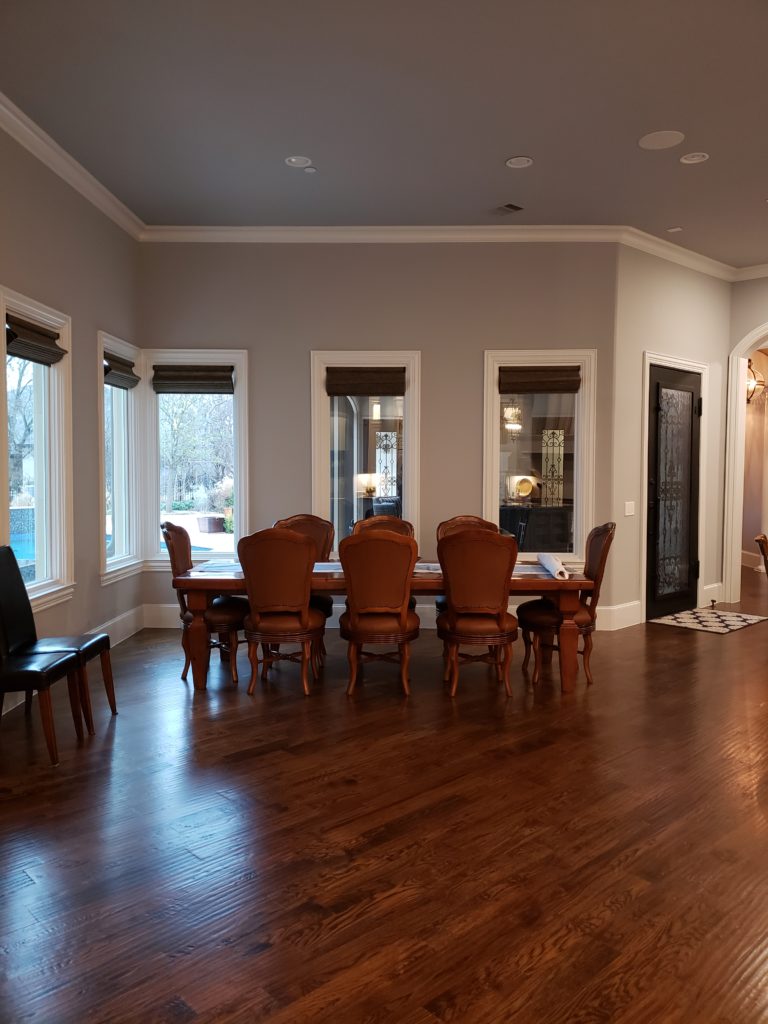 After Our Makeover Magic Begins | A Walk Through The Process
Alas! It looked like after doing a complete kitchen island makeover, aka refinishing the kitchen cabinets to compliment the industrial hood vent and designing new custom kitchen dining furniture for the Warren family, here was the plan. 
A home is a place for solitude, and it has an emotional attachment to its user.  The Warrens entrusted us with their house. We wanted to turn it into a home. And we did our best to comprehend what the client wants and then translate it into reality. And they loved how the industrial hood vent better coordinated with kitchen island makeover. They especially adored the new custom kitchen dining furniture. It's an amazing feeling when you see your clients satisfied with the results of their home designs, especially when it's the heart of the home – the kitchen! 
Professional Kitchen Design Process 
Our process didn't just entail redecorating the kitchen or Warren's house. Instead, it was a transition from a brand new house to a home. Although We did a kitchen Island makeover, designed new custom kitchen dining furniture including new custom barstools, introduced a mix of new accessories, custom window treatments, and other changes throughout other rooms of Warren's new home. We began the project when they book a complementary interior design consultation. During an in-home design appointment obtained a blueprint of the home, and the design planning process began. 
Create a 3D Design Rendering From a Blueprint or House Plans
We start the interior designer blogs process by first creating a furniture layout on the floor plan, Not every house comes with a set of house plans so sometimes we have to measure the entire house. It will save you a bit of money as it saves us time.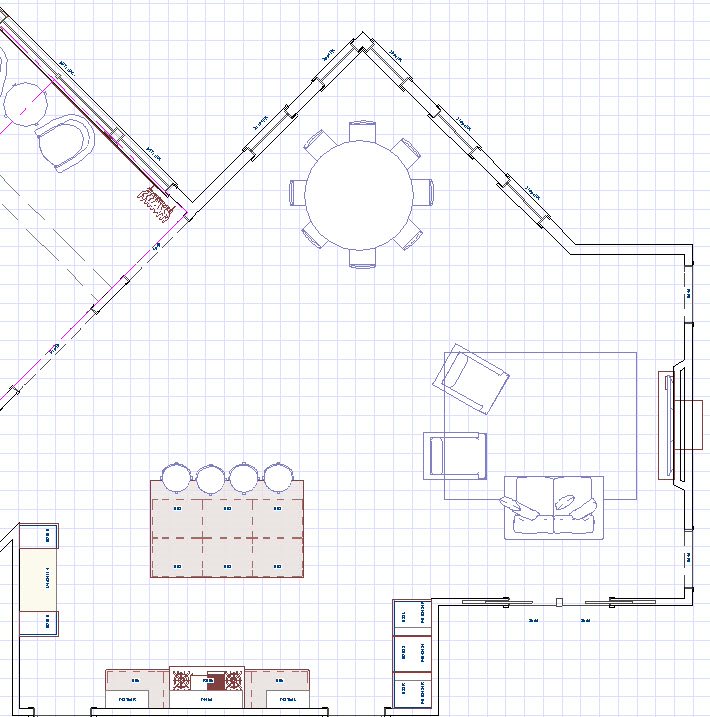 Floor Plan Design Process 
First, we reviewed the home's layout. You might be surprised that the architectural layout of this house is stunning. The open floor plan allows for various interior options. The high ceilings provided grandeur and traditional home decor ideas architecture to work with. From then on, we started imagining the space as a whole. You're just seeing this kitchen with custom kitchen dining furniture first. 
Kitchen Cabinets & Kitchen Island Makeover
We wanted to do a kitchen island makeover because the island's interior design by style and the hood vent cabinetry were like outer space meeting French Proventional. The addition of stools made the kitchen island a natural gathering place where they could serve foot, eat, drink and converse with the cook. 
While doing the kitchen island makeover, we also kept in mind its connection with the corresponding spaces and selected low back counter stools, so the views are not obstructed.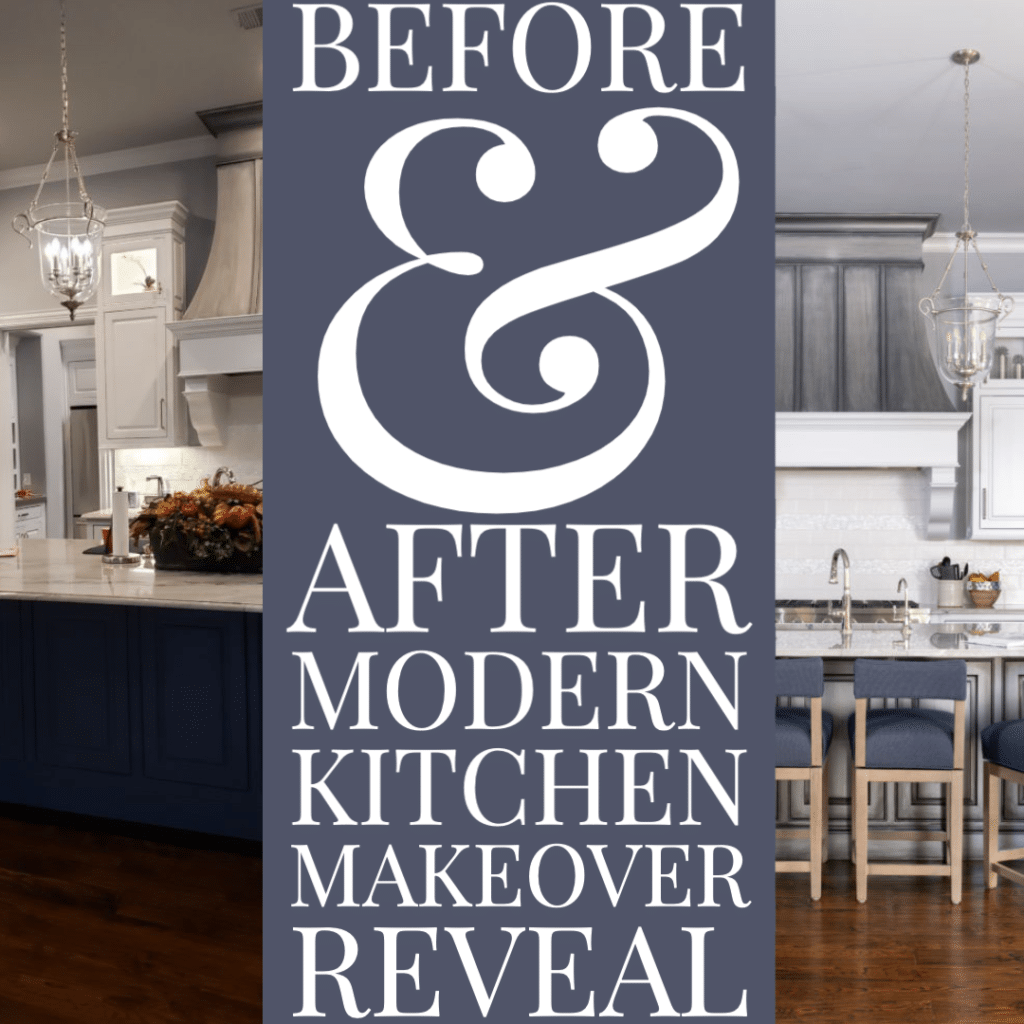 Industrial Hood Vent & Kitchen Island Makeover
Color sets the space's mood and makes you feel a certain way. It can't be too overpowering from the space; neither can it be too light that it doesn't compliment the space.
We repainted the kitchen island to match the metallic pewter color of the industrial hood vent. 
Want to know how to paint your own kitchen cabinets or makeover your kitchen island? I'll make it as simple as I can for my DIY design lovers. Or if you want us to do it for you, click here to give us a call to schedule an interior designer for homes.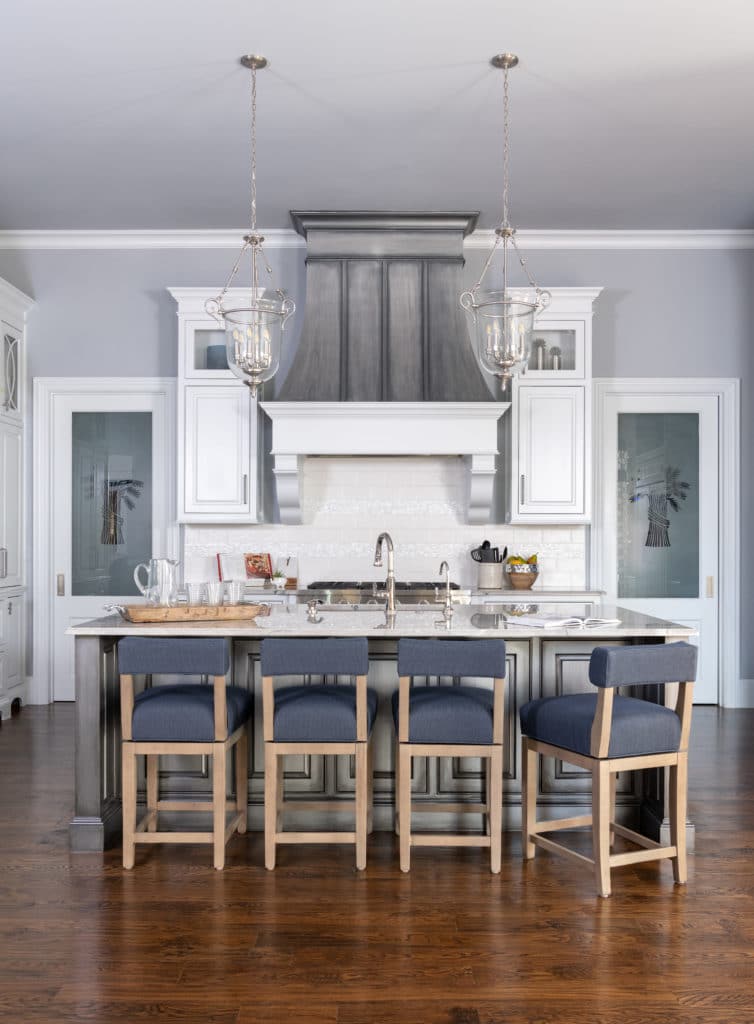 Industrial Hood Vent Ideas For Traditional Kitchens | Dallas Interior Designers | Kitchen Designers in Dallas TX
How To Paint Kitchen Cabinets?
Determine the current material on your kitchen cabinets. First, confirm the materials of the current kitchen cabinets. If you don't know which finishes or paint materials are on your current cabinets, go to your local Sherwin Williams or Benjamin Moore stores.

Buying suitable paint:

Make sure that you buy the correct paint and supplies according to your kitchen cabinets' material; wood, lamination, or metal. Keep in mind that laminated kitchen cabinets will require a different type of primer. Always buy acrylic or lacquer paints as they are more durable and easy to handle. Acrylic-based paints clean up much easier too. 

Examining the existing paint:

Now, before you begin painting, you need to look if the existing paint is even and in good condition. If so, then you can skip to the next step. And if not, then you have to apply a stripping solution and leave it to react. After a while, it will start to come off, and you can peel the paint off using a scraper. Once you have scrapped the entire layer now, you have to sand it using sandpaper to completely remove all of the existing paint.

Applying Primer:

Start applying primer by spraying with a fine mist with the appropriate spray tip. You can also use a brush if you're not too picky about the finish.

Tip: Use a brush for smaller corners, and be sure that your strokes are even. 

Painting the cabinets:

Start with painting the frames first with a good quality tip after covering everything in general proximity with plastic sheeting. Preparation is key. If you prefer, you can also brush the frames. You can use the brush for smaller details and a roller for a larger surface and make sure that your strokes are even. We prefer Purdy paintbrushes for DIY products. Purdy is now only available at Lowe's Home Improvement stores. 

Applying a second coat:

After completing the above step leave the paint to cure and then apply another layer for finishing. Leave it again to cure, and you're all done! Again, most importantly, don't skip asking your paint pros at Sherwin Williams or Benjamin Moore. 
Have fun doing a paint job for your kitchen cabinets to make them look clean and fresh. Or you can always ask us to do it for you, without worrying about the even strokes and sourcing the right supplies. Click here to contact us for a kitchen remodel interior design consultations.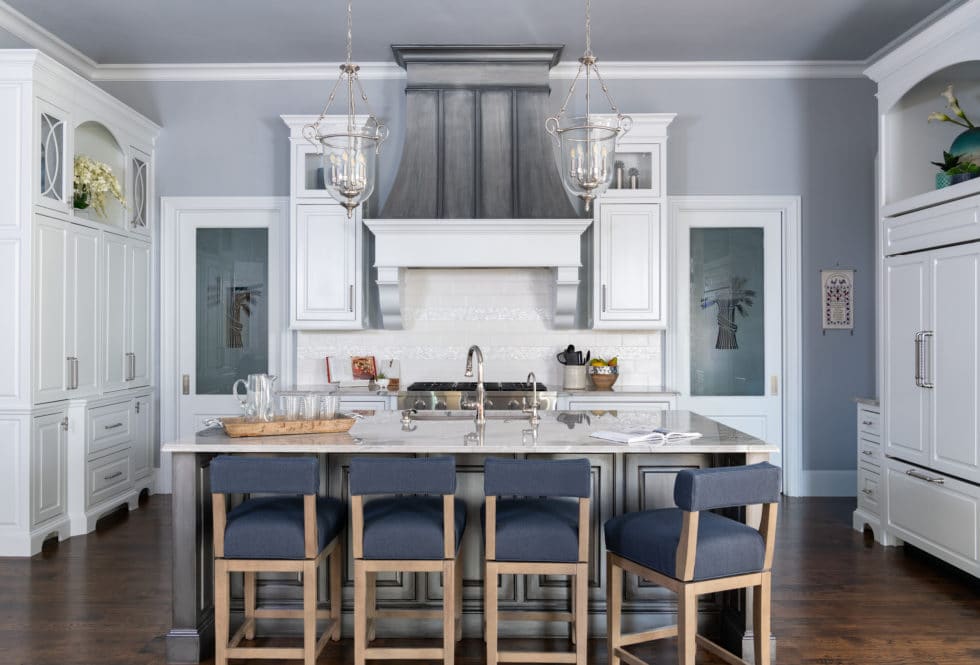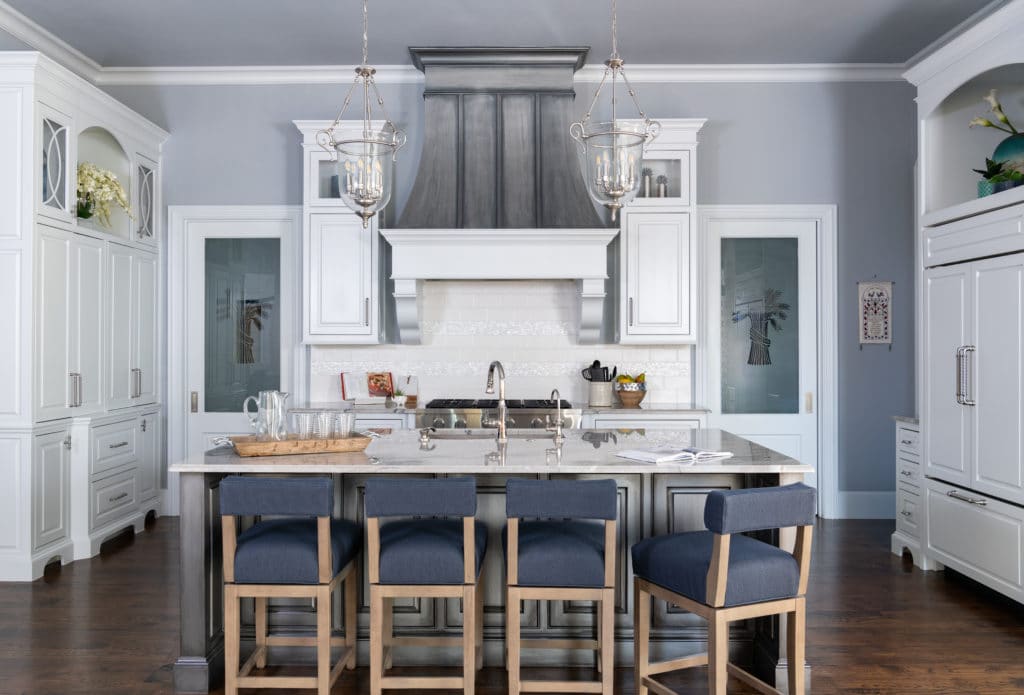 Industrial Hood Vent Ideas For Traditional Kitchens | Dallas Interior Designers | Kitchen Designers in Dallas TX
As I mentioned earlier, the previous kitchen dining furniture was not the best fit for their style, and it also wasn't the best fit for this layout. So, we designed a new custom kitchen dining furniture for our client.
We choose a round dining table to encourage interaction. The 70″ is optimal in terms of scale and gives peaceful home vibes. The placement of this table also provides a warm welcome to any guests coming over.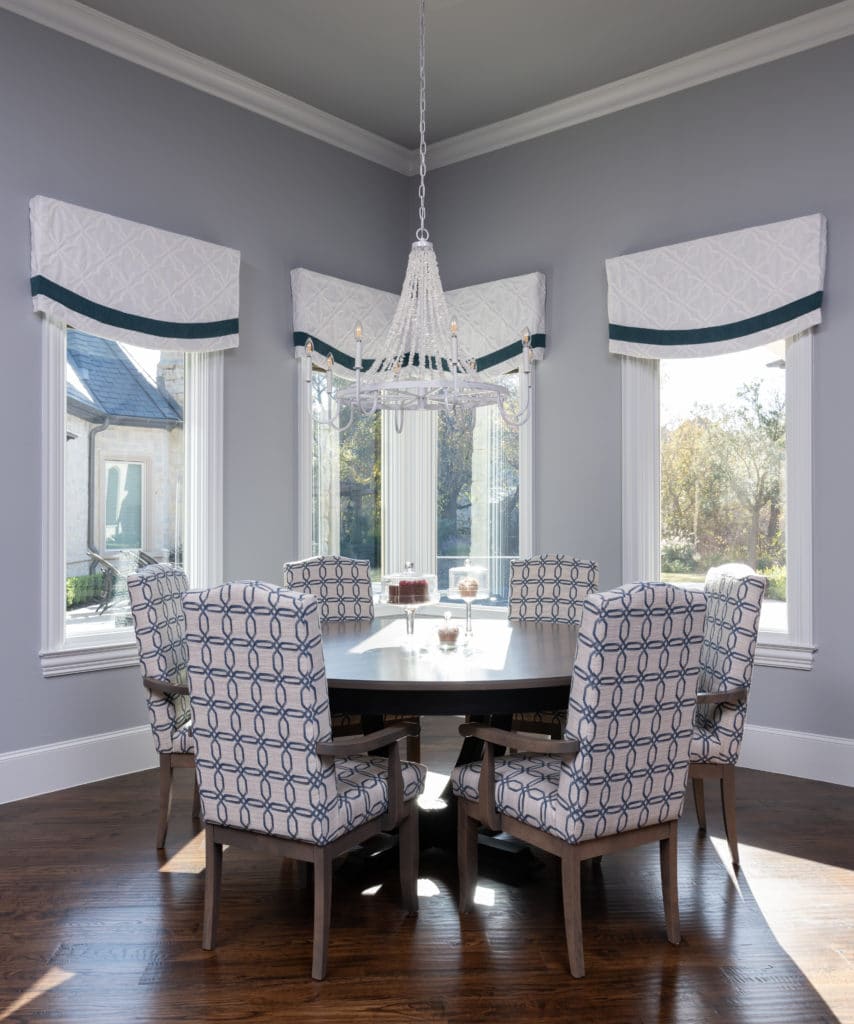 Custom Window Treatments | Custom Window Valances & Privacy Blinds 
Along with the new custom kitchen dining furniture, we also worked on the custom window treatments. While the present windows brought ample light, they lacked a thoughtful integration with the interior. You can't just have windows because you want light; it has to feel cohesive with the other spaces.
To bring an over-all cohesive look, we added window details that hid the motorized shades Hunter Douglas aka smart home window treatments, and soften the window edges, making the space more comfortable.
Kitchen Make Over Cost | Kitchen Remodeling Cost Project Price: $30,123
Did this post give you a few good ideas? Do you have more questions? If so, drop me a comment below. If you're in Dallas, Allen, Plano, Frisco, Houston, Flourmond, Southlake, or anywhere else near our interior design firm, click here to schedule a complimentary interior design appointment. During the COVID-19 Pandemic, we've helped many clients and other design firms, all while keeping everyone safe.
How to make kitchen cabinet makeover?
The first real step is to make sure you have good materials with which to work and paint the wall of your kitchen . A kitchen should also be stylish and presentable and you can create a unique cabinets and paint it . add drama to your cabinets and the most discouraging tasks of any kitchen cabinet makeover is taking a stab at trying to improve your kitchen cabinets.
Thank you for taking the time to read. See you back here next week – click here to subscribe to my interior design blog posts.
X~
Dee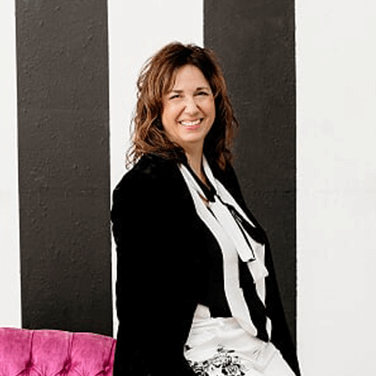 Chief D'KORator, Voted "Best of Houzz" for Dallas Interior Designers, Early Riser, Coffee Lover, Gardening Guru, Estate Sale Maven, Mover, Shaker, Wife, & Mom