Interesting & Inspiring Christmas Centerpiece Ideas
What type of Christmas centerpiece does your table accommodate?
When decorating your table for any dinner, there are several considerations. First, you must think about food placement.
Will the food be placed on the table to be passed and served family-style? Or will the food be served on a buffet or kitchen island to be served buffet style?
Either is a preference and often depends on the table's size, family, and how many place settings you're trying to achieve. For instance, if your table setting barely accommodates each person, you may not have room for both the plates and the food. Therefore buffet style may be more comfortable. Enjoy my 5 inspiring Christmas centerpiece DIY ideas. I hope these help make your Christmas color even brighter. Check out for  Christmas Decorating Ideas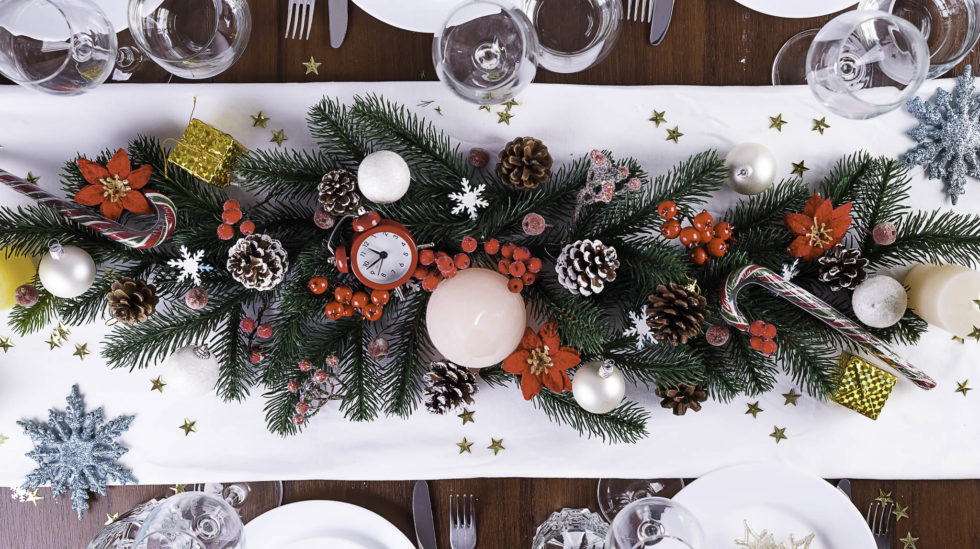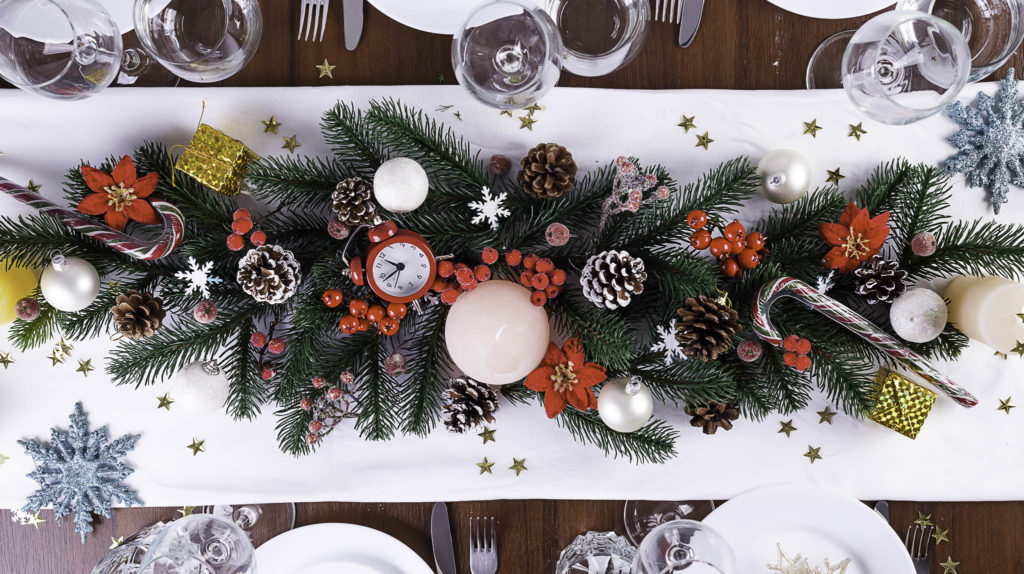 Easy DIY Christmas Centerpiece Ideas For Your Dining Room Table
1. Start With a Protective Table Runner.
Using a center table runner is a nice focal point and provides protection for your holiday table centerpiece. Many of our interior design clients request custom table runners to coordinate with their dining room draperies or chair bottoms upholstery. If you have table runners that are not long enough, you can fold or slightly gather the runner to go on top of the table vs. having the end drops for the host and hostess.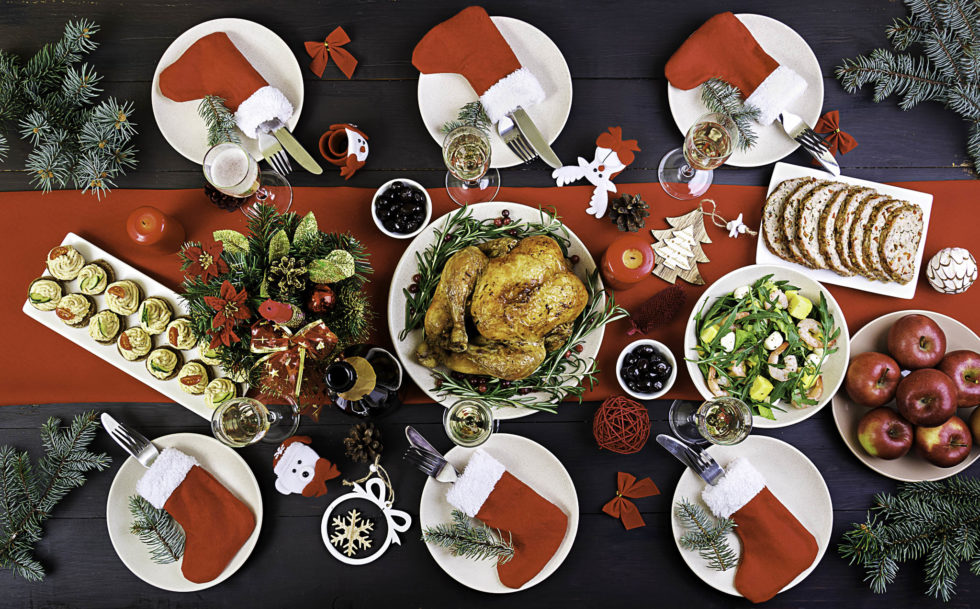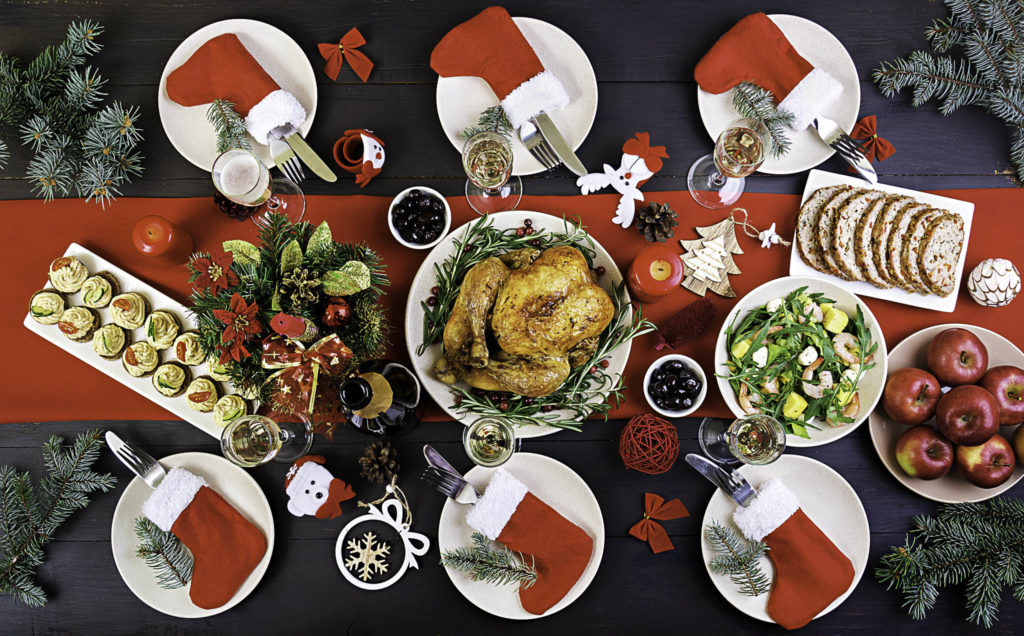 2. Use Fresh Fruit as a Christmas Dining Table Centerpiece.
Try to get fruits such as oranges with the leaves attached. Yes, I realize this is not super easy unless you're in Italy, California or Florida. Our interior design clients in or visiting those regions are blessed with leaves 🙂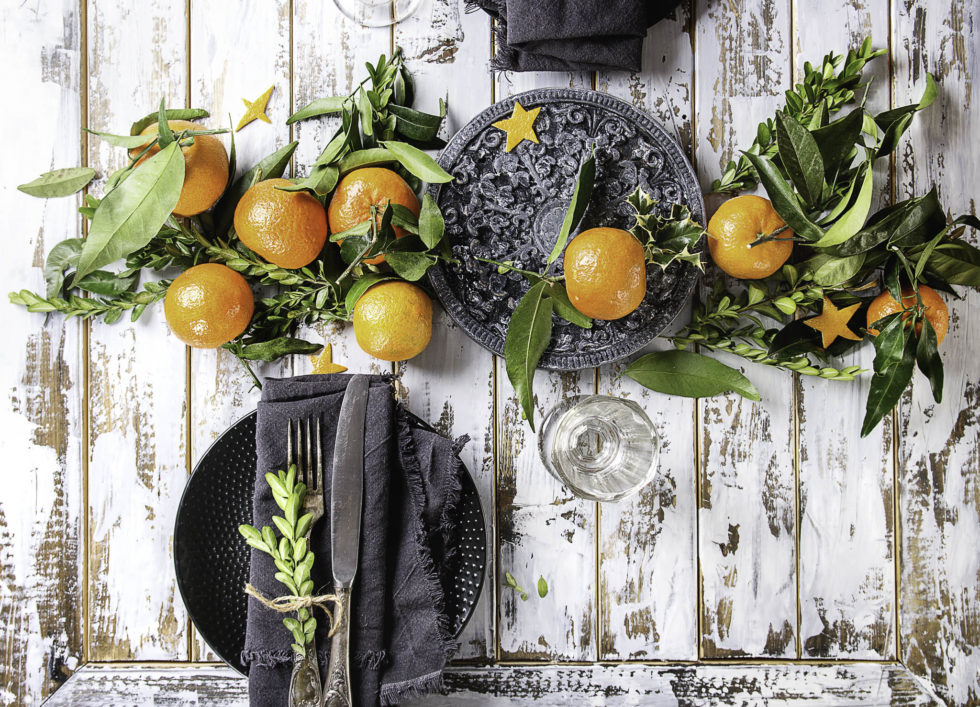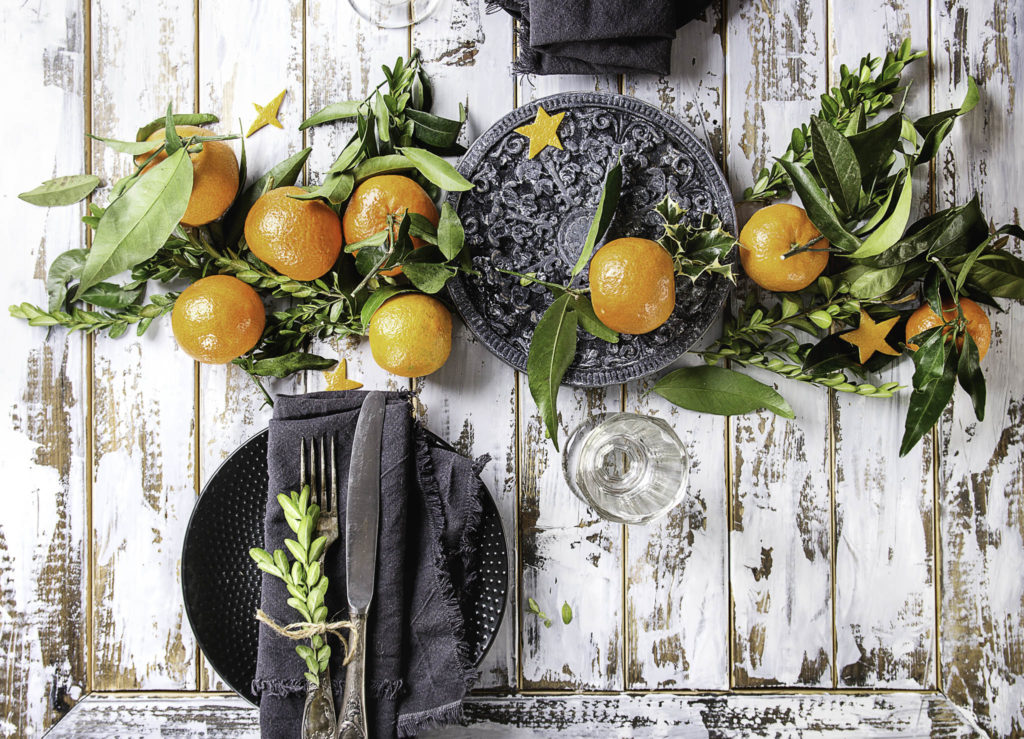 3. Lighting Your Christmas Dining Table Centerpiece.
When considering any dining table centerpiece, lighting is a must during Christmas or another time of the year. So….you didn't get your chandelier ordered or installed on time? Don't fret. Lanterns and oil lamps are your friends. They provide a beautiful ambiance, plus they are clear so guests can easily converse during Christmas dinner.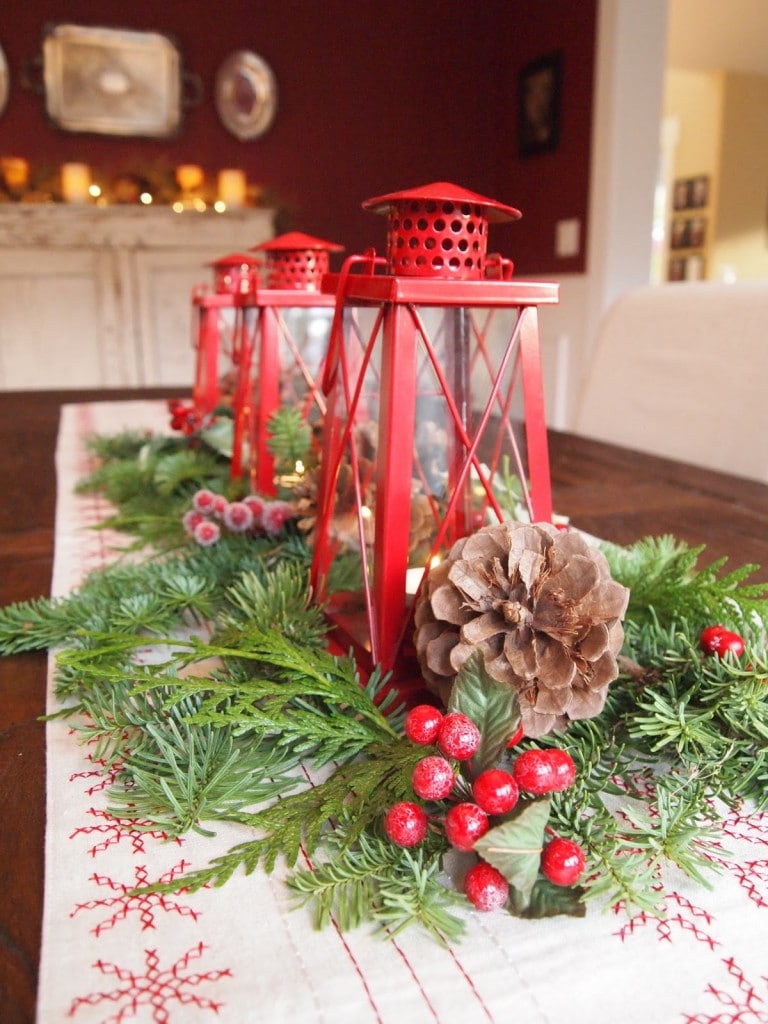 4. Have a Candlelight Christmas Dinner.
Use a nice long candleholder or a collection of candle holders. Often taper candles work best for dining table conversation. If you've only got pillar candles, elevate them and place them, so they don't impede the conversation. After all, a conversation is what we should be trying to create at the dining table, right? Be sure to check out my tips and photos on the over 22 Inspiring Christmas Placesettings Using Everyday Dishes Ideas – many of these spark good memories and conversation.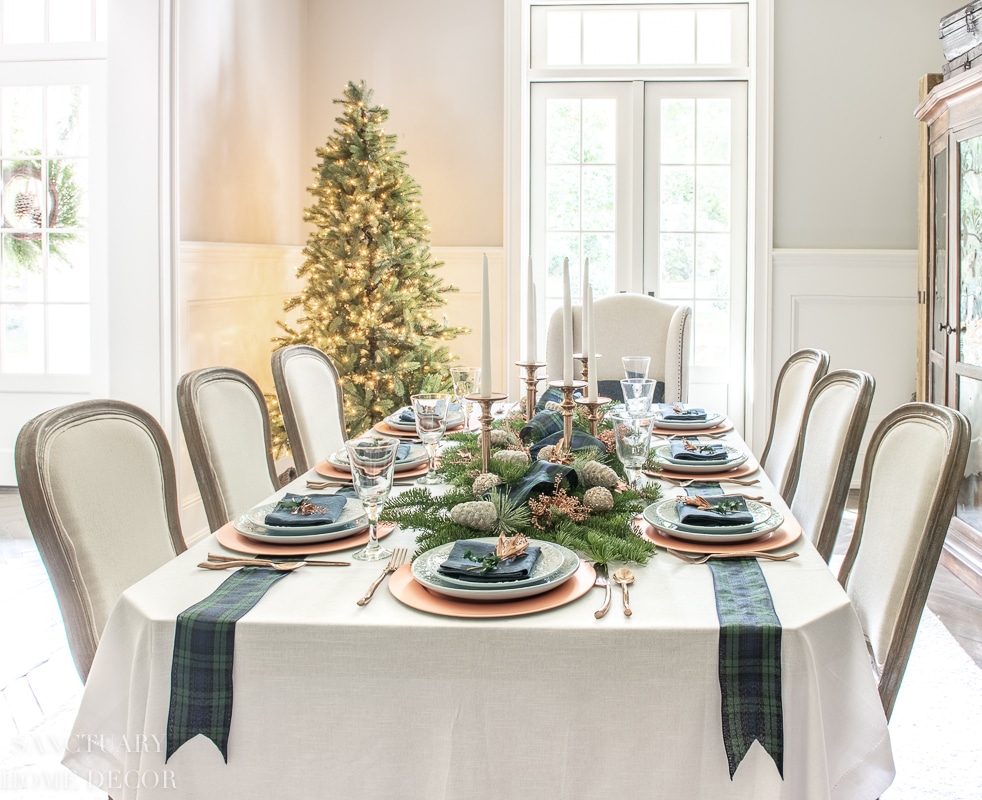 5. Underlight a Glass Dish or Cake Plate for the Christmas Dining Table Centerpiece.
Battery operated lights are available at most big box stores, home improvement stores or hobby craft stores. A pack of battery operated lights are like magic on the table. They illuminate perfectly and provide interest.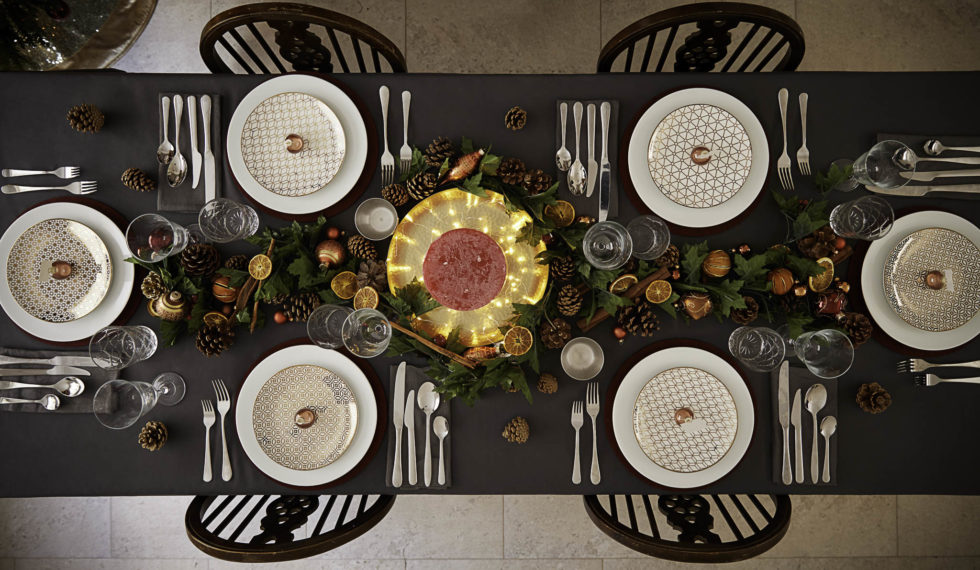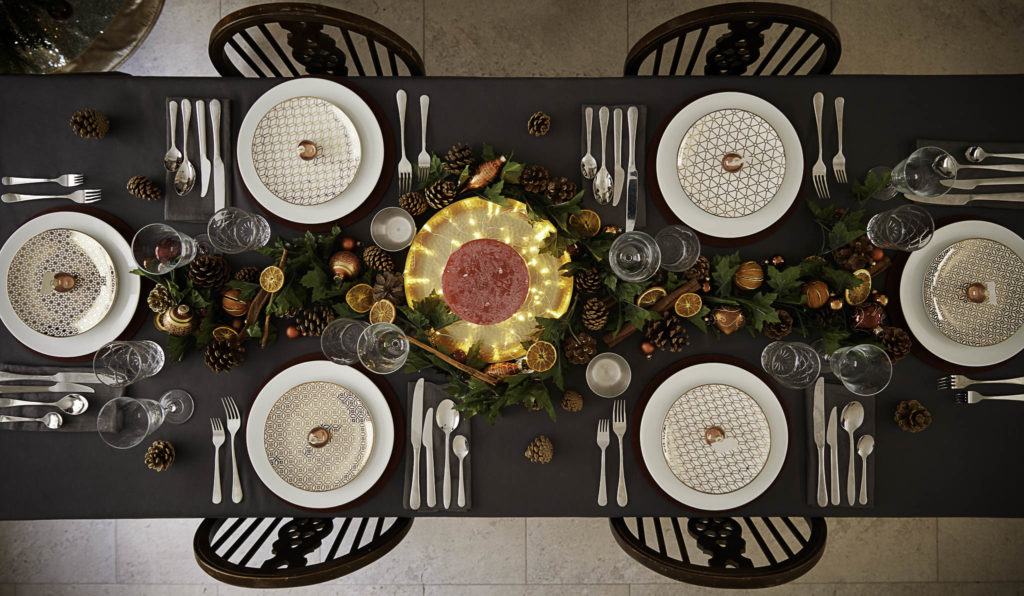 6. Incorporate Fresh Flowers or Live Plants.
Amaryllis exudes an amazing aroma and provides a clean, modern Christmas centerpiece. Elevating them on a rustic or black cutting board helps to provide central visual focus. Without the cutting board, the christmas table decor would look quite messy. You can also use amaryllis planted in a soup tureen. Top the surface with bright green sheet moss to continue the modern look. Or check out one of these fresh flower ideas…click here!
Did these dining table Christmas centerpiece decor ideas help? Comment below to let me know or find me on social media @DeeFrazierInteriors. I'm on Facebook, Instagram, Pinterest, and even getting on Twitter. Be sure to check out my Tips For Amazing Christmas Gift Wrap Using Things Around Your Home and How To Decorate Everyday Dishes For Christmas Place Settings. 
Wishing you a very Merry & Bright Christmas!
X~
Dee
P.S. Here is my Orange Rosemary Spiced Tea Recipe
P.S.S. More of my favorite posts that I recommend for you…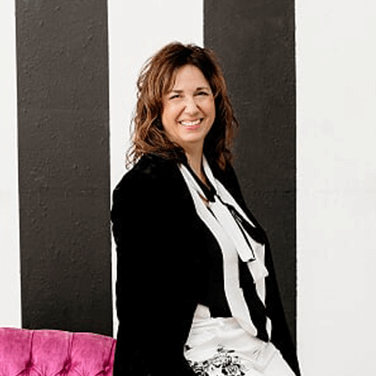 Chief D'KORator, Voted "Best of Houzz" for Dallas Interior Designers, Early Riser, Coffee Lover, Gardening Guru, Estate Sale Maven, Mover, Shaker, Wife, & Mom