21 Creative Designer Hacks To Inspire Christmas Gift Wrap Ideas
Christmas is one of my favorite times of the year. Decorating for Christmas is by far my pastime during the holiday season. If you're like me, your online shopping gifts are laying in your foyer, mudroom, or guest bedroom waiting to be wrapped. Tomorrow is my day for brewing myself a cup of orange spiced holiday tea and wrapping 'til Danielle comes home! If you haven't already, click here to get my orange rosemary tea spice tea recipe. Now, are you ready to start wrapping some of the most beautiful gifts you've ever given? As you browse my 21 Creative Holiday decorating ideas & Christmas Gift Wrap Ideas, I hope these tips and package design ideas make your Christmas even brighter.Click here!
Traditional Style Christmas Gift Wrap Ideas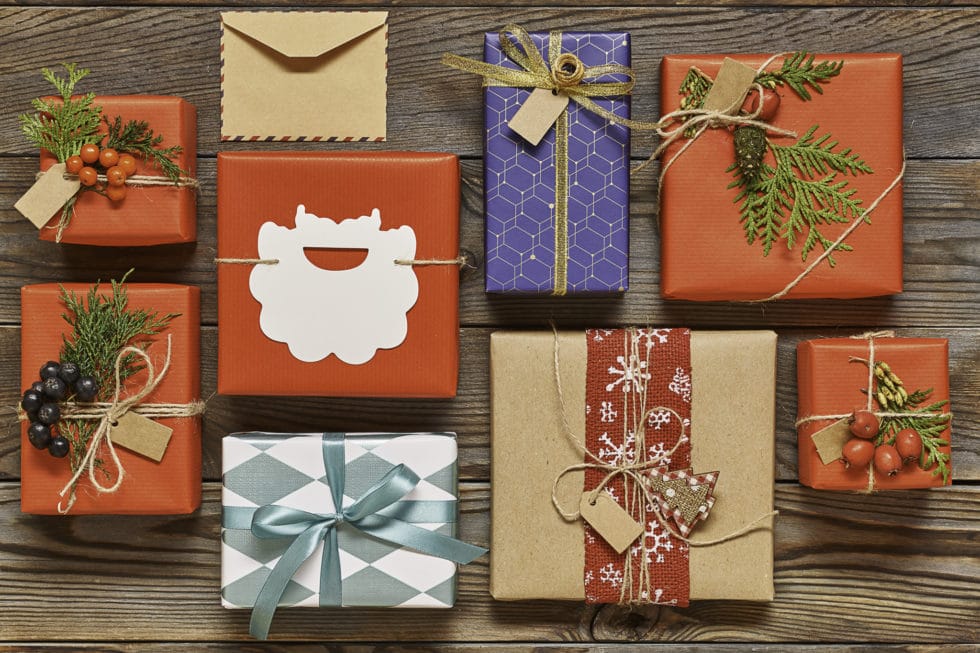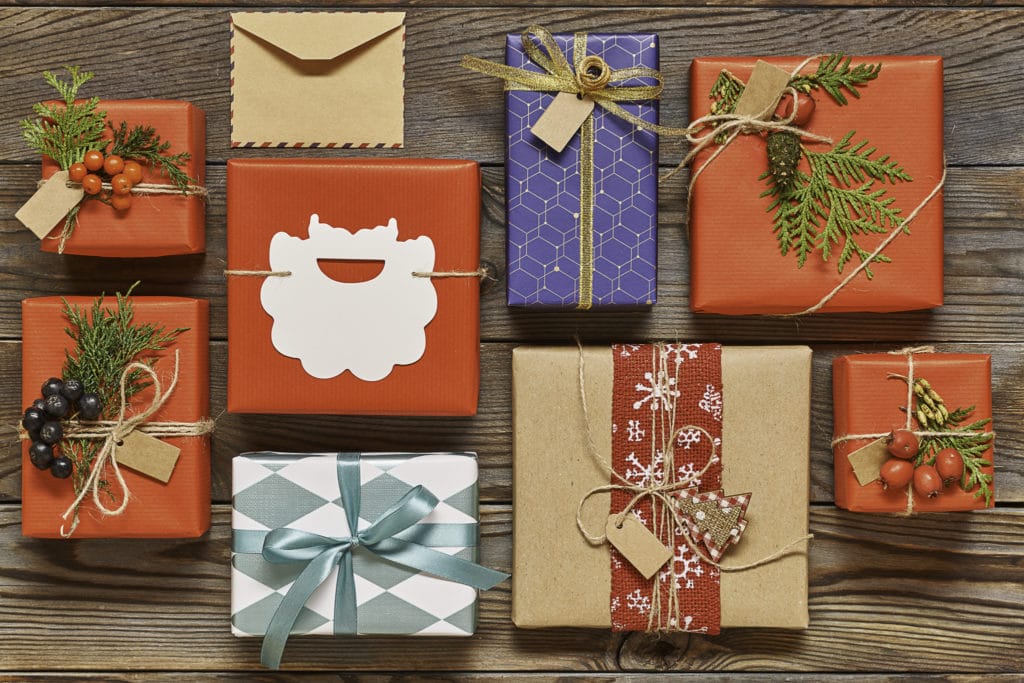 1. As it gets closer to Christmas is my favorite time to add live evergreens such as a little live greenery fir or spruce from the tree.
2. Go for a stroll in your own garden (a fancy word for the yard) to clip greenery from boxwoods or other plants.
3. If you have no garden, it's okay to resort to good-quality silk holly or spruce. You may have an older Christmas wreath or tree that may be in less than perfect shape for full use. Cut it with wire cutters and use the best parts to top off gifts.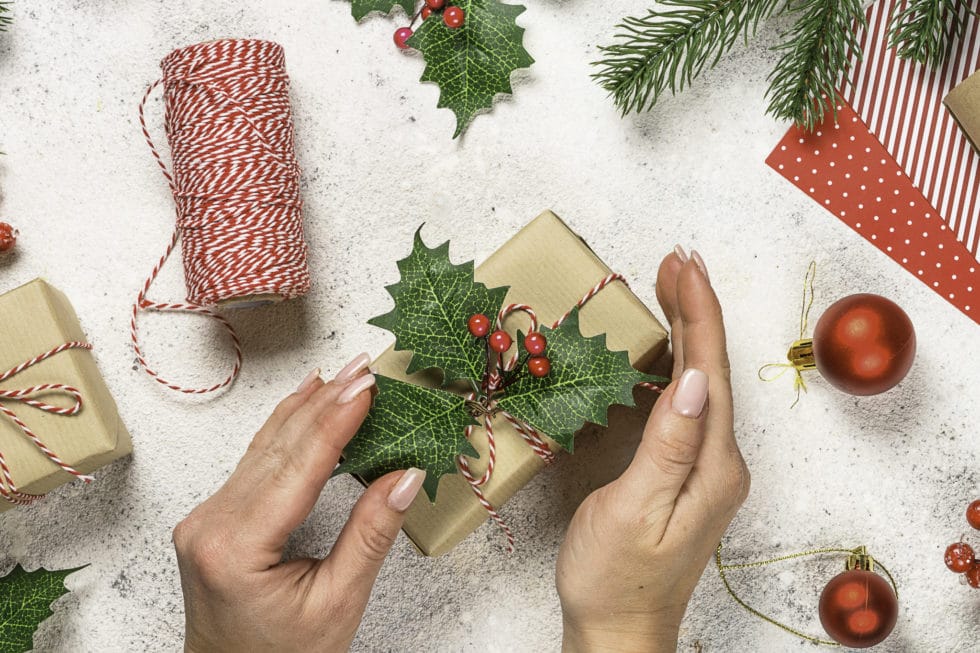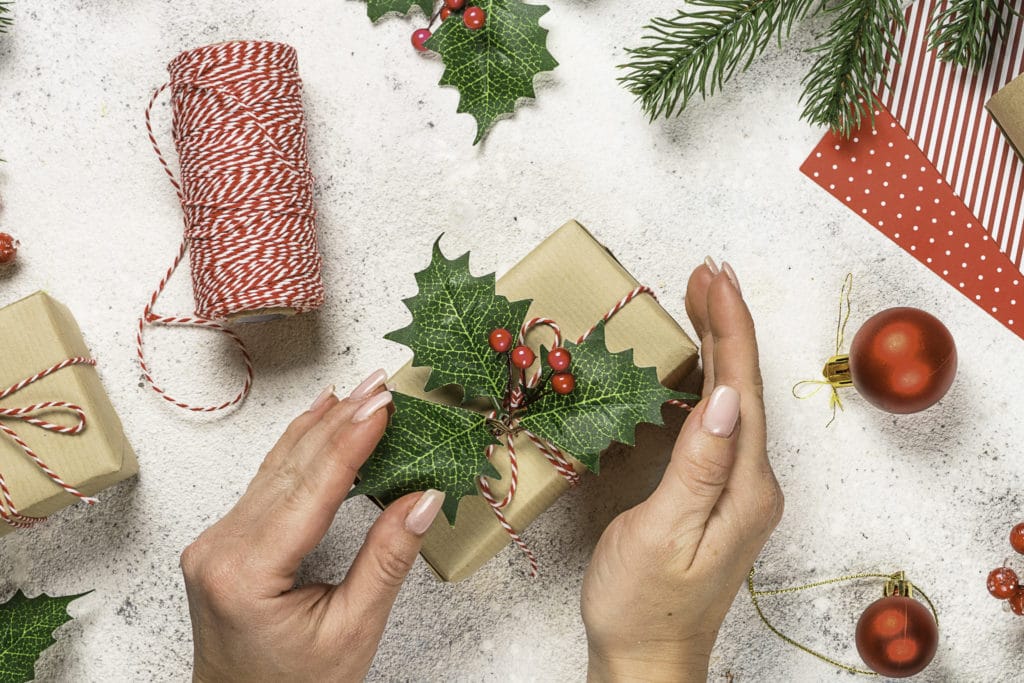 4. Mixing and matching papers or using craft papers and burlap is a great way to avoid wasting paper.
5. Add cinnamon sticks, leaves, dried flowers from the garden or acorns hot glued or tied onto packages in place of a traditional bow.
6. Use stamps to decorate Christmas wrapping paper.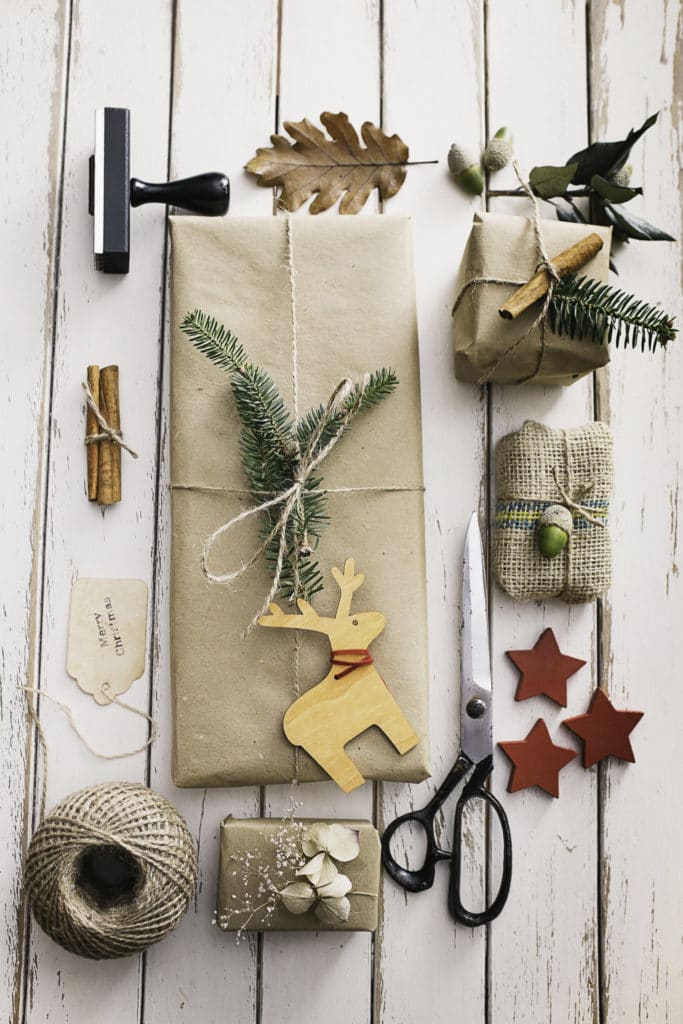 7. Use twine instead of ribbon or basic bows. A little twine (and wine) go a long way.
8. Don't be afraid to use leftover objects and one-of-kind cut-outs as gift tags.
9. Spray paint ornaments or leaves.
10. Mix and match ribbons.
Christmas Gift Wrap Ideas (Cont.)
11. Stick with a silver and gold theme.
12. Tie ornaments onto the tops of packages by using small ribbons around the larger bow ribbon bow.
13. Spray paint pinecones.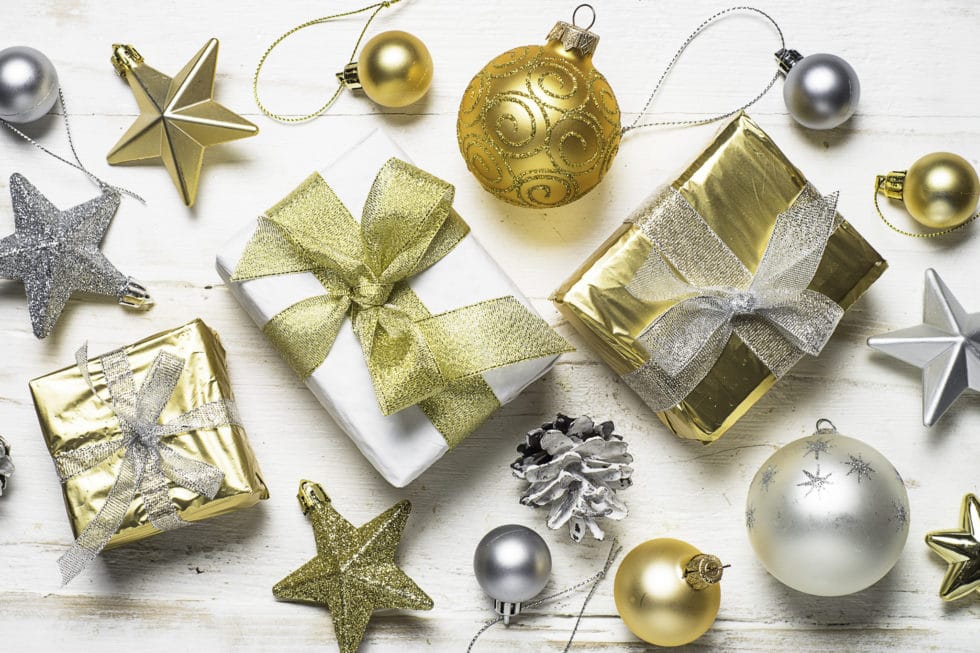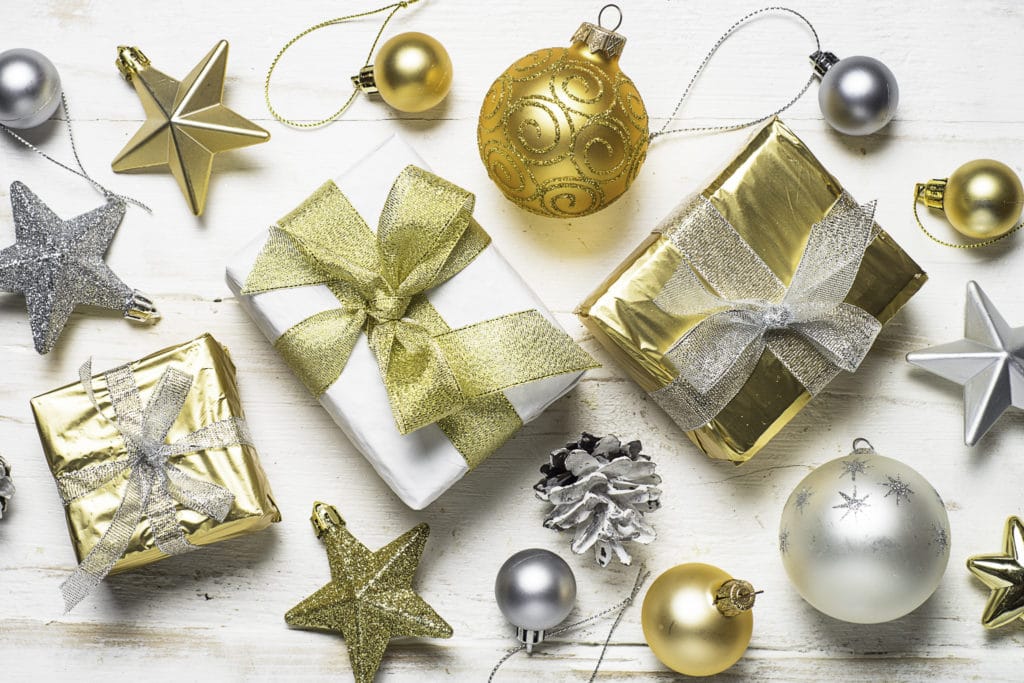 Modern Christmas Gift Wrap Ideas
14. Black-striped kraft paper is super inexpensive and looks awesome with modern Christmas trees and can easily match most home decor. Add red ribbon and a little greenery to finish the top of the Christmas present. Check out for Christmas Decorating Ideas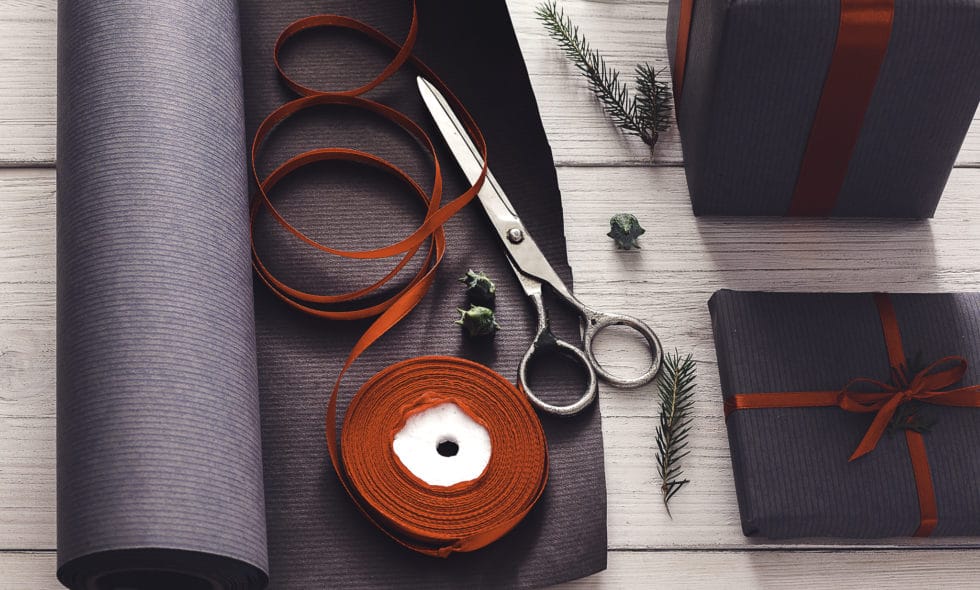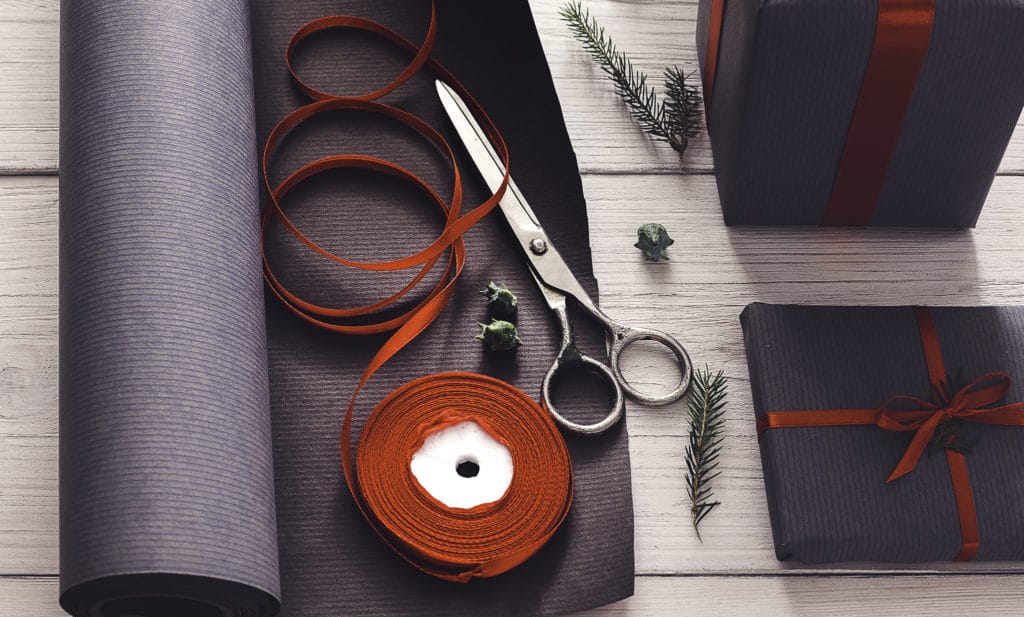 15. Plain black boxes with black ribbon and faux cherries look amazing for more modern Christmas gift wrap. If I've said it once, I'll say it again…I love it when my client's Christmas and holiday decor match their home's interior designer blogs. Modern gift wrap like this makes or breaks the way our modern client's homes look at Christmas.
Black & White Christmas Gift Wrap Ideas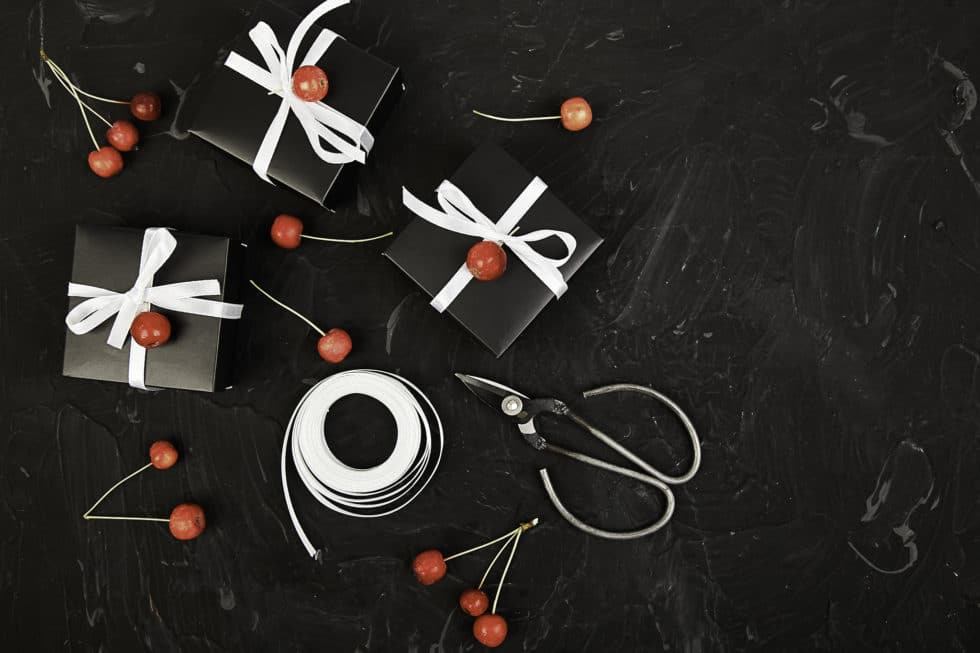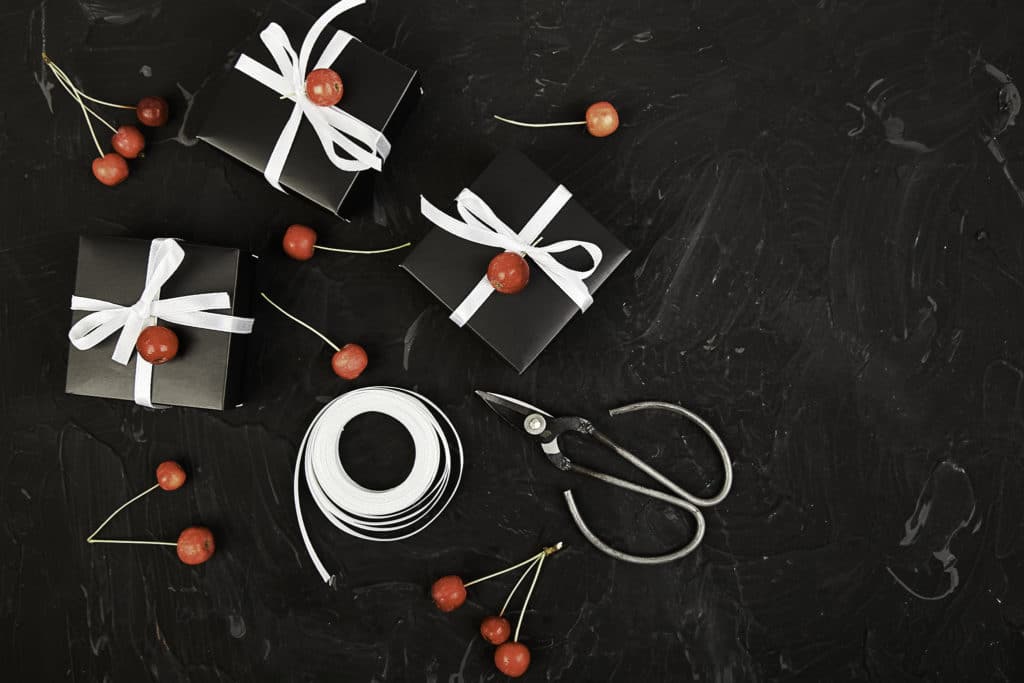 16. Out of boxes? Don't stress. Go with the flow! Use twine instead of ribbon to gift your Christmas package more of an old school postal look. Copper kraft wrapping paper also makes a beautiful classy understatement.
17. Mix satin ribbons with twines for a sophisticated look.
18. Copper paper is among my favorite transitional and modern Christmas gift wrapping for Texas.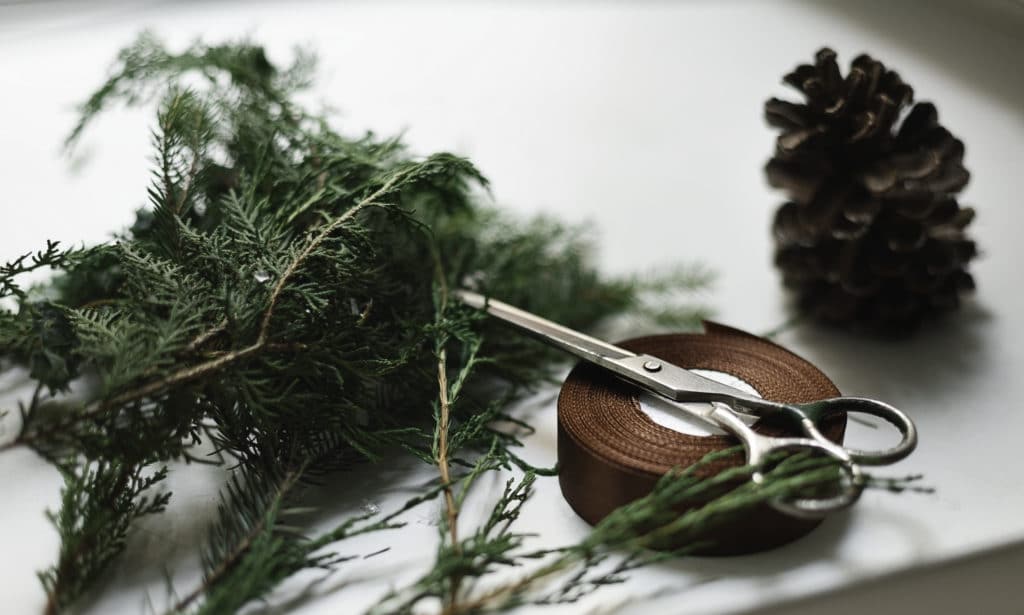 19. Add feathers and mesh ribbons to add more texture to gifts.
20. Don't have "Christmas gift wrapping paper"? Candy canes are always a beautiful way to add a nice red and white stripe to give almost any color or style of paper a Christmas flare – click here!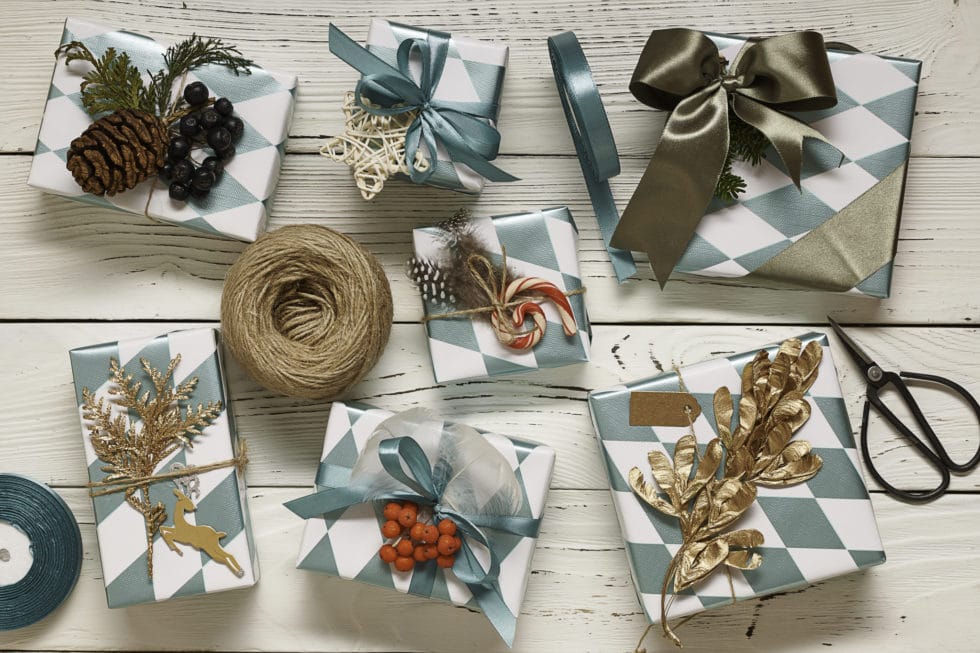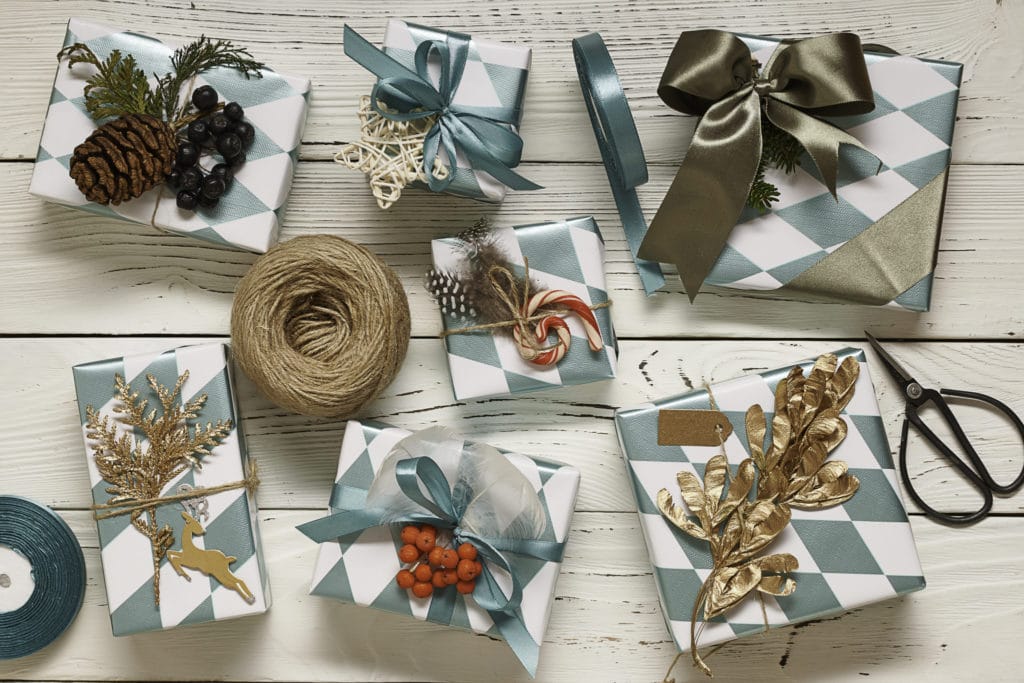 21. Give your gift with the pretty part forward. 🙂
Has this post inspired you to be more creative with your Christmas or holiday gift wrap? I would love to see your gifts. Comment below or find me on your favorite social media channel by mentioning @DeeFrazierInteriors or @DKORhome.
Cheers & Merry Christmas everyone!
X~your favorite interior design blogger and Austin interior designer ~
Dee
P.S. Grab my recipe for the #DKORHOME #OrangeSpiceTea – click here for the recipe.
P.S.S. Click here to be inspired by my Awesome Christmas Dinnerware Ideas Using Your Everyday Dishes. 
P.S.S.S. View photos of complete Christmas table settings or creative Christmas Food Porn aka. Food Decorating Ideas.
P.S. Ready for a home renovation or home remodel? Book a complimentary appointment with our Luxury Austin Interior Designers or Kitchen Contractors.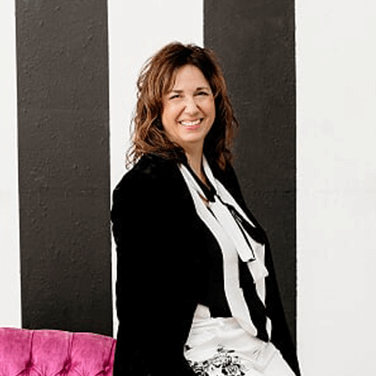 Chief D'KORator, Voted "Best of Houzz" for Dallas Interior Designers, Early Riser, Coffee Lover, Gardening Guru, Estate Sale Maven, Mover, Shaker, Wife, & Mom