2020 New Color Trends In Interior Design
Colors will always play a psychological way in how we feel and how we live in our homes, offices, hotels, and even hospitals. No matter what's going on in life, color plays a huge role in everything from our moods to our appetites. Throughout this post, I'll show you the beautiful Color Trends In Interior Design 2020. From Sherwin Williams to Benjamin Moore to Pantone to ELLE DECOR, you'll get my overall Interior Design Color Trends 2020 with photos of each.
2020 Color Trends In Interior Design
First let's go through the color trends in interior design according to my Dallas Interior Design firms in combination with the USA's leaders in color Pantone, Sherwin Williams,  Benjamin Moore, and then of course, ELLE DECOR – a design magazine favorite.
2020 Design Color Trends According To ELLE DÉCOR'S Approved By Us & Other Designers
Bold Monochromatic Color Trends In Interior Design 2020
"Monochromatic does not have to be pale. Colors like cobalt blue, kelly green, or even aubergine can evoke monochromatic in a daring way that's full of personality and elegance." —Jonathan Rachman of Decorist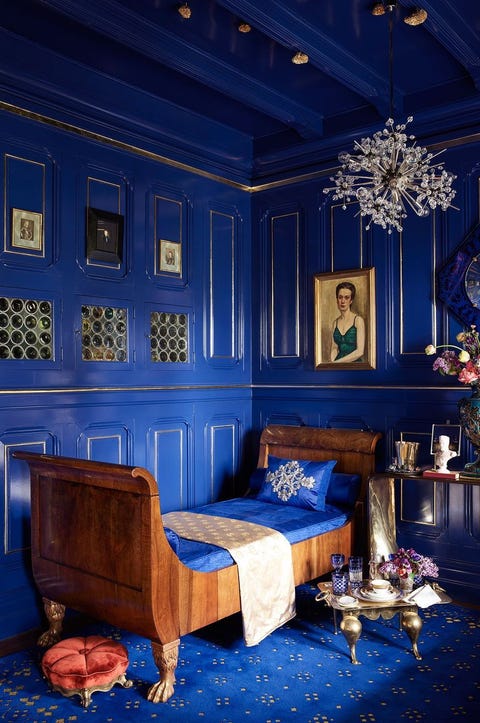 Dusty Teal Color Trends In Interior Design 2020
ELLE DECOR's editors covered the dusty teal color trends, and we agree. Recently, we completed a bonus room home renovation for a family with teenage daughters. We used the dusty teal color trend on the custom sofa, custom accent pillows on the window seat, and even piped the custom chair welt in dusty teal. Dusty teal works nicely as a neutral as it allows almost any other color or style to be incorporated. Click here to see this full bonus room game room home remodeling project.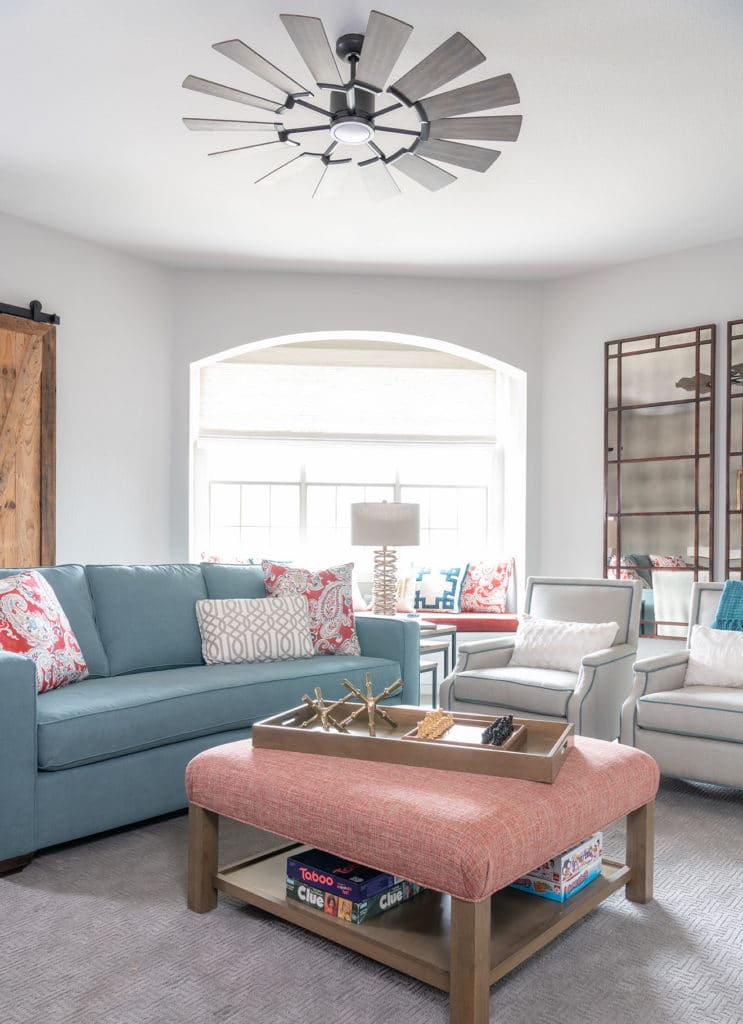 Warm & Cool Pastels | Color Trends In Interior Design
Warm pastels are typically warm color tones in light color hues. Here is an example of cool pastel color trending in a recent dining room interior design project. You'll want to see this entire granite interiors Dallas house, so be sure to click here to read my post – 2020 Dining Room Design Trends.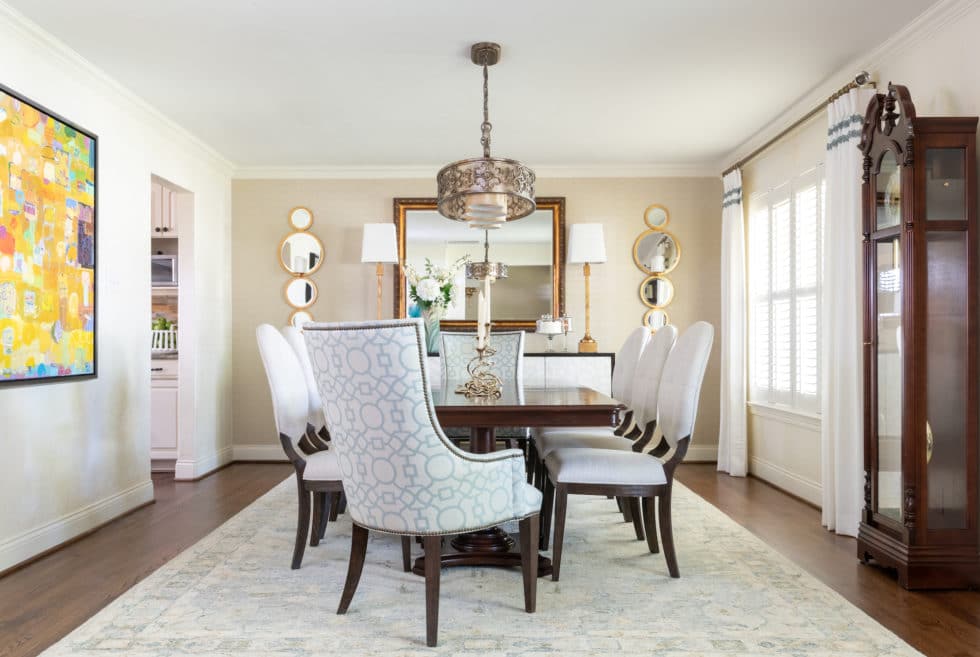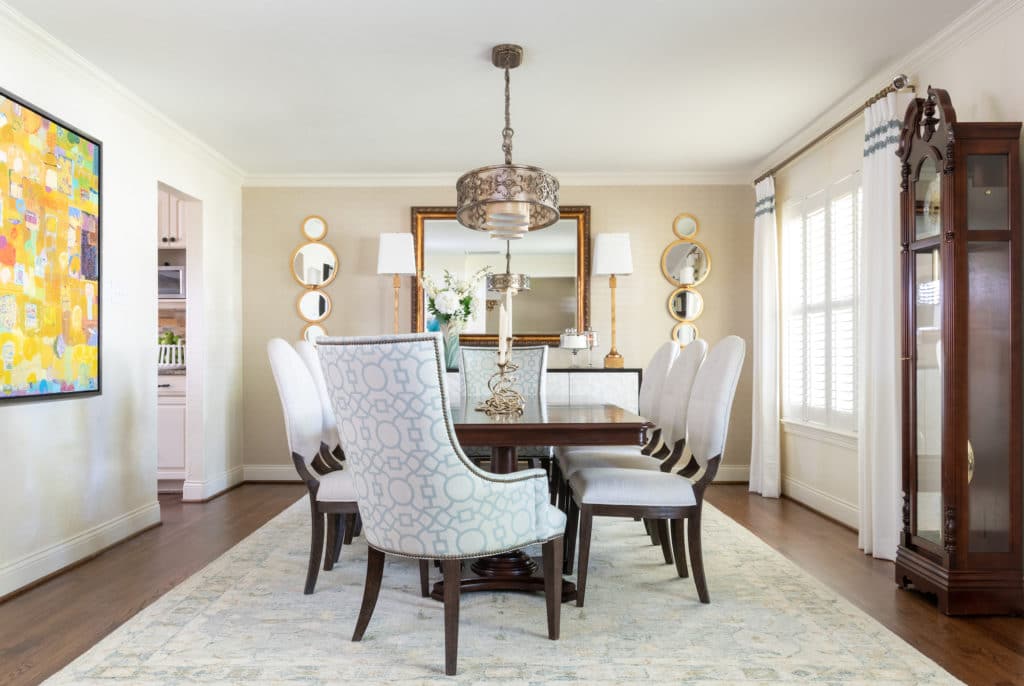 Blue Gray Color Design Trends 2020
Mixing a beautiful blue-gray with deep taupes and creams, pewters, and sometimes a touch of gold is serene. We used the blue-gray color design trend a couple of years ago, but it's just now labeled "a design trend," so we'll take it. Be sure to notice the painting detail on this master suite ceiling. Click here to see more of our Master Suites or other homes by the room.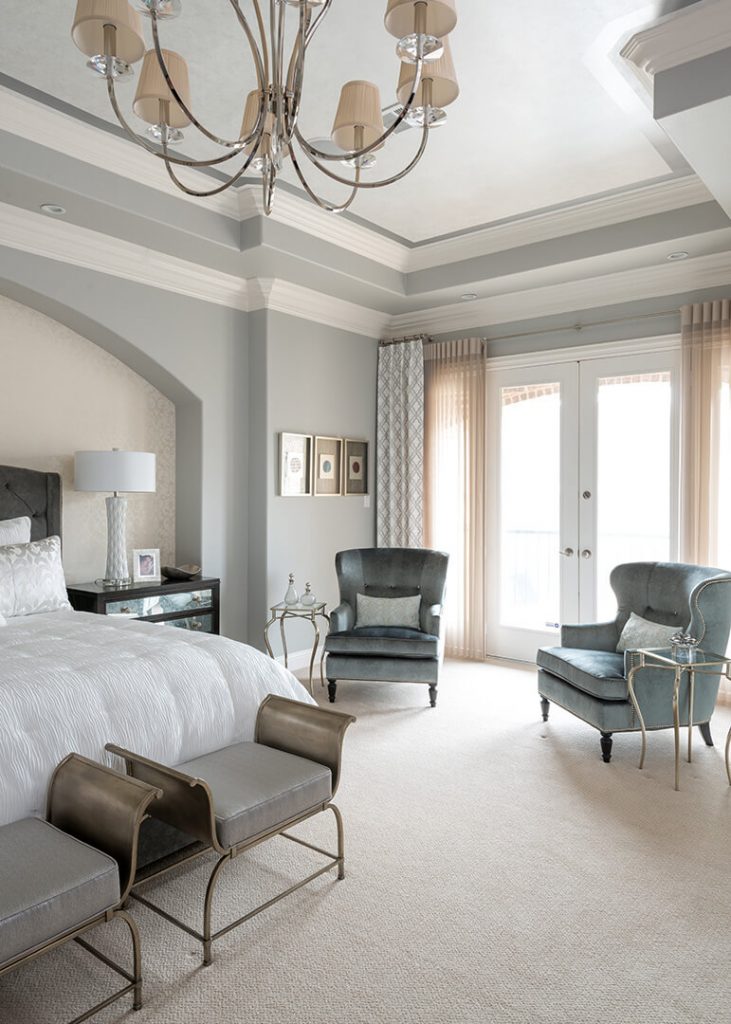 Color Trends In Interior Design Trends 2020
Moody Hues Color Trends In Interior Design 2020
Deeper moody hues are great for master suites, studies, basements, and accent walls. This is a faux finished & stenciled ceiling in a master suite we designed for a Dallas interior design clients a few years ago. Lighting is super important when using moody hues, so be sure to balance lighting when using moody hues.

Interior Design Trends 2020
Organic Tones
Think nature. Think greens, blues, and natural materials such as natural stones and finishes when trying to achieve the organic color trends look in your home.

Blue, Green & Gray Color Trends In Interior Design 2020
Somewhat along with the natural color trends color theory, mixing blues, greens, and grays are super popular. I would like to think we helped start this color theme when our client relocated from California to Texas. View the entire blue, green, & gray kitchen design here. The powder room above is from the same home.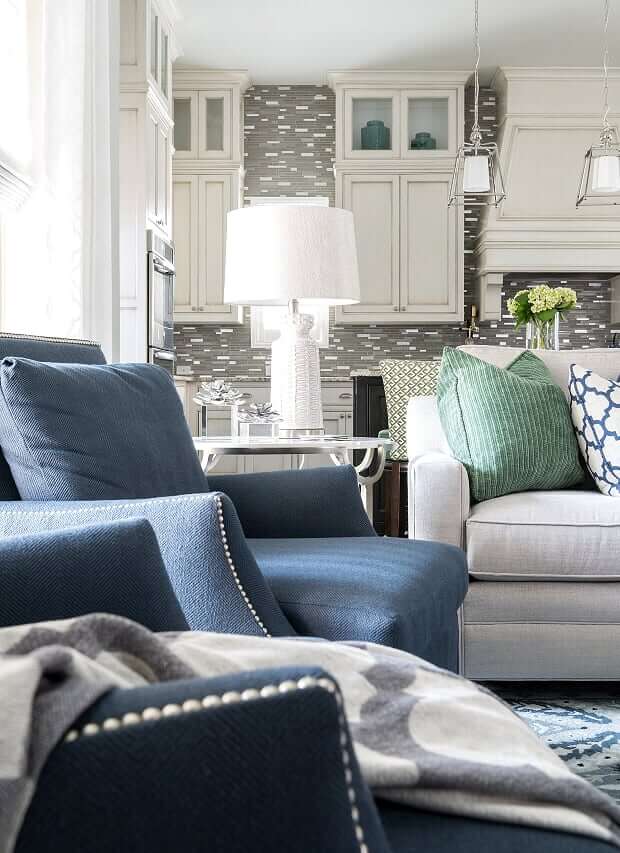 Color Trends in Interior Design 2020 
Earth Tones | Color Trends In Interior Design 2020
Earth tones are simply natural yet can be mixed in geometric patterns or used as solids. Leather is a big part of the earth tones interior design color trends 2020. As a Texas interior designer, Earth tones are always popular. This family room was one we designed a couple of years ago. See all of our family room design ideas.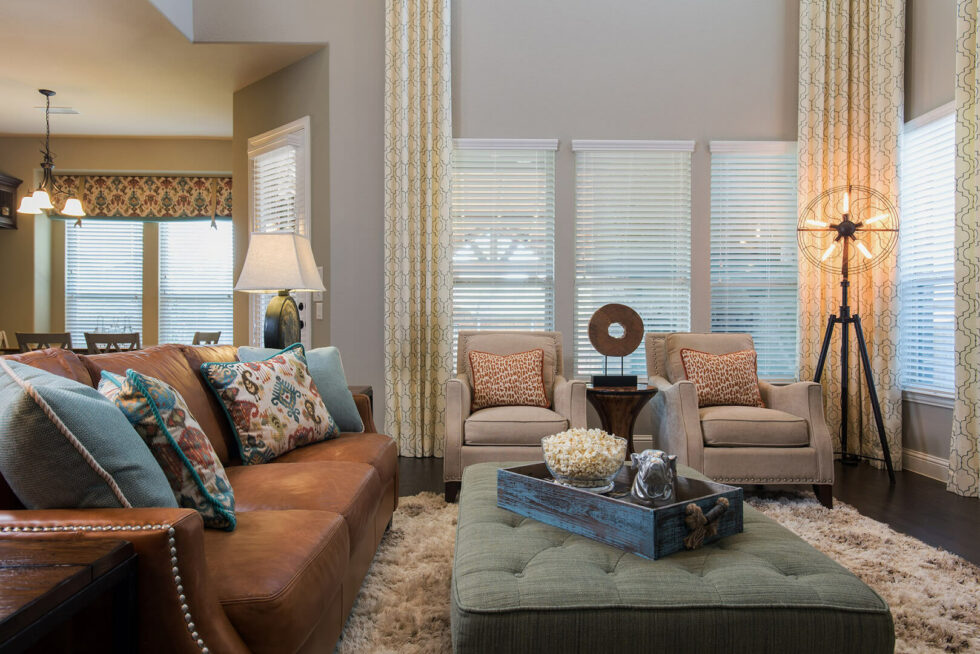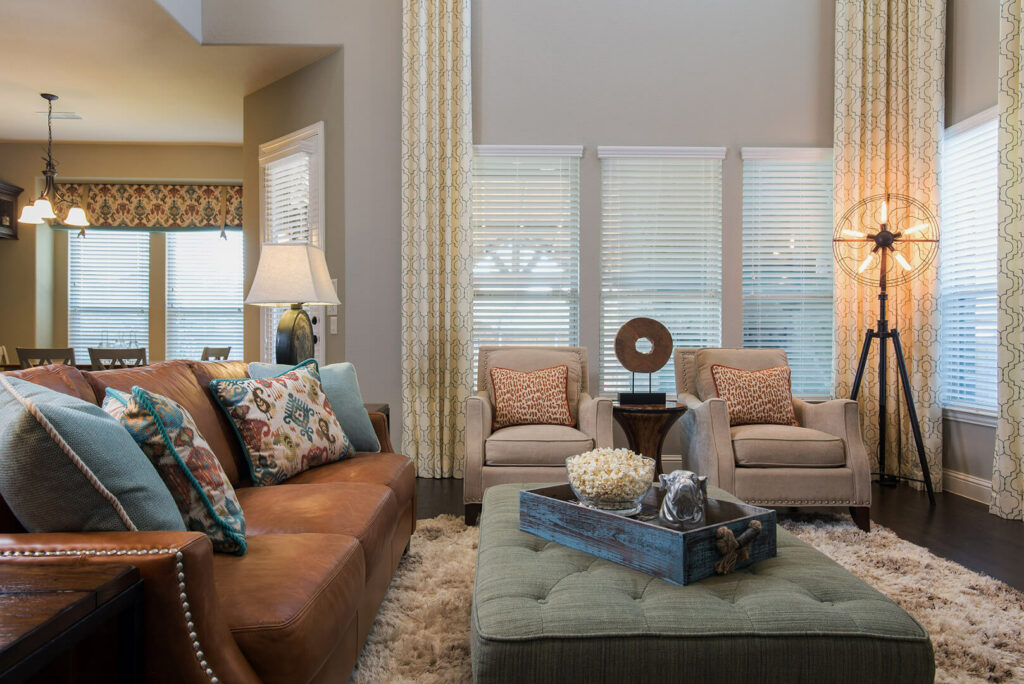 Color Trends in Interior Design 2020 
Rich Jewel Tones | Color Trends 2020
Completely classic and always in style, rich jewel tones are a part of history. I used rich jewel tones way before it was a color trend. Yes, this is my own home that I designed when I first moved to Dallas and started my Dallas interior design firm.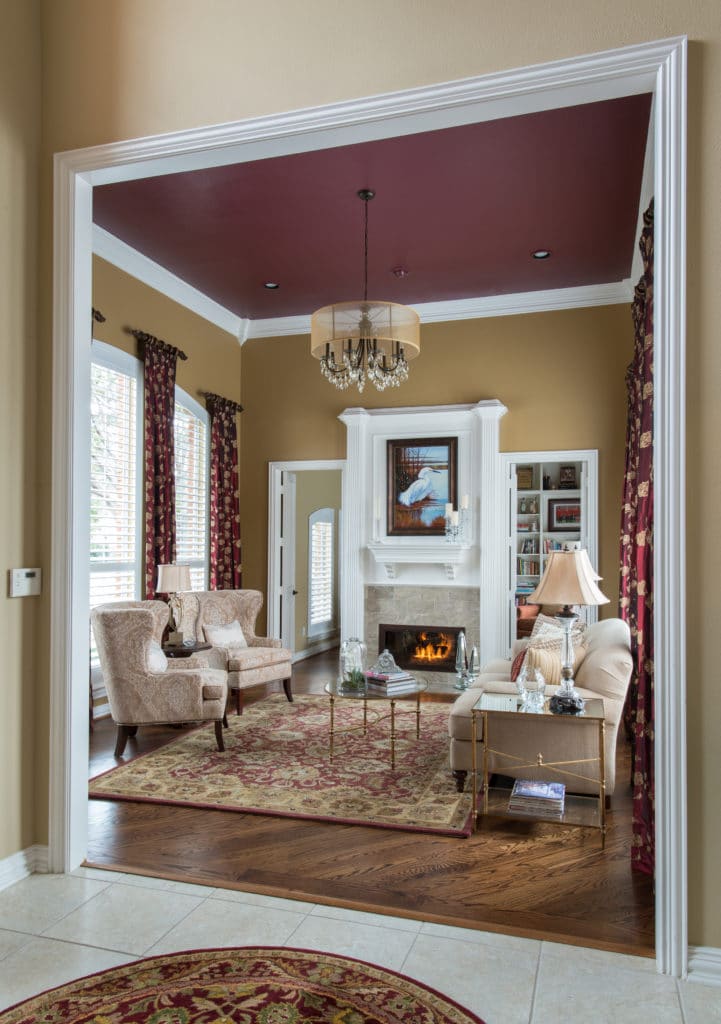 Color Trends in Interior Design 2020 
Navy Blue Color Trends 2020
Although it's official – Navy Blue is a color trend. Navy blue is a jewel tone, and it's been popular from everything from custom cabinets in kitchens, libraries, and other major home remodeling commitments. Please view all of our dining room design ideas.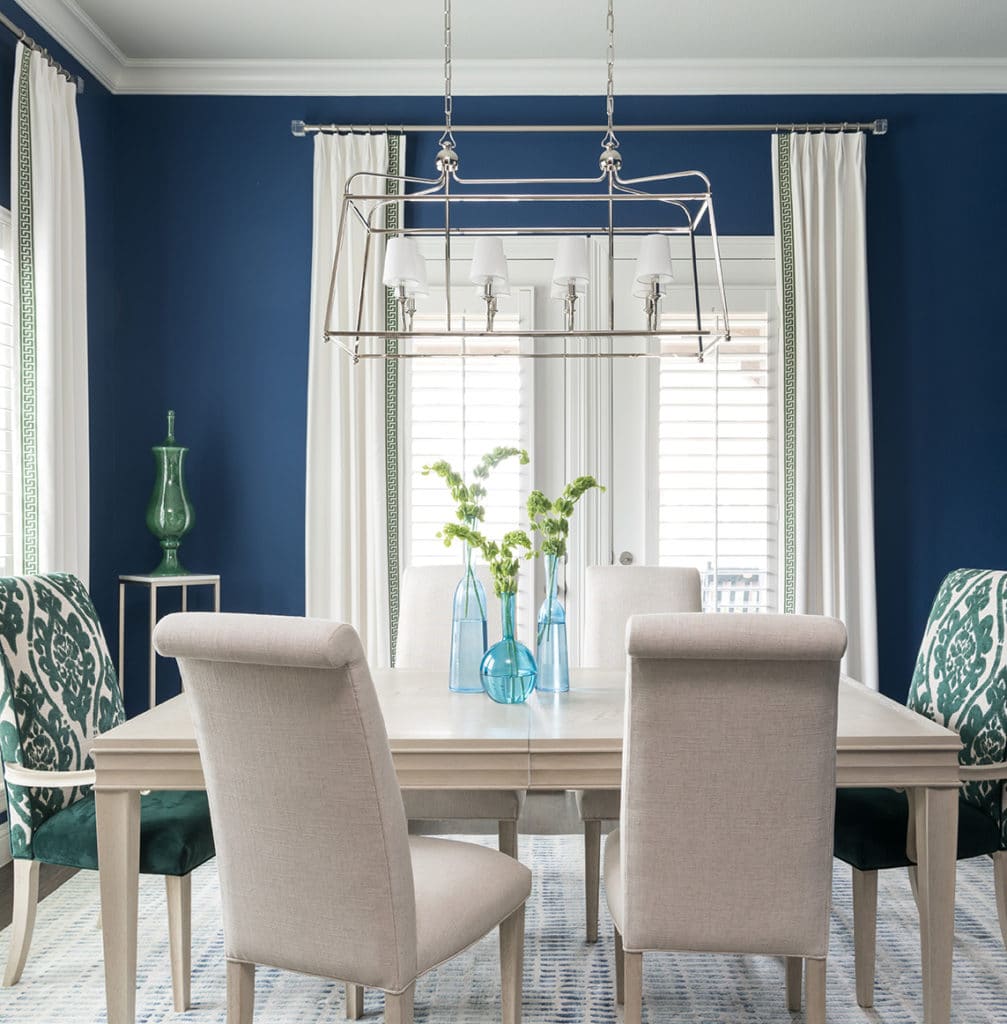 Color Trends in Interior Design 2020 
Black & White Color Trends 2020 Rich Jewel Tones
Stark, black and white are always striking. Be sure to check out more dramatic deep color tones mixed with pops of color in my dramatic deep dark home offices blog post.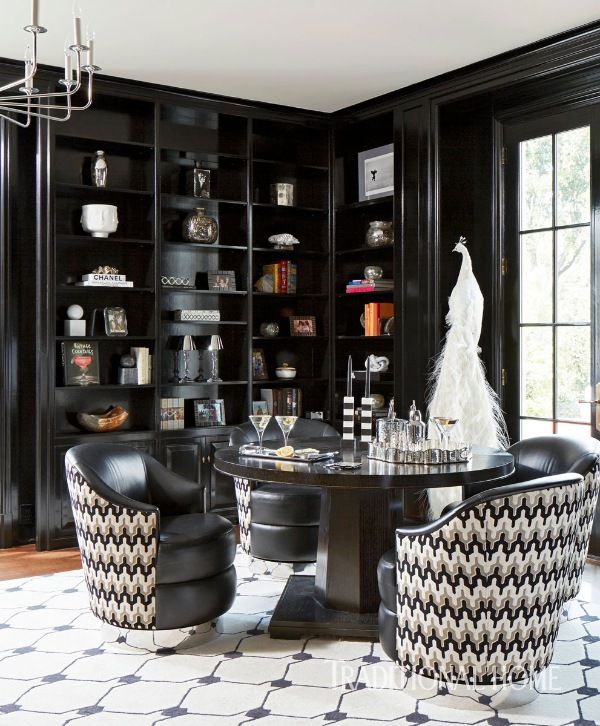 Color Trends in Interior Design 2020 
Punchy Colors Trends In Interior Design 2020
Despite what we do as interior designers, colorful rooms are always among my favorite. They simply make me smile.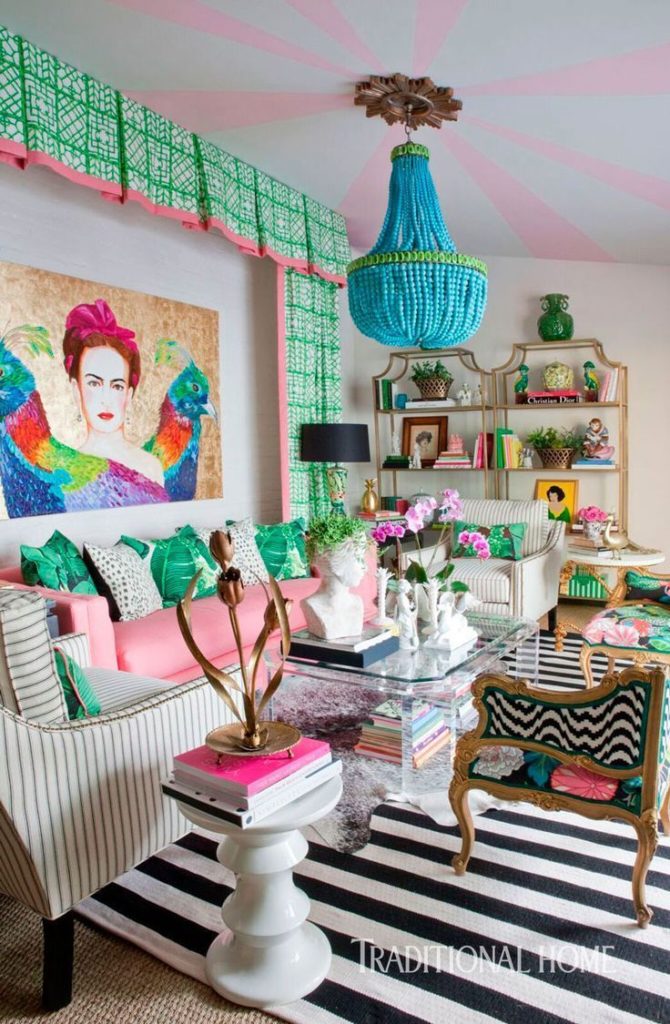 Color Trends in Interior Design 2020 
Benjamin Moore Colors Trends From ASID Dallas Presentation
Benjamin Moore stated, "In the new decade with rosy optimism. While it seems these days every paint color has a designated, much-buzzed-about Color of the Year, arguably no company makes a bigger show of it than Benjamin Moore. Last year, the brand took over the iconic Pool room at the Four Seasons to reveal Metropolitan AF-690; the year before that it was Caliente AF-290, unveiled to much applause at none other than Frank Lloyd Wright's Guggenheim Museum." 
What is Benjamin Moore Color of the Year 2020?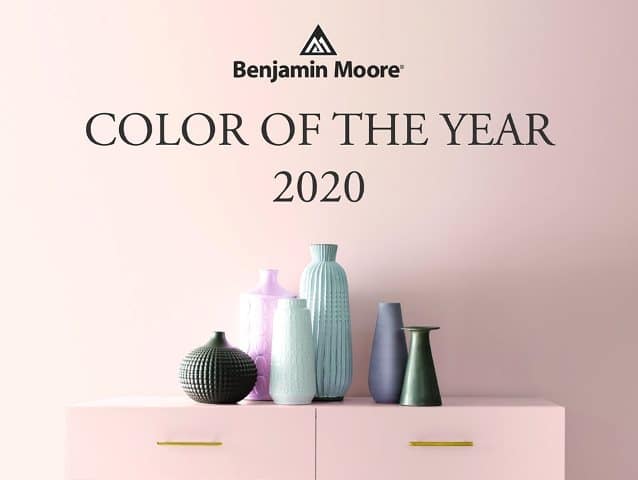 Color Trends in Interior Design 2020 
"Color of the 2020 Year – First Light 2102-70 is soft and not so sweet pink. We might venture to say it's the new white, beige, or gray – in the way that the tone can layer with almost anything. The color that stood out as the most symbolic of the mindset and direction for 2020 is First Light 2102-70. This soft pink represents a new dawn in thinking, a revitalized spirit, and a rosy outlook for the decade to come with an optimistic outlook for how we live, work, play, and design as we head into the future." says Benjamin Moore.  First Light 2102-70 is sophisticated and warm, and is appropriate for all seasons and styles. This color has a feminine quality, but it works very well with colors traditionally considered to be masculine. Color of the 2020 Year is an ideal backdrop for any room as it will enhance various textures and materials while bringing a flattering glow to a room. Additionally, this hue works exceptionally well with minimalist interiors and clean lines by incorporating softness that brings a welcoming feel to a room.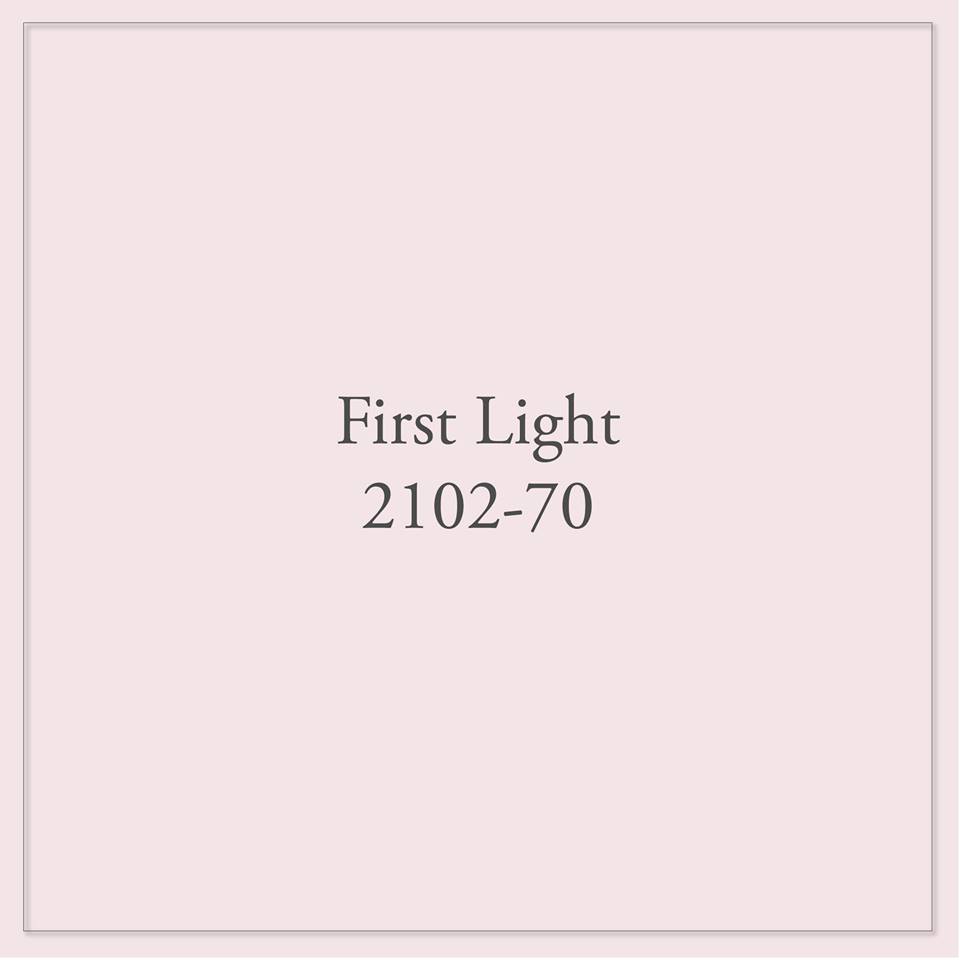 "When you look at color over time there is often a direct relationship between what shades are popular and what is happening in the world" –  explains Andrea Magno, Benjamin Moore's Director of Color Marketing and Development, which in March 2019 carried out the color workshop in Warsaw during the international Benjamin Moore retailers meeting.
Almost First Light Pink Bedroom Color Trend 2020
Before Benjamin Moore's First Light was color trend, we designed this beautiful pink bedroom for our Dallas interior design client. I love the slightly deeper and a tiny bit more salmon tone that played nicely with the fabric tones.
Pink Walls | Color Trends in Interior Design 2020 
What is the Sherwin Williams Color of the Year 2020?
Being the leader in color theories both Sherwin Williams and Benjamin Moore are color trending experts. They should be, right? After all both are amazing paint companies. While I tend to favor Sherwin Williams paint quality and colors, I also completely agree that navy blue color trends have dominated interior design!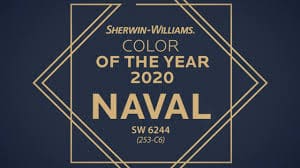 What 2020 Color Trend Has Dominated Interior Design?
Naval is the Sherwin Williams color of the year for 2020. Naval and any other color of navy blue have dominated interior design for the last three years.
When was Naval was announced as the Sherwin Williams Color of the Year?
Sherwin Williams announced the 2020 Color of the Year, Naval SW 6244 on September 24, 2019 at 5:42pm. The rich navy creates a calm and grounding environment infused with quiet confidence. And while you may think Navy's been done before – it's never been done like this. Navy will soon be the new gray. Have you seen my home office interior design blog post? It seems like every other home office is being painted a form of navy blue.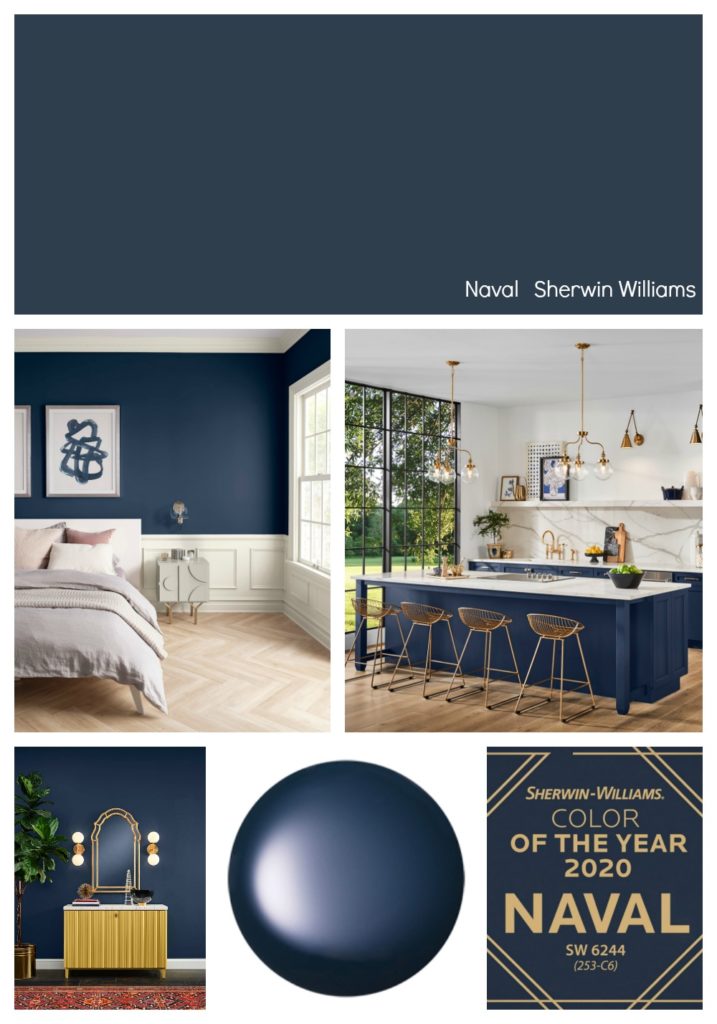 Color Trends in Interior Design 2020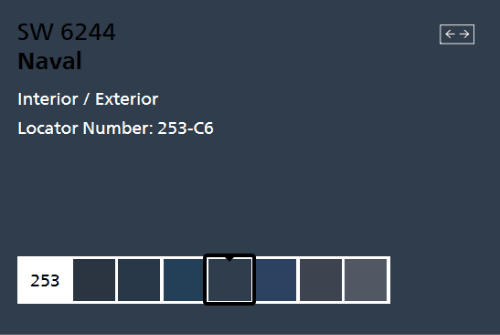 Color Trends in Interior Design 2020 
Why Did Sherwin Williams Select Naval As The Color of the Year?
According to Sue Wadden, Sherwin-Williams' director of color marketing, the shade is simultaneously luxurious and versatile and would enhance a formal dining room as much as a zen yoga studio. Wadden calls the blue a "new neutral," suggesting that tones outside of the typical white, gray, or beige can be used to a similarly soothing effect. Furthermore, the color's connotations pushed it to the top of the brand's pile of contenders. "The use of color in interior design is changing—it's not just about what a space looks like anymore, but the feelings a space can evoke," Wadden says. "Because navy has strong ties to nature and well-being, it made sense to select Naval. It is reminiscent of the night sky, which people have looked to for centuries for guidance, as a muse, and as a reminder to live more mindfully." https://www.youtube.com/watch?v=oaG2acCR6yY&feature=youtu.be
What is the Pantone Color of the Year 2020?
Pantone states, "A timeless and enduring blue hue, PANTONE 19-4052 Classic Blue is elegant in its simplicity. Suggestive of the sky at dusk, the reassuring qualities of the thought-provoking PANTONE 19-4052 Classic Blue highlight our desire for a dependable and stable foundation on which to build as we cross the threshold into a new era." "Imprinted in our psyches as a restful color, PANTONE 19-4052 Classic Blue brings a sense of peace and tranquility to the human spirit, offering refuge. Aiding concentration and bringing laser-like clarity, PANTONE 19-4052 Classic Blue re-centers our thoughts. A reflective blue tone, Classic Blue fosters resilience." says Pantone. Leatrice Eiseman, the Executive Director of Pantone Color Institute said it best when she made this statement about Classic Blue.

How Do I Make Sure Paint Colors Will Work In My Home Before Painting?
Selecting the wrong paint color is extremely costly, therefore work with an interior designer that specializes in paint color consultation. While it's normally best to have a designer come to your home or office for a paint color consultation, with COVID-19, that may not be possible. For over 10 years my team and I have helped clients all over the United States and globally select paint colors. We can provide two types of 3-D renderings – photo-realistic or digitized. Photorealistic is the best way to confirm paint colors but it's also the more costly method of predetermining colors. NOTE: Not every interior designer is great at selecting paint colors, so no matter what, ask to see their color consultation portfolio or their entire interior design portfolio. If you do not like what you see, interview another interior designer until you're comfortable with the person first. After all, as award-winning Dallas interior designers, we the leading paint color consultants. If you need help selecting your paint colors, click here to schedule a complimentary virtual meeting or in-home design consultation so that we can assess your home design projects. Here is more information about our Dallas Interior Design Firm Services. 
Be sure to share or pin this to reference this post later…
Thanks for reading! I hope you've enjoyed it. Be sure to drop your questions or comments below. I'm happy to answer any painting questions you may have. Happy coloring! X~ Dee P.S. Check out these posts or book a complimentary home design appointment with one of my Dallas interior designers or Dallas interior decorators.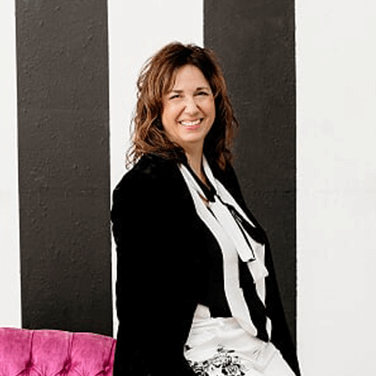 Chief D'KORator, Voted "Best of Houzz" for Dallas Interior Designers, Early Riser, Coffee Lover, Gardening Guru, Estate Sale Maven, Mover, Shaker, Wife, & Mom