How Home Designer Help Clients Transition From Larger Homes Into a Del Webb Texas Community Home
Being a lover of the older generation by default, my team of home designers and I (Dee Frazier) love helping retirees transition their belongings into new Del Webb Texas retirement communities. This particular client, Darlene, and her daughter, Denise, is particularly unique to us. Can you believe that she did NOT see the full interior design process until her moving day from Sequin, Washington!? This was a reveal I wish we had filmed. 
From taking a trip down memory lane to discovering new purchases that fit each room and the client's lifestyle is imperative. With the recent losses of two of our parents here lately, it's most evident how much we need good people to care for the aging population. Each time we go into a Del Webb Texas community, it's nice to see people enjoying the interior design Dallas texas design and home decor process. Darlene's situation was almost the opposite of our typical Del Webb interior design process. 
Most of our clients love to entertain, and we thoroughly enjoy decorating rooms to help them do just that – ENTERTAIN & LIVE LIFE TO THE FULLEST! Let's go inside Darlene's Del Web Texas Community Home, designed by my junior designer Sam Synder who's Austin TX based. 
The Del Webb Eat-In Kitchen Dining Room | Before
See more of our interior design room reveals – subscribe to D'KOR HOME design magazine
This was written in D'KOR HOME, "Projects that involve helping retirees downsize and prepare to do lots of entertaining in retirement Del Webb communities are a favorite of Dallas, Texas interior designer Dee Frazier, and her junior designer, Sam worked on this project together. Not knowing what to keep and how to transitional beloved keepsakes into smaller spaces can be frustrating." 
"Instead of moving into a home that wasn't exactly her, Darlene went to Houzz and searched for an "interior designer in Dallas TX." While living near Putrid Sound with a beautiful view of Mount Rainer near Sequim, Washington, she didn't know who to trust to remodel her house to her taste and liking altogether. Dee Frazier Interiors immediately stood out as a group of realistic interior designers. After using Dee and her Dallas Interior Design Firm to redesign her Del Webb home completely, Darlene's daughter Denise hired Dee and her design team to redesign her Dallas condo completely."
The Del Webb Eat-In Kitchen Dining Room with Gallery Wall & My Dining Room Chair Placement Tips
In small spaces, people rarely angle the chairs where they pull out in the corners. It's a vast space-saving technique that we use in dining room designs for both aesthetics and function. It works exceptionally well in restaurant layouts and keeps people from feeling trapped. Think about it. If these chairs were placed in the usual pattern, you'd walk into the room and seem at the back of the chairs instead of the fresh flower table center piece.
Make your day even better – REANGLE YOUR CHAIRS!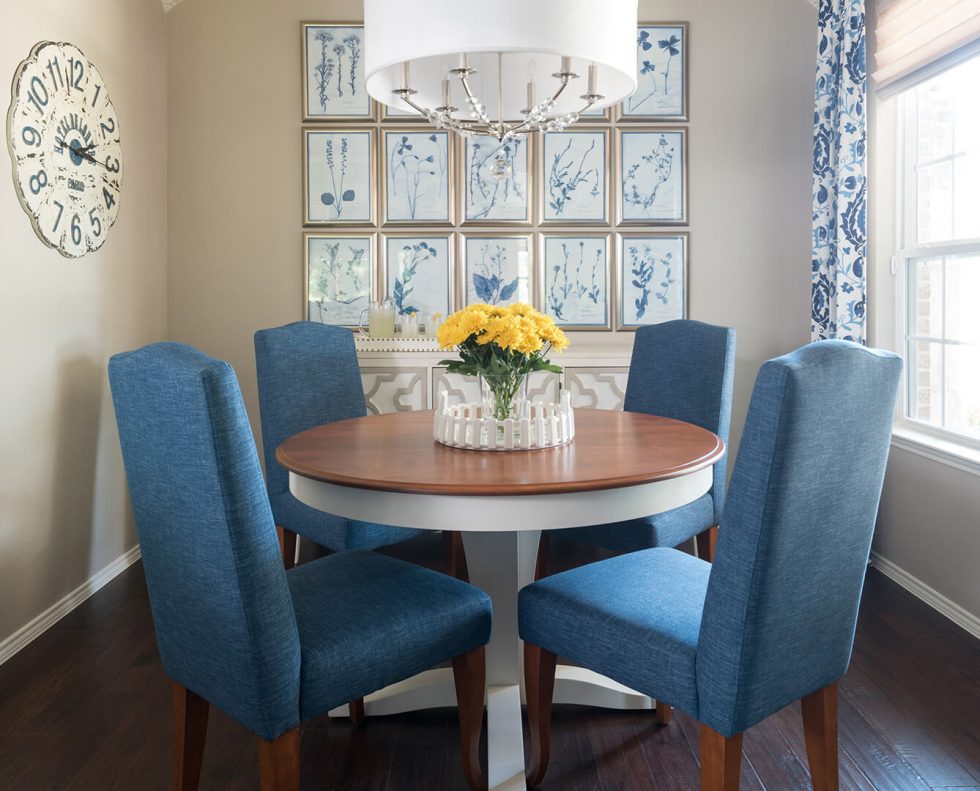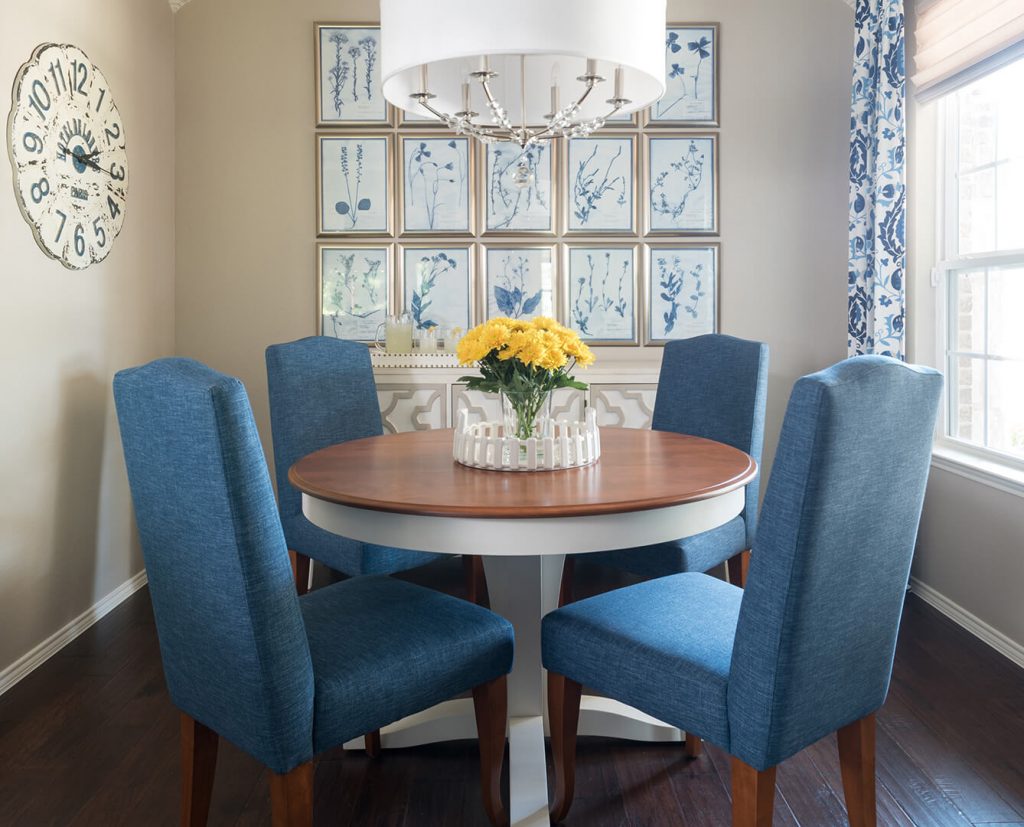 Inside The Dining Room of Del Webb Texas Community Home | Model Home Designer | D'KOR HOME | Best Interior Designers Dallas | Serving Dallas TX, DFW Metro Area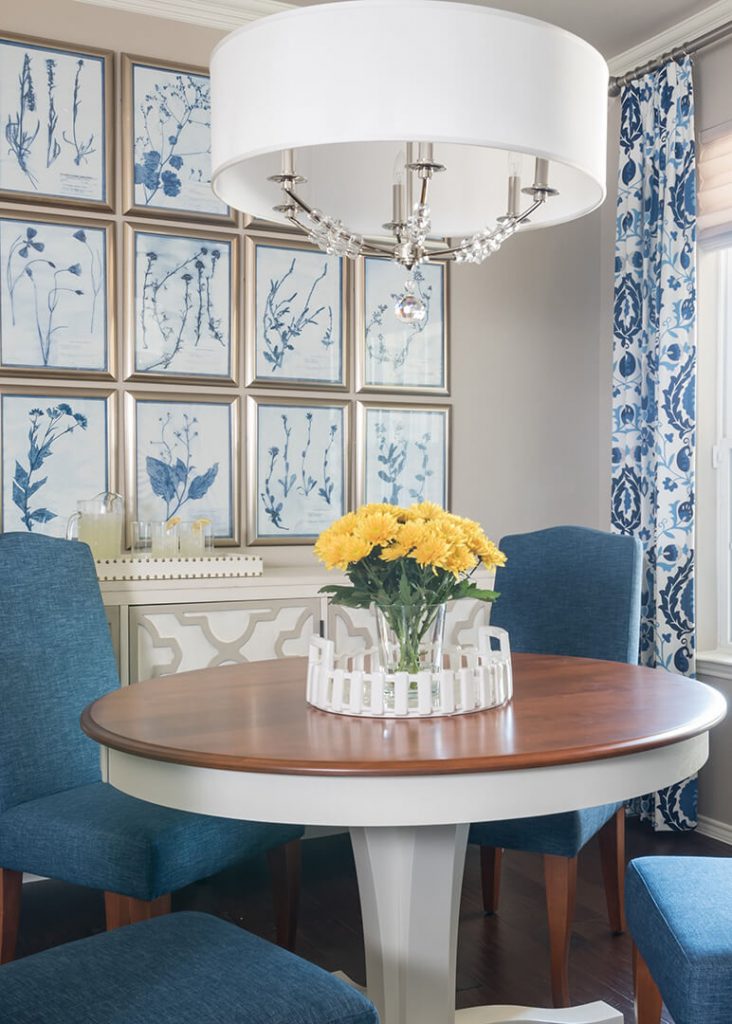 Click here to see my DIY Gallery Wall Tips and Tricks.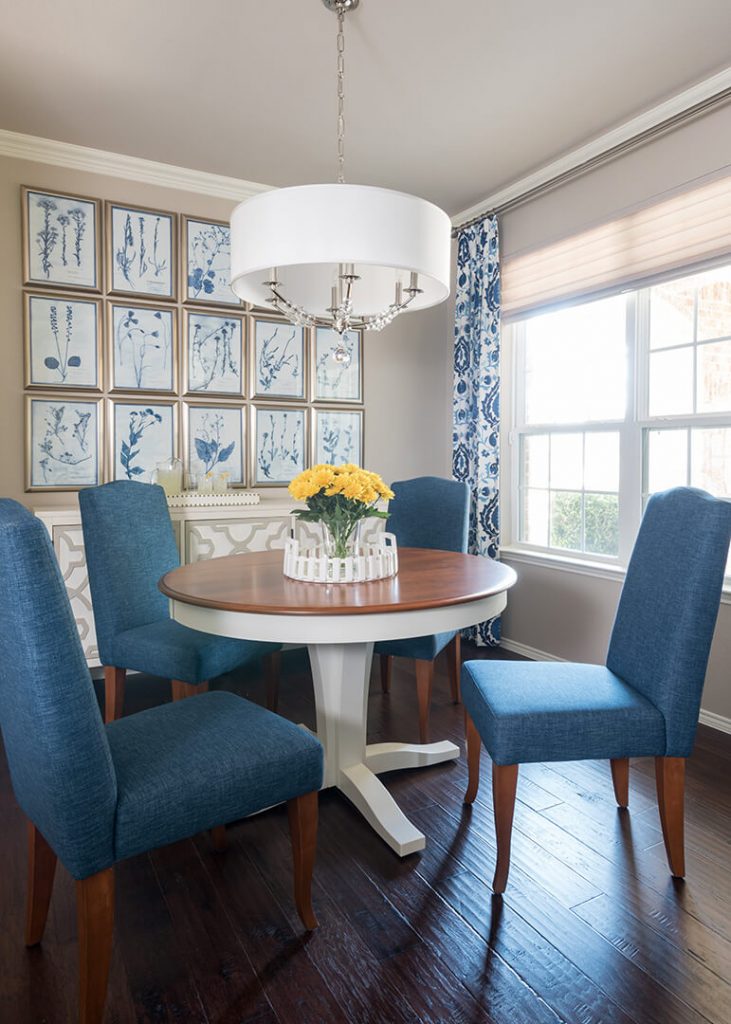 Del Webb Living Room Before Our Interior Design Plan Was Implemented

AFTER: Del Webb Living Room With All New Custom Furniture, Art, & Window Treatments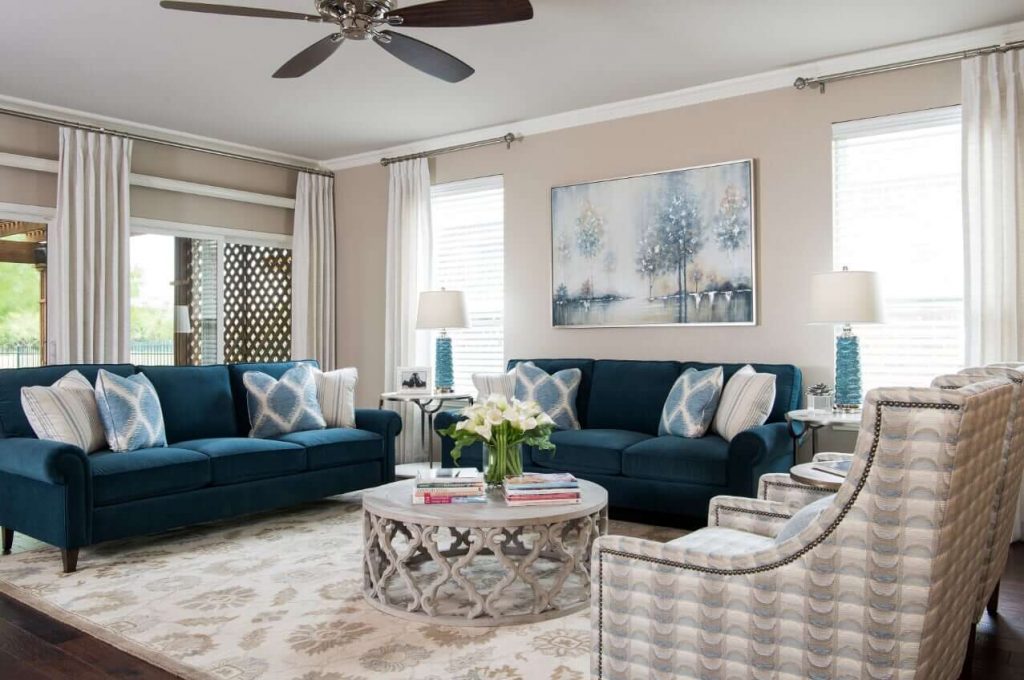 How This Del Webb Home Was Transformed From Dark & Airy To Light And Refreshing
Updating and repurposing treasured heirlooms and other furnishings is a common theme in the Dee Frazier Interiors design process. Typically, with most Del Webb homes, we start by identifying family heirlooms and keepsakes. Many interior designers want to sell homeowner's new furniture or not work with them at all. Our interior design firm is quite different in that sense.
Except for Mrs. Zeller's Del Webb home, we started from scratch! Mrs. Zeller only wanted to keep her Waterford chandelier. You'll see where we placed that a bit later in this post. 

Why We Presented Shades of Blue for Mrs. Zeller's Del Webb Community Home
Mrs. Zeller was used to looking at this beautiful view of Mount Rainer near Sequim, Washington: 

Our Interior Design Plan & Art Selections for Mrs. Zeller: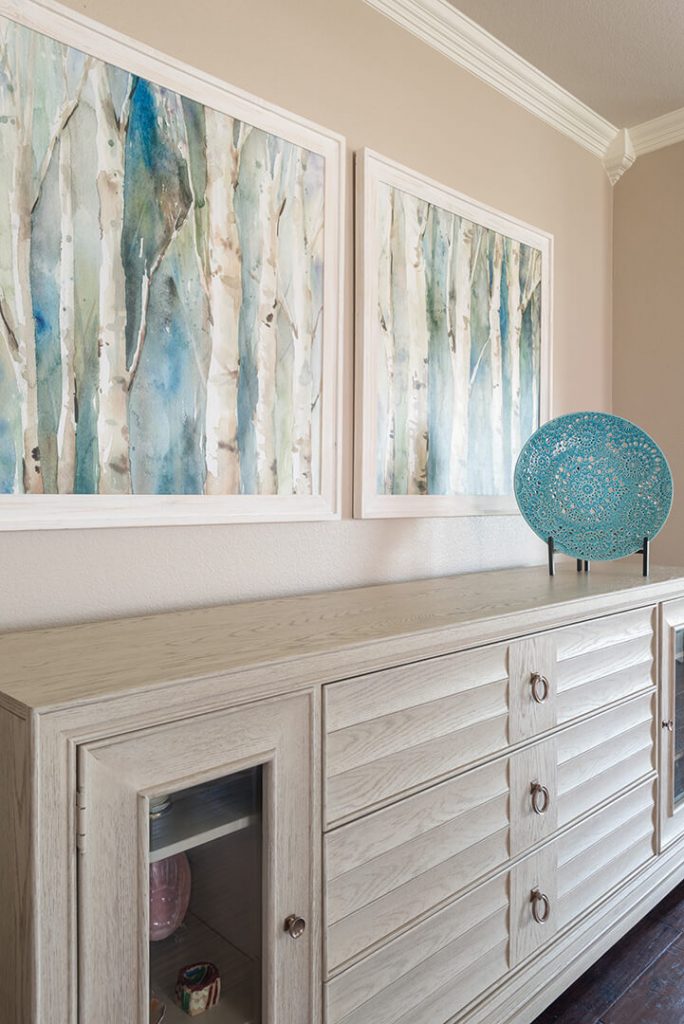 Del Webb Study | Before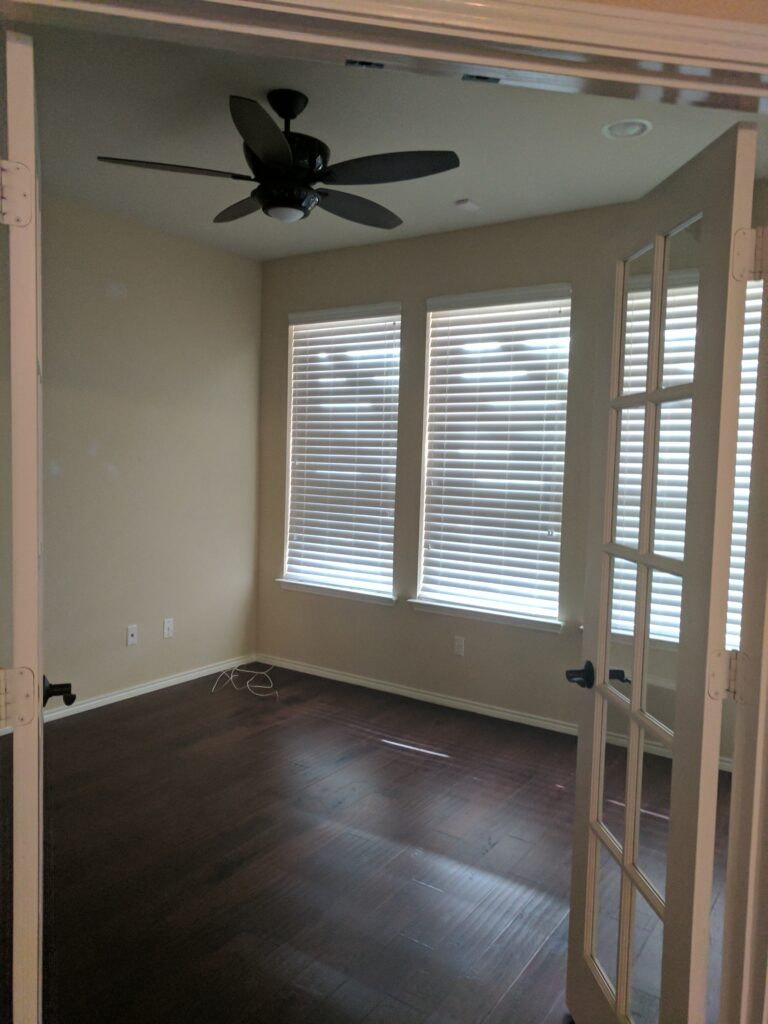 Study Window Treatment Design Drawing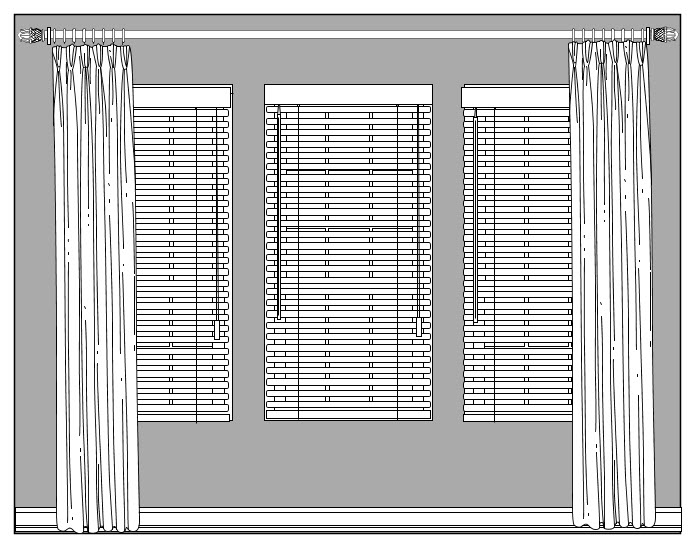 Del Webb Study | After
Yes, here is Mrs. Zeller's Waterford crystal chandelier…in her private study.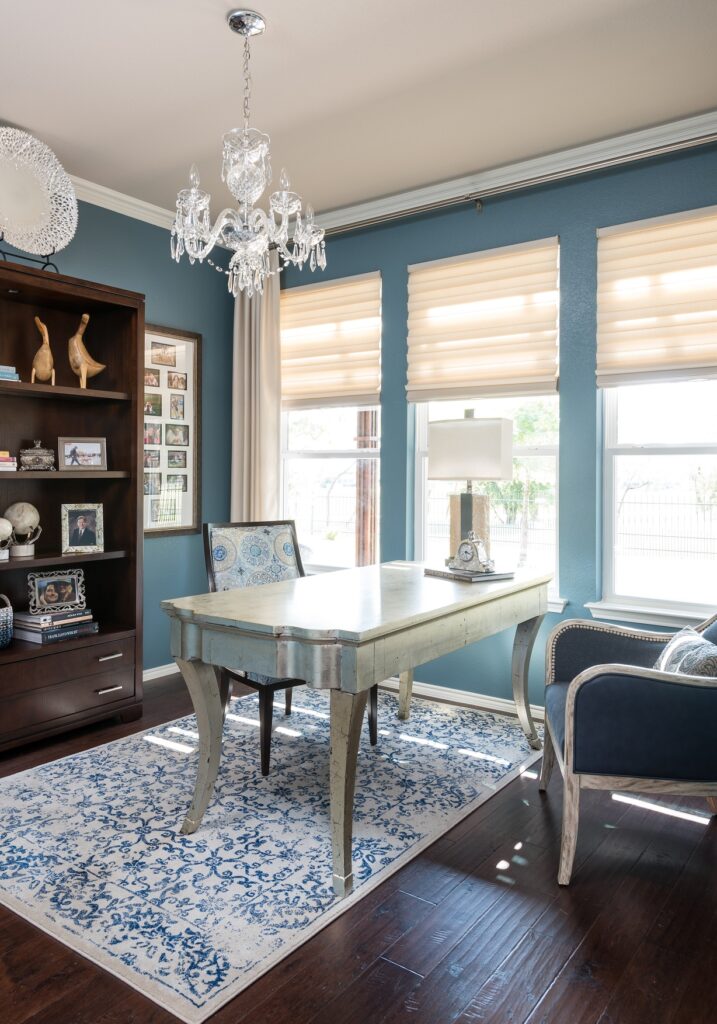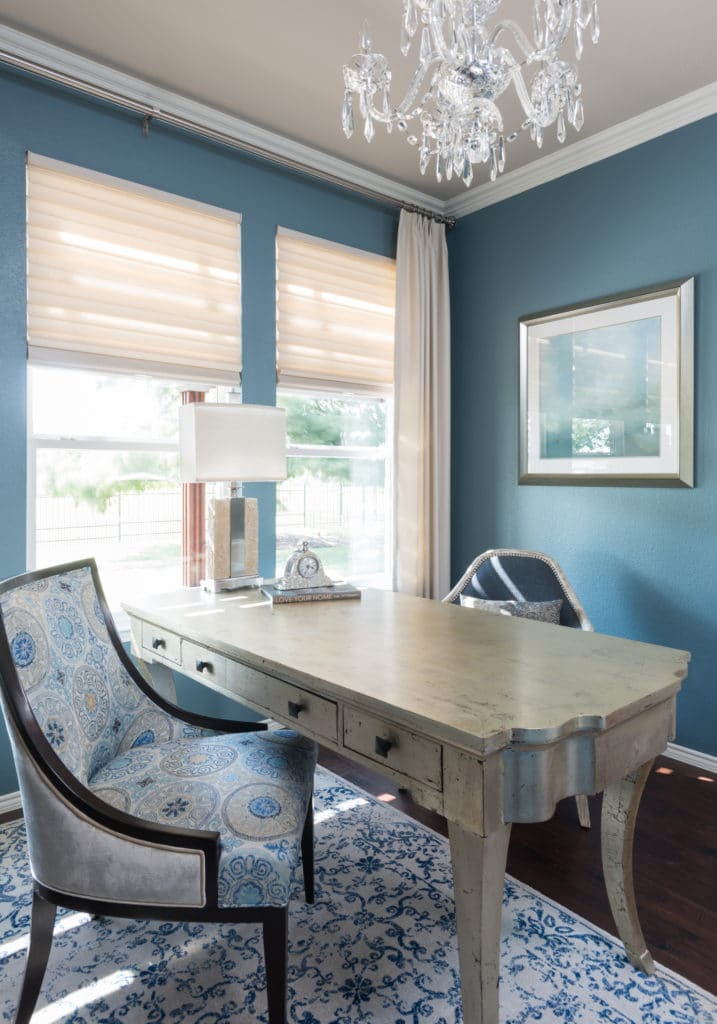 Master Bedroom In Del Webb Community Texas | After Interior Design Plan Installation
The room was empty and very dark prior. Sorry, my photos of the before of this room are incredibly blurry, so I didn't want to bore you with a blurry picture. Enjoy the after of Mrs. Zeller's serene master bedroom.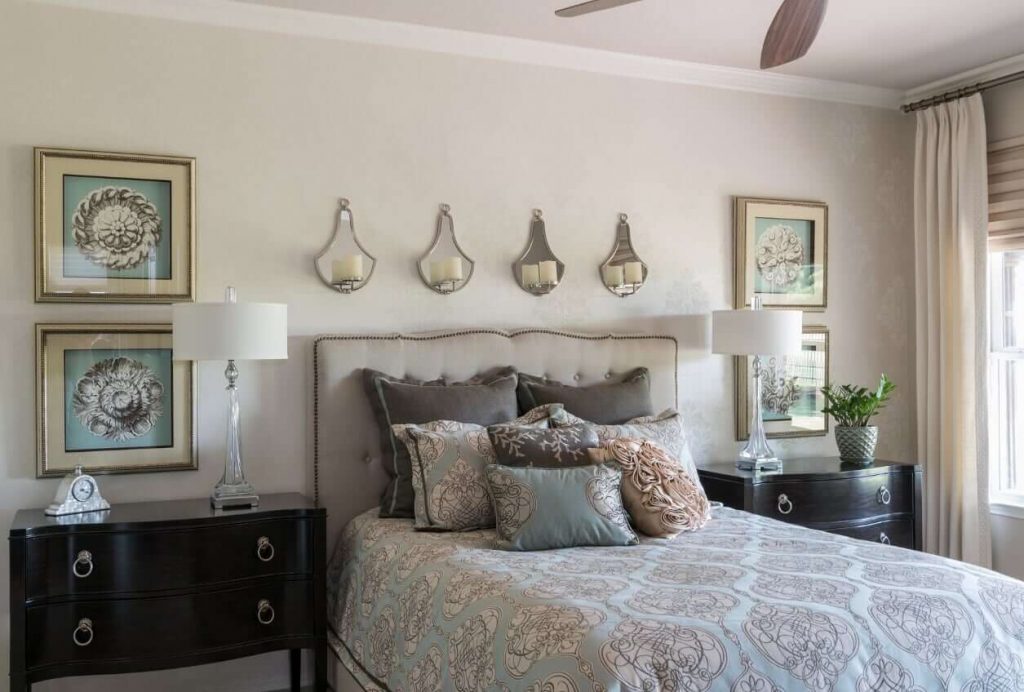 The focal wall is wallpapered in a tone-on-tone neutral damask wallpaper.

Master Bathroom In Del Webb Community Texas | Before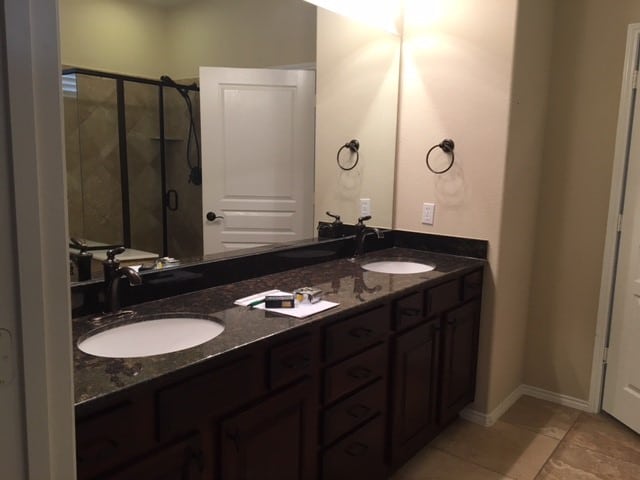 Design Boards | Master Bathroom In Del Webb Community Texas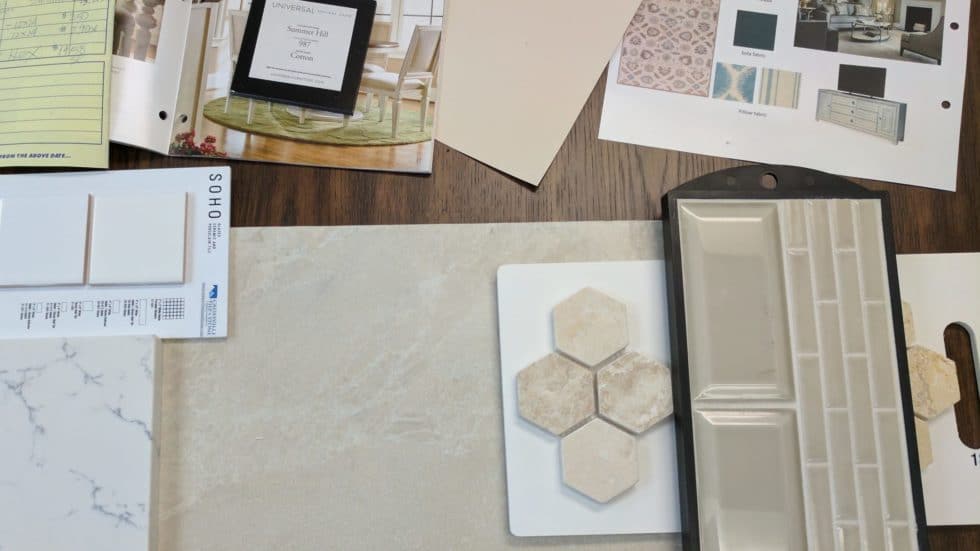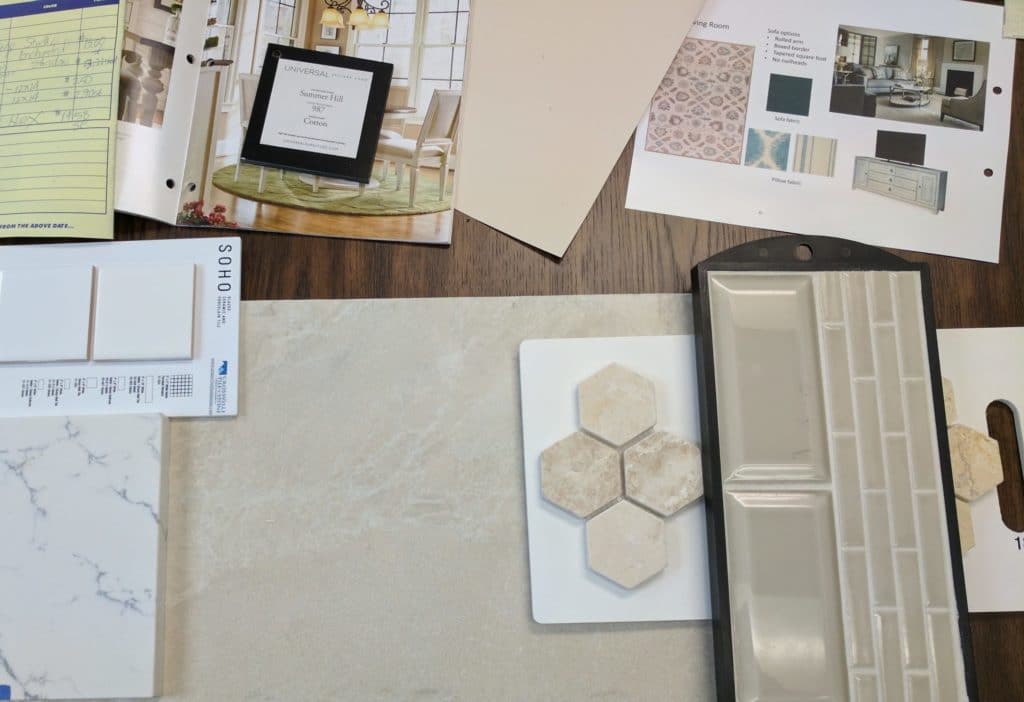 Master Bathroom In Del Webb Community Texas | After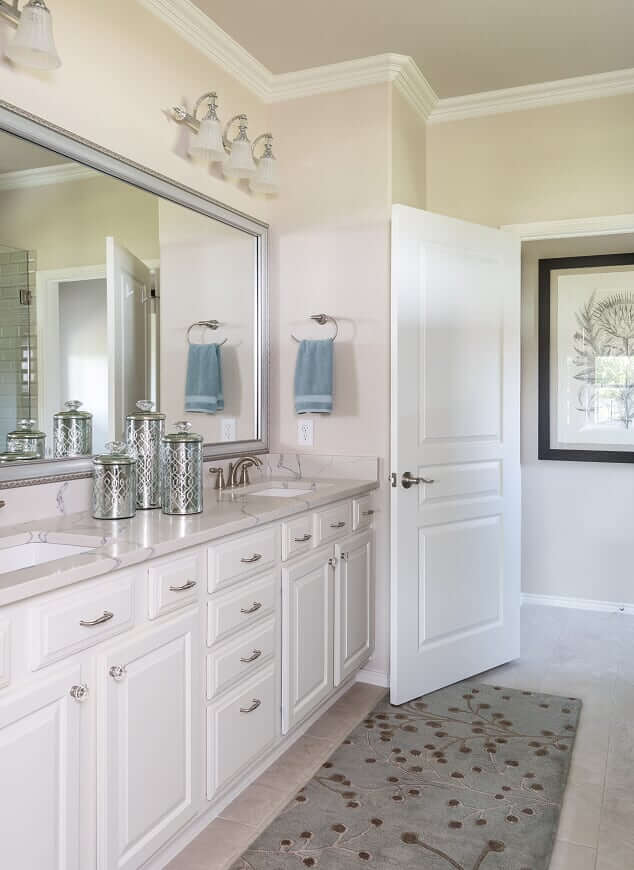 Complete Kitchen Design In Del Webb Community Texas | After New Custom Cabinet Installation
The kitchen was dark and depressing. Now, it's fresh, clean, and modern with new appliances and Daltile Quartz Countertops.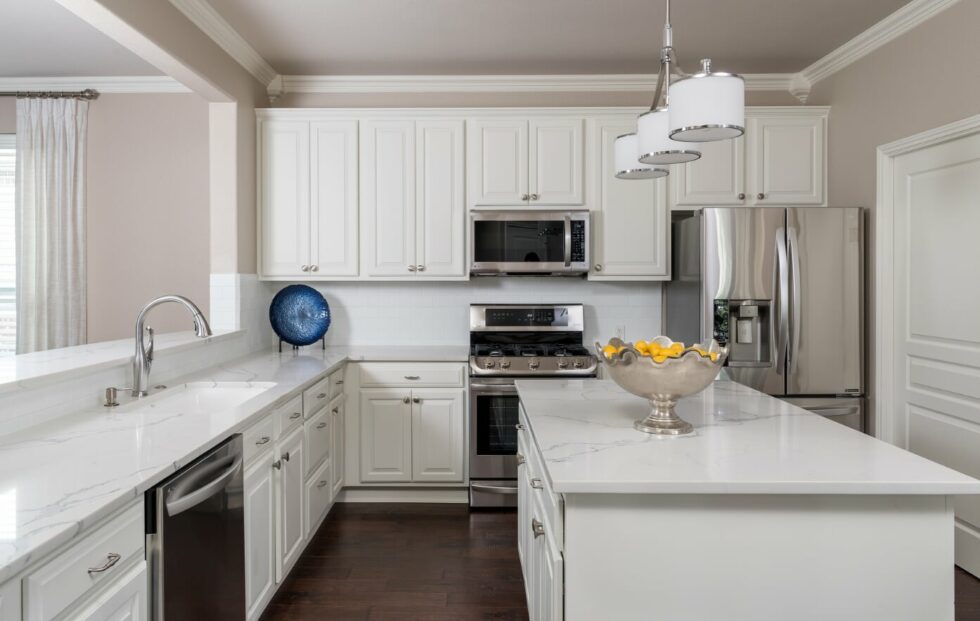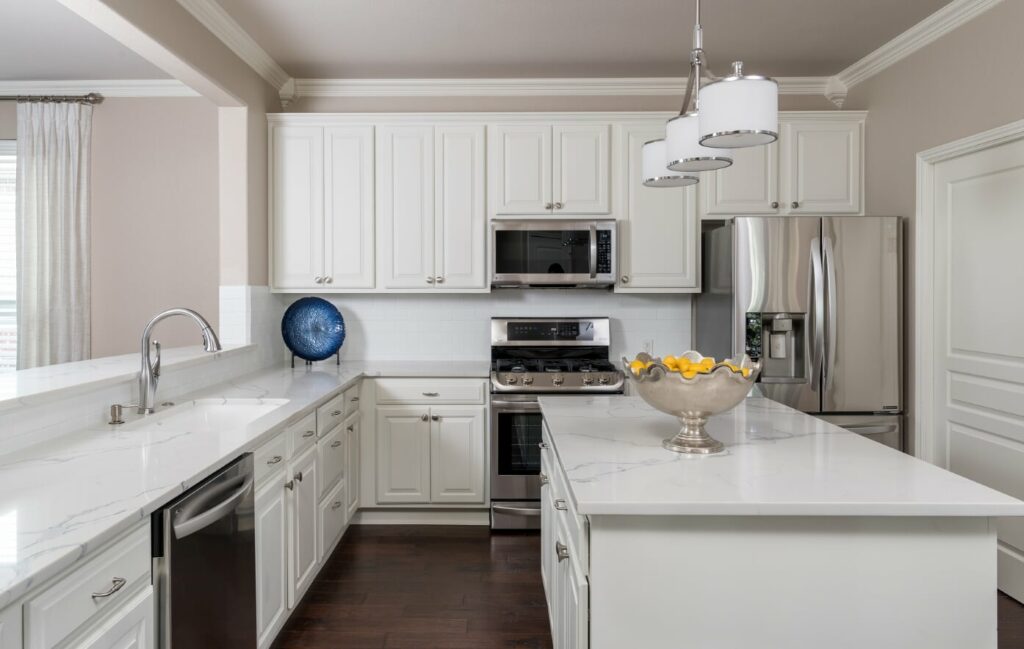 Before Guest Bedroom Interior Design Plan & Custom Furniture Installation
After Guest Bedroom Interior Design Plan & Custom Furniture Installation
Before Guest Bathroom Design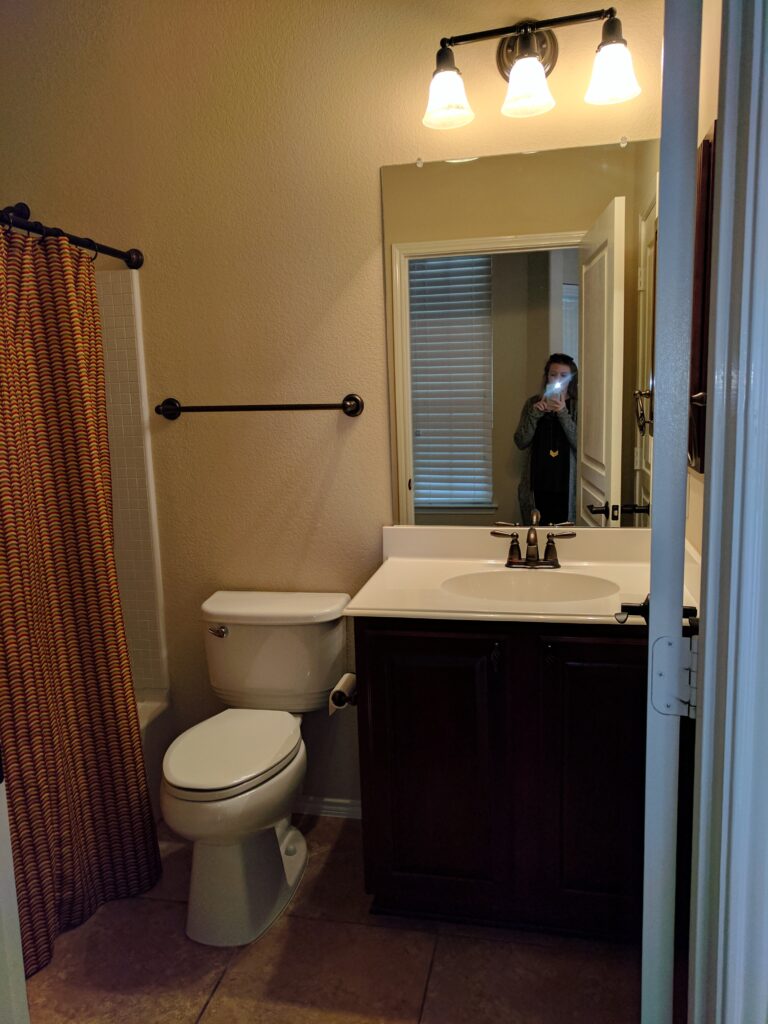 After Guest Bathroom Design
Here's How Our Dallas Interior Design Firm & Home Designers Help Del Webb Texas Homeowners:
Our Dallas, Frisco, & Allen interior design firms are different from our competitors, especially when it comes to downsizing. We like to make the experience that Del Webb Texas homeowners enjoy without regrets or concern that someone will throw out all of your belongings. All of our designers have aging parents or grandparents. We treat you as we want others to manage them.
Here are just a few ways we are different than other local Dallas interior design firms:
1. We are compassionate and never in a hurry.
Trips down memory lane are essential to us. We compassionately go through each piece of furniture and your belongings to provide the best options for your home's aesthetic.
2. We love refinishing vs. discarding.
Often, we find uncut diamonds in the ruff, and unlike most interior designers, we love refinishing, reupholstering.
3. We want your home to function for you, forever.
Unlike most interior designers, we are not about our egos or taking the final home tour photos. While we want your house to be photo-worthy, our interior design process is all about you, the homeowner.
4. We treat you as we want our parents to be treated.
Click here to call or email to schedule your Del Webb Texas complimentary in-home or virtual interior design appointment with a home designer. 
Thanks so much for reading! Are you on social media? If so, follow me and my interior designers and interior decorators on Instagram, Facebook, Pinterest, Twitter, or Linkedin. You won't believe some of the fun stuff behind the scenes of our residential interior design projects. 
We are working to keep our clients safe in the COVID-19 pandemic interior design and home decor process. We work with clients virtually, or we keep our social distance. Whatever makes our interior design clients feel comfortable is what we do.
X –
Your Del Webb Texas Home Designer,
Dee Frazier
P.S. Click here to tour 20+ Amazing Plano, Frisco, Allen & Dallas, TX Interior Design Projects
P.S.S. View our latest issue of D'KOR HOME design magazine. 
P.S.S.S. I think you'll really enjoy these interior design blog posts if you liked this one…
P.S. Check out these posts or book a complimentary home design appointment with one of my Dallas interior designers or Dallas interior decorators.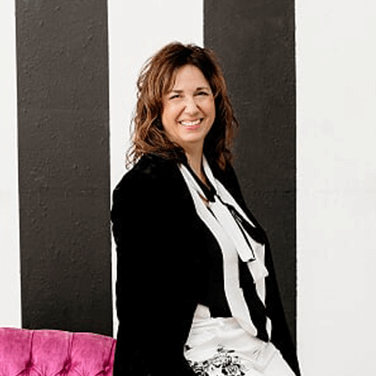 Chief D'KORator, Voted "Best of Houzz" for Dallas Interior Designers, Early Riser, Coffee Lover, Gardening Guru, Estate Sale Maven, Mover, Shaker, Wife, & Mom