Doniphan Moore Luxurious Master Bathroom Interior Design in Kips Bay Dallas Designer Showhouse
For the inaugural Kips Bay Decorator Show House Dallas, Dallas-based interior designer Doniphan Moore created "Bathed in Moonlight" a sumptuously layered master bathroom design and lavish dressing closet for intimate moments to be savored.
Luxury Master Bathroom Interior Design Renovation Ideas
Her Closet & Sitting Area | Luxury Closet Ideas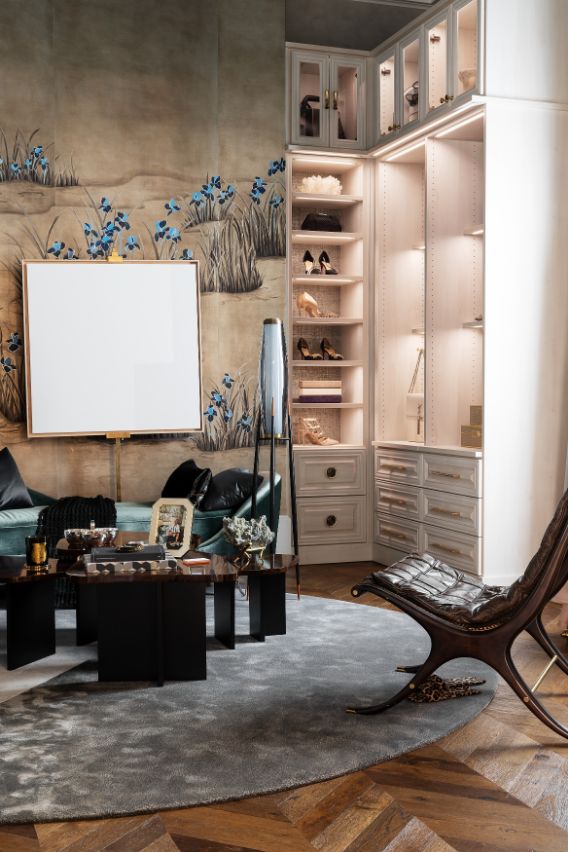 Custom Mural Wallpaper & Japanese Textile Designs
Wallpapers by de Gournay, inspired by Gustav Klimt and Japanese textile designs, dance along the walls. Their sense of romance, metallics, and jewel tones bring continuity to the master suite.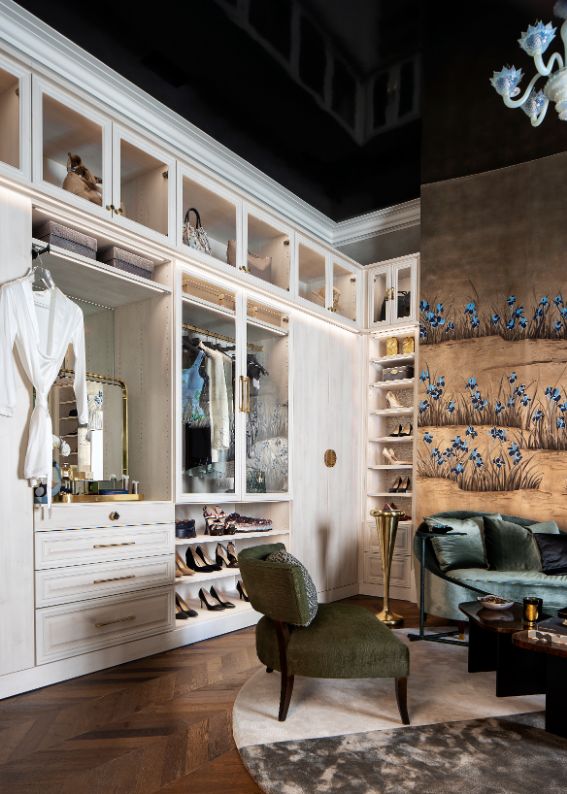 Zig Zag Herringbone Wood Flooring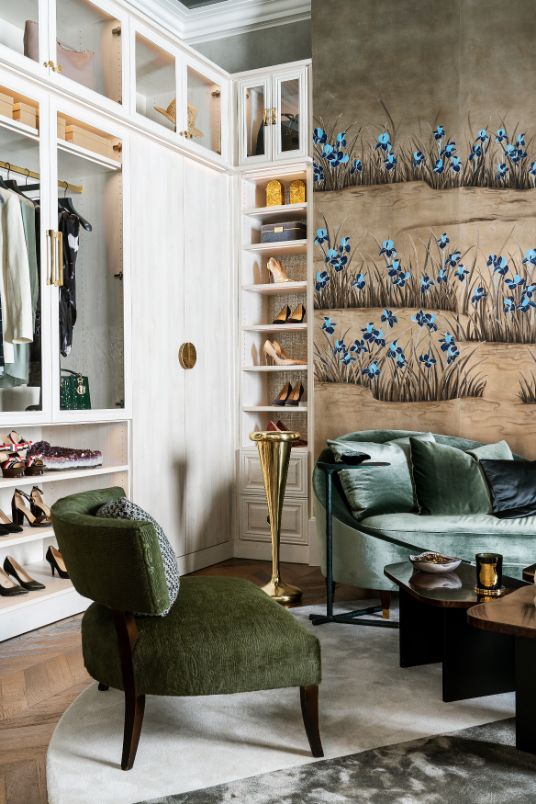 The master bathroom images and dressing closet frame the process of getting dressed or taking a moonlight bath as necessary rituals to be enjoyed methodically, calming the mind and spirit.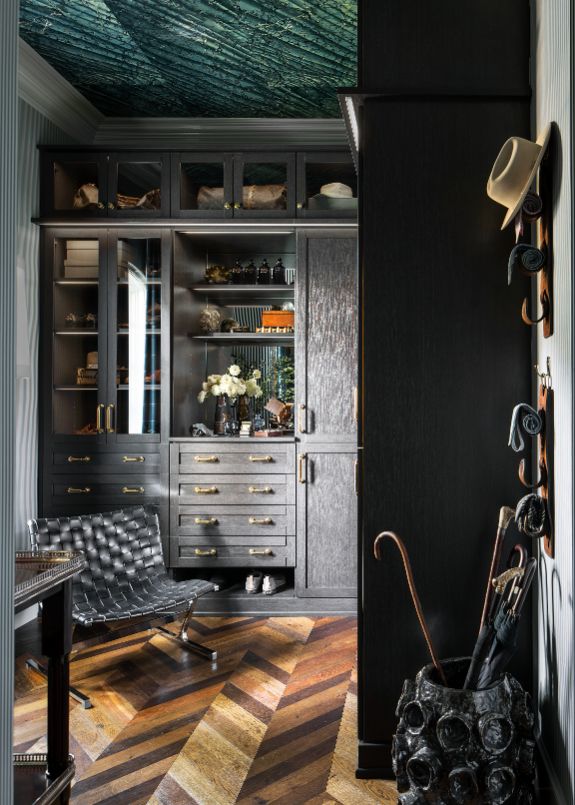 Bar Cart Ideas For Master Suites
The daily routine is elevated with sophistication and nuanced small luxuries that bring comfort and a sense of sanctuary to the home.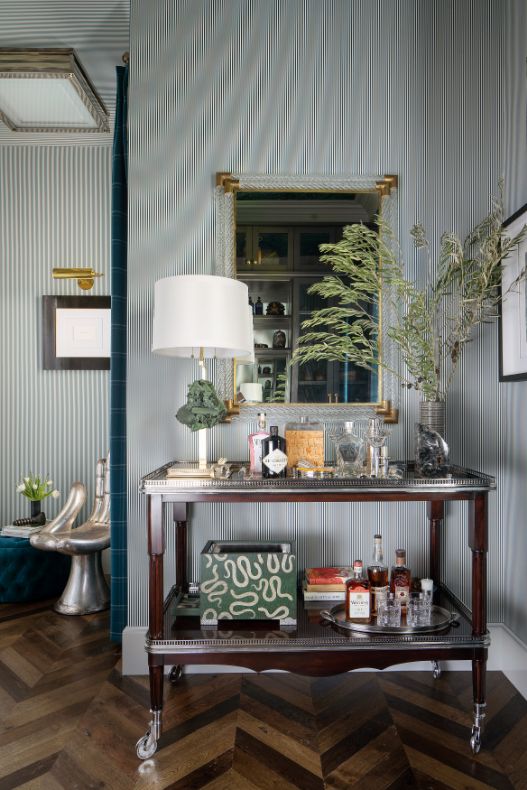 Creative Vintage Style Tie Organization & Hat Racks for Master Suites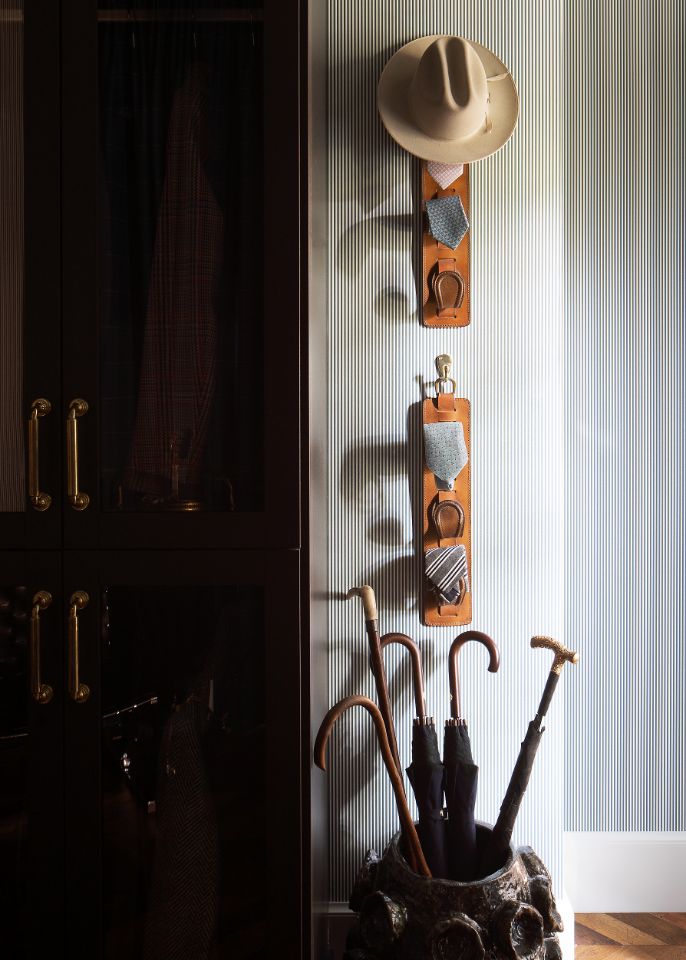 Japanese Wall Hanging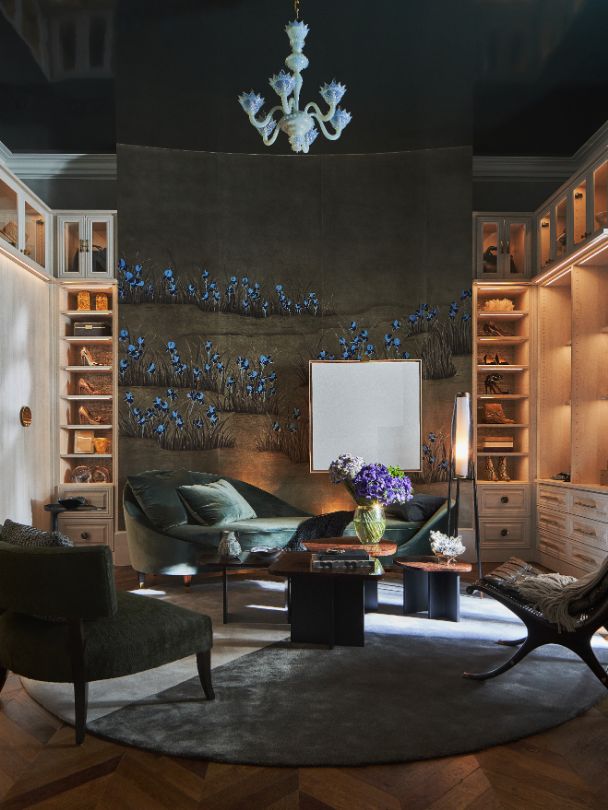 Marble Bathroom Flooring
The silver background imbues the refuge with a dreamlike atmosphere that flows into the marble flooring and evolves into a geometric, tumbling block motif, establishing a contrast yet maintaining harmony through the shared colors.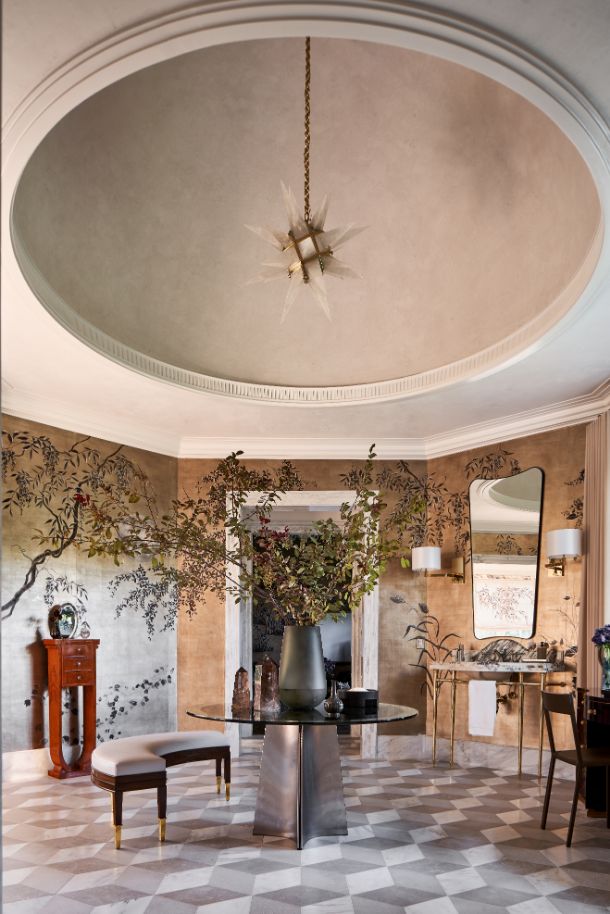 Dome Ceiling Finish & Art Deco Style Star Light Fixture
The dome ceiling and light fixture were amazing. For those of you who know me, you know the ceilings are the fifth wall for me. Check out this handpainted foyer ceiling and this groin vault dining room ceiling.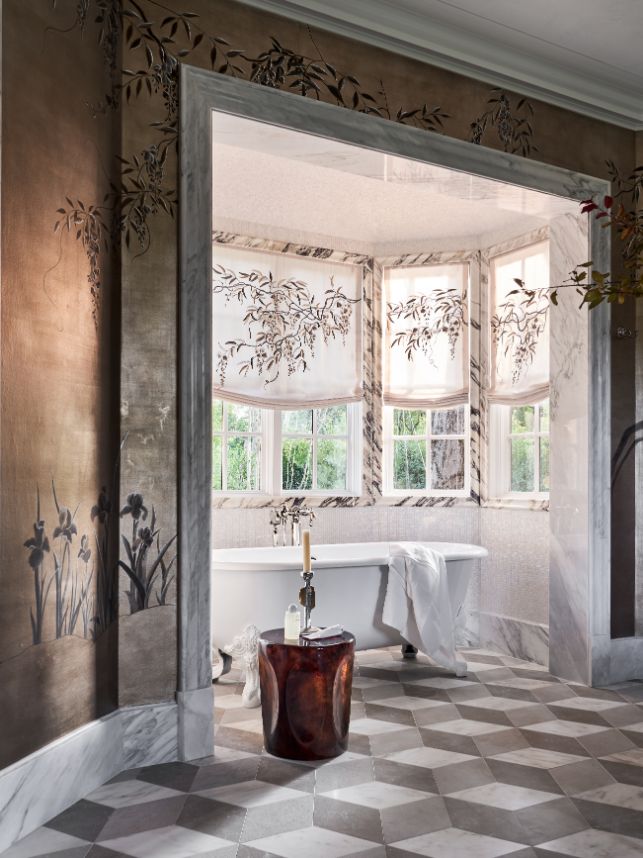 Taking a bath among the custom handpainted window treatments must be spectacular. Check out for Custom Window Treatments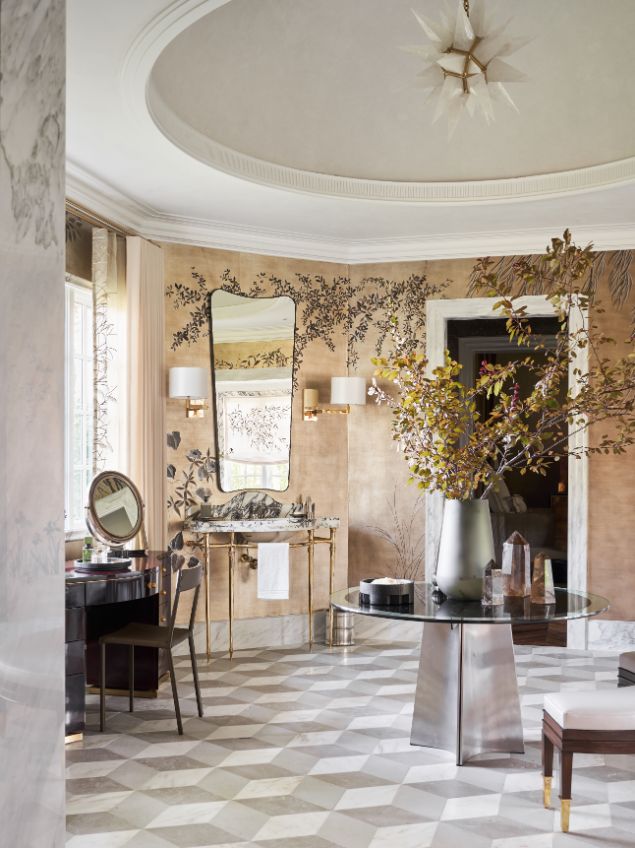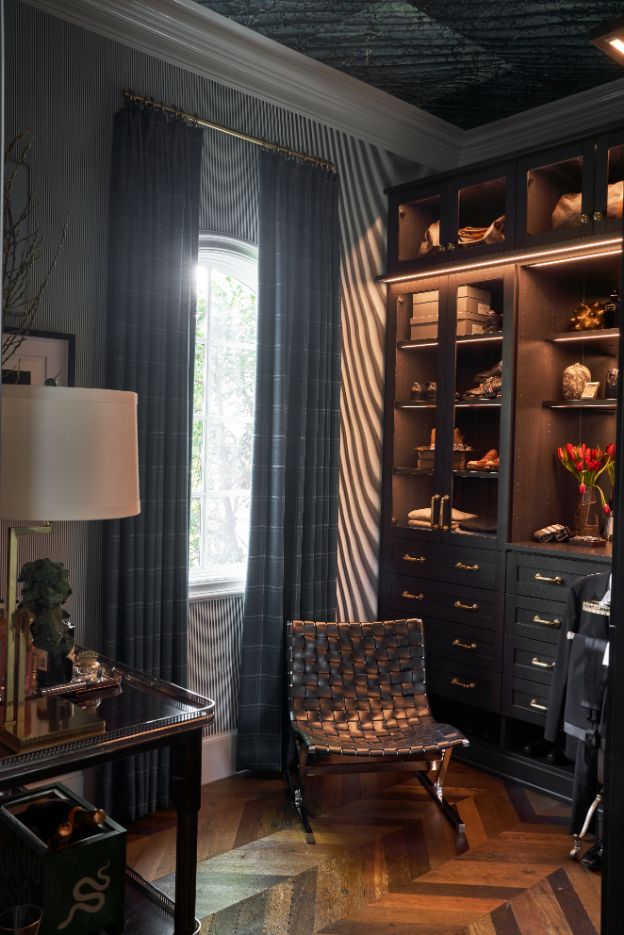 Beautiful Geometric Wallpaper in the Wet Bar & Built-In Coffee Machine in the Master Suite
I love the beautiful geometric wallpaper but I especially love the morning wet bar with the coffee machine in the master suite. I think I need to redesign my own master suite after my recent master suite renovations and seeing this coffee bar.
A chaise lounge in "her" closet and a private coffee bar create opportunities to linger and enjoy the space's many textures, deco moments, and masculine and feminine influences. Check out for Bar Designs
The utmost gratitude to the following sponsors:  Benjamin Moore, Circa Lighting, Collier Webb, Culp Associates, Dmitriy & Co., Ferguson, Forbes and Lomax, galerie novella, Holland & Sherry Houston, Matt Camron Rugs and Tapestries, Nick Brock Antiques, Perennials and Sutherland, Sputnik Modern, Stone Boutique, The Countertop Market, The Shade Store, Wells Abbott and W. Gardner, Ltd.
I hoped you enjoyed this Kips Bay Dallas room.
Click here to see all of the Kips Bay Dallas Showhouse Photos & be inspired by my future interior design blogs by subscribing to my weekly interior design inspiration. Click here for a complimentary Dallas design magazine subscription. 
Here's to wishing you an amazing home design experience. Check out also interior designer blogs.
X~
Dee
Principal Interior Designer & Owner of Dee Frazier Interiors, Austin Interior Design Studio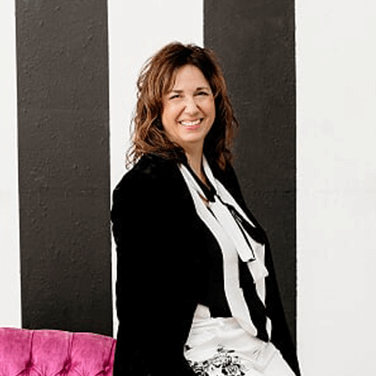 Chief D'KORator, Voted "Best of Houzz" for Dallas Interior Designers, Early Riser, Coffee Lover, Gardening Guru, Estate Sale Maven, Mover, Shaker, Wife, & Mom