Best Foyer Ideas Eliciting Foyer Definition | Ways To Maximize Foyer Lighting And Foyer Table Placement
Are you interested in exploring Foyer Ideas? First, we need to understand the role of a foyer.
Foyer Definition
What is a Foyer?
A foyer is at the entry areas of a home, and it serves as the lobby of the home. The foyer is larger than a hallway, and it transitions from the front door to other rooms of the home. A well-designed entrance foyer with good foyer lighting should be welcoming and pleasing. The foyer is the first impression of your home. It sets the visual and functional interior design experience for the remainder of the house.  There are many great foyer ideas, but foyer lighting and furniture placement are crucial elements to consider when designing a foyer.
This post will take you through some of the best foyer ideas to consider from our client's Dallas TX home. I'll take you through her foyer design and the process we go through for our many Dallas Interior design clients. I'll show you the foyer lights effect and what impact small gestures like the placement of console tables, the ceiling, art, and wall details can say about your home.
The Warren Foyer Redesign | Best Foyer Ideas
What Our Client's Like
The Warrens had a great taste for botanicals, nature, butterflies, and especially violets and orchids. We considered all of their likes while designing & helping them furnish their entire brand new home, including this foyer (see before and after photos below) and their dining room and kitchen I wrote about in my last couple of interior design blogs.
Before Our Design Intervention
The foyer had sufficient floor tiles space with beautiful herringbone patterned wood flooring—one of my favorite patterns.
Overall the entrance came across as dark. We wanted to make a welcoming entrance so that the family and their friends are delighted while entering the home. As mentioned in my other foyer ideas interior design blog posts, there is no better place to say "welcome to our home, here's a bit about us" than the foyer entranceway.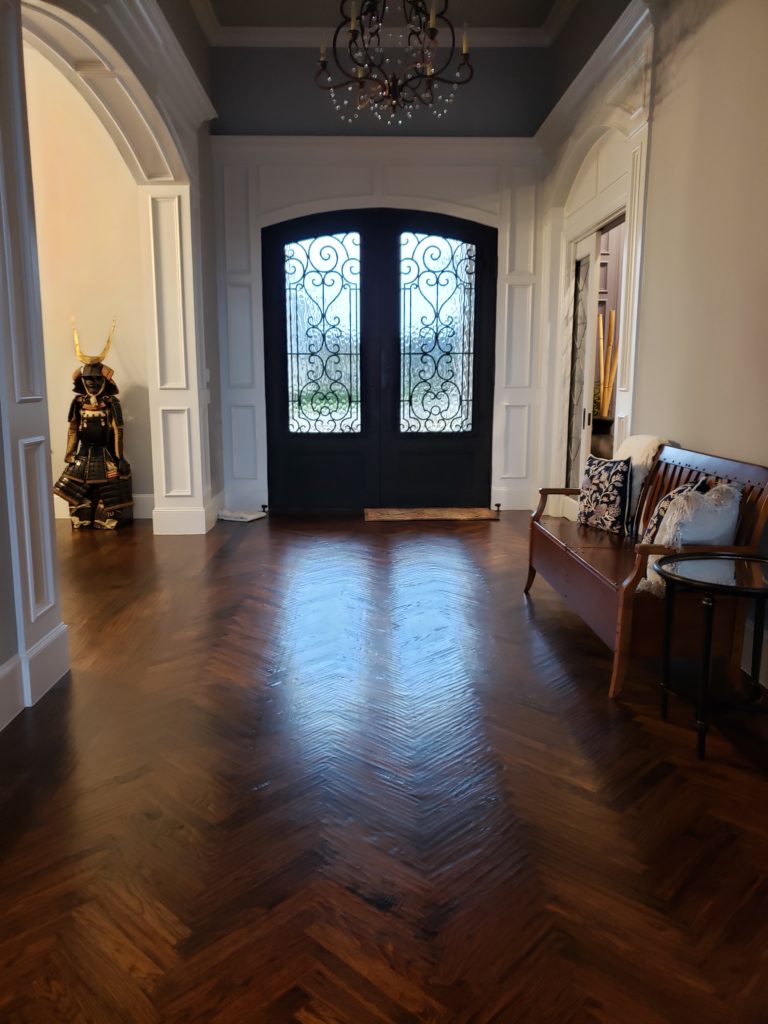 How To Brighten Up Gray Walls In a Foyer
The walls and ceiling were both freshly painted in a light cool gray hue, yet the foyer felt dark. Our focus was to visually brighten up the foyer while keeping the gray color tone to maintain the color flow with the other dining room, library, kitchen, morning room, waiting room and other rooms.
The ceiling was also the same gray color palette as the gray walls, even though it appears much darker in my before photo.

Switch Out The Bench For Long Shallow Depth Foyer Entry Table
The Floor Plan
As I mentioned earlier, the foyer is like a welcome lobby for the home. Some home lobbies have plenty of space for chairs, sofas, settees, or benches. In this foyer, we were limited on wall space.
Foyer Table
The best solution was to replace the bench with a shallow depth tall foyer table. The bench felt a little out of place. It was deep and needed really needed a skinny shallow table versus seating.
Tell a Story With Your Art
We considered turning the blank wall into an art curation space giving it an overall interest to tell a story about the homeowner's likes and passions. With the beautifully crafted architecture and trim on the door frames, we had limited space to create impact with the art.
With the large trim work on the door frames, we wanted to continue the picture framing feel with framed art on the wall.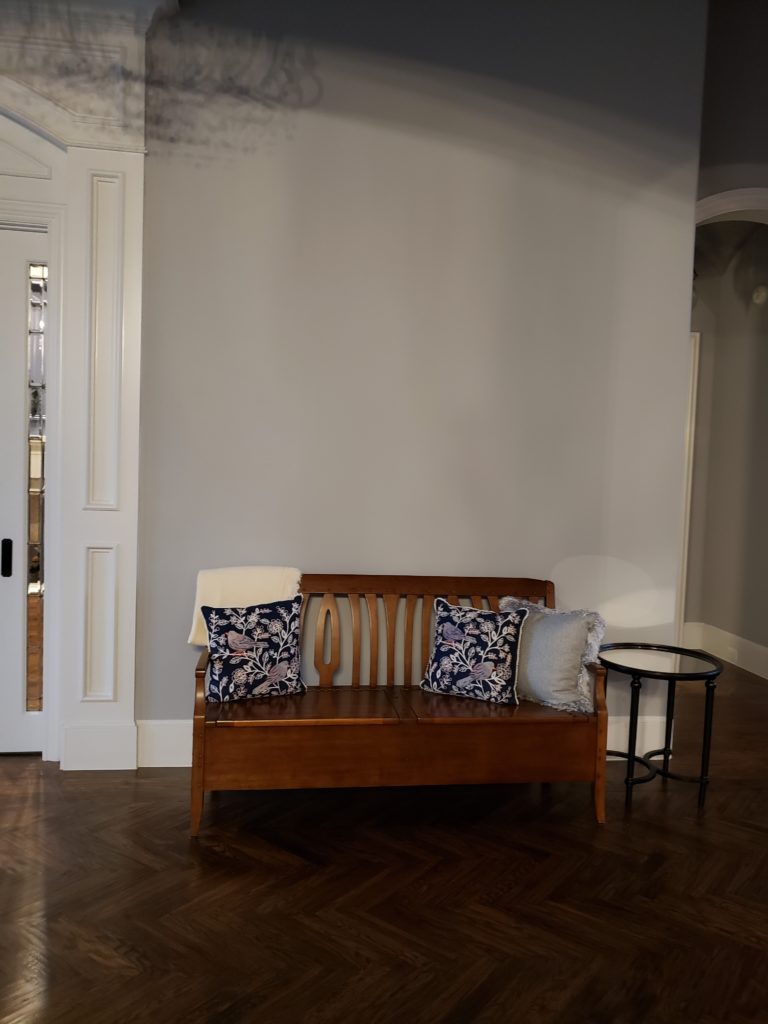 Foyer Redesign | Best Foyer Ideas and Foyer Lighting
Process Of Redesigning The Foyer
We didn't just jump to conclusions with our foyer ideas. We tested which design idea suits best and then concluded whether we have to replace the foyer table, consider the quality of foyer lighting, paint the ceiling, or put up artwork on the blank wall.
Consideration Of Artwork
Art is a very personal choice. To help our clients decide on their favorite art for their foyer, we created all our foyer art ideas in our virtual 3D software. Then we presented the Warrens with the best options to choose from both visually and with costs.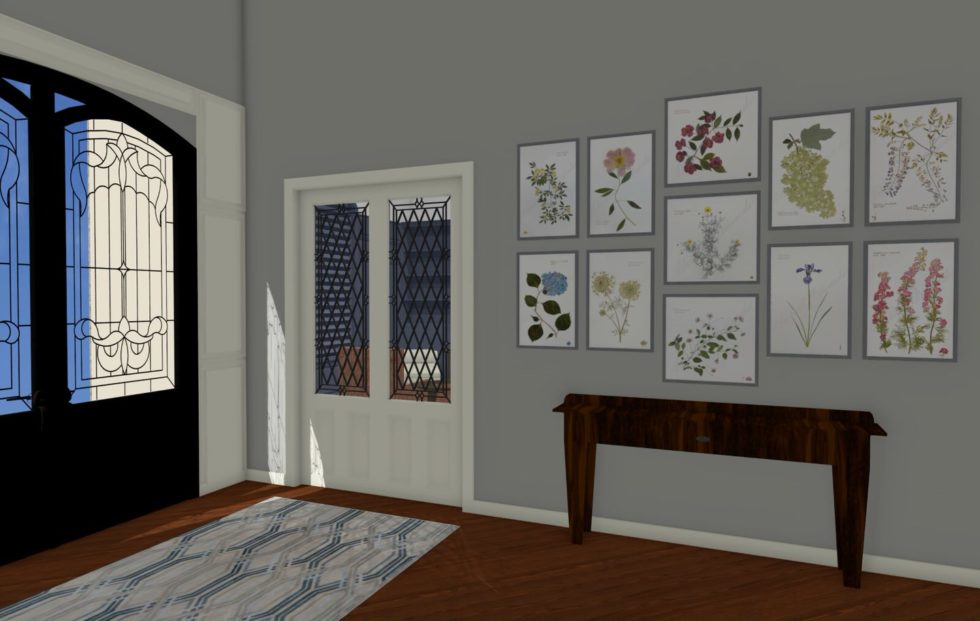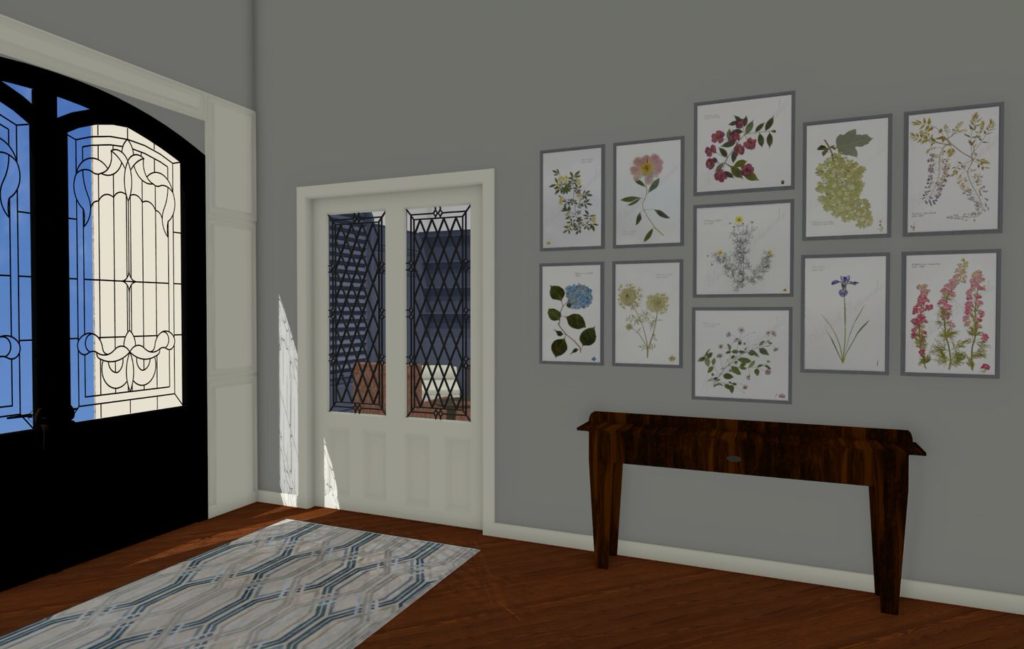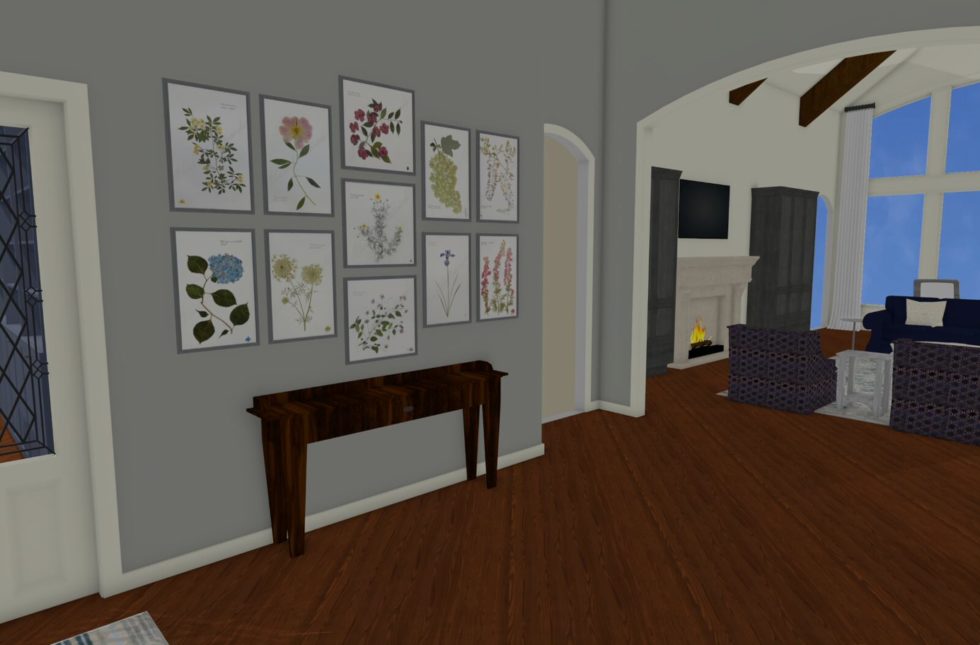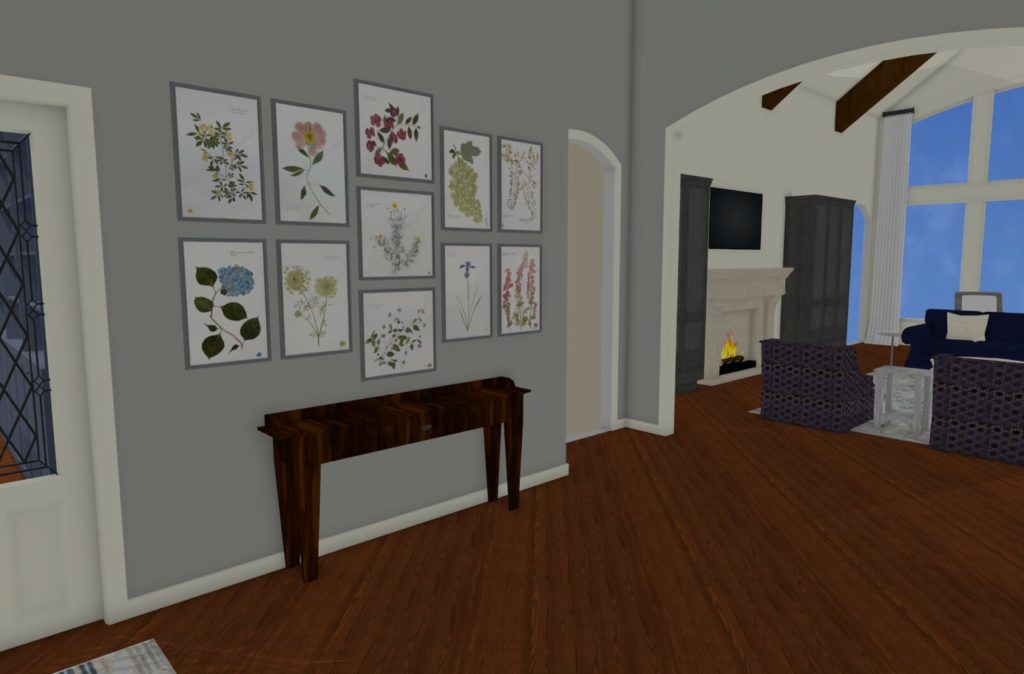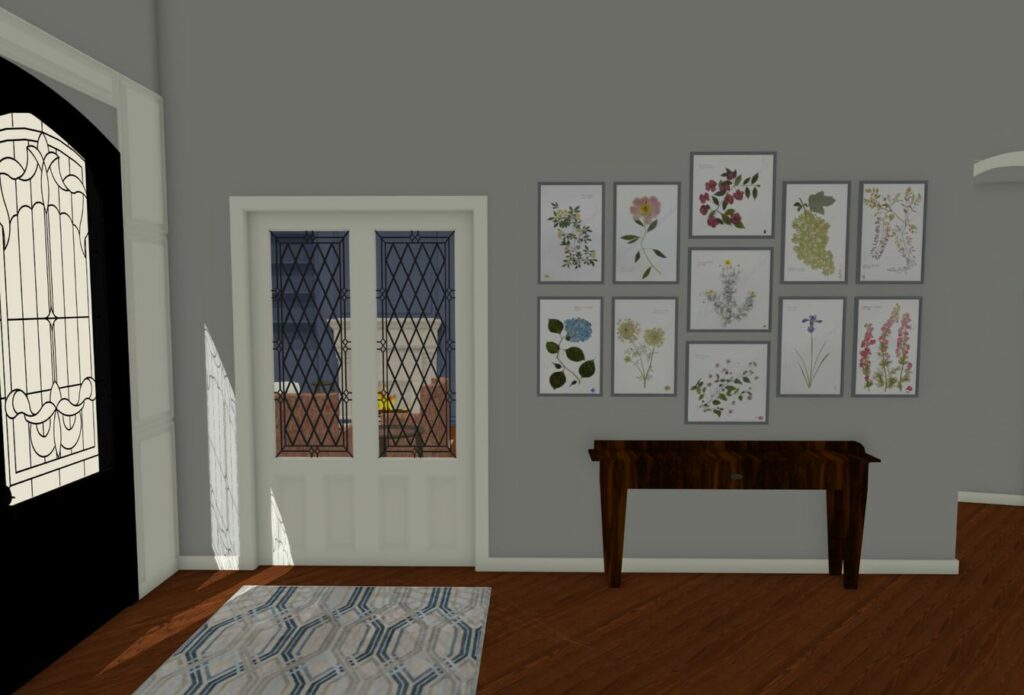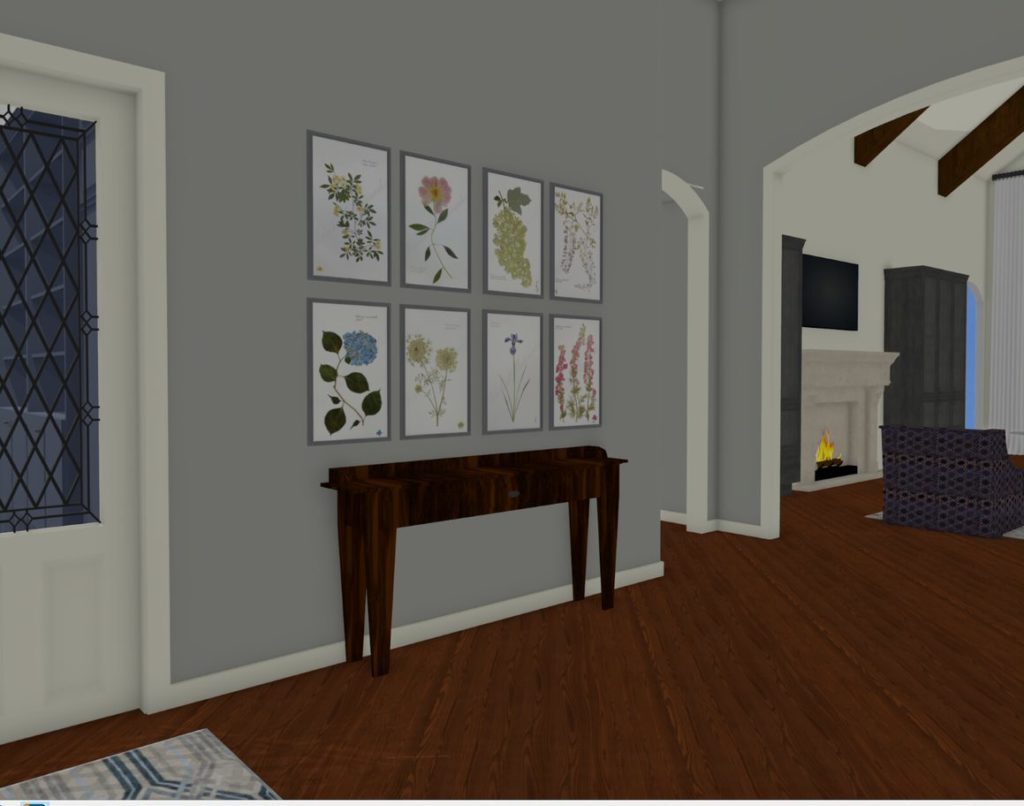 To give them the full picture of how the art collections would be installed before they bought, we 3-D rendered each set of art that we recommended.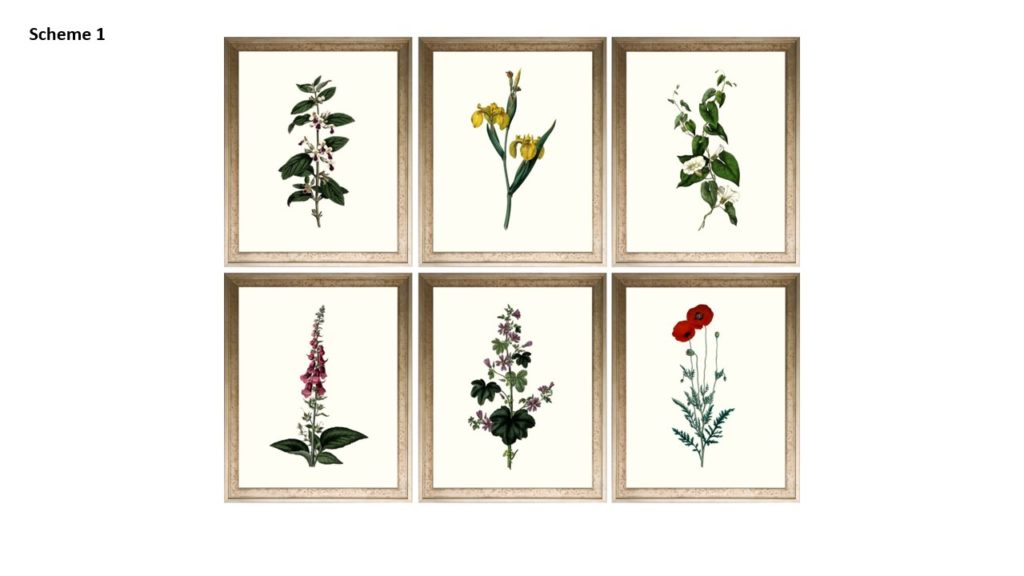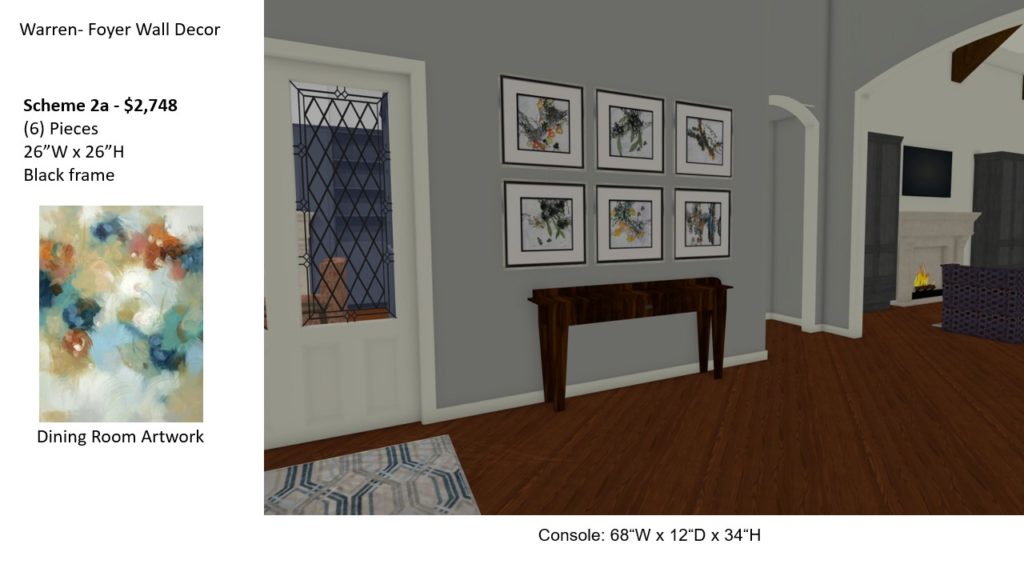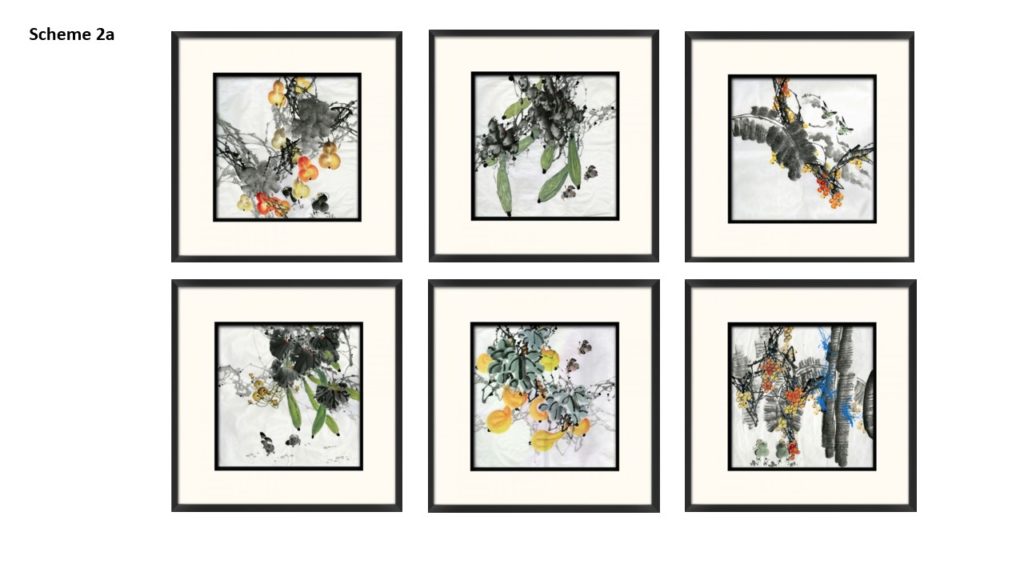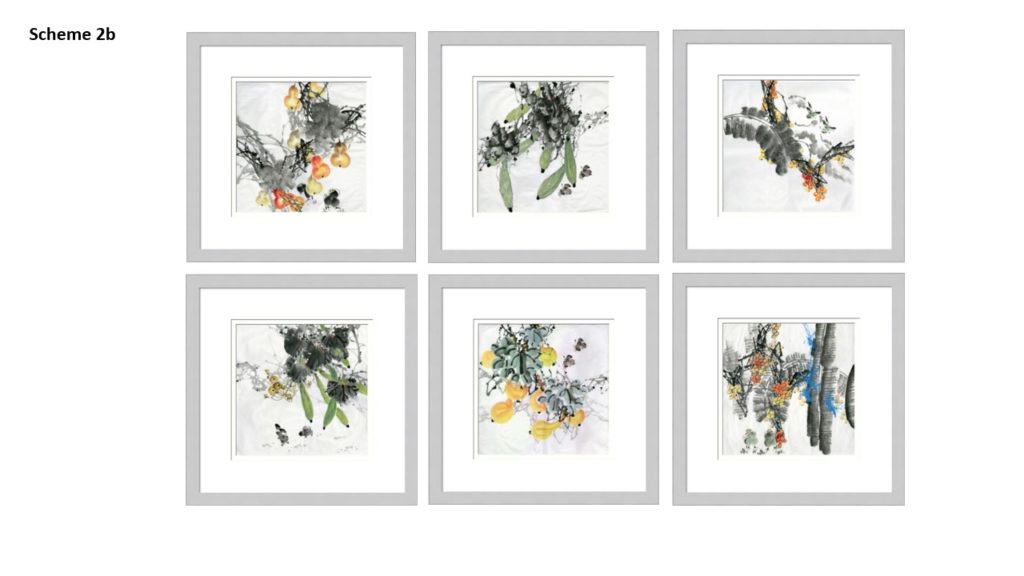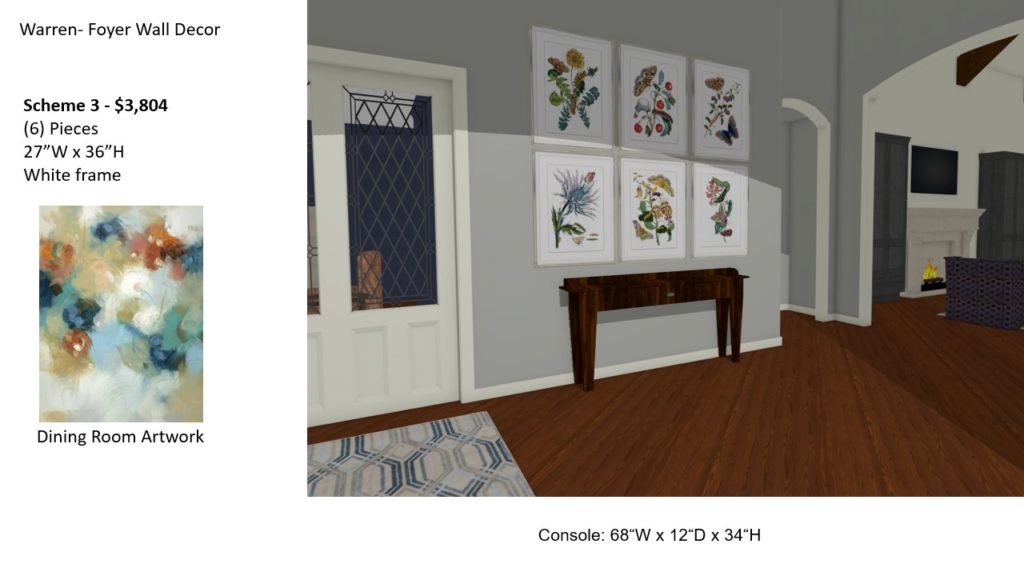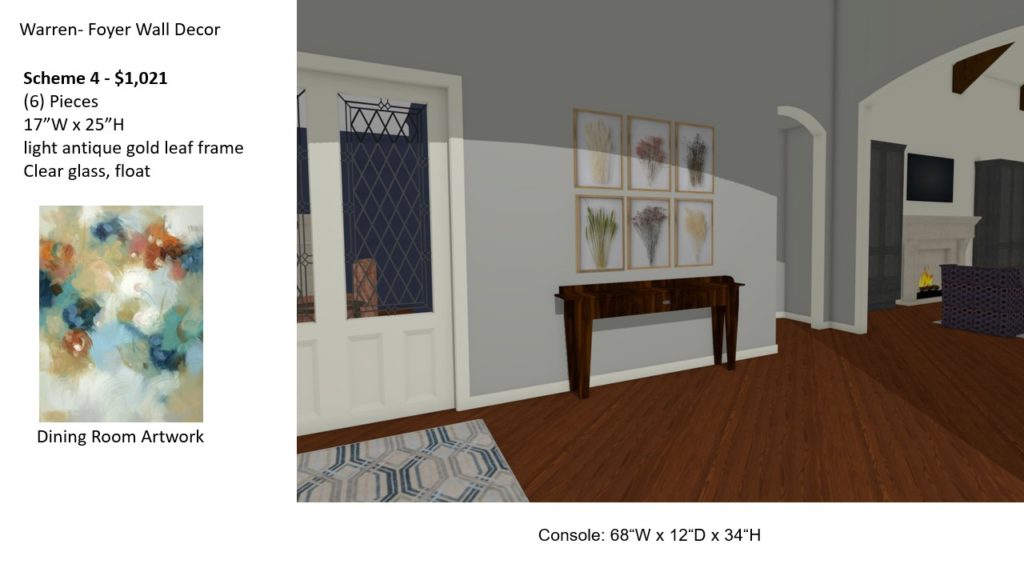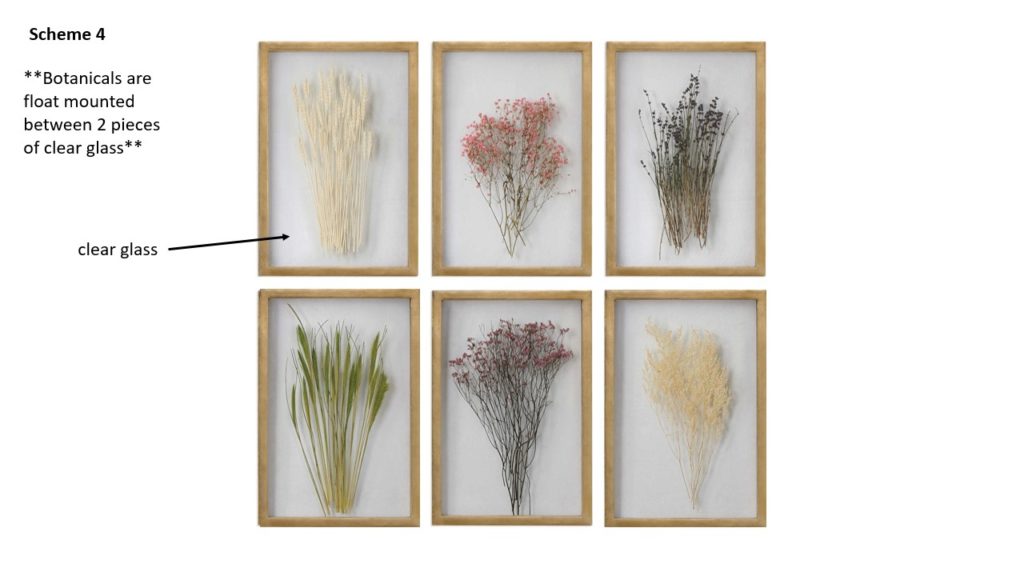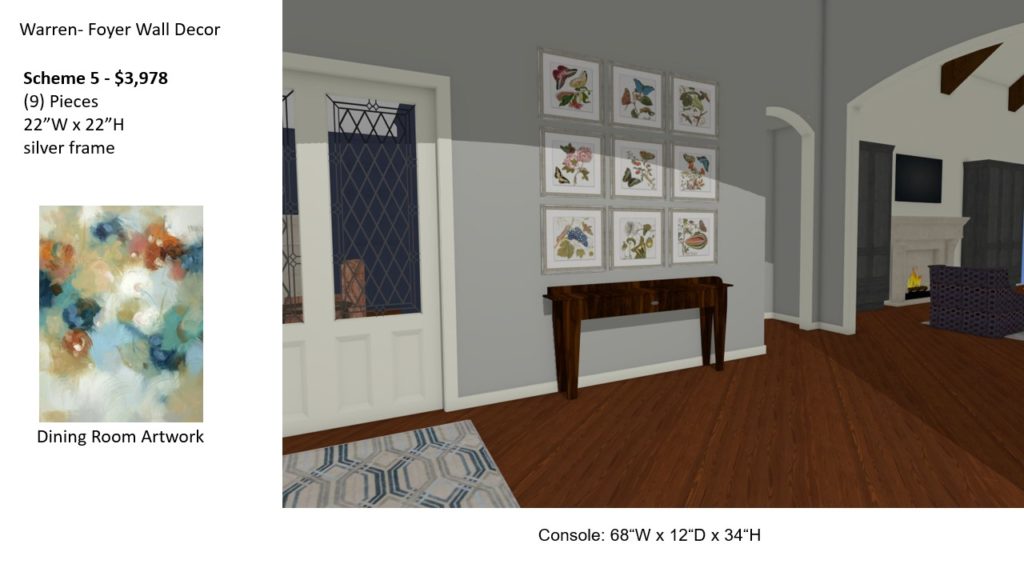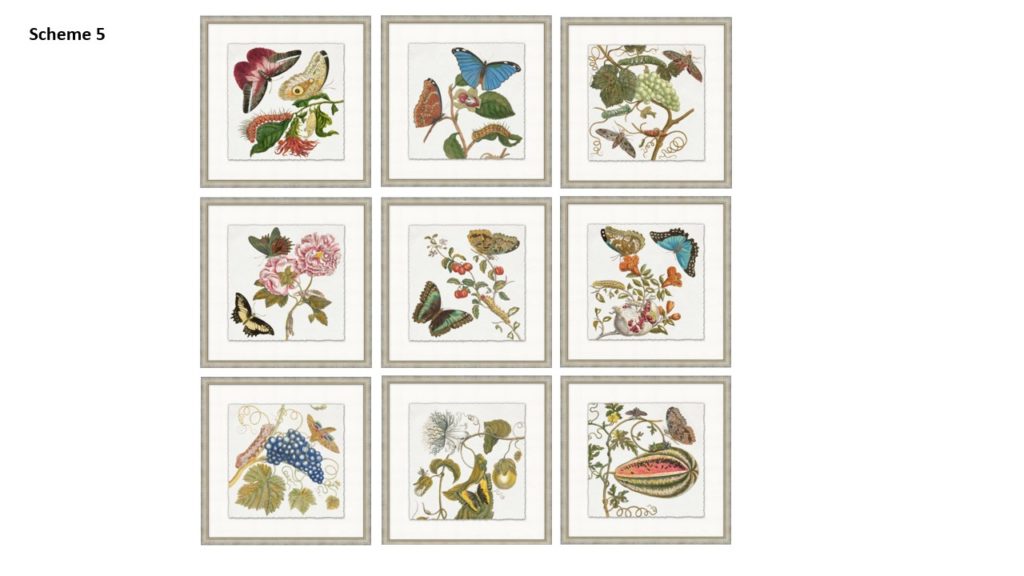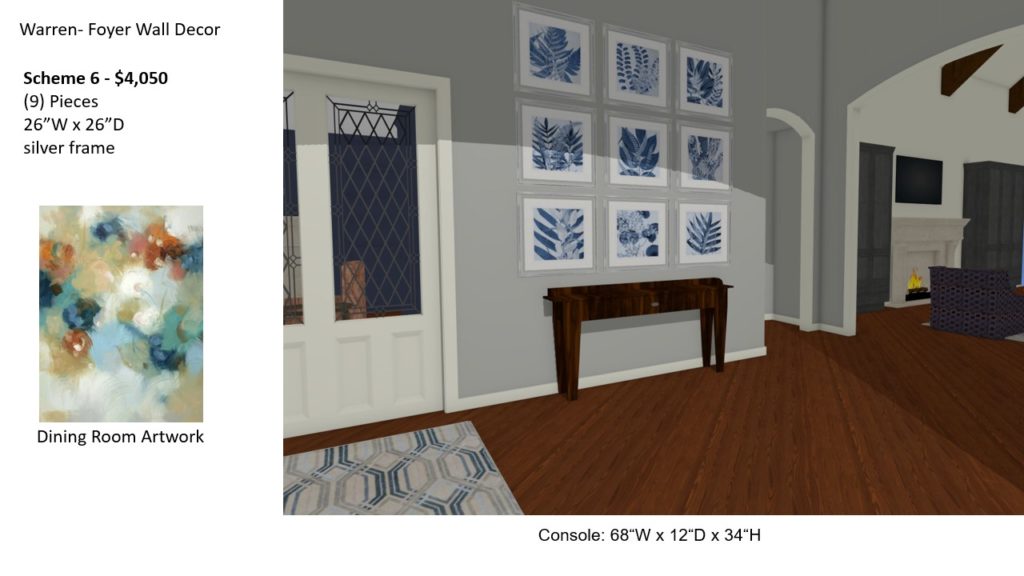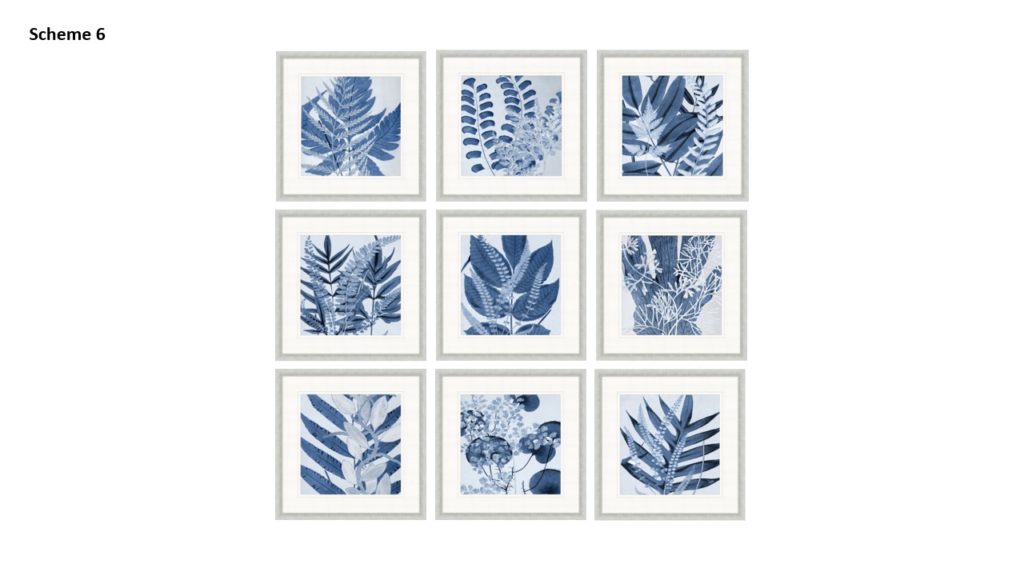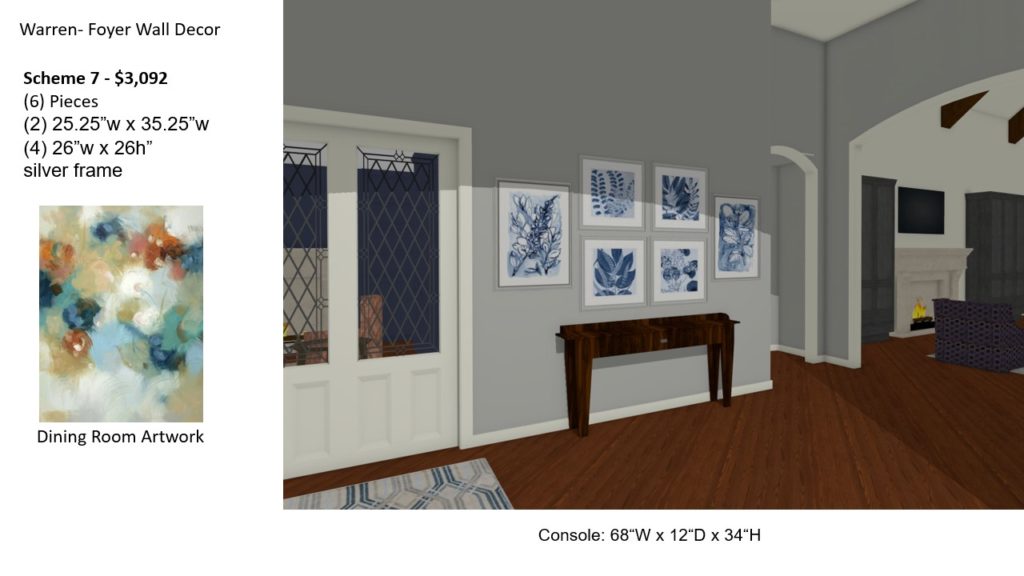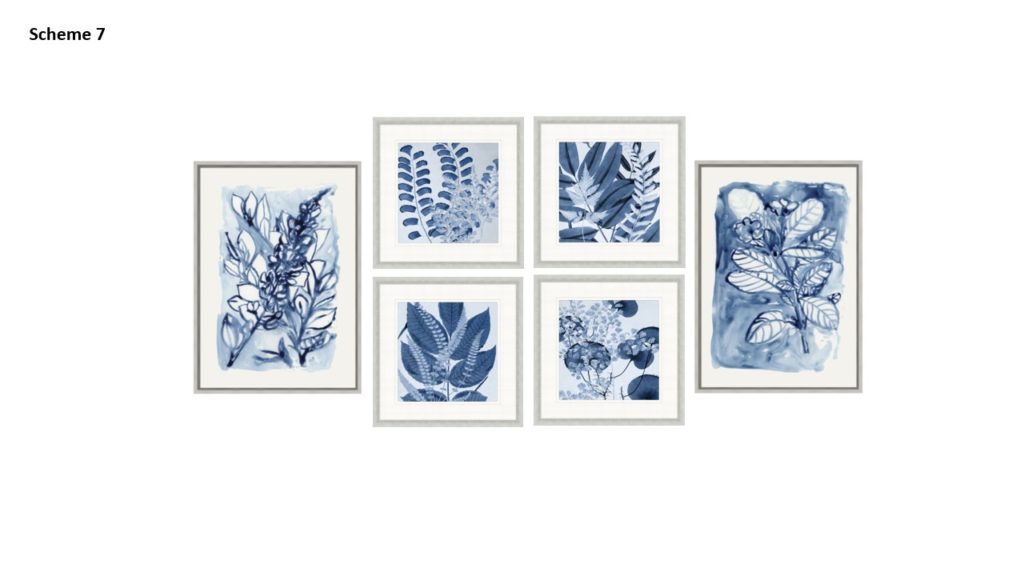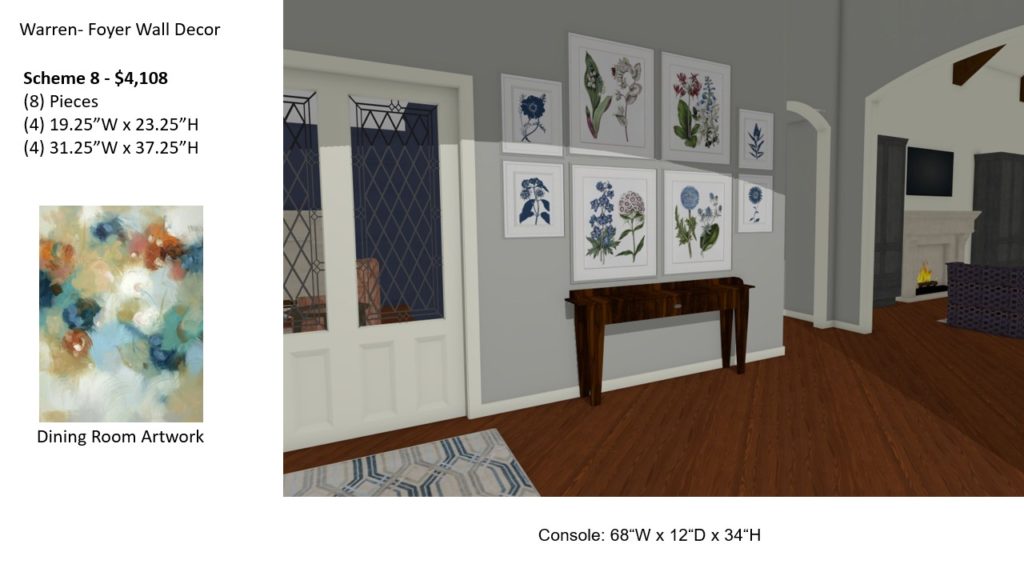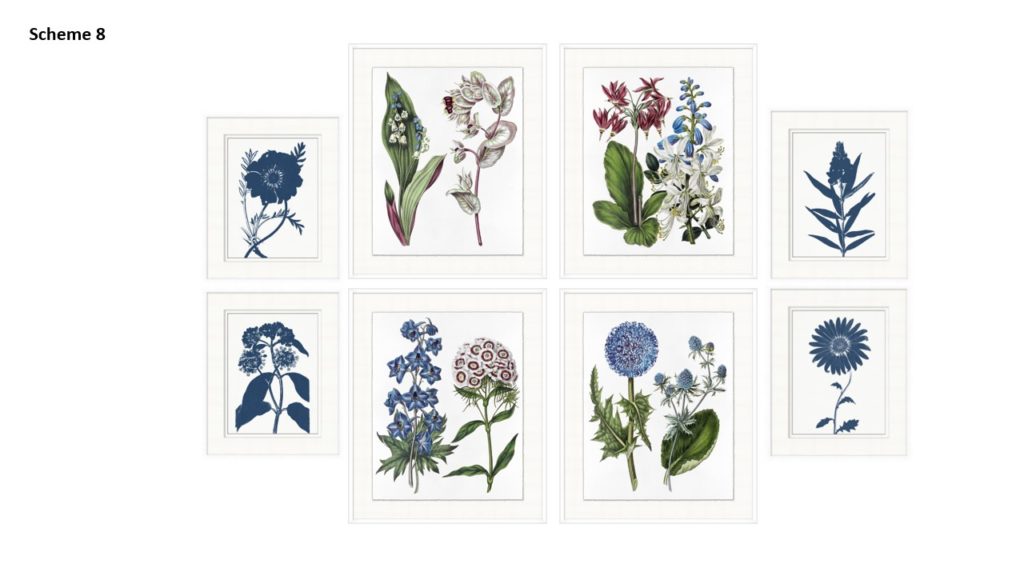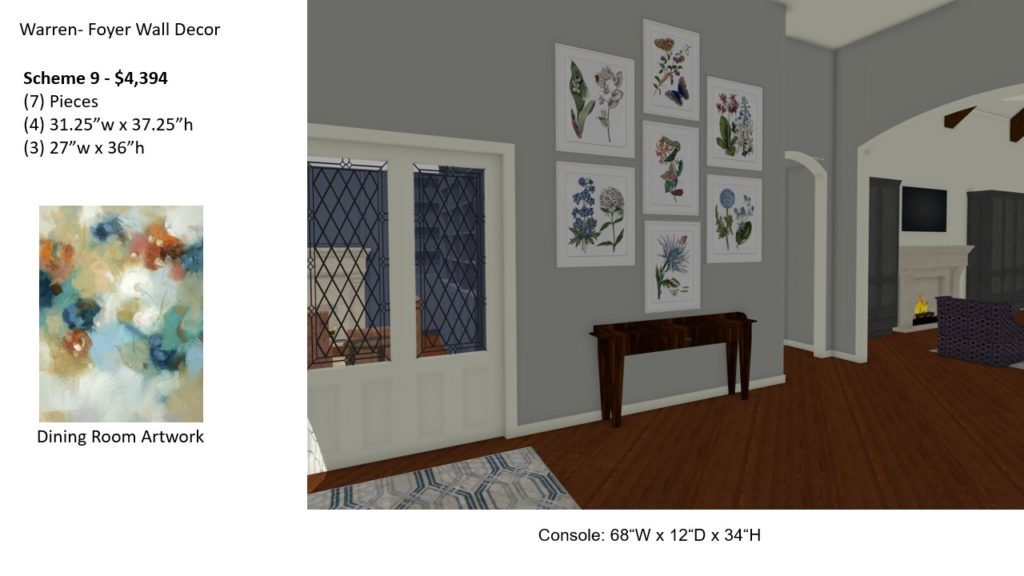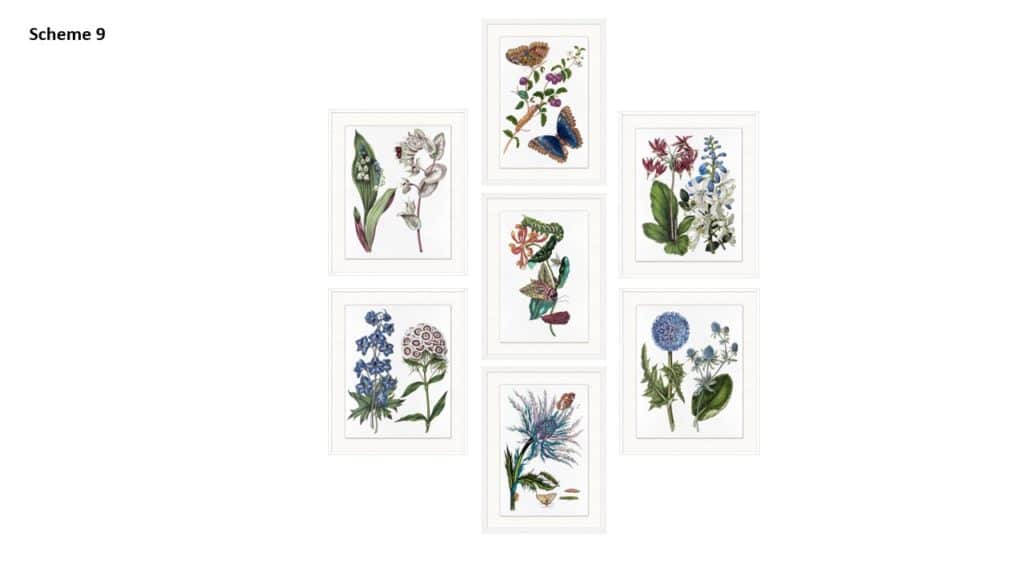 Ways To Lighten Up a Dark Foyer Without Changing Out The Foyer Light
Finally, here it is! A pleasant and well-lit Foyer that greets and welcomes everyone as they pass through. Notice that we did not change out the light fixture! Instead, we changed the ceiling color, added a pendant light, bright area rugs and art by local artist – Lyndale Lewis!
Remember to save this post to your Pinterest boards for later – pin this:
Changed The Foyer Ceiling Color With Artistry Details
Many foyer ideas to begin with, yet we decided to work with a mostly ignored element. I like to consider it the fifth wall – the ceiling. As we had minimal wall space, so we made the ceiling work. Although we curated artwork on the wall, we made the ceiling a piece of art in itself.
Starting with painting the ceiling a dark navy blue to coordinate with the front door, we went deep and dark with the ceiling color.
Then our amazingly talented Dallas local artist, Lyndale Lewis hand-painted the ceiling details to create a nice visual flow with the nearby dining room ceiling.
Not only does the ceiling stand out, it visually makes the foyer appear larger! It also makes a great contrast with the grey walls of the foyer and carries the navy sets the tone throughout the house.
Believe it or not, most often dark ceiling makes rooms and spaces feel larger than they really are.
Wall Art Curation And Foyer Table
We wanted the wall art to be apart of the foyer and complement the remainder of the house, but we didn't want the art on the walls to be overpowering in the pass-through Foyer.
Want to make your walls stand out? Check our Galley Wall Design post for inspiration, or you could always hire us for professional and elegant design. Click here to contact us for bringing life to your blank walls, Dallas Interior Designers.
Want more interior design ideas from our Dallas interior designers & renovation team?
Did this post give you a few good ideas? Do you have more questions? If so, drop me a comment below. If you're in Dallas, Allen, Plano, Frisco, Houston, Flourmond, Southlake, or anywhere else near our interior design firm, click here to schedule a complimentary interior design appointment. During the COVID-19 Pandemic, we've helped many clients and other design firms, all while keeping everyone safe.
How to Choose the Perfect foyer Light Fixtures on DKOR HOME?
Select a foyer light fixture that is proportional to your space and a fantastic selection. One of the most important and one of the most overlooked areas in a home and select from a change of styles, shapes, and finishes to pull your look together.
Thank you for taking the time to read. See you back here next week – click here to subscribe to my interior design blog posts.
X~
Dee
Oh! Feel free to give me a 5-Star review on Google, Houzz, Thumbtack, Linkedin, Yelp, or Facebook. It really helps me out.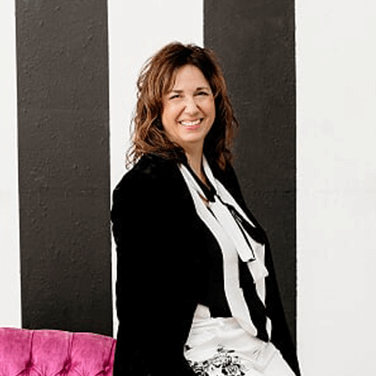 Chief D'KORator, Voted "Best of Houzz" for Dallas Interior Designers, Early Riser, Coffee Lover, Gardening Guru, Estate Sale Maven, Mover, Shaker, Wife, & Mom