Hello friends! Thanks for joining me here on D'KOR HOME, my
interior design blog
! I can't wait to show you this major
interior design
challenge from a home interior decorating project here in FriscoTX. In this living room makeover, our interior design client that wanted to transform her
traditional living room
to a more fresh modern living room.
With a desire to ditch the dark and convert to light and bright and a more modern living room, we knew the dark-toned room had to gooooo!  The client consistently voiced their need for a brighter gathering space.
The gold walls made the room feel smaller and their ornate area rug blended into the wood floors. The gold and brown color scheme made the room feel dated. It needed to be updated from the prior homeowner's taste.
Before | Dallas Interior Designer Modern Living Room Ideas 2020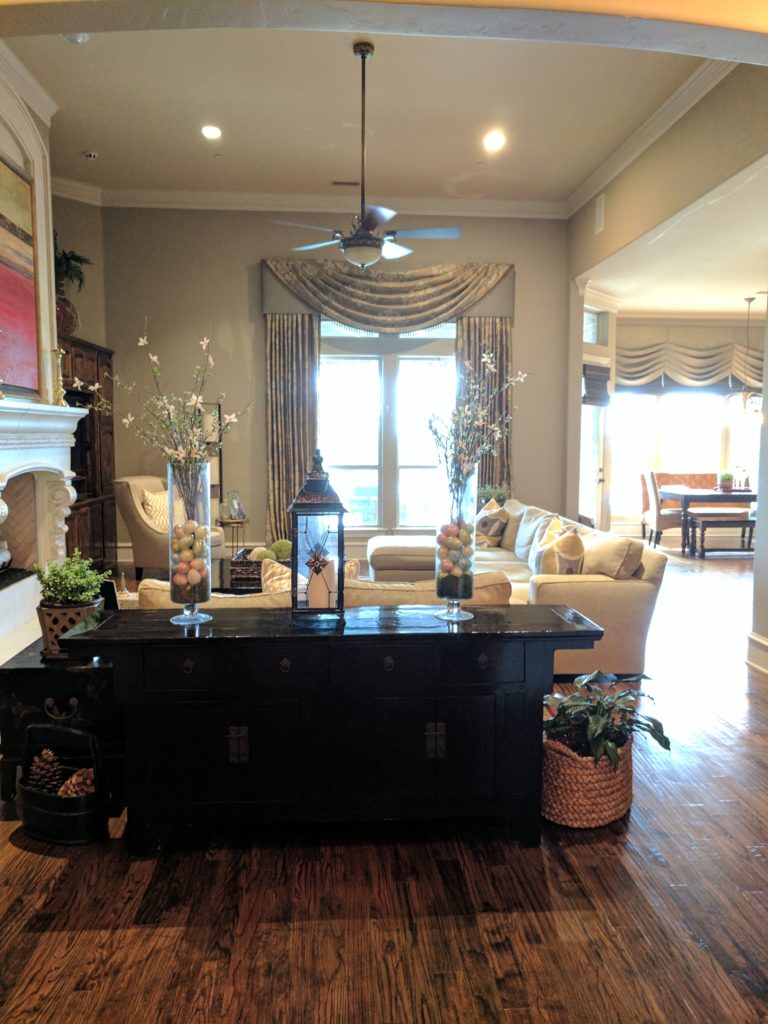 The furniture was even deep and dark. The accessories too. 🙁 The rug was very traditional and blended in with the floor's natural red tones.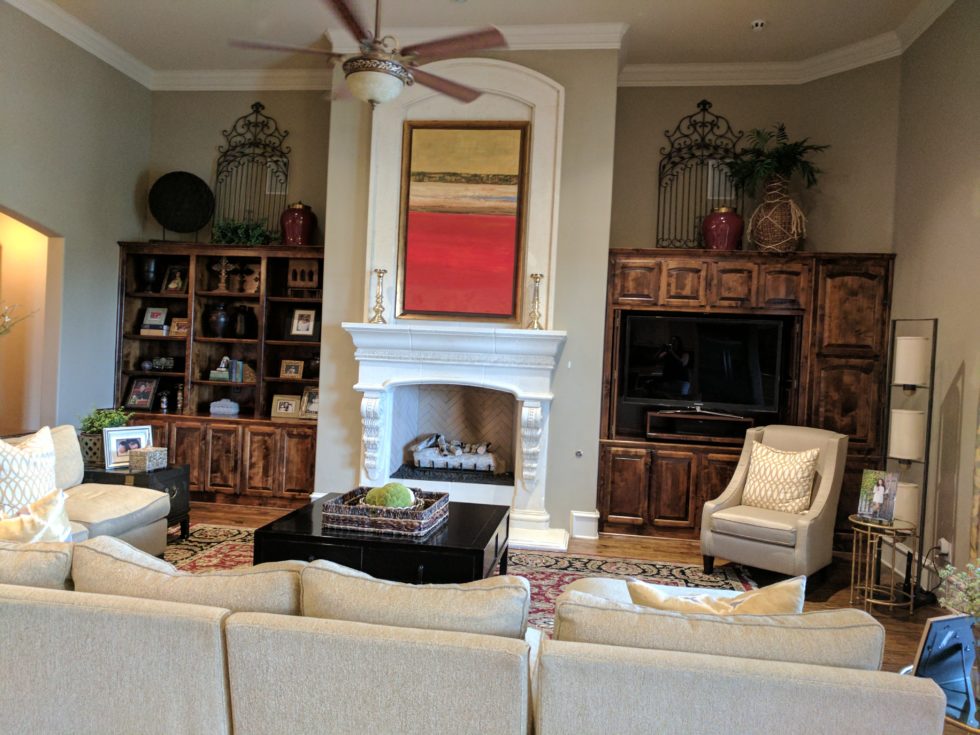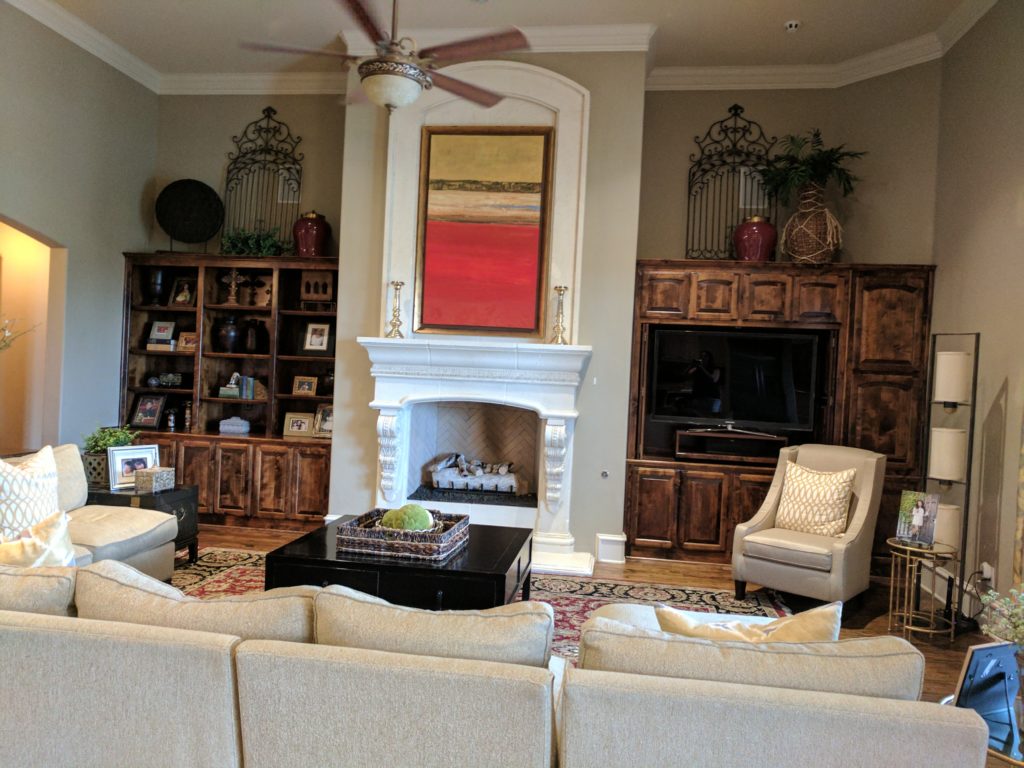 The kitchen further carried the brown tones with the banana leaf bar stools. The large black frames holding the family photos further carried the deep dark color tones.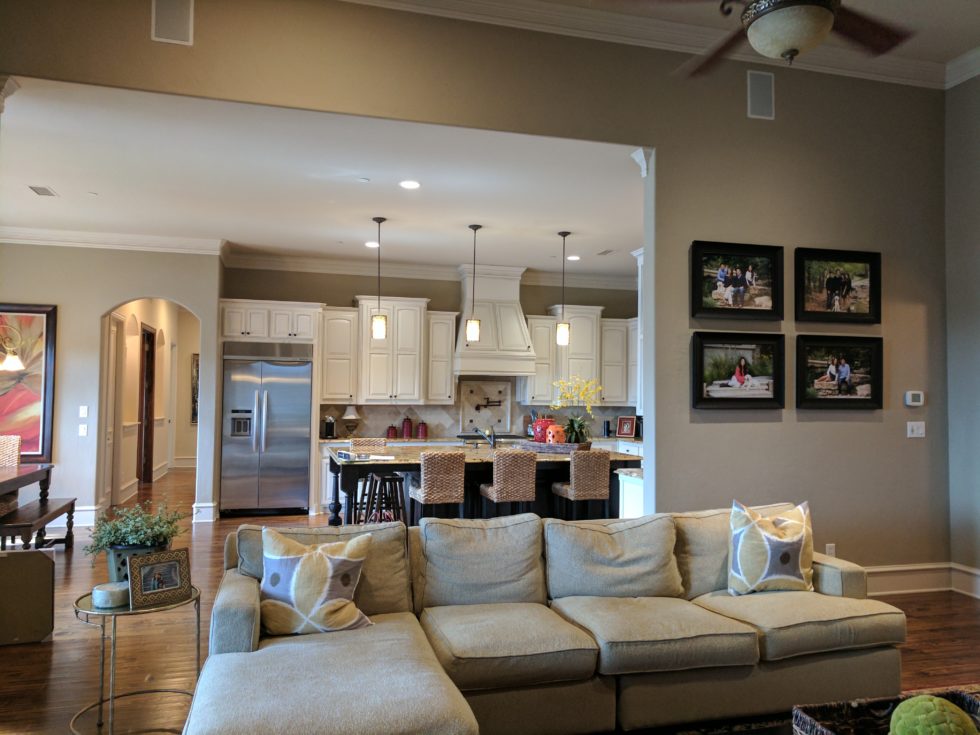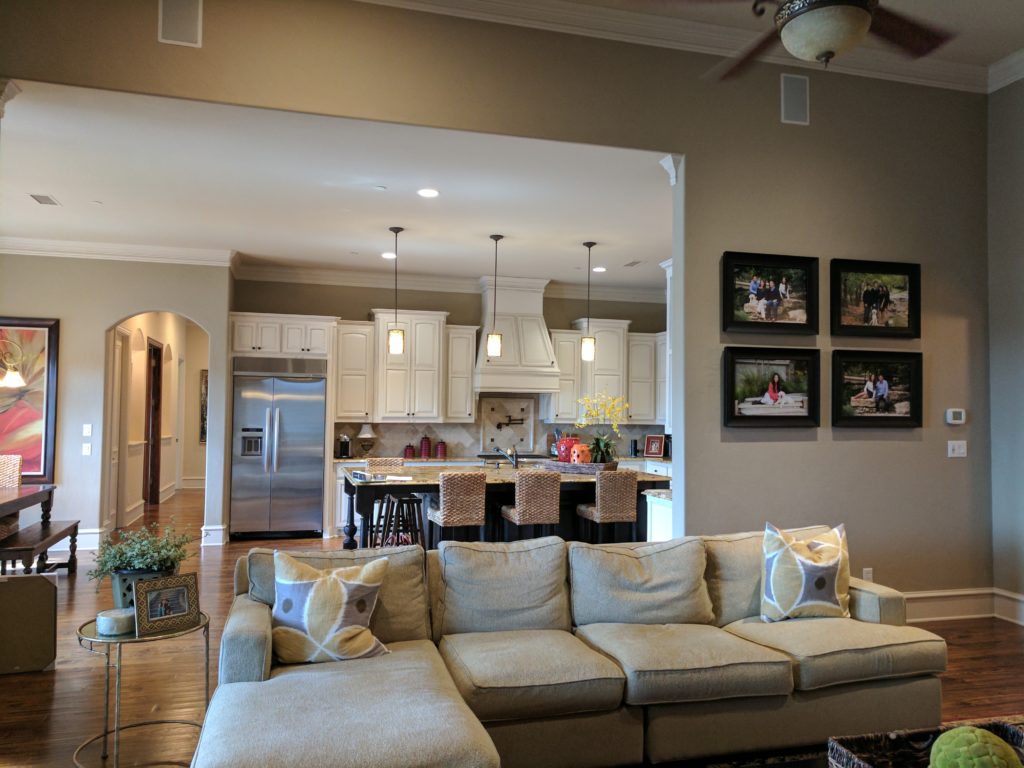 The nice arches on the doorways gave the rooms and entries height. We liked that architectural touch.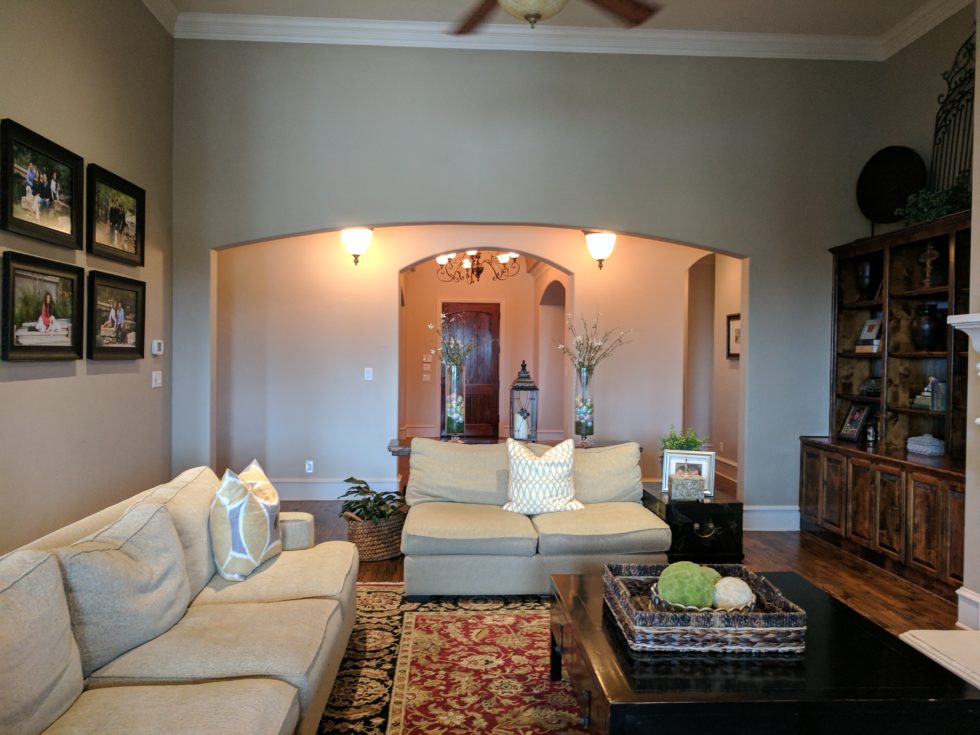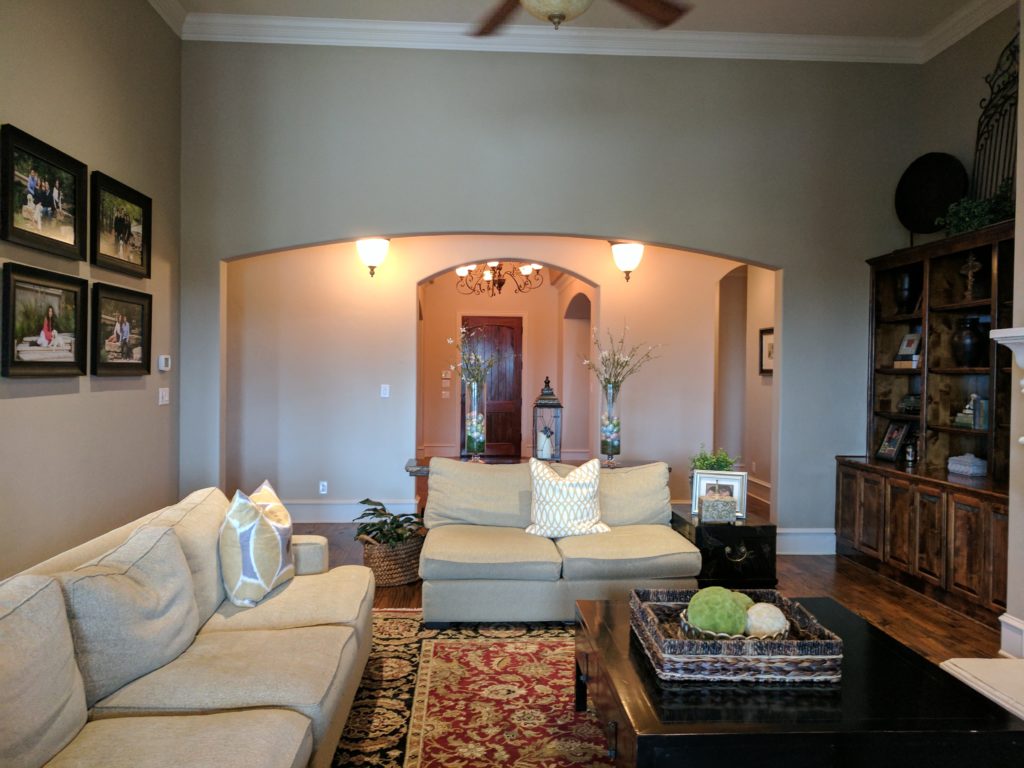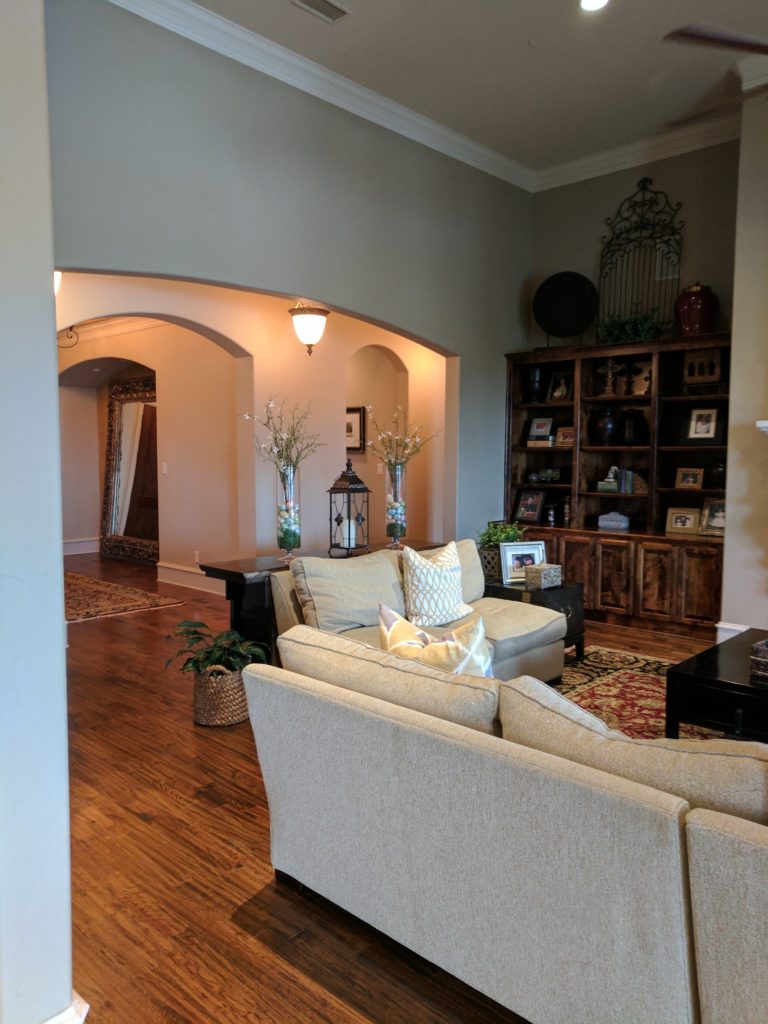 Traditional Architectural Elements In a Modern Living Room Design
Our interior decorators and interior designers do not believe in throwing the baby out with the bathwater. We love to identify and keep the good architectural components of each of the rooms we design. When we assist clients in pre-shopping for homes with realtors, we always look for awesome architectural elements and floor plans that work with the family's lifestyles. In this house, we liked the fireplace, flooring, trims, door casings, and hallways. Wait until you see the hallways. 🙂
We can easily transform this luxury home from dark and bland to light and grand.
Existing Custom Window Treatment Dilemma
Another challenge was designing the client's existing custom window treatments. They had a patterned gold and grey swag with matching panels and a solid grey valance. The patterned fabric was warm in tone, but it had an undertone of grey-green that we had to ensure we blended in our new design.
Of course, we would have loved to ditch the drapes and replaced the traditional swags with something a little more modern, but sometimes budgets do not allow for custom window treatments. Keep scrolling to see how awesome the existing custom window treatments looked in the new room.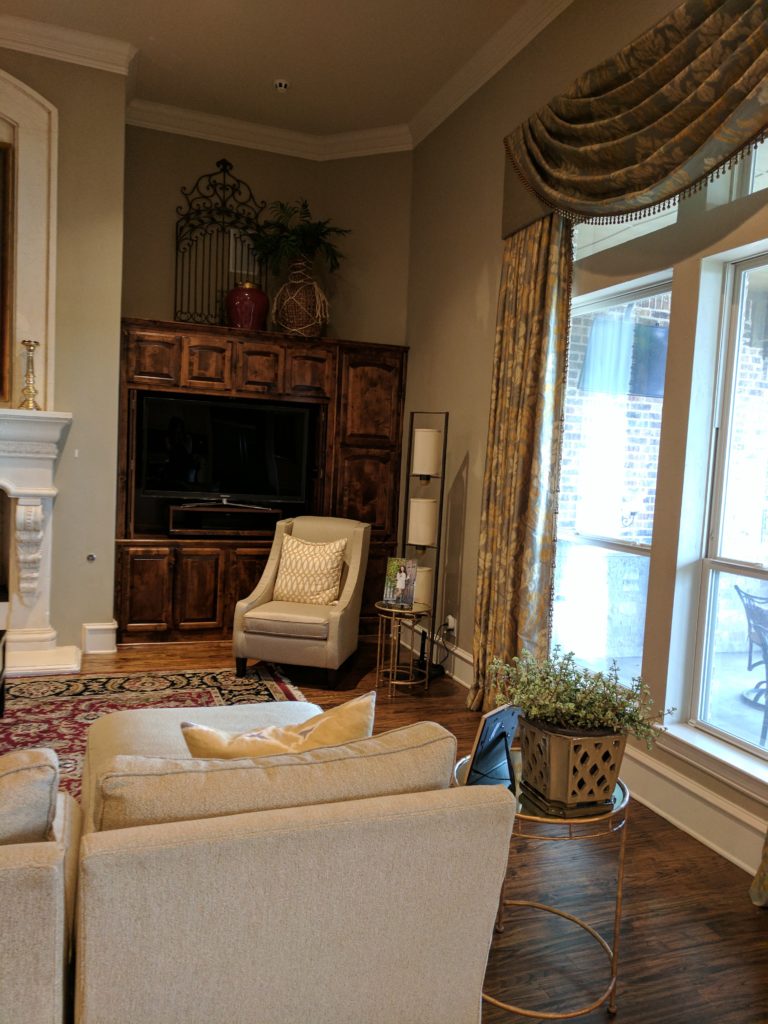 AFTER | INTERIOR DESIGN SOLUTIONS FOR LUXURY LIVING ROOM DECOR IDEAS 
Luxury Living Room Paint Colors
One way we instantly brightened this living room was by giving it a fresh coat of paint light beige paint. To give the room a sense of light, we chose a beige paint tone with a neutral grey base to blend with the warm tones of the client's stained built-ins. The paint immediately gave the room much needed natural light play and the custom window treatments took on a new life.
Custom Modern End Tables With White & Gold Table Lamps
To give the room more functionality we added end tables on either side of the sofa. This also allowed us surfaces for table lamps. The stacked white and gold table lamps created a low-light and instantly brightened the space. Through the added light and color, we were able to achieve the bright living room that the client always wanted.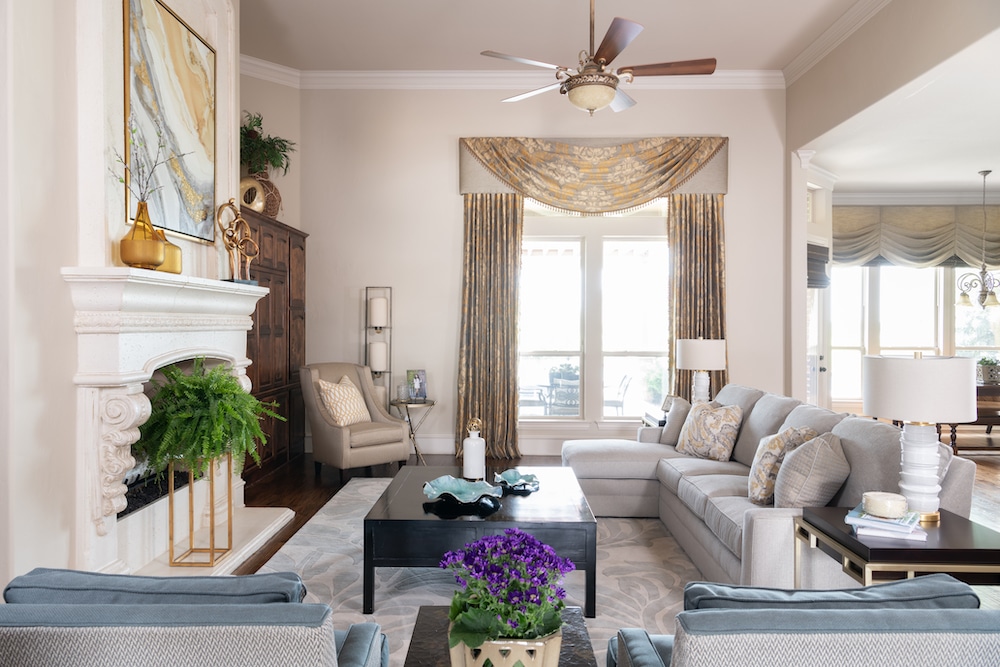 MODERN LIVING ROOM INTERIOR DESIGN IDEAS, LIVING ROOM DECOR IDEAS, MODERN LIVING ROOM DECOR, CUSTOM WINDOW TREATMENTS
Light Modern Rug Provides Balance of Transitional & Contemporary Interior Design Without Going Contemporary Overboard
Replacing the dated red and gold traditional rug with a lighter, white, and gray area rug immediately provides a contemporary updated look. The large pattern of the contemporary rug provides a strong contrast to the wood floor and gave us the opportunity to add more cool tones to the room.
Custom Furniture Designs by Me & My Dallas Interior Designers
We wanted the chairs to stand out as a "wow factor" in the room. The muted blue-green chevron on the outside back (scroll back up to see what I mean) is clearly visible upon entering the house via the front door & foyer area. Remember the black console that was there? If not, scroll up to see what I mean.
We chose a complementary muted blue-green soft-to-the-touch solid fabric for the front of the chairs to keep the sitting area visually calm and colorful.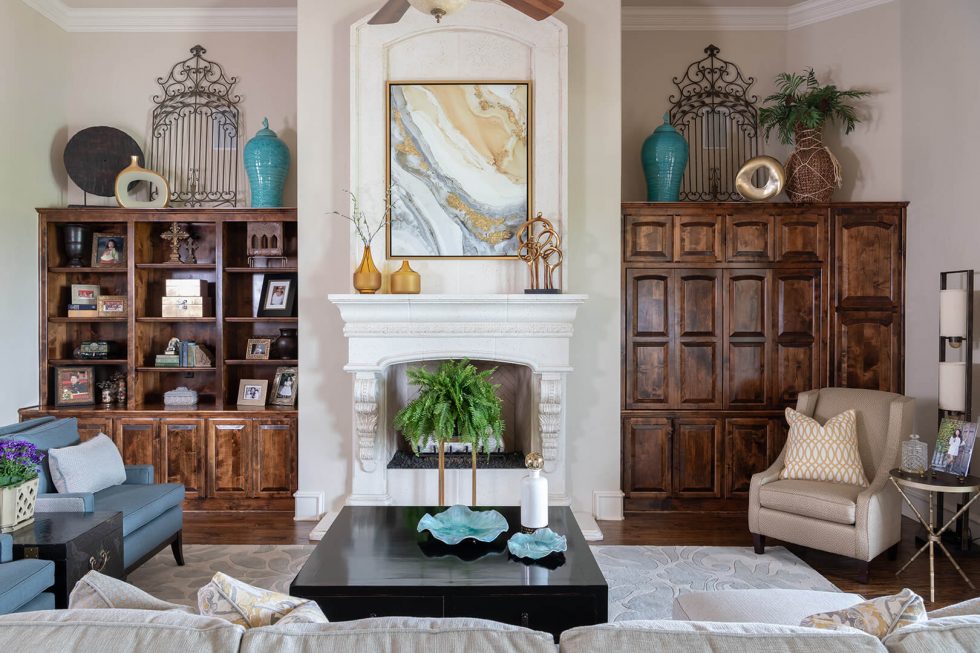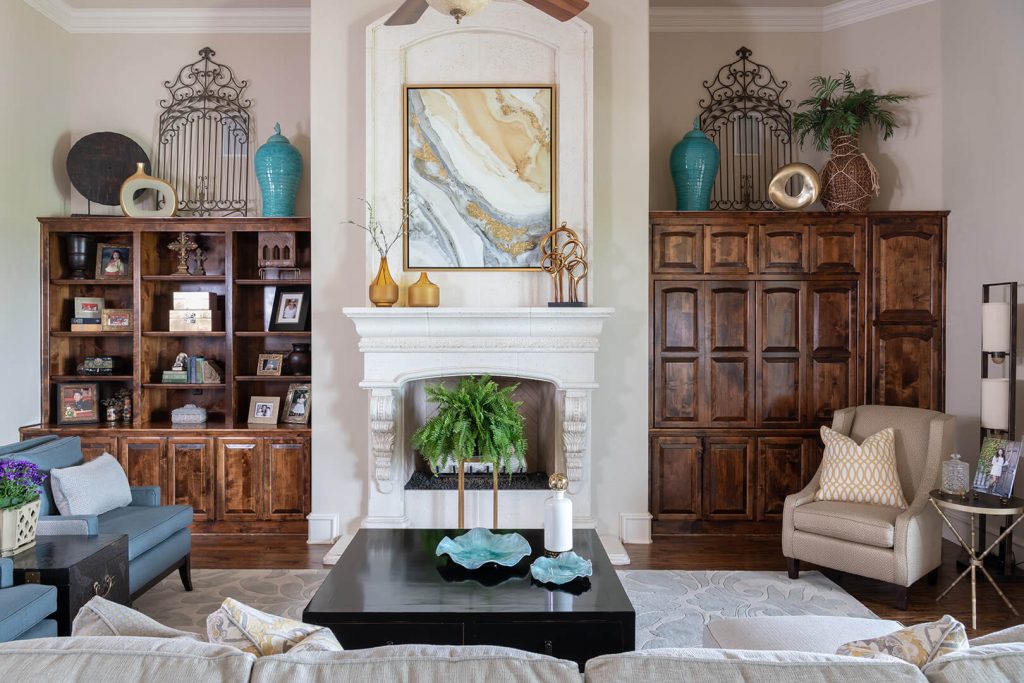 MODERN LIVING ROOM INTERIOR DESIGN IDEAS, LIVING ROOM DECOR IDEAS, MODERN LIVING ROOM DECOR, CUSTOM WINDOW TREATMENTS
Custom Grey Slipper Chairs In Kid-Friendly Performance Fabrics
Another element of the design was updating the sofa and chairs. The clean lines of the new sofa and chairs gave the living room a more structured and sophisticated feel. We designed the custom sofa and chaise in a grey performance fabric to ensure the client was able to easily clean up any potential spills. The grey performance fabric had an undertone of warm gold & green that blended beautifully with the client's existing window treatments.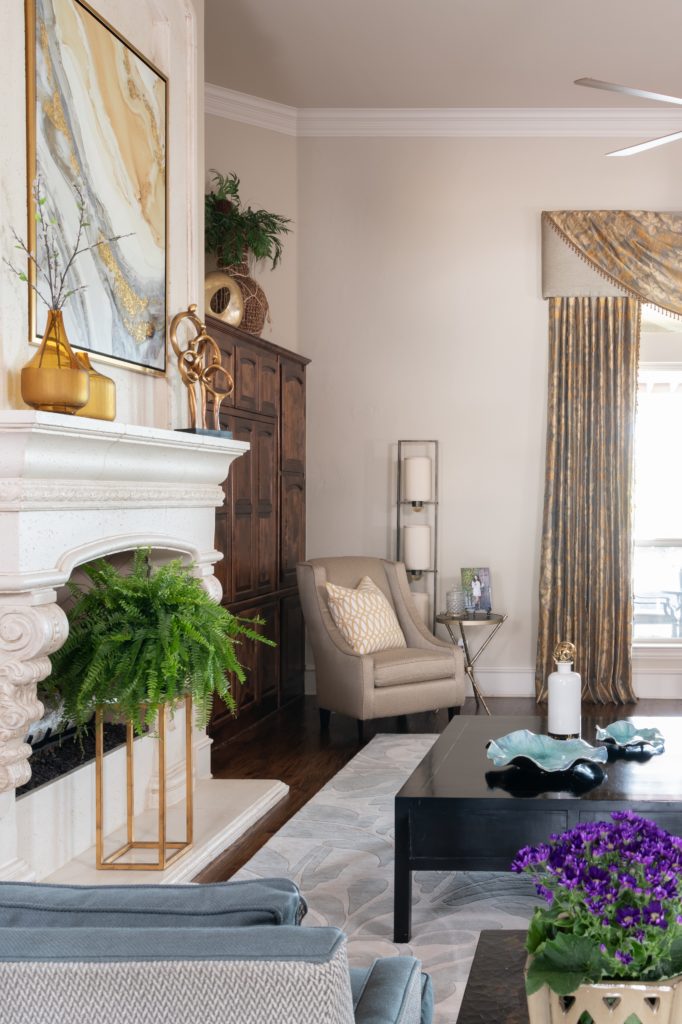 MODERN LIVING ROOM INTERIOR DESIGN IDEAS, LIVING ROOM DECOR IDEAS, MODERN LIVING ROOM DECOR, CUSTOM WINDOW TREATMENTS
What is Performance Fabric?
Performance fabrics are extra durable textiles that are kid-friendly and pet-friendly fabrics. They are more sustainable and allow for human errors such as wine spills, drink spills, and are even colorful candy hand clean up. When looking for new furniture, performance fabric check the box for these durability factors.
1. STAIN RESISTANT FABRICS
Performance fabrics have a moisture barrier that repels water- and oil-based stains. Liquids bead up on performance fabrics rather than absorbing quickly absorb into upholstered custom furniture such as sofas, chaise lounges, chairs, barstools, & other textiles that you use daily. Say goodbye to most, if not all stains. Have your favorite red wine or Nespresso coffee on your new custom sofas & custom chairs as long as they have performance fabrics. Lounge with comfort on a new white or light gray sofa knowing you can kiss grandma's plastic sofa covers good-bye.
2. WEAR RESISTANCE FABRICS 
Our D'KOR HOME performance fabrics are rated for extra heavy wear and stainproof per the Wyzenbeek Test or rubs per minute test.
MODERN LIVING ROOM INTERIOR DESIGN IDEAS, LIVING ROOM DECOR IDEAS, MODERN LIVING ROOM DECOR, CUSTOM WINDOW TREATMENTS
What is a Wyzenbeek test?
It is a process that involves rubbing the textile repeatedly to see how many rubs per minute it takes before the fabric starts to wear out or lose texture. For heavy-duty use on living room custom furniture, Wyzenbeek-approved upholstery requires a rating of 15,000 double rubs. Most of our performance fabrics are rated for 30,000 or more rubs per minute— which is rating recommended for sofas in commercial places such as hotels, restaurants, your doctor's office or any other commercial interior design project.
Rest assured your new custom sofa will withstand years of evening cocktail parties, mornings of coffees, or Netflix binge sessions. Fur-babies like my Leo and Beau will love you for it!
3. ENVIRONMENTALLY FRIENDLY & NON-HAZARDOUS
Yes, we are environmentally conscious.  Our performance fabric sofas not only safe for use in your home design trends 2020, but they're also Earth-friendly and sustainable. They withstand the test of time and are worth every penny as they keep their shape and look the same so that you don't feel the need to dispose of it in 10 years. Plus there are no harmful chemicals necessary to clean the stains, most can be cleaned with soap & water, Mrs. Meyers Cleaning products or Windex.
An updated abstract painting above the fireplace brightened the room and blended our warm and cool tones together.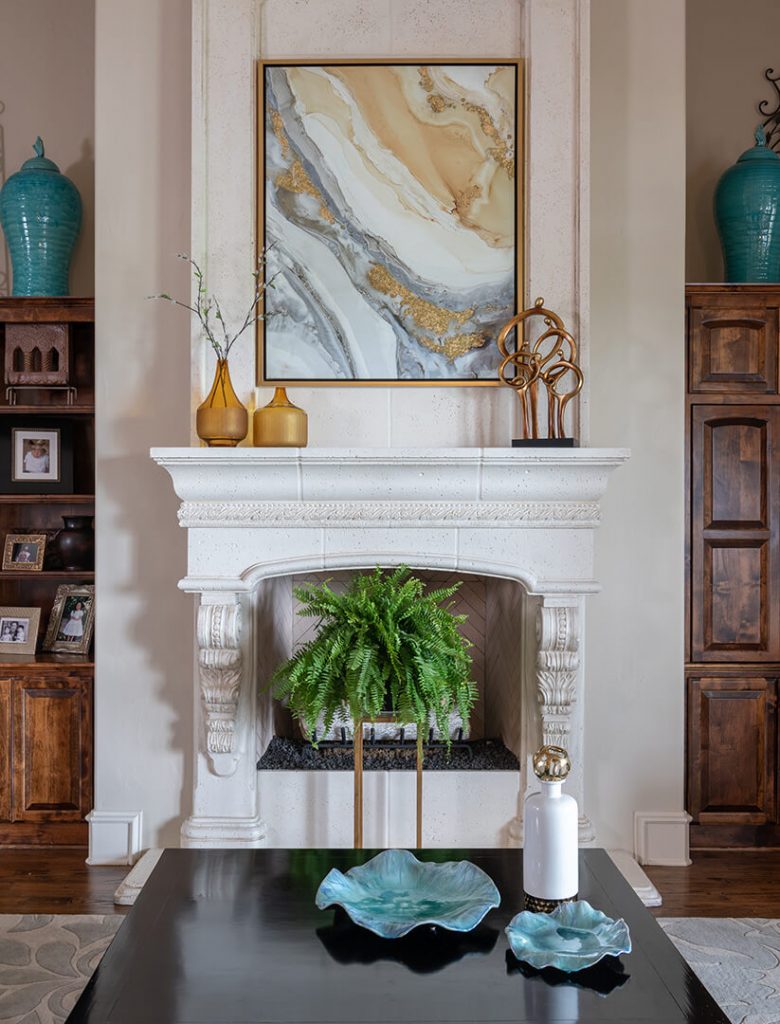 Our Interior Design Dallas Home Decor & Accessories Placement
Gold accessories such as the sculpture and vases on the mantel carried the gold from the window treatment and the warmth from the stained built-ins. By adding colorful accessories such as porcelain bowls for the cocktail table and large teal vases for above the built-ins, we broke the monotony of the previously warm-toned color palette. Scroll back up to see what this looked like before.This living room is now bright and airy thanks to updated furnishings and accessories! The clean lines of the transitional sofa and chairs add sophistication and structure. Various blues, from the vases above the built-ins to the fabric on the chairs, give this living room a fresh, lively look.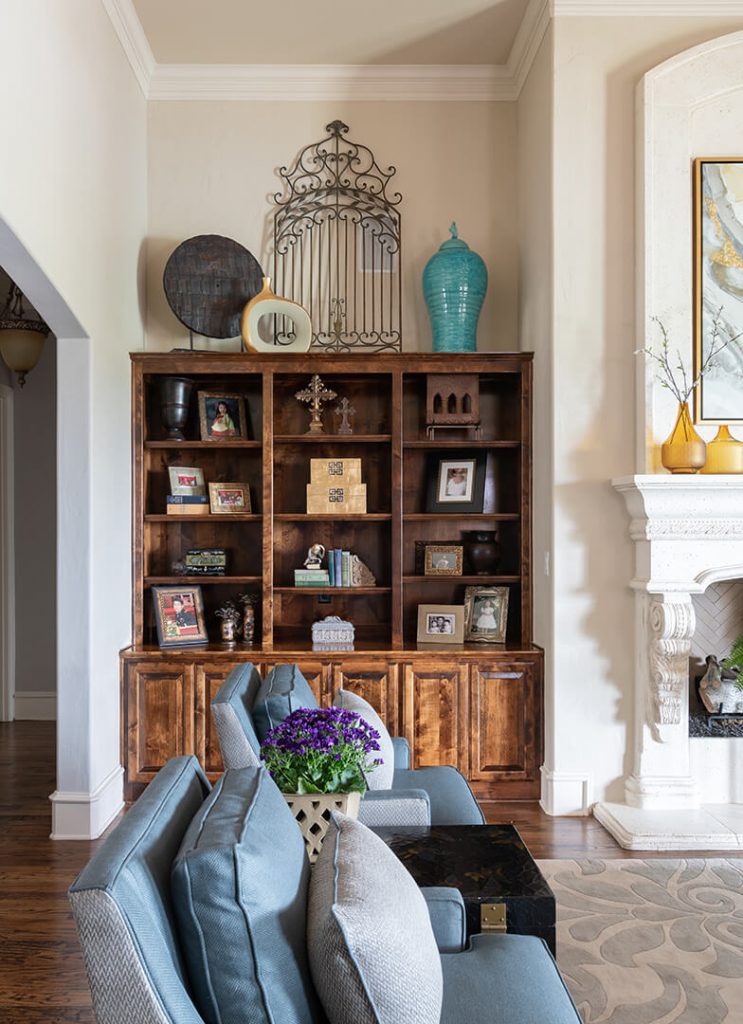 Thanks so much for reading! No matter where you're reading from, we can provide interior design ideas and solutions for your house on your budget. All you have to do is schedule a complimentary 30-minute interior design consultation to meet one of our residential interior design firms Dallas. We can meet each other and tell you all about our interior design process.
Oh! One more thing…
Are you on social media? If so, follow me and my interior designers and interior decorators on Instagram, Facebook, Pinterest, Twitter, or Linkedin. You won't believe some of the fun stuff that goes behind the scenes of our residential interior design projects. 
Dee
P.S. Click here to tour 20+ Amazing Plano, Frisco, Allen & Dallas, TX Interior Design Projects
P.S.S. View our latest issue of D'KOR HOME design magazine.
P.S.S.S. Book your complimentary consultation with one of our Dallas interior designers. 
Pin this if you want to remember this interior design blog post…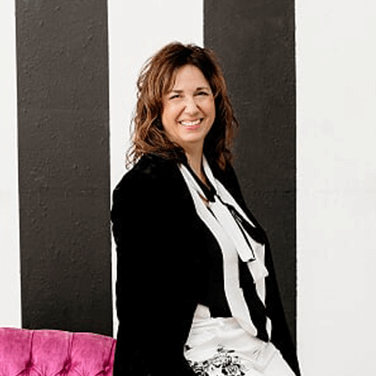 Chief D'KORator, Voted "Best of Houzz" for Dallas Interior Designers, Early Riser, Coffee Lover, Gardening Guru, Estate Sale Maven, Mover, Shaker, Wife, & Mom