With the self-isolation many families worldwide are under, I thought it would change our moods if we begin introducing vertical gardens into our homes or condo balconies. After all, plants produce much-needed oxygen and alter our moods.
Visually, in my research for my recent residential interior design firms dallas project, I wanted to share some of my findings with you all. Before introducing vertical garden wall ideas to my interior design client, I'll love your feedback, likes, and dislikes on these ideas. Do you like any of these concepts for a condo or apartment balcony?
Green garden walls are a perfect combination of nature and modern design suitable for large and small interiors. Vertical garden walls can include moss, grass, plants, mobile green walls alone, or other materials. The possibilities of creating compositions from panels are endless. They can be used as artistic pieces such as paintings, or an entire wall can be changed to a green surface.
Throughout this post, you'll see…
The Coolest Vertical Walls In The World For Interiors or Condo & Apartment Balconies
What are the health benefits of garden walls?
According to NASA, plants filter toxins and improve air quality. Besides turning carbon dioxide into oxygen, live plants also absorb harmful VOCs, formaldehyde, and benzene, which are off-gassed by fabrics, home fragrance products, rugs, cigarettes, and plastic.
1. One Type of Greenery Mixed With Hard Surfaces Creates a Wallpaper Effect.
Vertical garden walls look awesome mixed with hard surfaces such as tile, granite, and marble.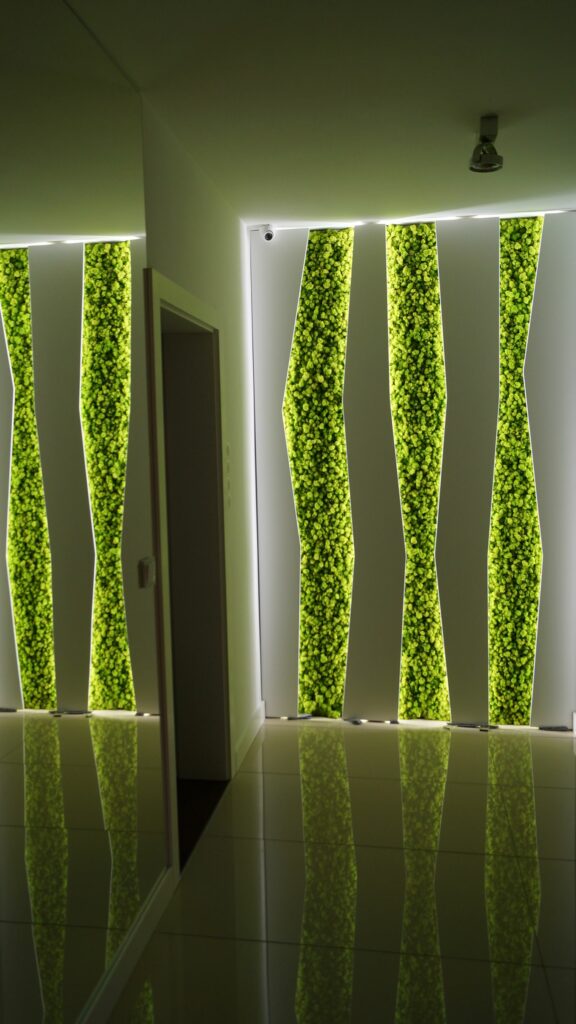 2. Half Wall Vertical Wall Gardens With Artificial Plants.
Being lovers of green interiors, which is why we would like to encourage you to create vertical gardens with moss and plants in your homes and workplaces. In the restaurant, Dare, the commercial interior designer used faux plant material installed on a two-inch by two-inch black wire panel.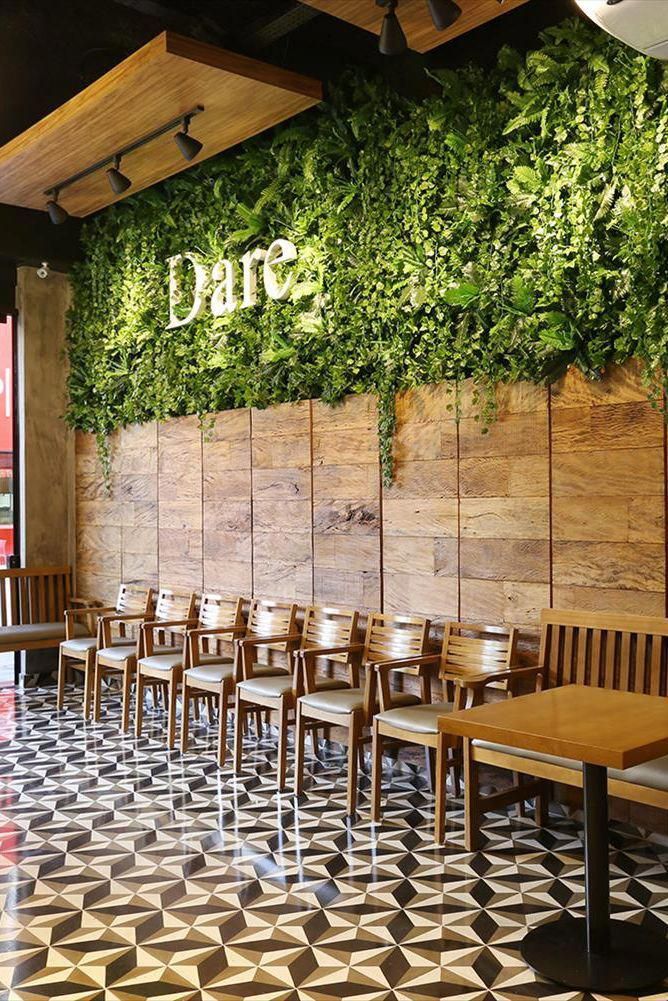 3. Shapes Used As Room Dividers Filled With Moss & Succulents.
A great solution for commercial spaces is to use squares and circles or other shapes in a pattern to create an amazing wallpaper effect for a vertical garden wall to serve as a screen or room divider.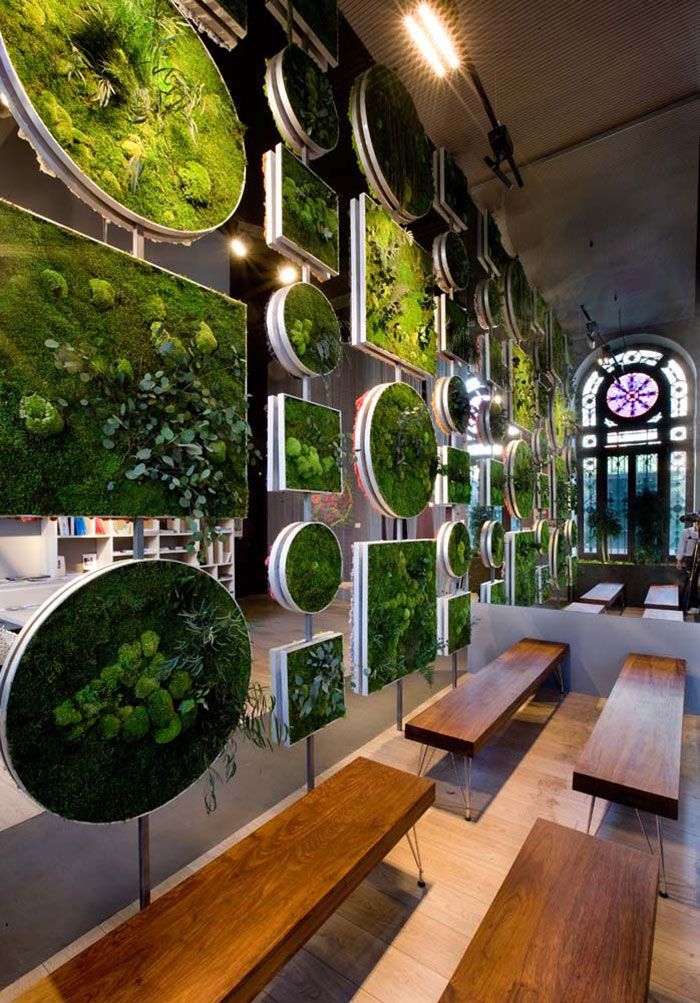 Monamour Natural Design in Casa Decor 2012 / Madrid – "Screen Divider," The Nature Collection / Vertical garden with preserved plants designed by Claudia Bono
4. Floating Shapes With Moss.
I love this architectural floating suspended maintenance-free moss vertical wall garden. It was created by Monamour Natural Design's General Director  Denis Broduriès is a French entrepreneur pioneering the introduction in Spain of vertical gardens and organic elements without indoor maintenance. The Chief Designer and Creative Director, Claudia Bonollo, is an artist and architect with a deep interest in research and constant innovation.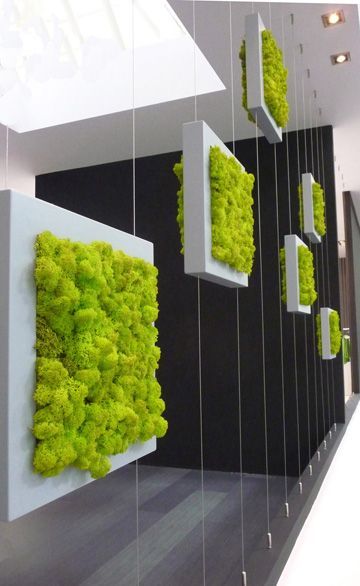 5. Geometrical Wooden Moss Garden Room Divider.
Commercially or in residential design projects, the visual separation with a maintenance-free garden wall is super interesting and can be a much less costly build-out than a typical construction build-out.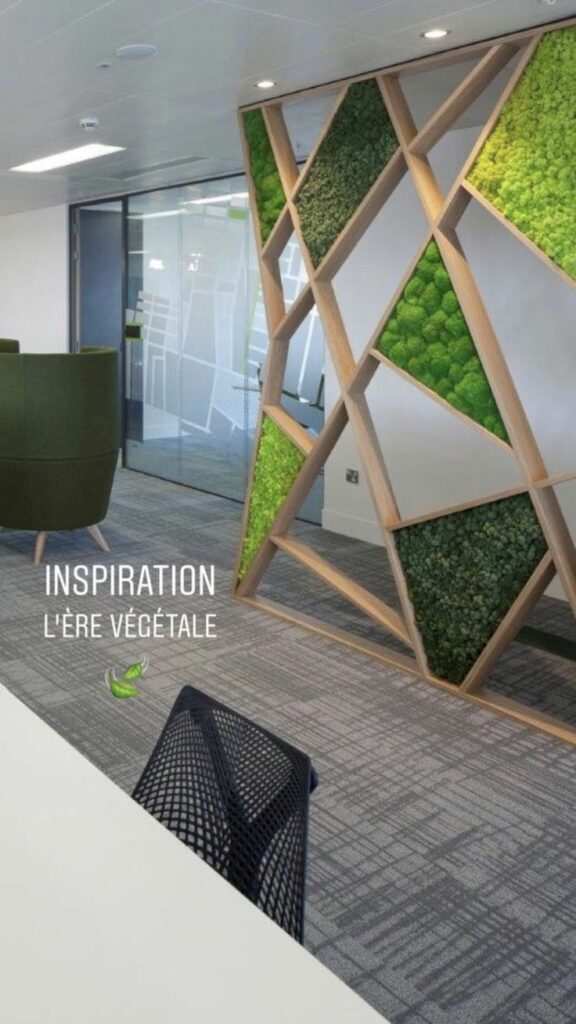 The Vegetal era | VEGETABLE WALL WITHOUT MAINTENANCE | Stabilized plants | Vertical Walls | Vertical Garden Wall Ideas | Condo Balcony Ideas | Apartment Balcony Ideas
6. Convert A Bookshelf To A DIY Vertical Garden.
The way to apply a DIY vertical garden is quite easy if you have an old bookshelf or shape to use as the vertical garden's base.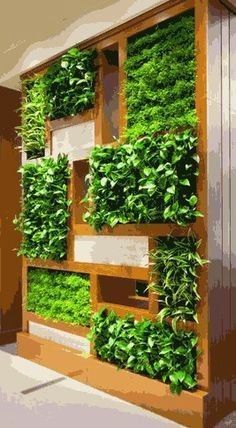 7. Exterior Vertical Garden Wall Ideas.
My dream exterior real vertical garden wall! Seriously, this is the lushest garden wall I've seen yet!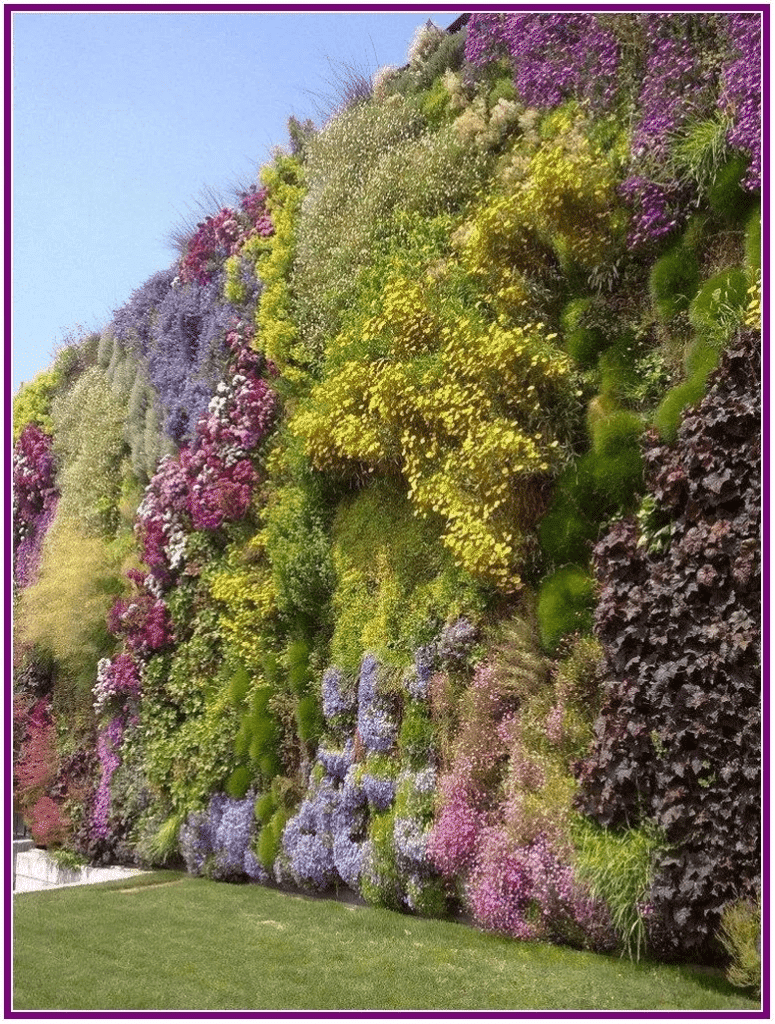 8. Linear Architectural Garden Wall w/ Built-In Seating.
One of the most practical garden walls I've discovered is this beautiful contemporary linear garden wall with built-in benches.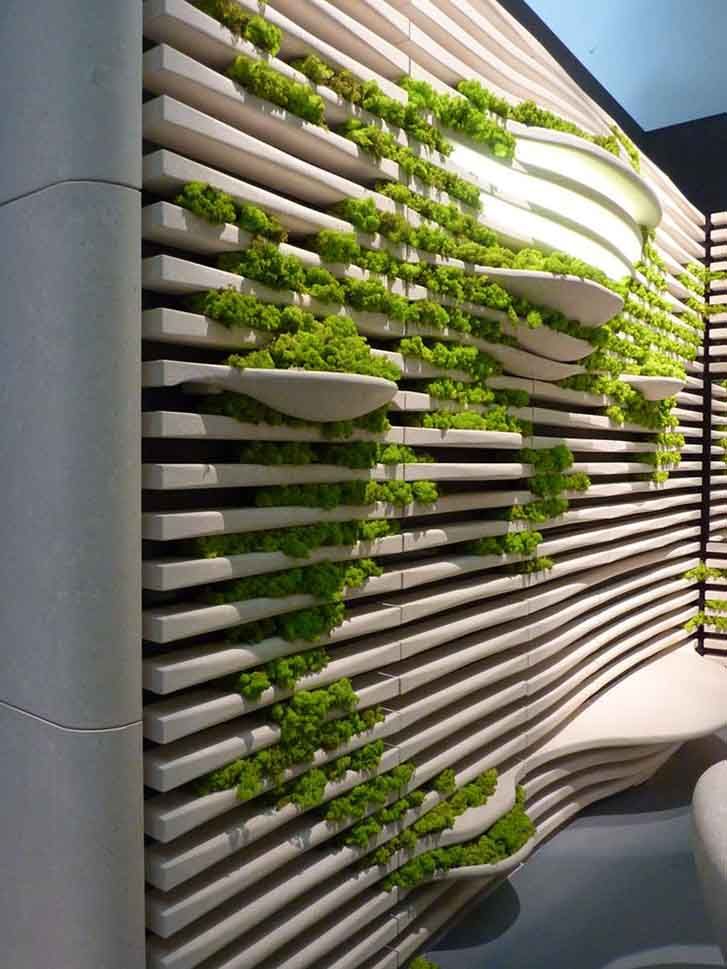 gardenersguide.net
Best Vertical Garden Ideas| Vertical Garden Ideas | Vertical Garden Wall Ideas | Condo Balcony Ideas | Apartment Balcony Ideas | Rooftop Garden Ideas
9. Lush Greenery Indoor Plants On Mid-Century Modern Style Garden Wall.
While this one may look like an easy one to maintain, it's all plants that require watering. The mechanics behind this garden wall are essential.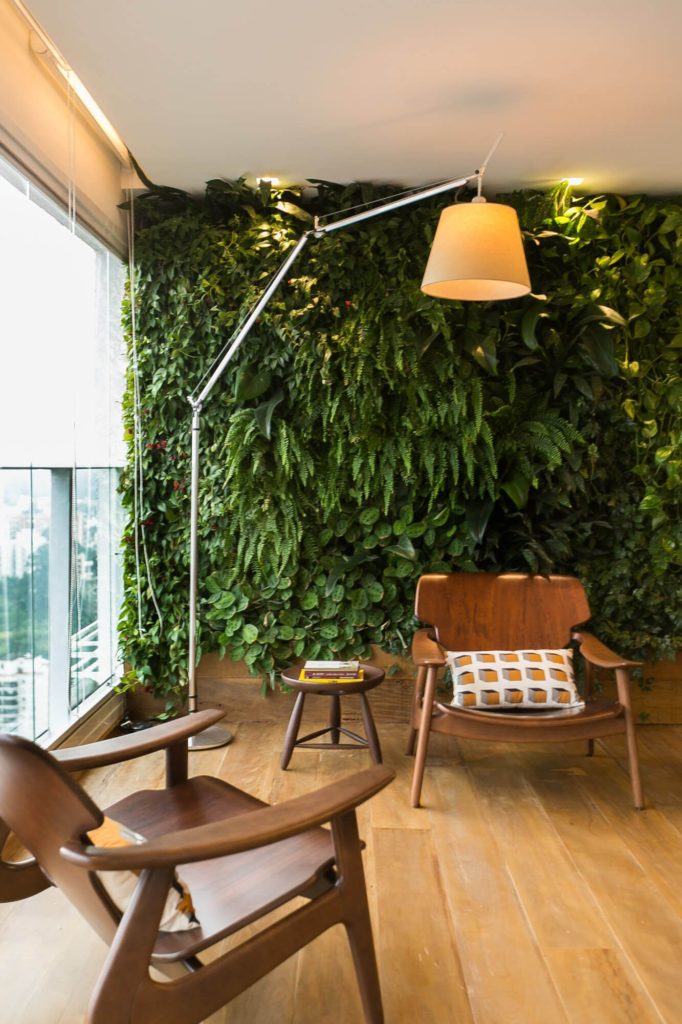 10. Indoor
Vertical Herb Garden Wall. 
An indoor vertical garden is a great way to add some decoration to your home that could also be an efficient move for kitchens or mudrooms. Add life inside of the home and serve a purpose greater than design. Herbs are one of the Earth's most natural resources for your health and digestion. Herbs would require a little more maintenance, but still would be fairly simple and ideal for any kitchen or other room. It could be as short or as tall as you'd like and could add some great color to an otherwise simple kitchen.
Vertical Garden Ideas | Vertical Garden Wall Ideas | Condo Balcony Ideas | Apartment Balcony Ideas | Rooftop Garden Ideas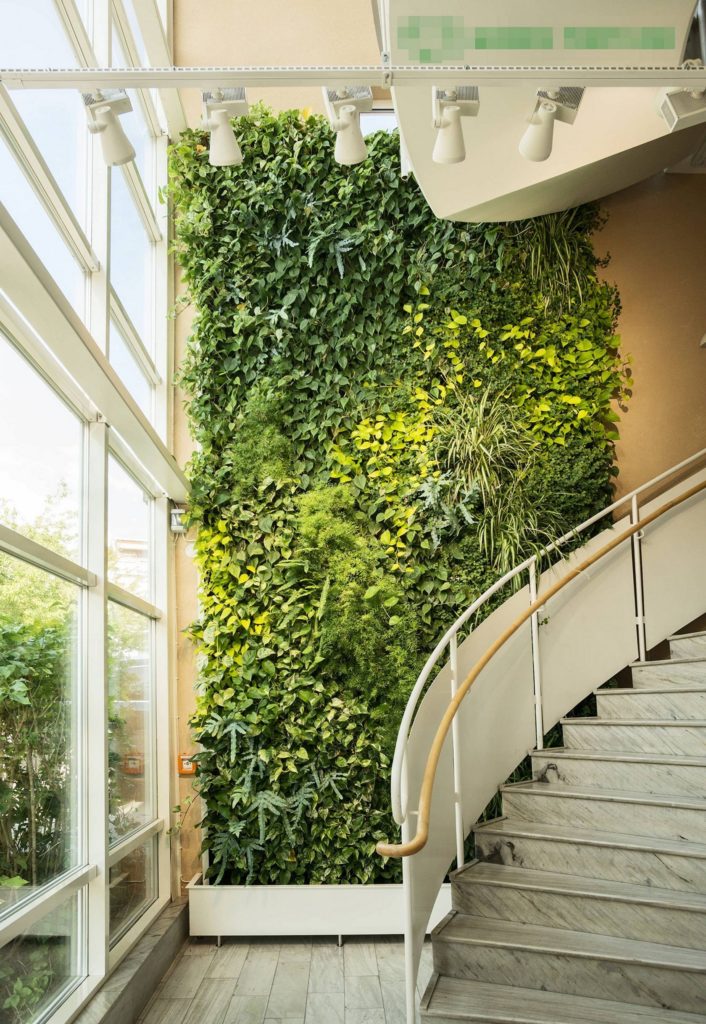 11. Large Scaled Outdoor Wall Garden.
Perfect for privacy and visual appearances, outdoor wall gardens are by far the easiest to maintain. Consult a gardener or landscape architect to ensure you're investing in plant materials that grow well and are easily maintained in a walled garden.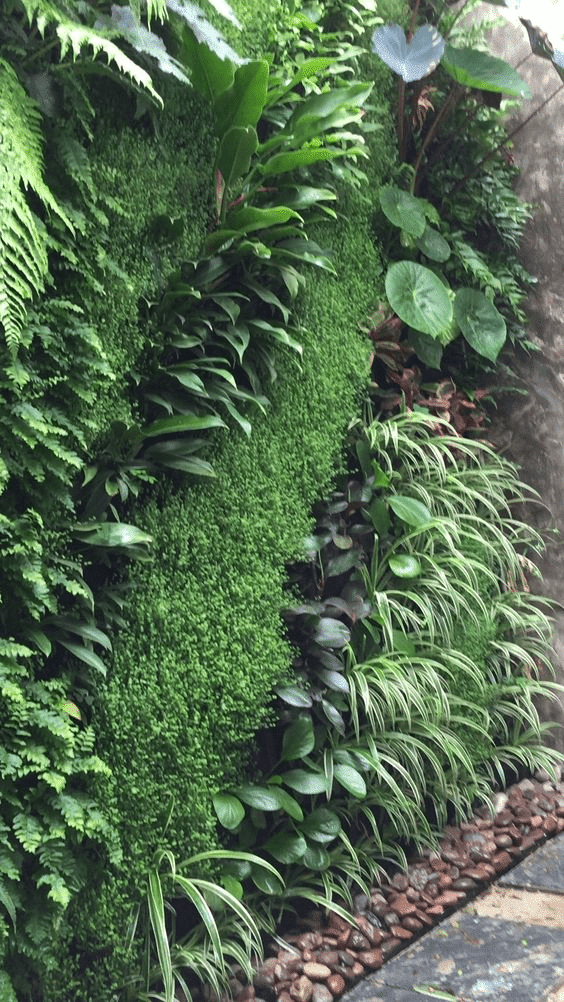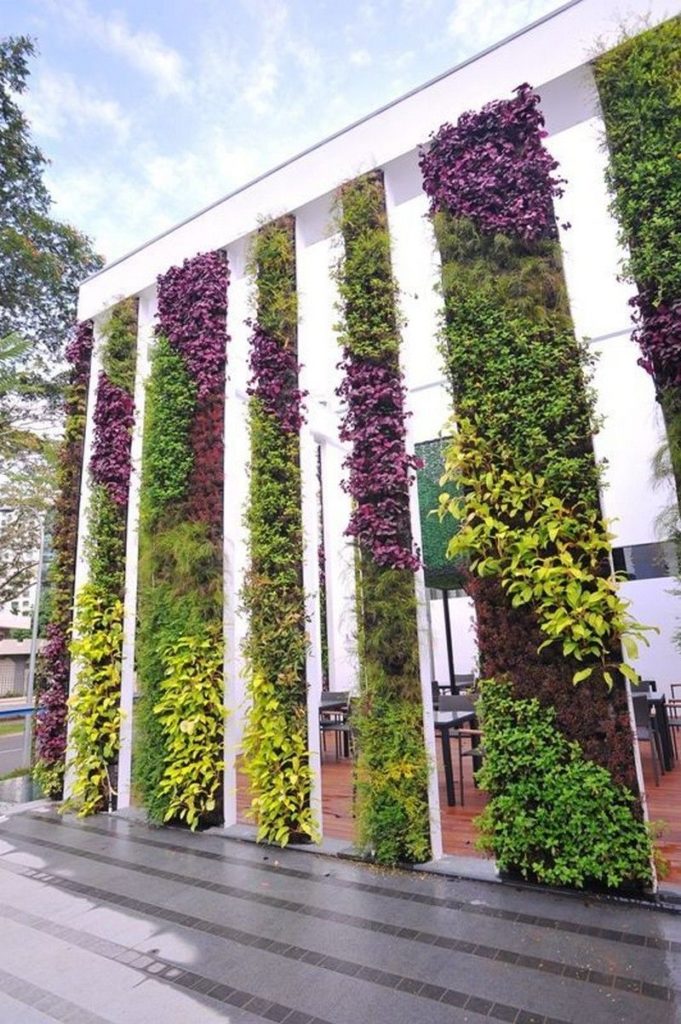 Vertical Garden Ideas | Vertical Garden Wall Ideas | Condo Balcony Ideas | Apartment Balcony Ideas | Rooftop Garden Ideas
14. Eye Catching Vertical Gardens Beautify Any Plain Wall
The majority of people love to have lawns and gardens in their homes. Most of us do not like to maintain or take care of them. The costs can be out of control, and there's always a better way. People either love gardening or despise it. As long as the garden wall's construction is good and plant maintenance functionality is incorporated, your vertical wall garden can take care of itself.
15. Bathroom Succulent Wall Garden
A succulent wall planter could have an endless variety of blossoms, cacti, and colors to act as living artwork within the home. Succulents are very easy to maintain and do not require much water, so there will not be too much mess. I love this beautiful, easy-to-maintain succulent wall garden behind this freestanding master bathroom spa-like tub.
Green wall design, vertical gardens for interior decorating | lushome.com | Vertical Walls | Vertical Garden Wall Ideas | Condo Balcony Ideas | Apartment Balcony Ideas
16. Reduce Sound Bounce | Mixed Sheet Moss & Reindeer Moss Garden Wall
In open spaces, bouncing sounds can make a room feel hollow, empty, and miserable to function in. Using materials such as wood or, in this case, sheet moss and reindeer moss significantly reduces the sound bounce. As urbanites get more isolated from the natural world, their desire to maintain some connection has inspired creative new interior design ideas like moss walls to fill their needs. Moss walls are a beautiful and relatively low-maintenance way to bring some beautiful nature into your home.
boredpanda.com | Vertical Walls | Vertical Garden Wall Ideas | Condo Balcony Ideas | Apartment Balcony Ide
17. Shaped Shurbery Modern Garden Walls
Romantic and visually stunning, shaped shrubbery garden walls are always sophisticated touches on a home's exterior. Instantly speaking manicured, this lovely heart-shaped tree shrubbery is absolutely stunning.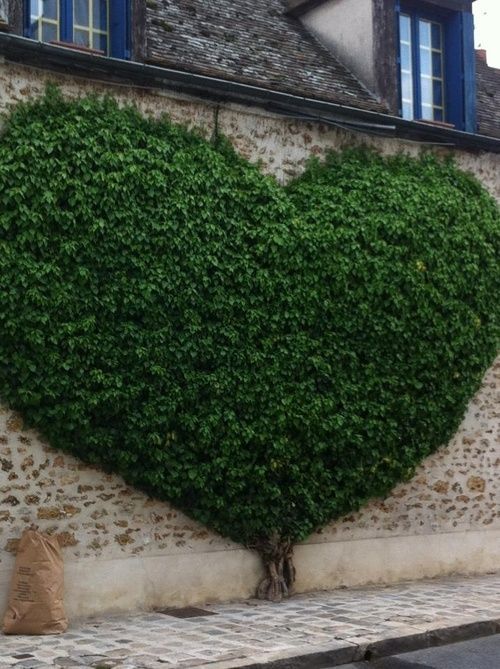 yardsurfer.com
How To Shape Garden Wall Plants & Shrubbery?
Start with a string garden trellis by using string garden wires. Instead of wood or iron, you can use strings for the plants to grow on to.
18. Use Garden Trellises To Create Artistic Shapes
Garden trellises are something you wouldn't want to miss as they offer functionality and aesthetics like no other garden structure. Easily create arbors, lattices, frames, structures, and panels called garden trellis that make the outside world architecturally interesting. Think of it as bringing artistic shape to your yard and neighborhood.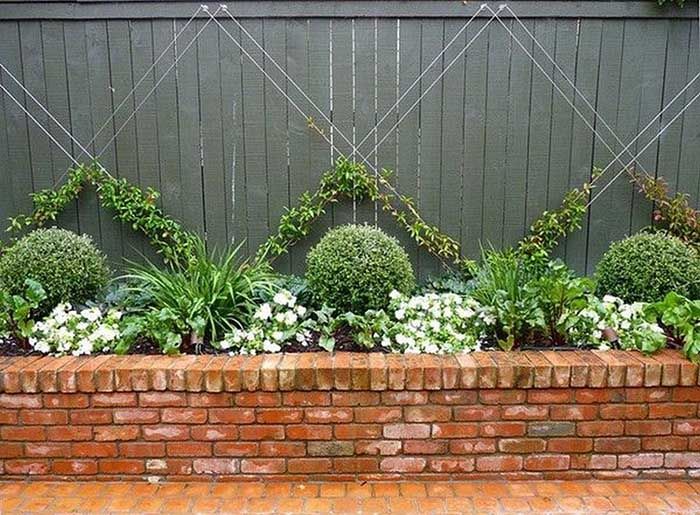 19. Bamboo Trees & Privacy Tree Ideas | Rooftop Garden Ideas
Extend the height of your home's privacy walls with trees. Bamboo trees can be costly at first, but they grow really fast and tall for maximum privacy, and they are easy to shape. Yes, they can drop leaves, so be prepared for a little cleanup, but the architectural look and benefits to your health are worth it. These bamboo trees' ideas are on a rooftop garden. You can imagine the rooftop aesthetics without the trees and the mahogany flooring and planter hiding the pots.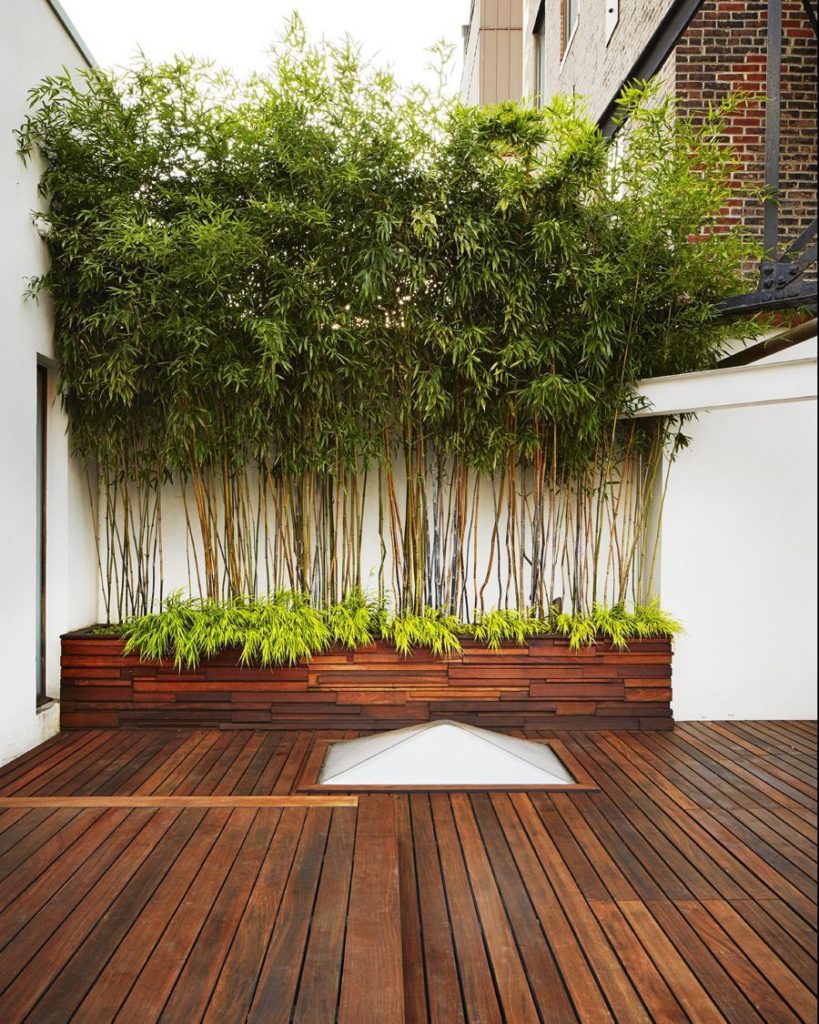 Vertical Garden Ideas | Vertical Garden Wall Ideas | Condo Balcony Ideas | Apartment Balcony Ideas | Rooftop Garden Ideas
Apartment Balcony Ideas | Condo Balcony Ideas
20. Balcony Garden Wall Ideas | Inspiring Small Balcony Garden Ideas For Small Apartment
On most balconies, there is no room for planted pots. Depending on your condominium association bylaws or rules, a walled garden can be a beautiful asset to your balcony and save space. Outdoor vertical balcony gardens can be functional and practical. Most balconies can easily grow herbs for cooking, succulents, or useful plants such as aloe plants that heal various ailments, including burns or sunburns.
Incorporating water in your balcony garden provides you with a refreshing retreat. Some balconies are incredibly small, which makes it hard to construct an adequate garden. Still, there are many different balcony garden designs to try, and vertical gardening is a significant solution. Tiered gardens are excellent for smaller spaces.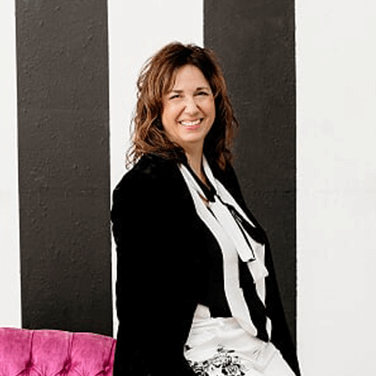 Chief D'KORator, Voted "Best of Houzz" for Dallas Interior Designers, Early Riser, Coffee Lover, Gardening Guru, Estate Sale Maven, Mover, Shaker, Wife, & Mom