Black & White Interiors Trends With Amazing Art Deco Silhouettes & Patterned Bone Inlay Focal Furniture
Black and white home furnishings are clean and are used for more modern and organic home interiors. In this post, you'll find the best of black & white design trends with impressive Art Deco style furniture silhouettes and patterned bone inlay focal furniture.
Bone Inlay Furniture Home Trend 2022 for Black & White Interiors
First comes…
What is bone inlay? How is bone inlay furniture made?
Bone inlay is also known as intarsia. Bone inlay is a home decor trend in which fragments of bone or shell are cut and placed in a pattern to adhere to the frame of a furniture piece. It is most commonly used on flat surfaces – such as the sides and tops of tables or the front of a sideboard.
Bone Inlay Furniture Ideas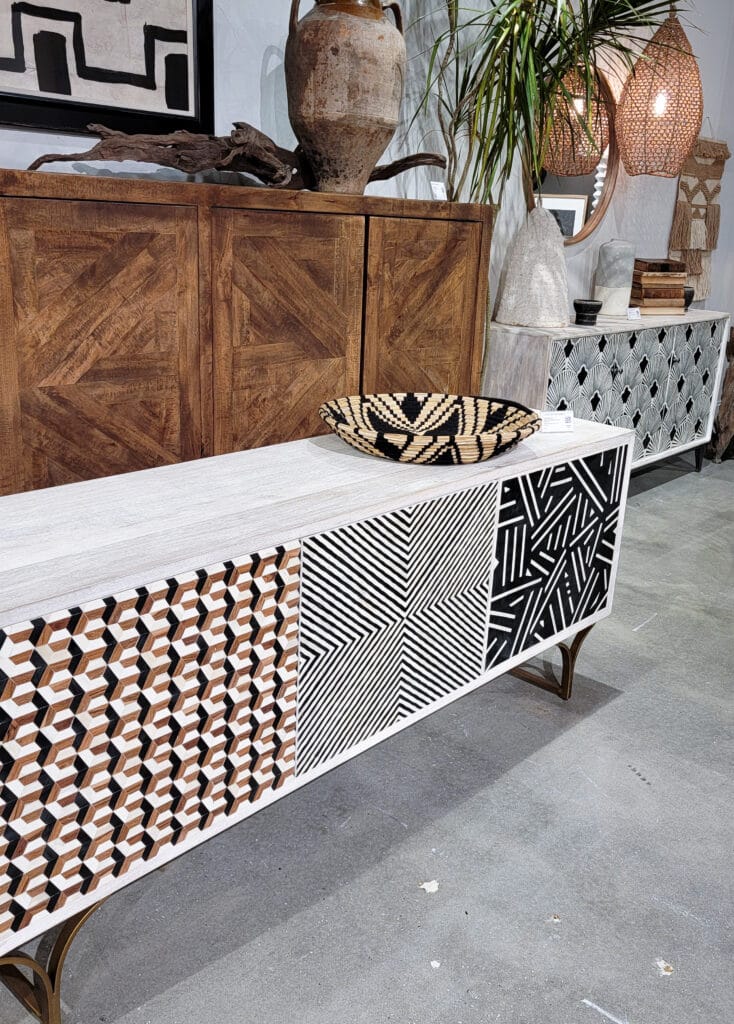 It's relatively uncommon to see bone inlay furniture patterns mixed in the Hooker Furniture console above, but we liked it for black & white interiors or to add to a home filled with color.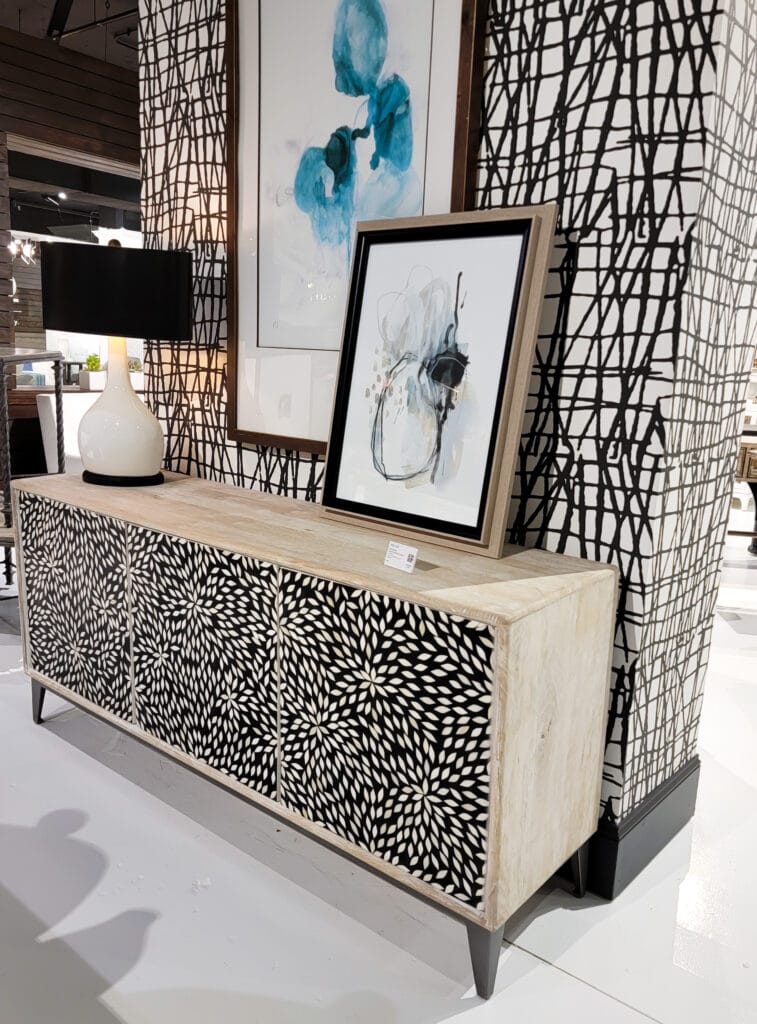 The Hooker kaleidoscope geometric prism console created with the bone inlaid technique was gorgeous.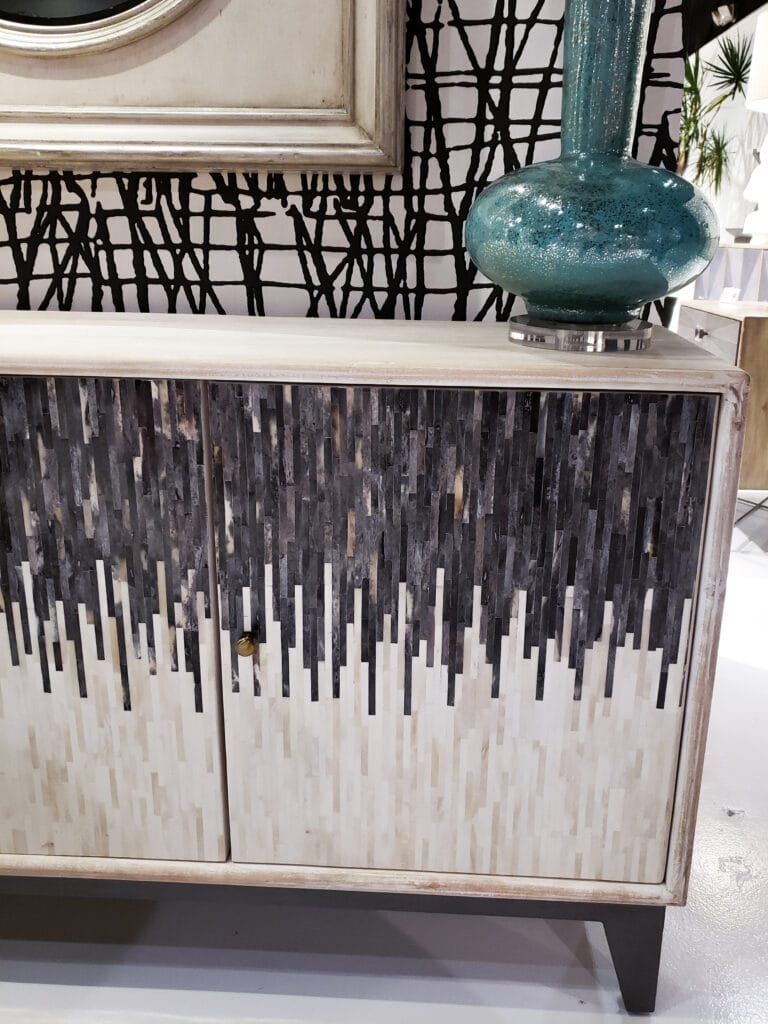 Simplistic and uncomplicated, this black and white pattern bone inlay console would work with almost any home decor – modern or traditional.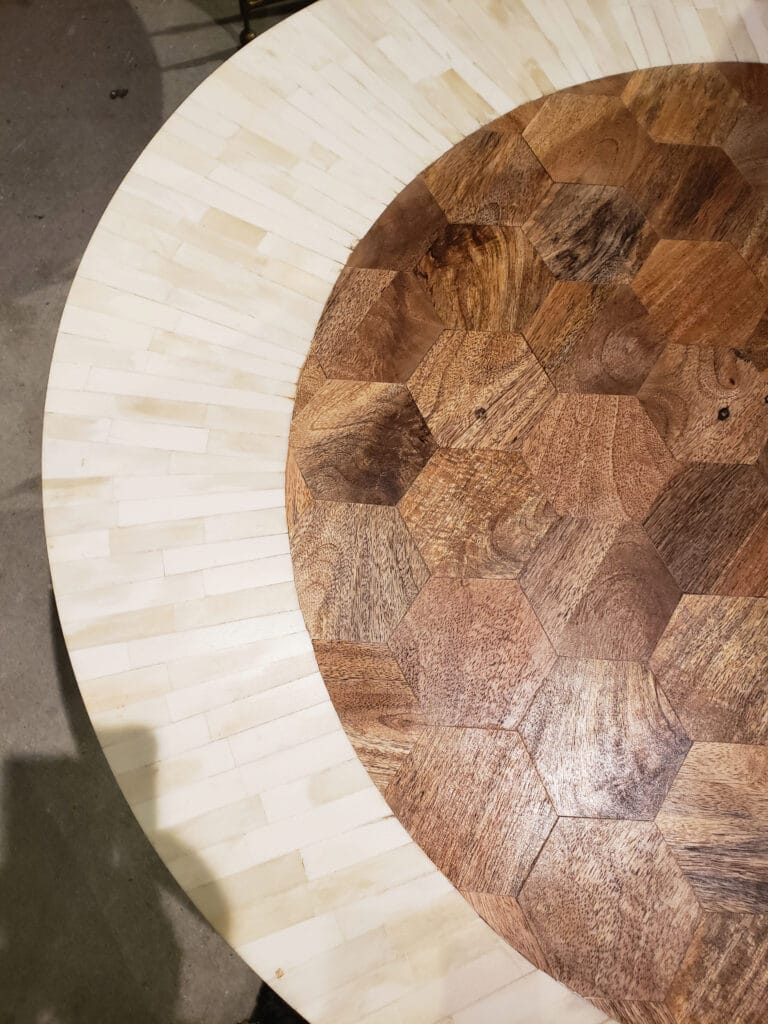 Mixing the creamy-edged bone inlay naturally finished patterned hexagon table would be stunning with any black and white home decor. It also works well for our interior design projects when clients are leaning toward an art deco-style home.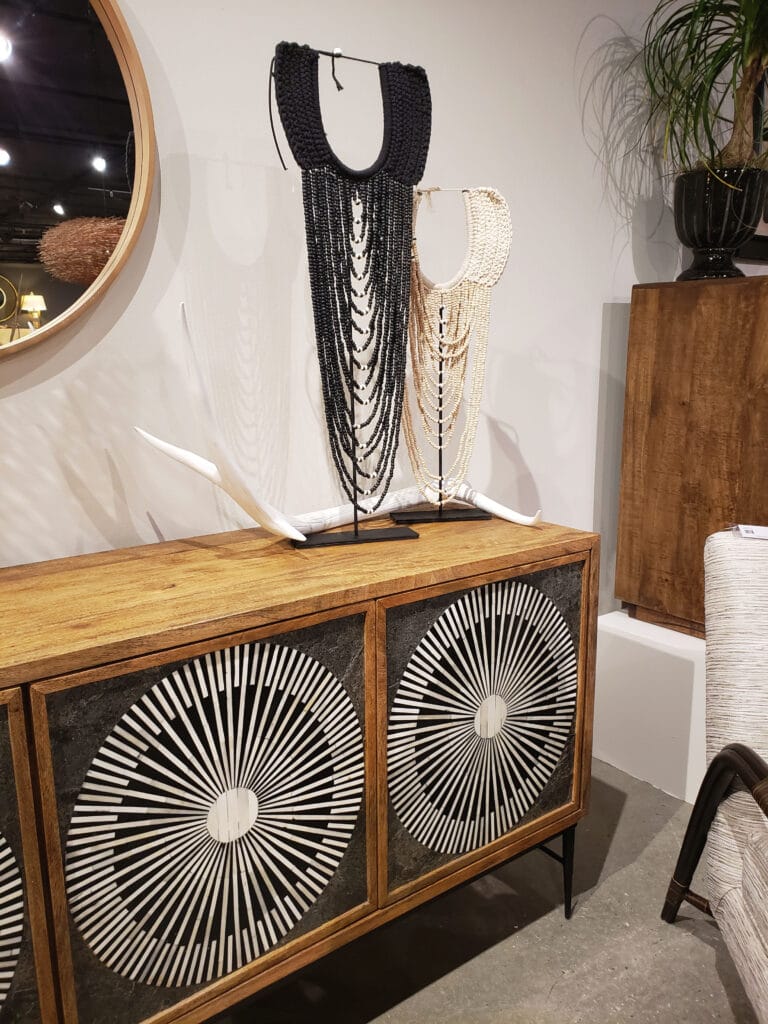 Geometry mixed with black and white door fronts and stained organic wood make a great keepsake focal piece for entryways, bedrooms, family rooms, or kitchens.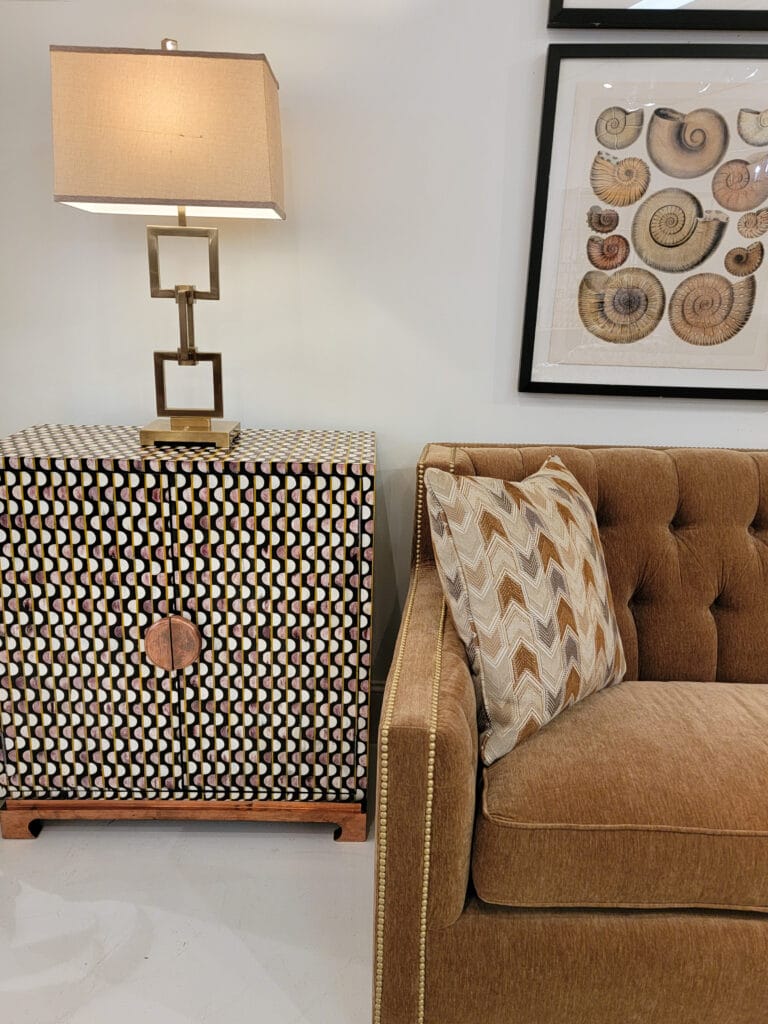 A bone inlay chest is almost always in black & white paired with stained wood, making a statement in otherwise neutral spaces.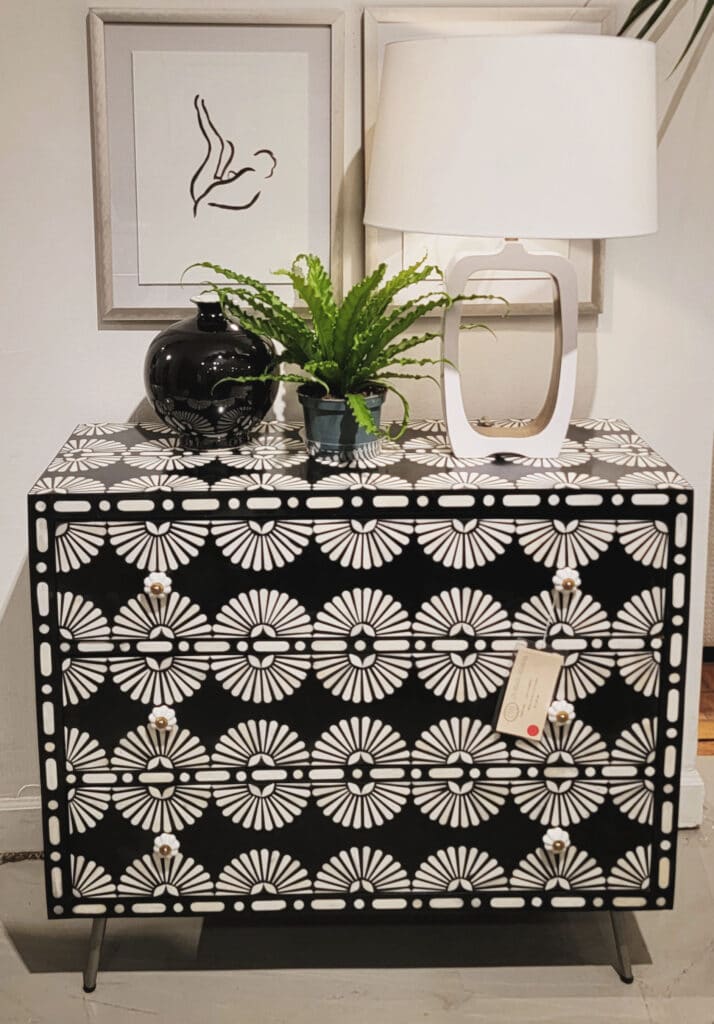 This fantastic Art Deco geometric fan pattern works nicely in traditional and modern decor. This three-drawer bone inlay chest would work beautifully as master nightstands, in a foyer, in a dining room, or it could even convert to a powder room sink cabinet.
Home Design Trend | Black & White Interiors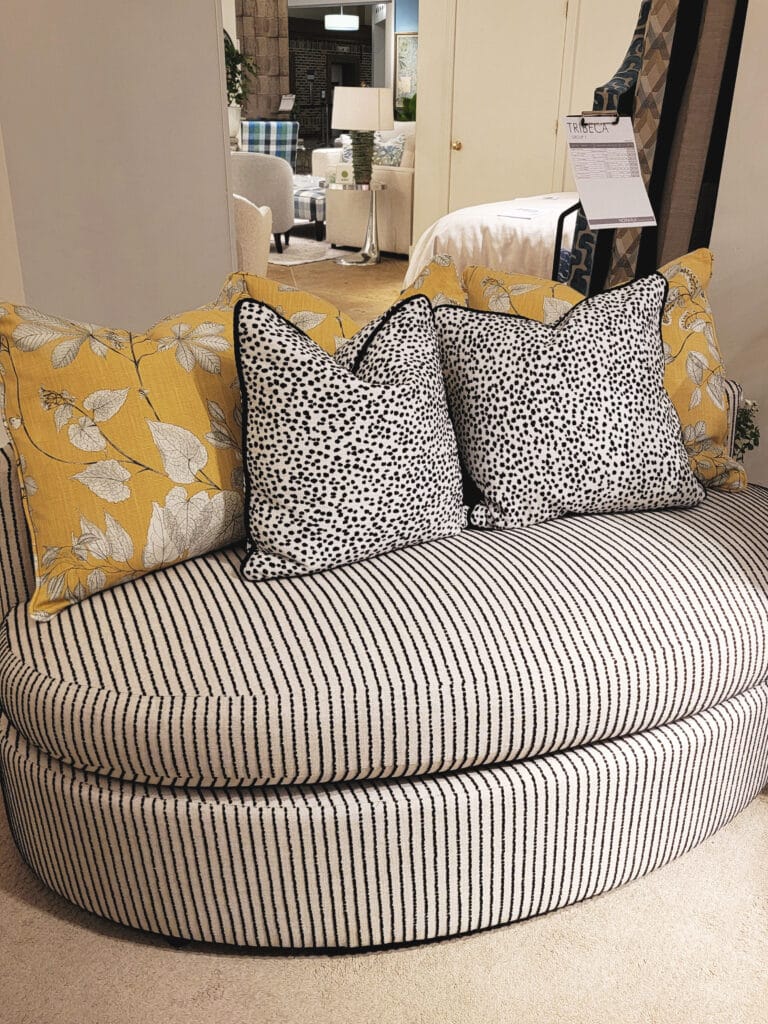 This black & white stripe Norwalk settee is terrific in both comfort and functionality. It pairs nicely with almost any color. Be inspired by our most colorful rooms or colorful home office designs.
Black & White Rugs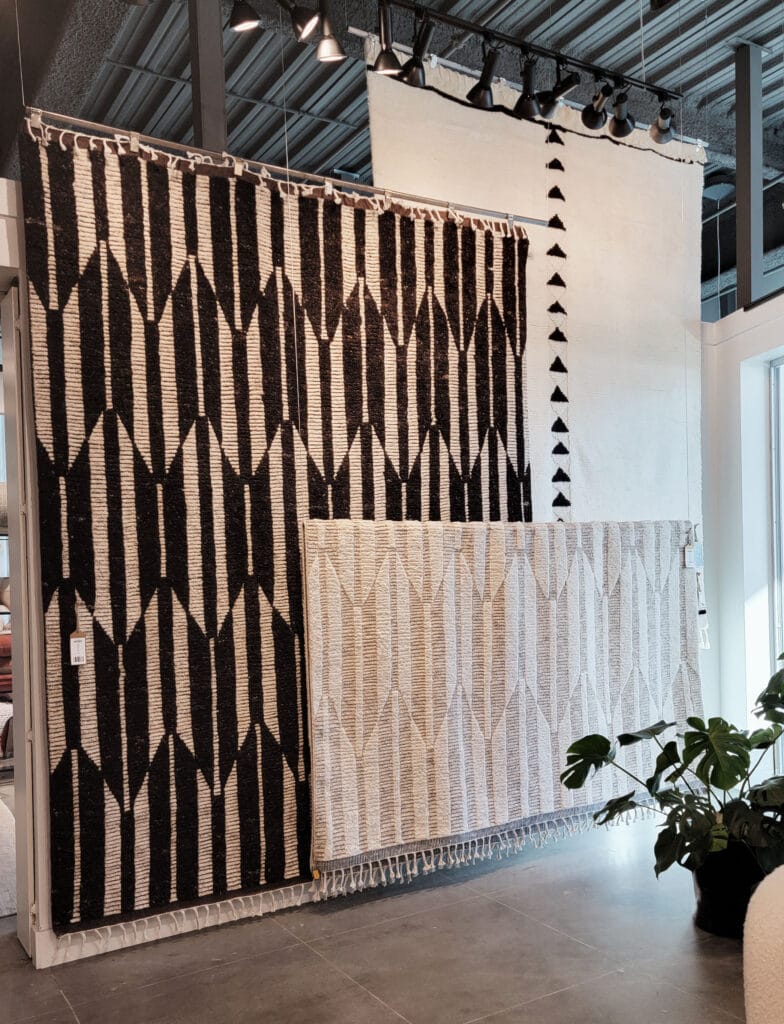 Making unique natural handmade rugs, Jaipur's 400 weavers made this art deco pattern in Indian villages loom in their own homes or community loom area. Jaipur drops of looms for them, allowing them to continue to maintain their home life while working. They also opened bank accounts for direct deposits to get an education, healthcare, and access to doctors + nurses two times a year to provide care for the entire family. 
Art Deco Furniture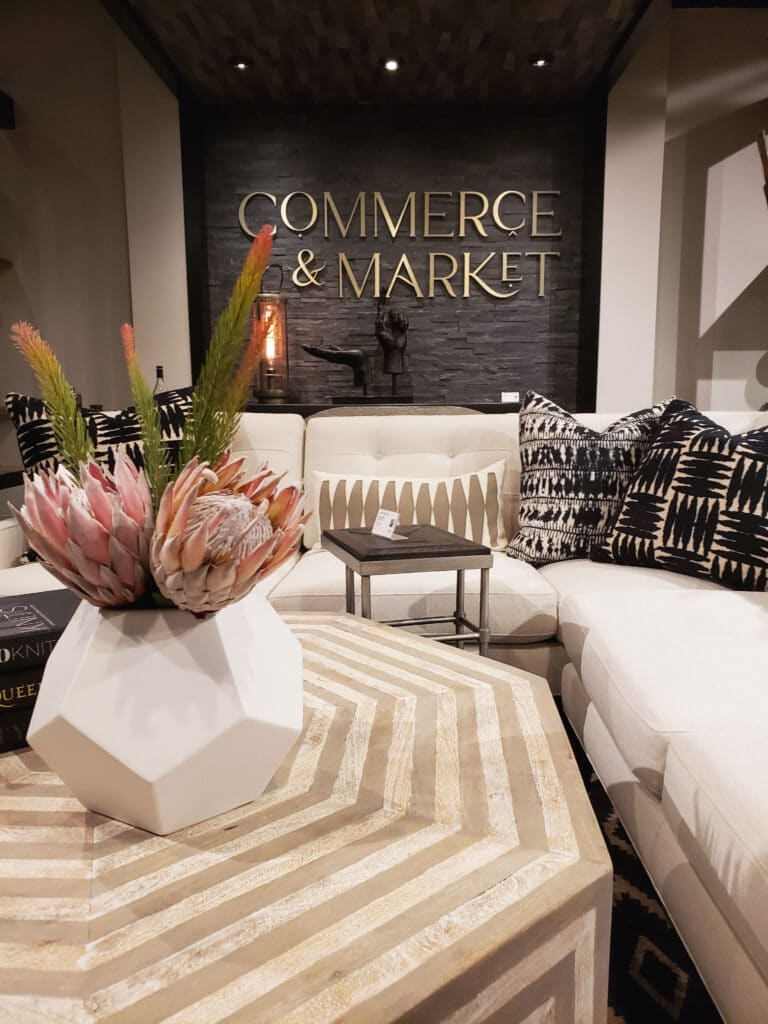 An Art Deco style furniture is hot! A beautifully detailed octagon cocktail like this table can work well in place of a round table. The inlaid woods or bone inlay art deco patterns make a unique focal point, whereas a typical cocktail table is more subdued.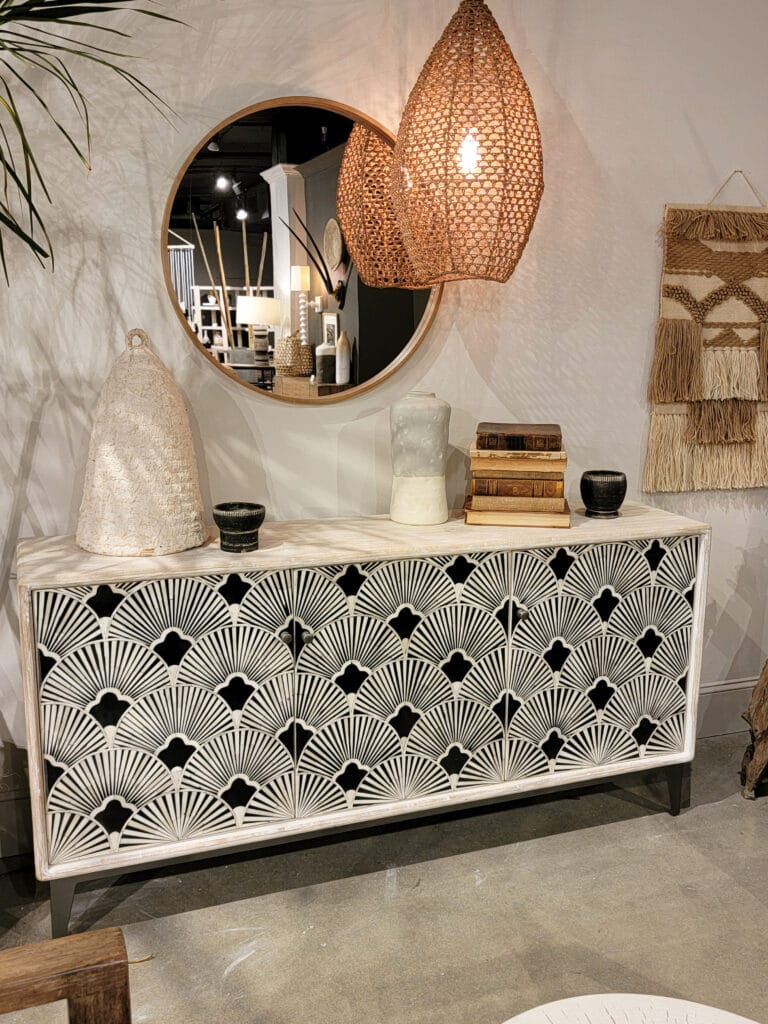 The traditional black & white Art Deco fan pattern is classic and looks fabulous!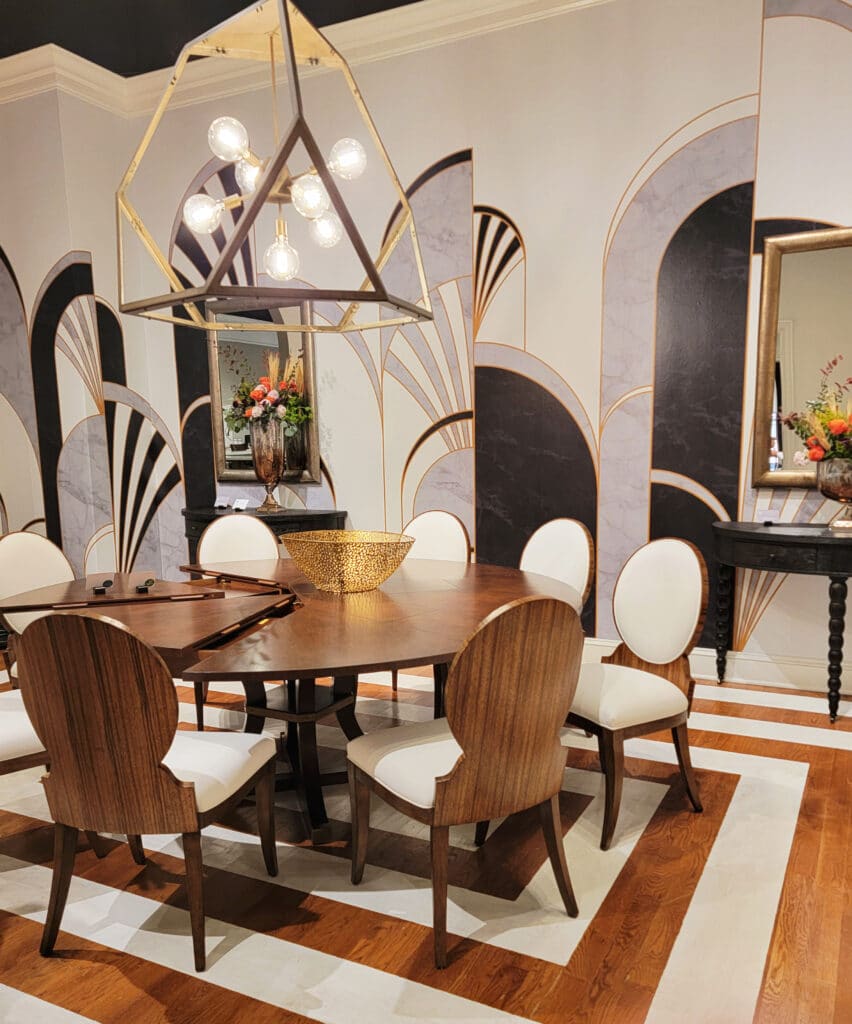 Black & white walls with gold accents with this natural walnut striped veneer.
Bonus Art Deco Trend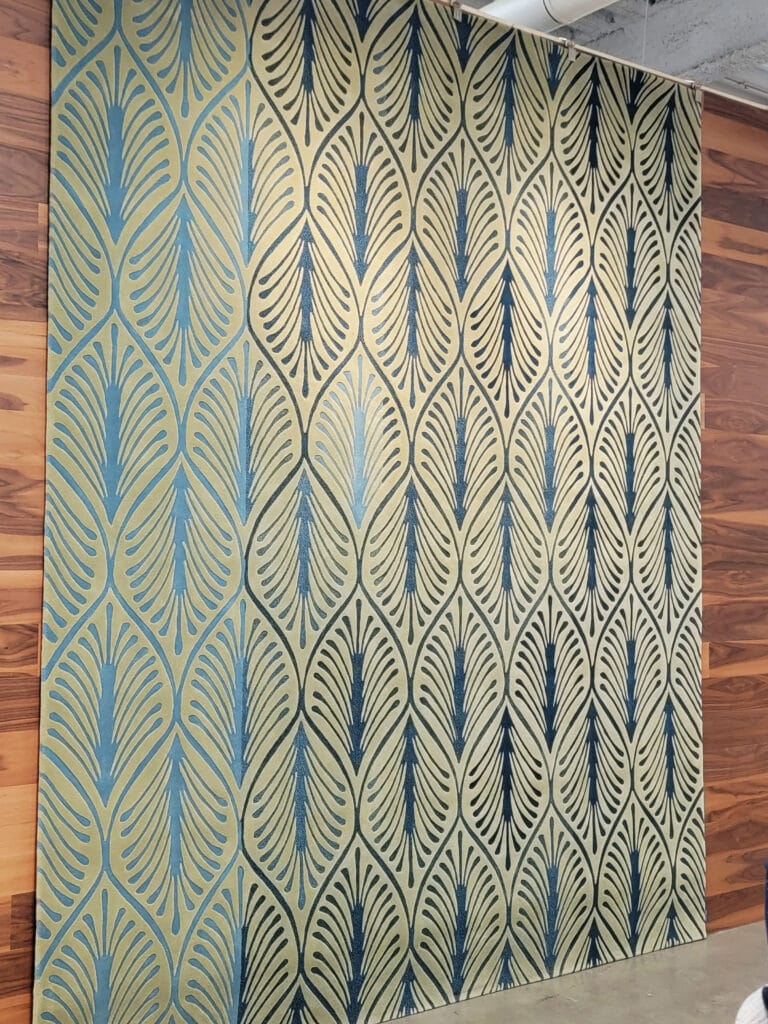 Art Deco pattern rugs are an easy way to introduce a little art deco into any home interior.
See More High Point Market Home Design Trends for 2022: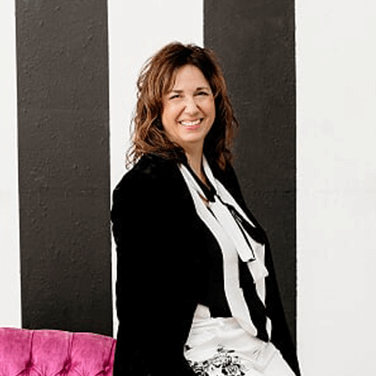 Chief D'KORator, Voted "Best of Houzz" for Dallas Interior Designers, Early Riser, Coffee Lover, Gardening Guru, Estate Sale Maven, Mover, Shaker, Wife, & Mom