Awesome Inspirational Kids Room Decor Ideas & Kids Bedroom Ideas
This week my Dallas interior design firm has received many calls and scheduled lots of zoom design meetings for kids bedroom ideas, study areas for kids, and game rooms and playrooms for children. With so many people throughout the world in an unknown situation as to when schools are starting back or if they are starting back anytime soon, I am writing to inspire you and your kiddos with fun spaces that my interior design dallas texas and Frisco interior decorators have designed for local families. I look forward to showing you the new kid's room designs that we've created this week.
Starting with teen boys room ideas then onto the girl's room ideas, let's go on a designer home tour. 
Boys Room Ideas & Kids Room Decor Ideas
1. Cabin Style Mountain Bedroom Ideas | Boys Room Ideas
This client contacted us to help them with their 6-year-old and 10-year old's bedroom and game room area. The boys did not enjoy spending time upstairs in their rooms. They did not want to sleep in their bedrooms. Our goal was to have spaces that would reflect what they liked to do but grow with them.
Their parents wanted queen-sized beds for the teen boys to grow into and not have to be changed as they were older. They wanted an uncluttered space. Since the boys are boys, we left plenty of open space and planned for roughhousing.
The 6-year-old son loves outdoor activities such as fishing and camping… Soo….you know how I love custom murals?!?! Remember my famous Houzz foyer?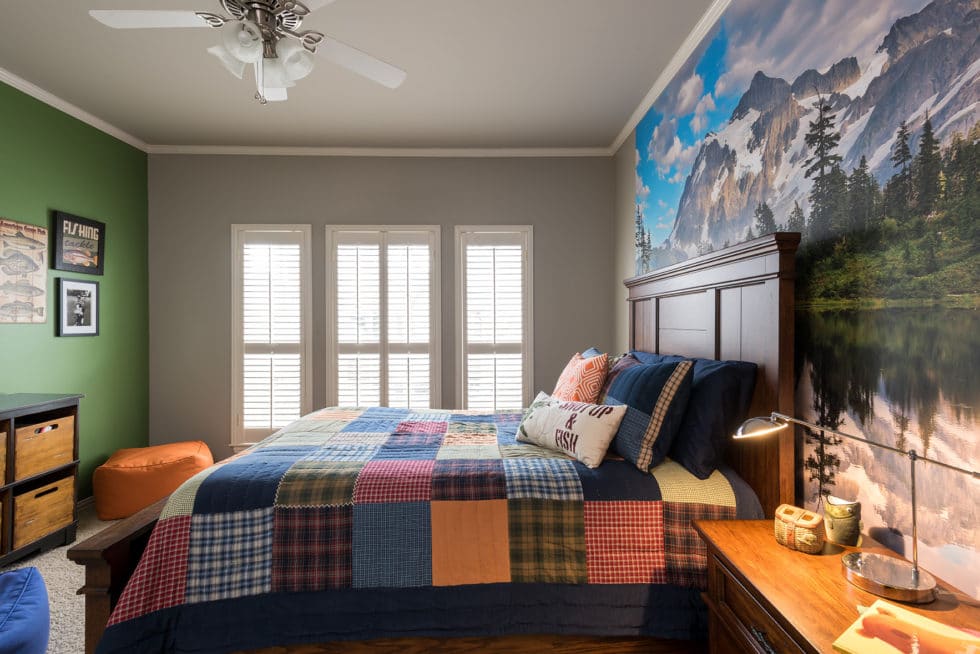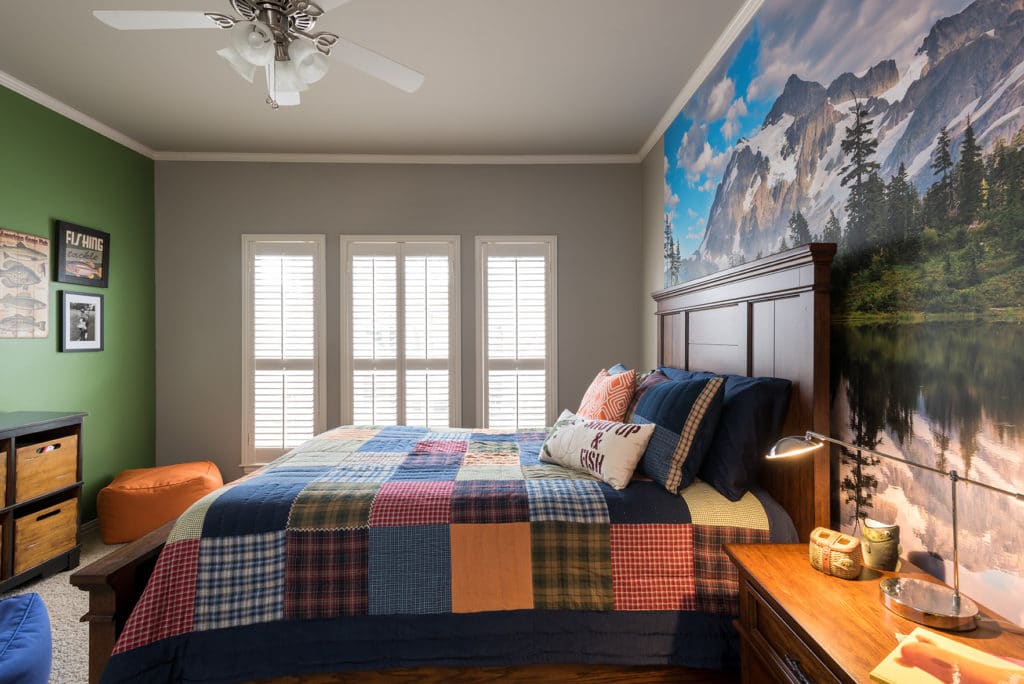 For these boy's bedrooms, I wanted something on the wall that would capture the eye the moment you walk in, something that you would make you say, "Wow!" We designed a custom outdoor themed wallpaper mural to reflect his love for the outdoors with the mountains and a lake.
The queen bed in a darker finish that gave the room a forest lodge feel. We used quilted bedding in oranges, greens, and navy blue. Balancing the accent gallery wall in green makes the room feel larger and open—the console with pull out wood totes to hold any of the boy's books and personal items.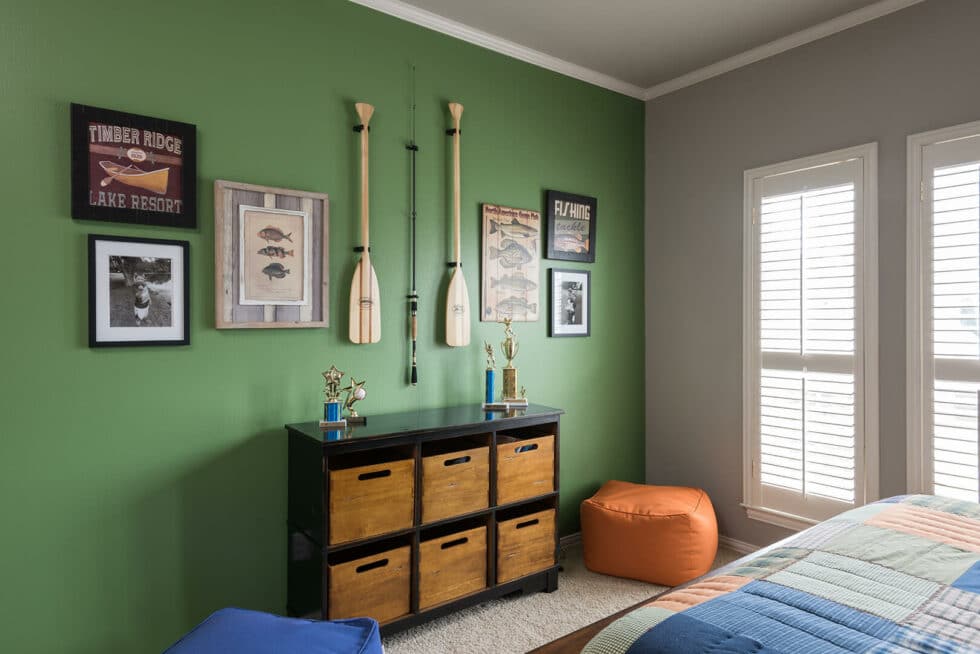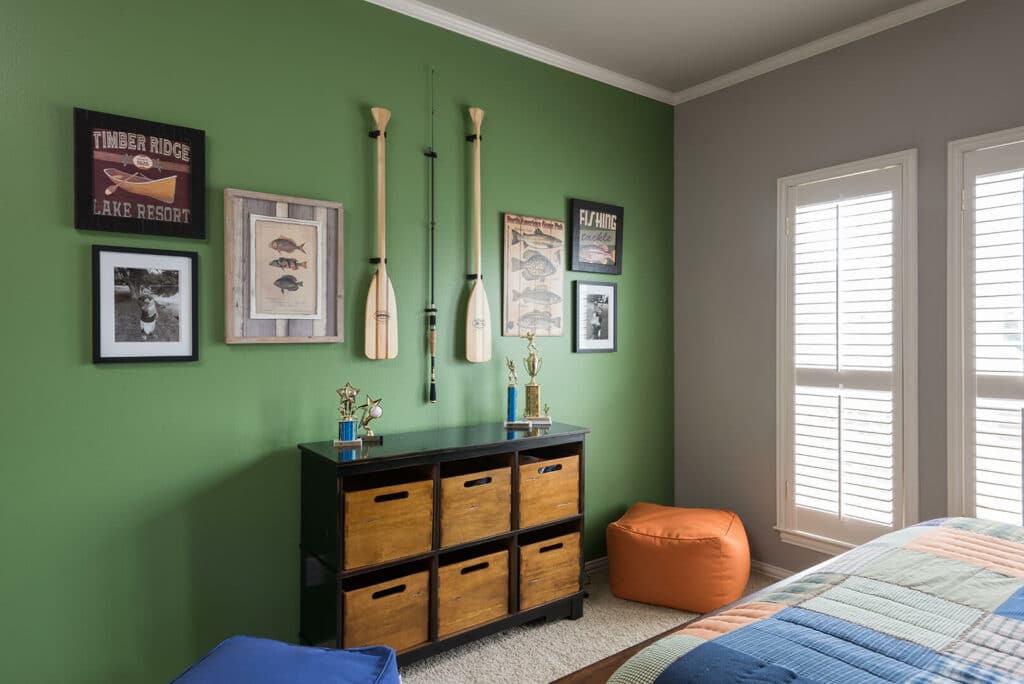 2. Sports Theme Boys Room Ideas.| Boys Room Ideas
The 10-year-old son loves sports – football, baseball, soccer, and basketball.  His neat and clean personality wanted an organization for his belongings.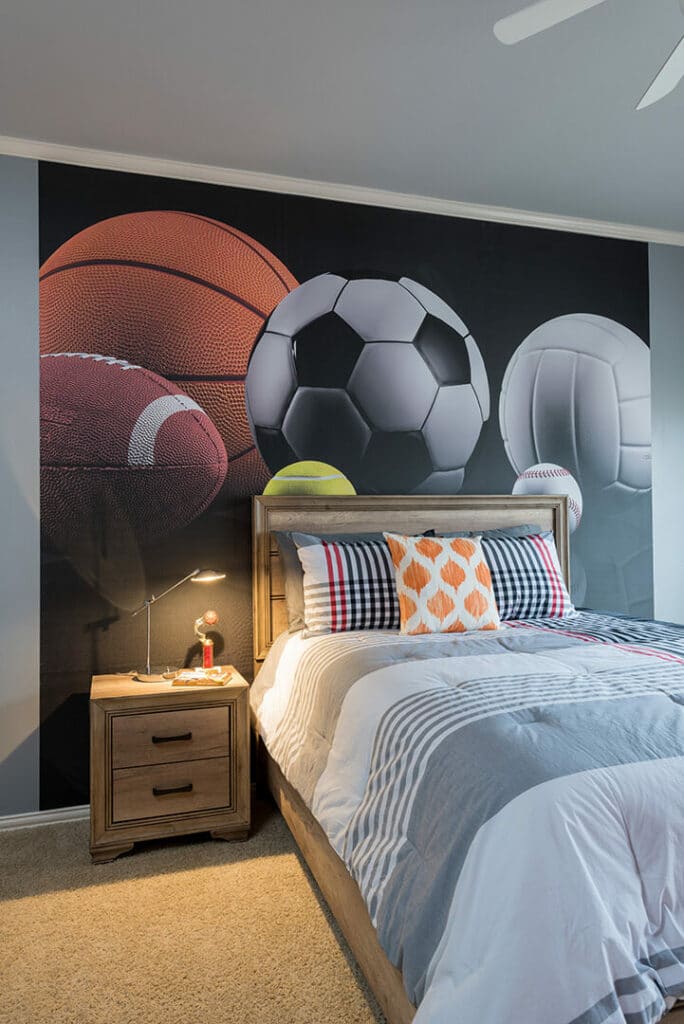 For this sports theme bedroom, I wanted something on the wall that would capture the eye the moment you walk in, something that you would make you say, "Wow!"  We used a company to create a sports-themed wallpaper mural reflecting the many different sports the boy loved. 
We used a lower profile queen bed in a driftwood finish to allow maximum visual for the mural.  We used striped plaid bedding in gray, white, and red, pulling colors from the mural.  We also utilized these colors on the walls in the rest of the room.
 I used the red accent color schemes for the wall murals across from the bed and kept it clear to display artwork and sports pictures gallery style. This wall would also have a console with pull out wood totes to hold any of his books and personal items.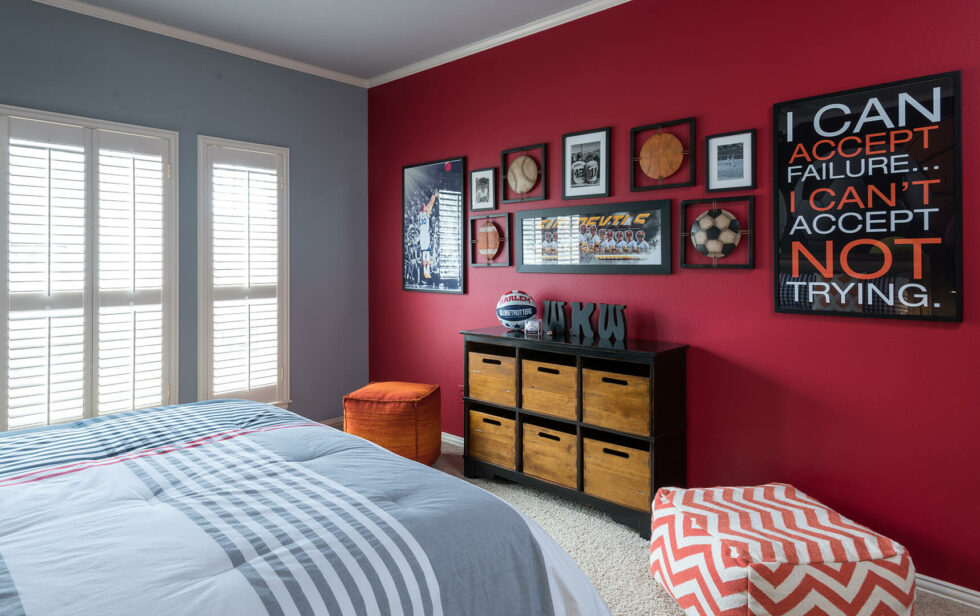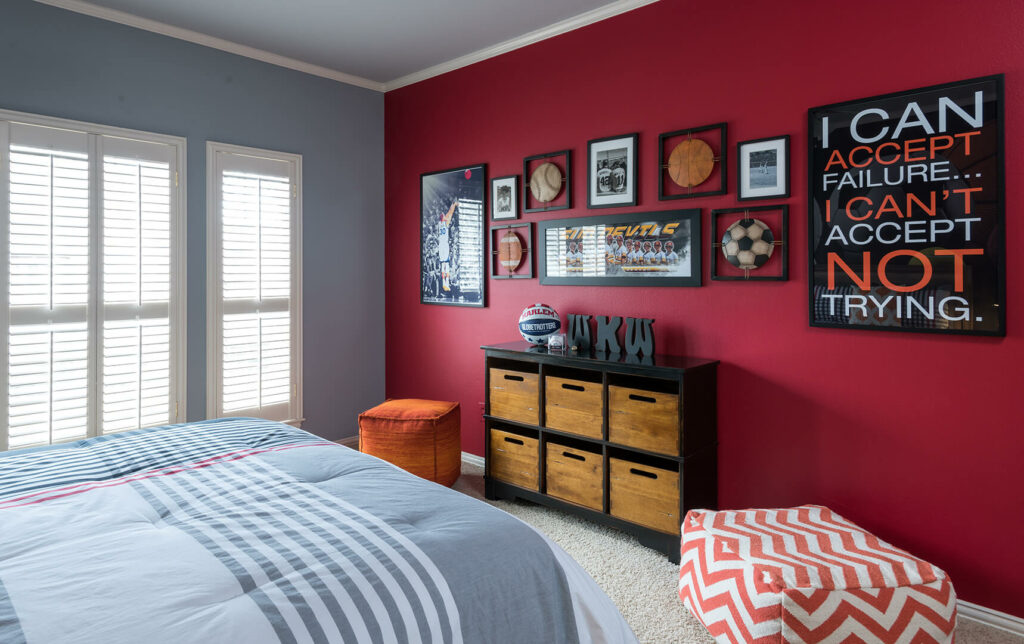 To keep the room from being too cluttered, I didn't use any other furniture. We designed closets that had shelving and drawers to organize all of their clothes. We did add an end table and lamp by the bunk bed for reading at night before they go to bed. A couple of poufs give them just a little bit of seating if needed.bedroom designer
3. Subtle Sophisticated Boys Sports Room Ideas | Boys Room Ideas
Instead of going all out with a themed room, consider doing what we did in one of our design client's son's room – keep the design subtle and sophisticated. Use art to make the kids happy with their surroundings. It's easily changeable if in  bed frame and they'll feel in control.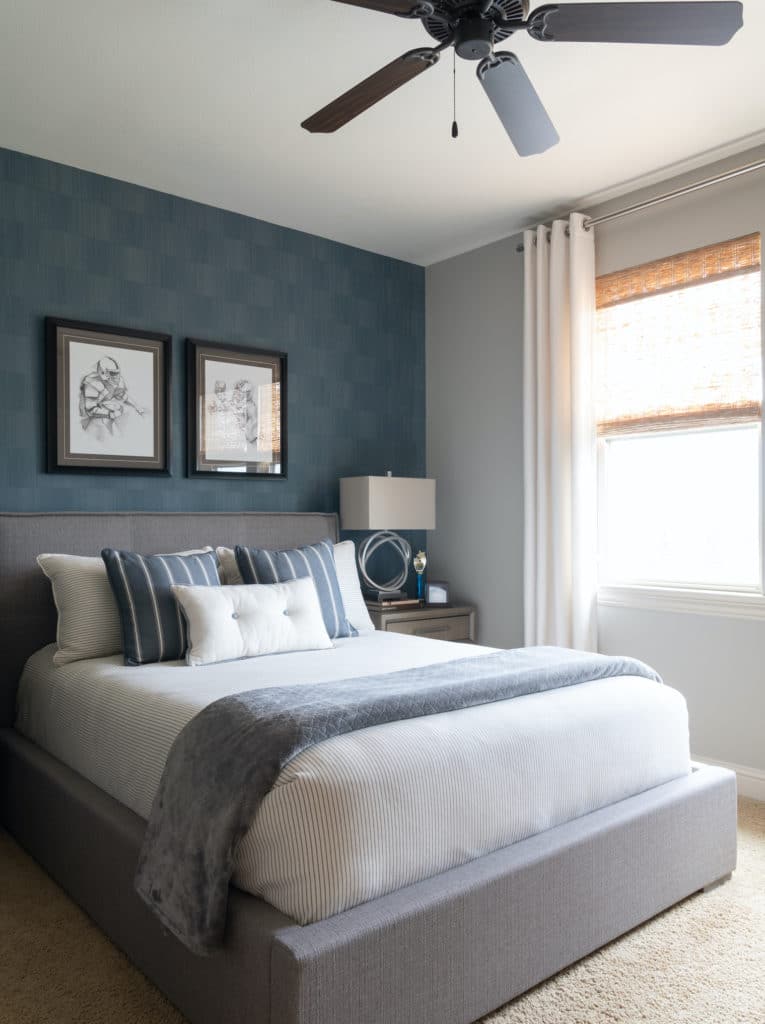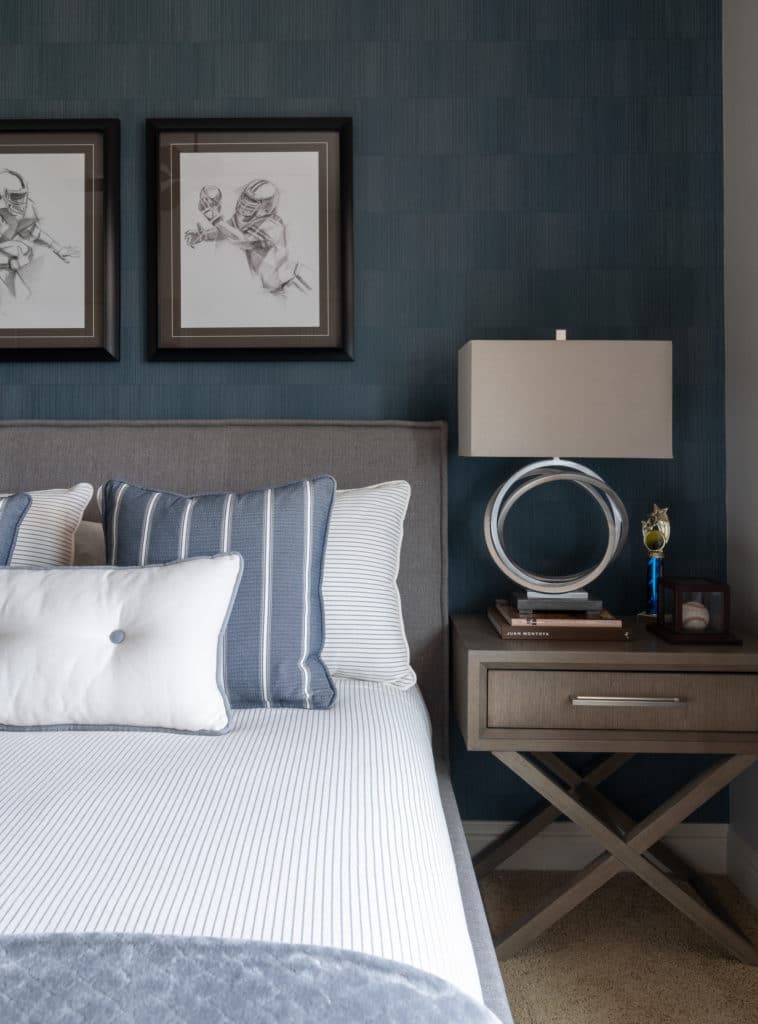 4. Baseball Themed Boys Room Ideas
This is a fun room by one of my fellow Decorating Den Interior designers. Metal letters spell out STRIKE, a custom mural with a gigantic baseball, the stitching details on the pillow sham, bat table, Louisville Slugger bed, catcher's chair, and the baseball pouf are perfect touches to carry a sophisticated baseball theme.

5. Circus Theme Nursery | Kids Room Decor Ideas
A circus theme nursery design is excellent for parents who may not want to know the gender of their baby. With custom window treatments in button back valance style, the sophisticated welcome a beautiful baby boy or girl.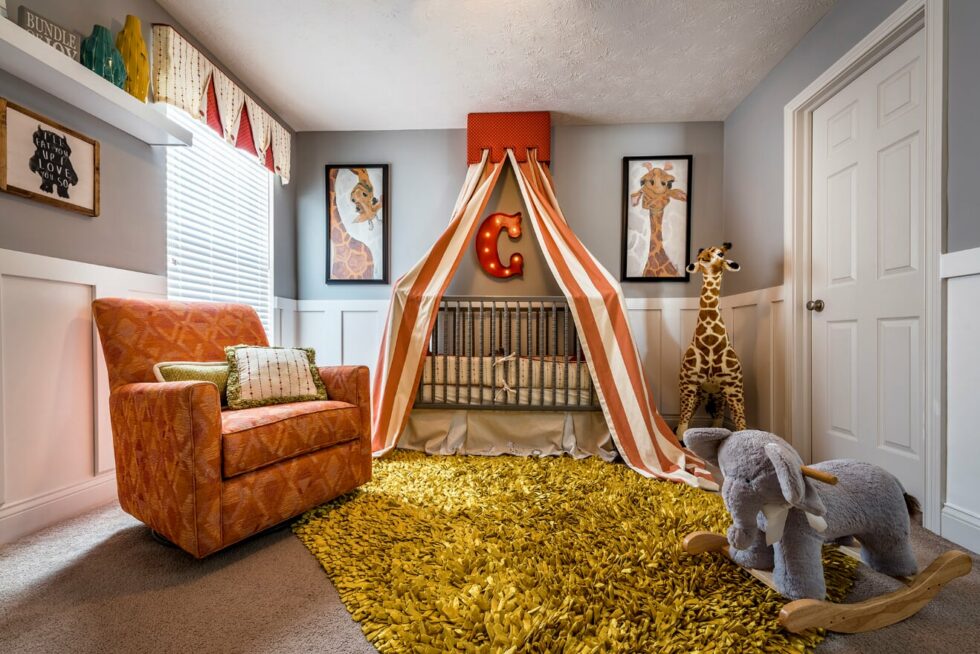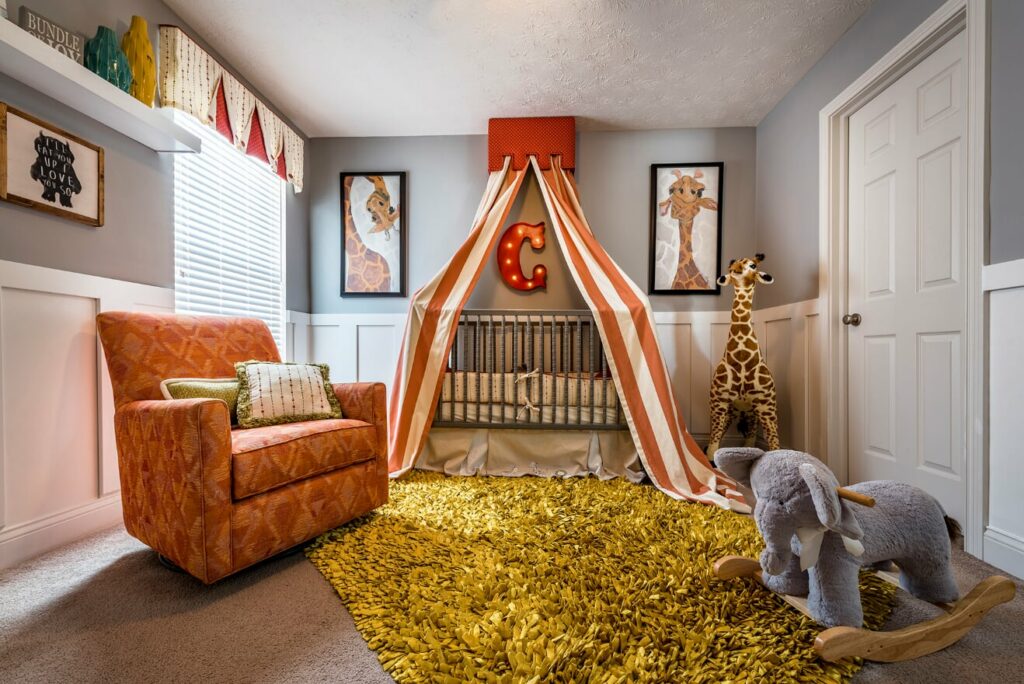 6. Zoo Animal Theme Kids Room Ideas
In case it's been a while since you've had a toddler, kids love animals. Preparing a kids room that can dual for a learning experience is critical in the day and age we live in.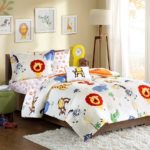 7. ABC School Room | Boys Room Ideas
Maybe it's the times we're in, but I love keeping learning tools, games, and organization practical and convenient for kiddos to put their things away. They need room to play games, learn, and rest.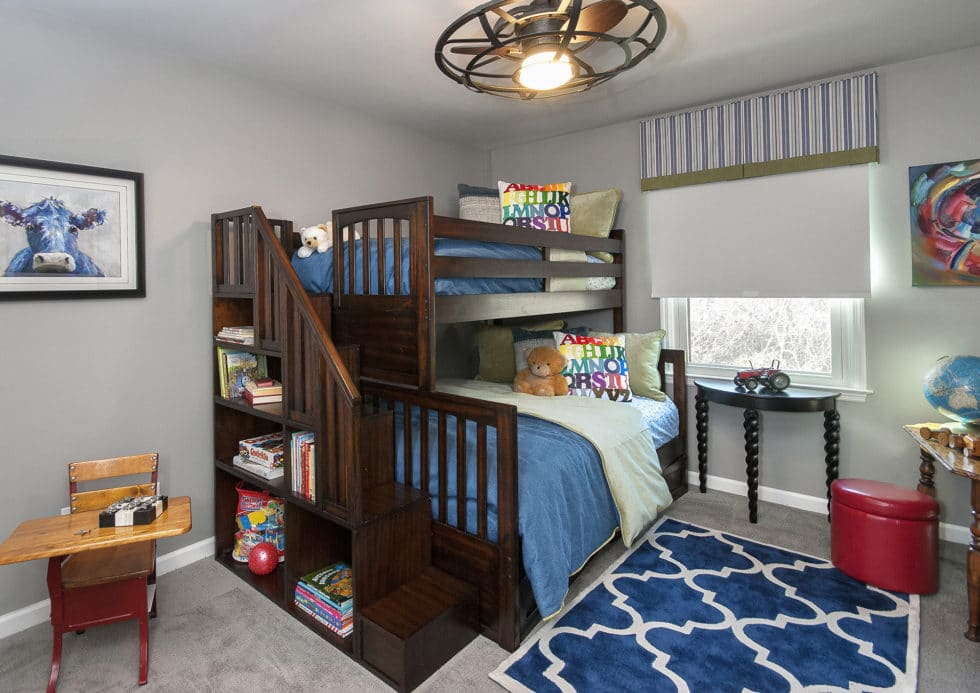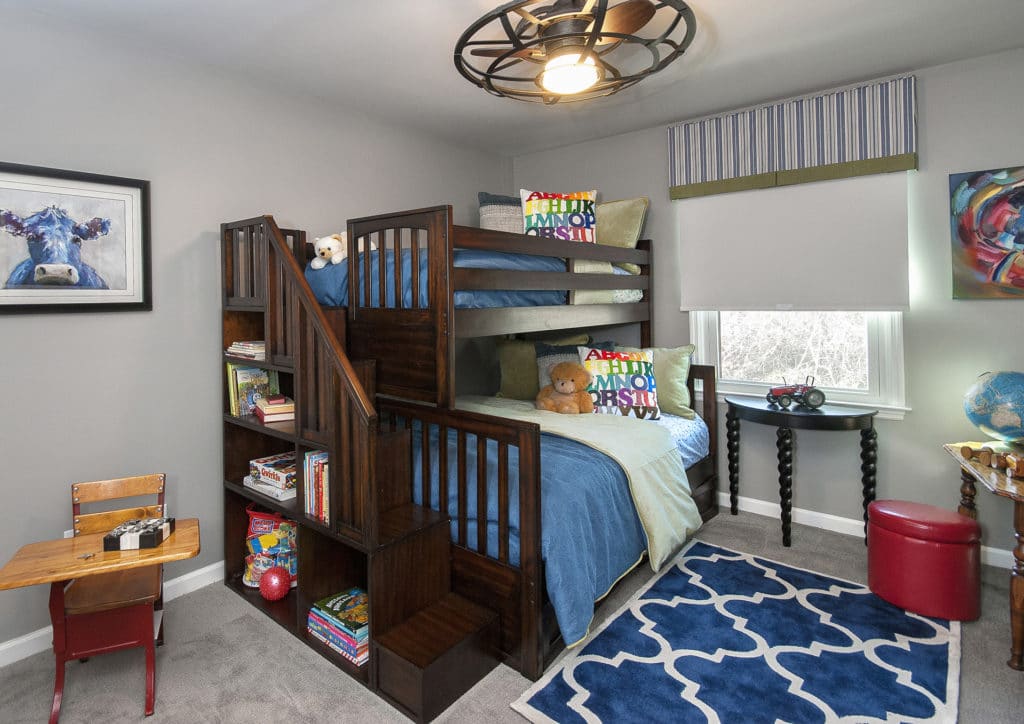 8. Plaid Boys Room Ideas | Kids Room Decor Ideas
This room plaid boy bedroom ideas goes back to the theory of keeping the decor neutral and sophisticated, all while allowing them space for their favorite art, posters, and learning materials. Adding a globe, musical instrument, and other inspirational items are vital factors when we recommend designer kids room decor ideas.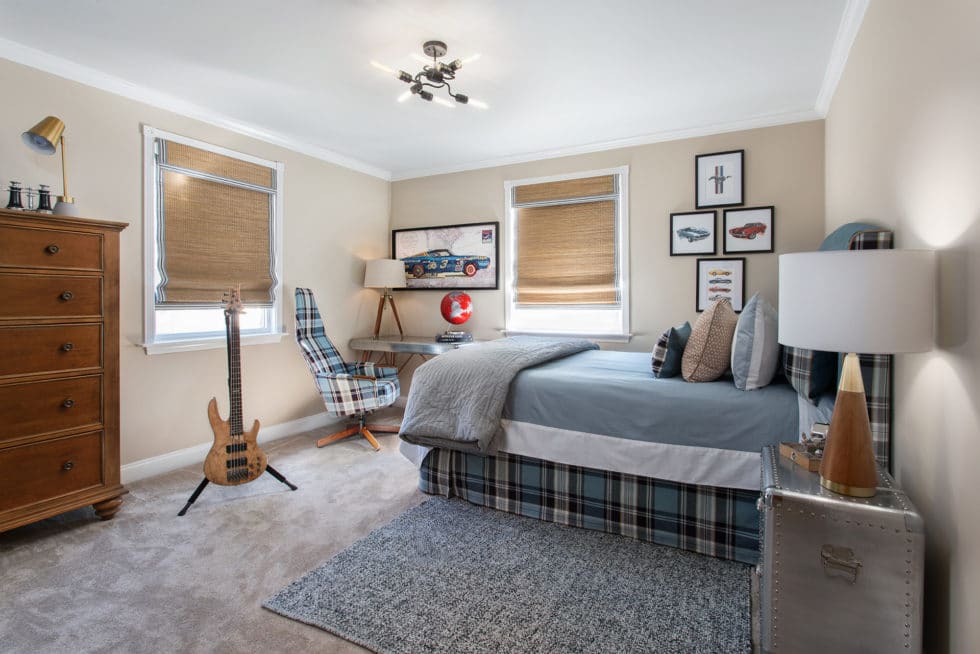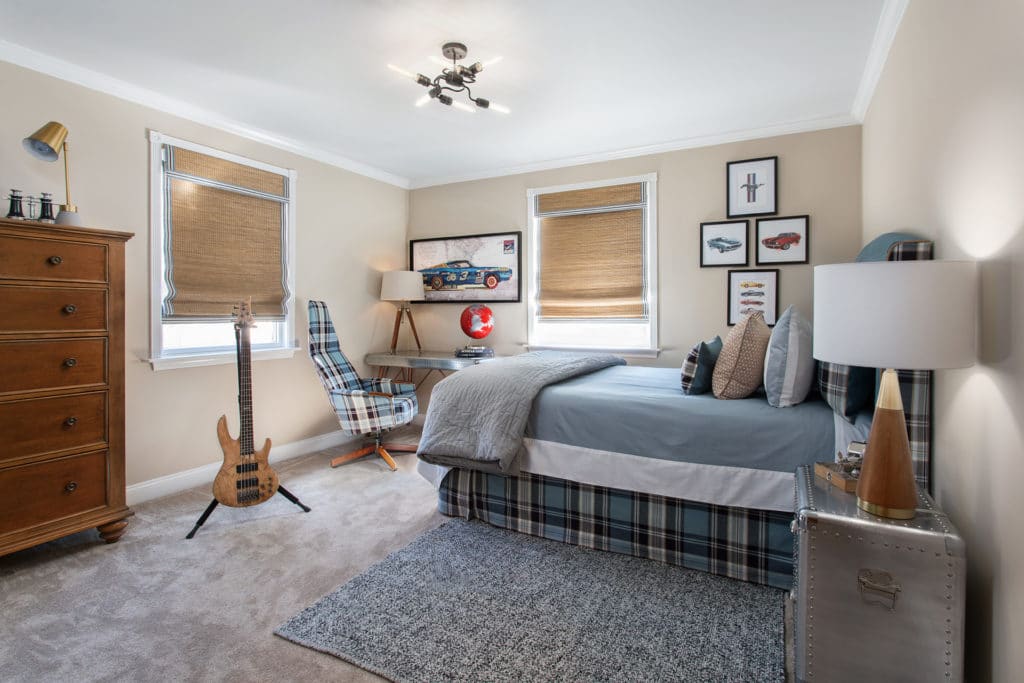 Awesome Girls Room Ideas For Your Daughters
9. Playroom & Game Room Ideas For Teens | Girls Room Ideas
A while back, my Dallas interior designers and I did this amazing playroom for two teenage girls. They loved Stranger Things. Their parents didn't want anything theme oriented if you haven't already take a look at this complete bonus room game room renovation.
10. Themeless Princess Room Ideas | Girls Room Ideas
Rooms don't always have to be visually themed to tell a story. Using a girl's favorite colors and things make their rooms truly THEM. If a BIG bed is going to make them feel like a princess, we often consider thicker mattresses and taller headboards. A chandelier can make a great statement piece plus provide necessary light to a girl's room.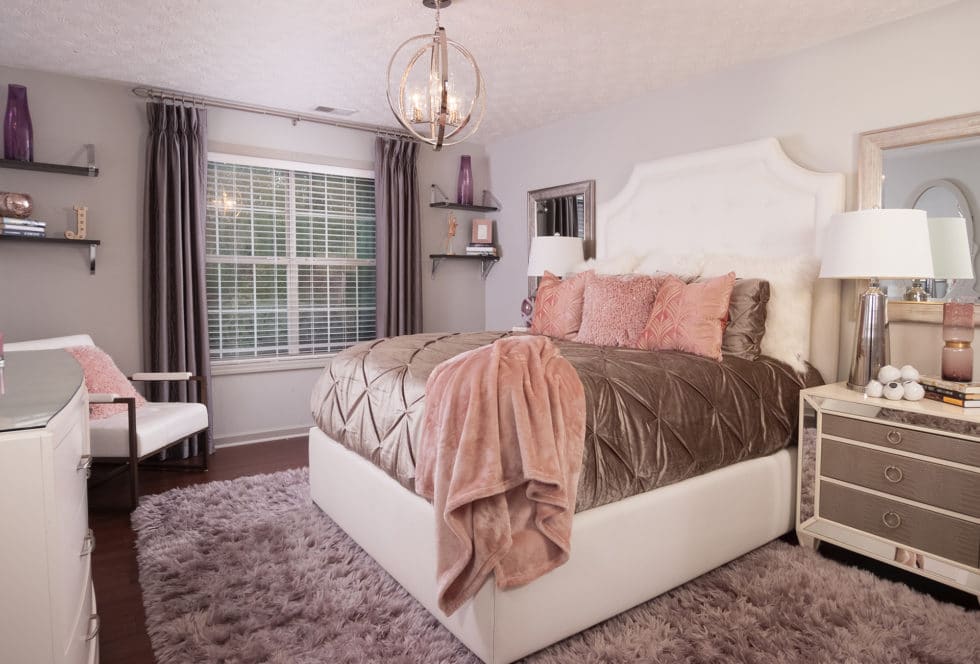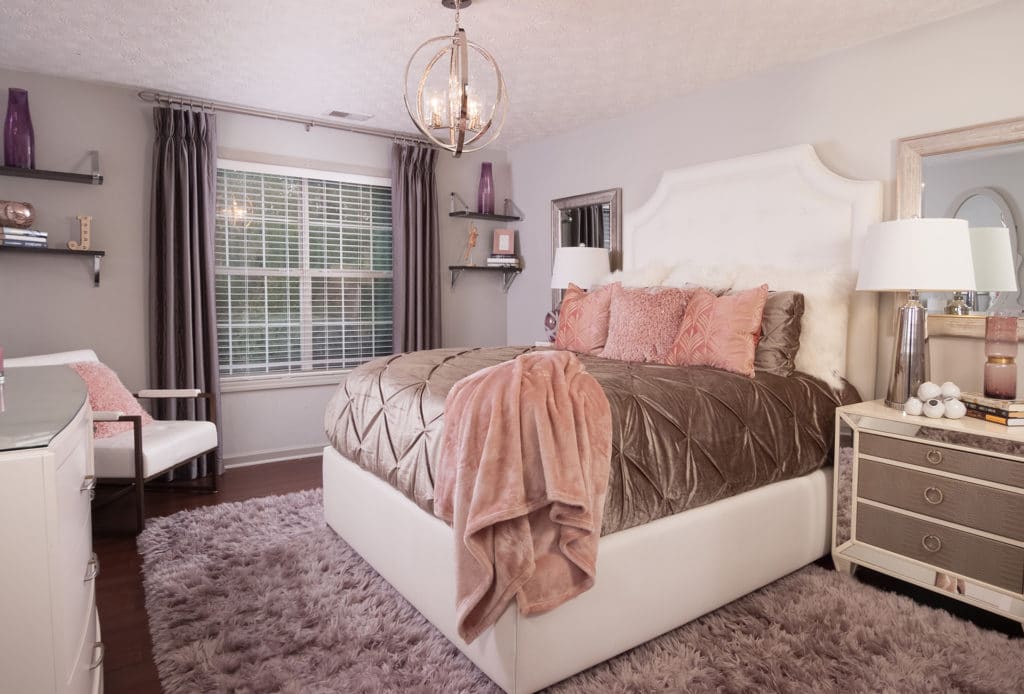 11.  Art Gallery Playroom Ideas | Girls Room Ideas
A lot of parents are forced to teach kids from home. If your kids love to write on walls or are tempted to consider giving them a chalk wall. Just make sure they know their boundaries. Supplying a place for them to hang their recent artistic creations is smart to get them involved in the decor.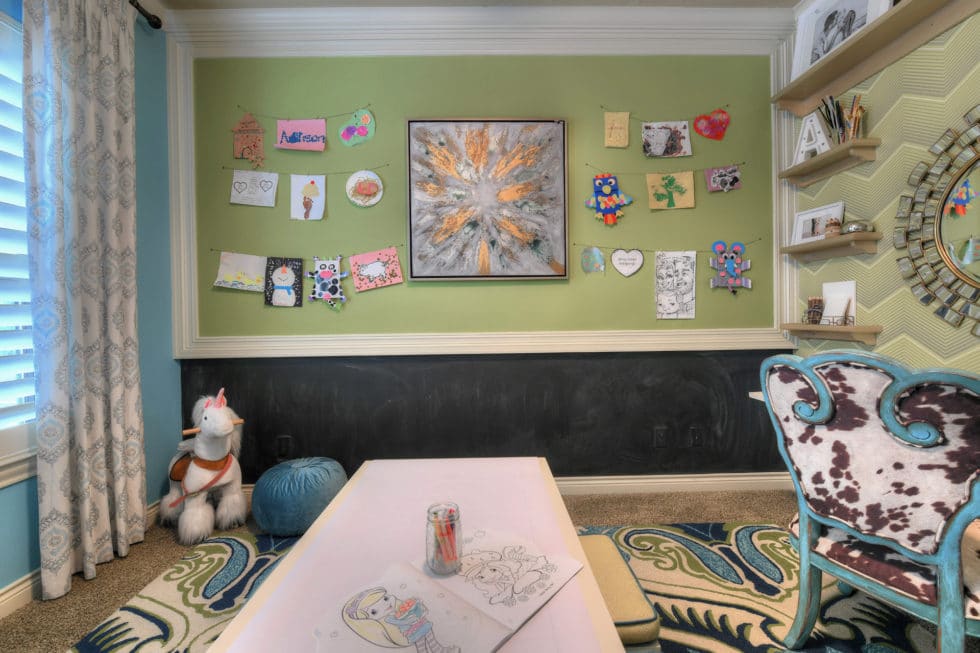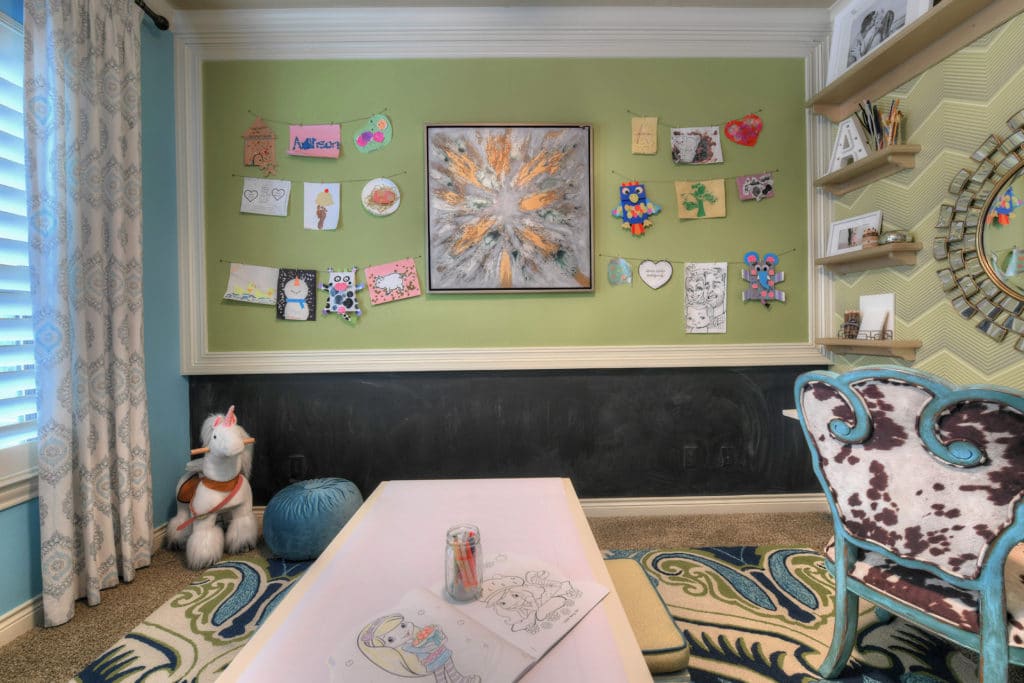 12. Bonus Room Play Room & Bedroom Ideas | Girls Room Ideas
Keeping a play area separated from the sleeping area or bed is great if the floor plan allows and space permits. Our last bonus room renovation turned out beautiful. (Be sure to click the link to see it.)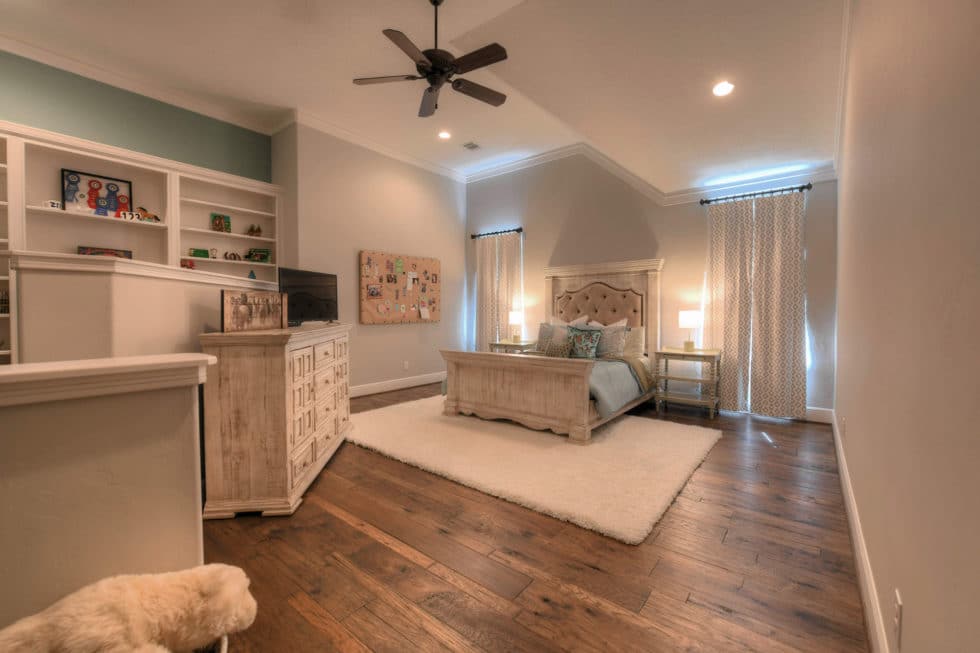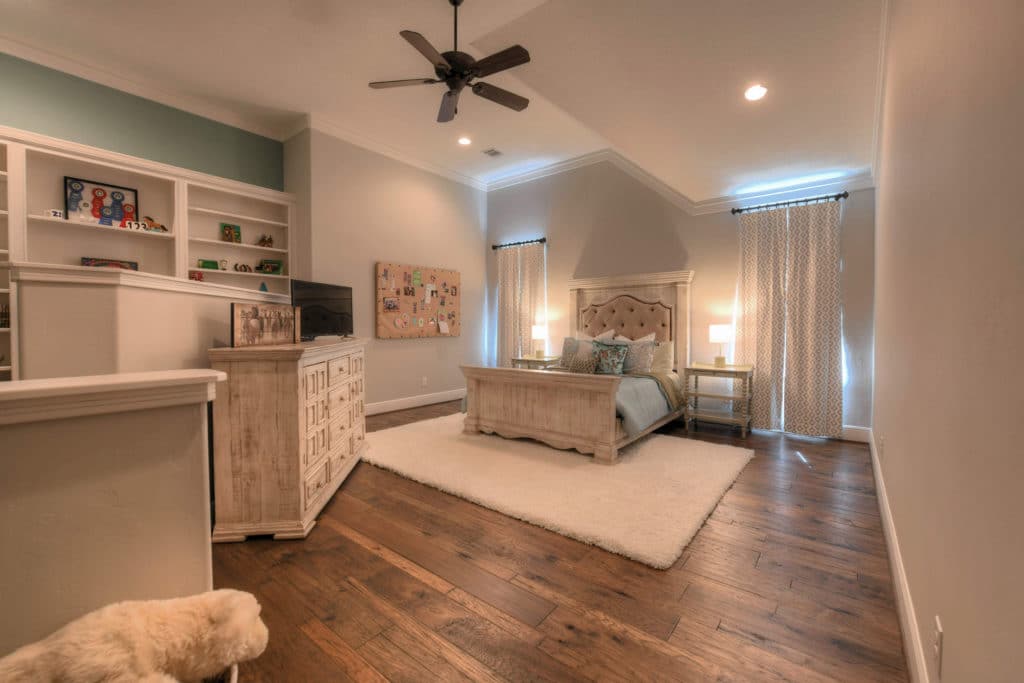 13. Layered Textures Girls Room Ideas Creates a Castle Themed Girl's Bedroom.
Layering wall finishes and textures in fabrics, rugs, and bedding can give the illusion of a castle-themed girl's bedroom without committing the castle. A favorite saying or quote in freeform metal letters and your baby girl will feel like her Wishes and Dreams have come true.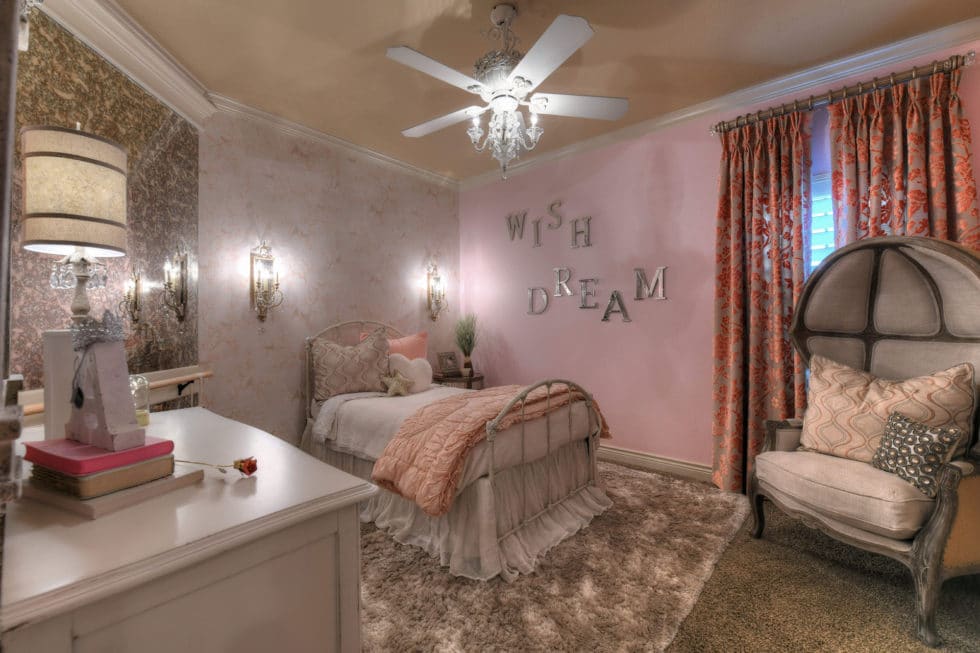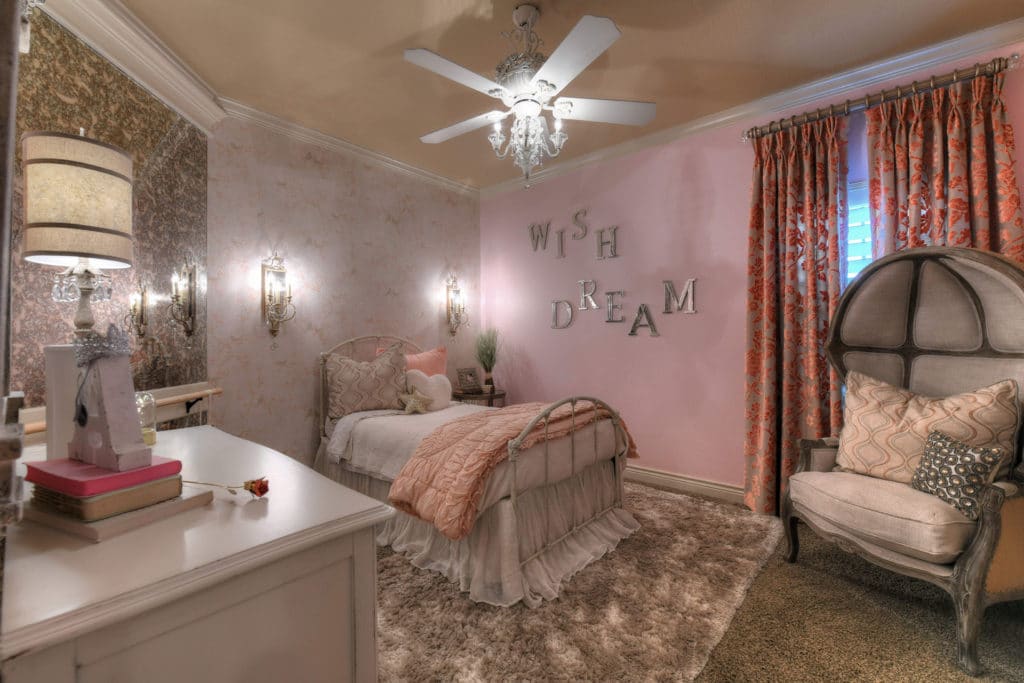 14. Navy, Cream & White Sophisticated Girls Room Ideas
Sophistication is key for older girls. Trust me; girls grow up so fast. It was just yesterday that my little Dani (Danielle) was small enough to enjoy these beautiful girls' bedrooms.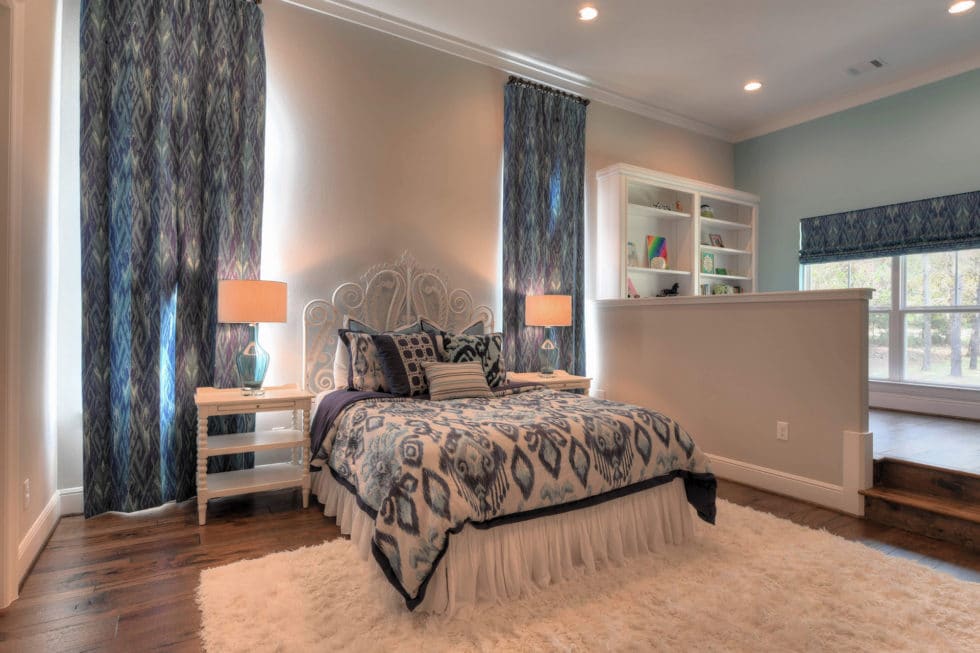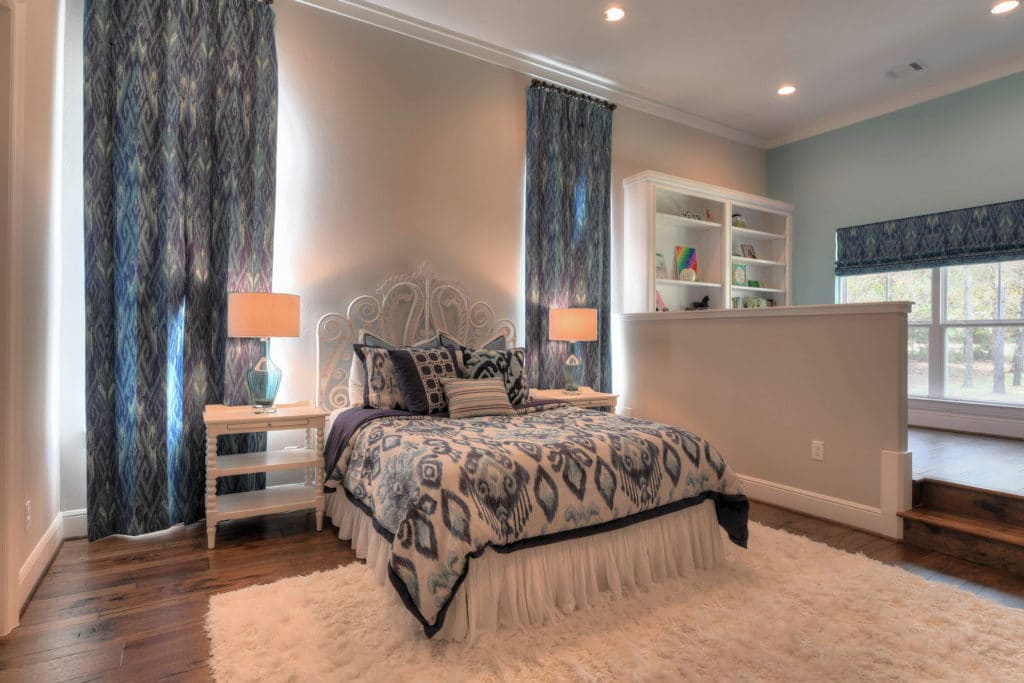 I hope you've enjoyed these kids room decor ideas. Have you gotten a couple of good ideas for your son or daughter's bedroom or kids room decor ideas?
If so, please drop me a note below. I would love to hear your thoughts.
Dee
P.S. Click here to tour 20+ Amazing Plano, Frisco, Allen & Dallas, TX Interior Design Projects
P.S.S. View our latest issue of D'KOR HOME design magazine.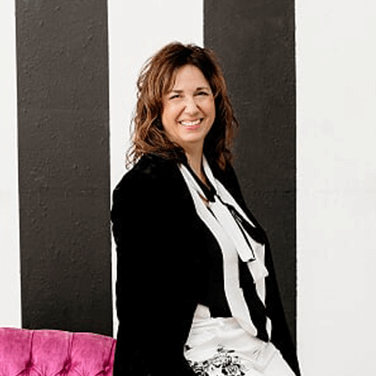 Chief D'KORator, Voted "Best of Houzz" for Dallas Interior Designers, Early Riser, Coffee Lover, Gardening Guru, Estate Sale Maven, Mover, Shaker, Wife, & Mom